Whether as a solo tourist or in the company of others, everyone loves to engage their leisure time in the most suitable and worthwhile environment. A sunny atmosphere of the peninsula of Cape Cod meets your post-winter needs, its flora and fauna extending over for 500 miles of coastline, boasts all features to call it home to all adventurers. With an extensive coastline of over 500 miles, Cape Cod is considered home to the best beach destinations in Cape Cod and the world at large. And this can make tourists have a hard time choosing popular beaches in Cape Cod to meet their summer desires. Are you still confused about which of the Cape Cod beaches to choose? There are many spots in Cape Cod, sufficient enough to meet every vacationist's preference. This article will guide you into the best beaches in Cape Cod.
Best Hotels & Resorts
Best hotel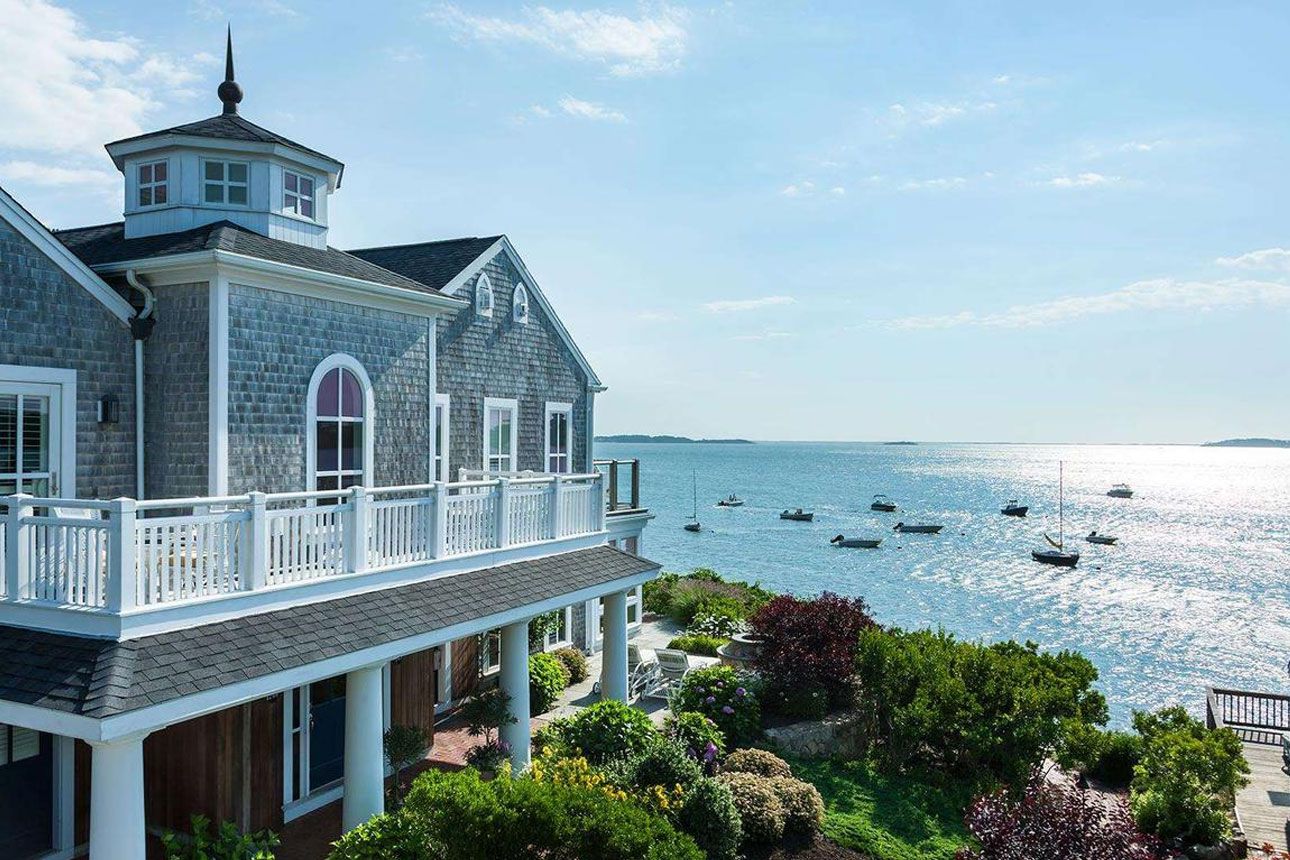 Wequassett Resort and Golf Club
Non-smoking
Air conditioning
Gym
$425.00
Price per night from
Our Favorite Hotels & Resorts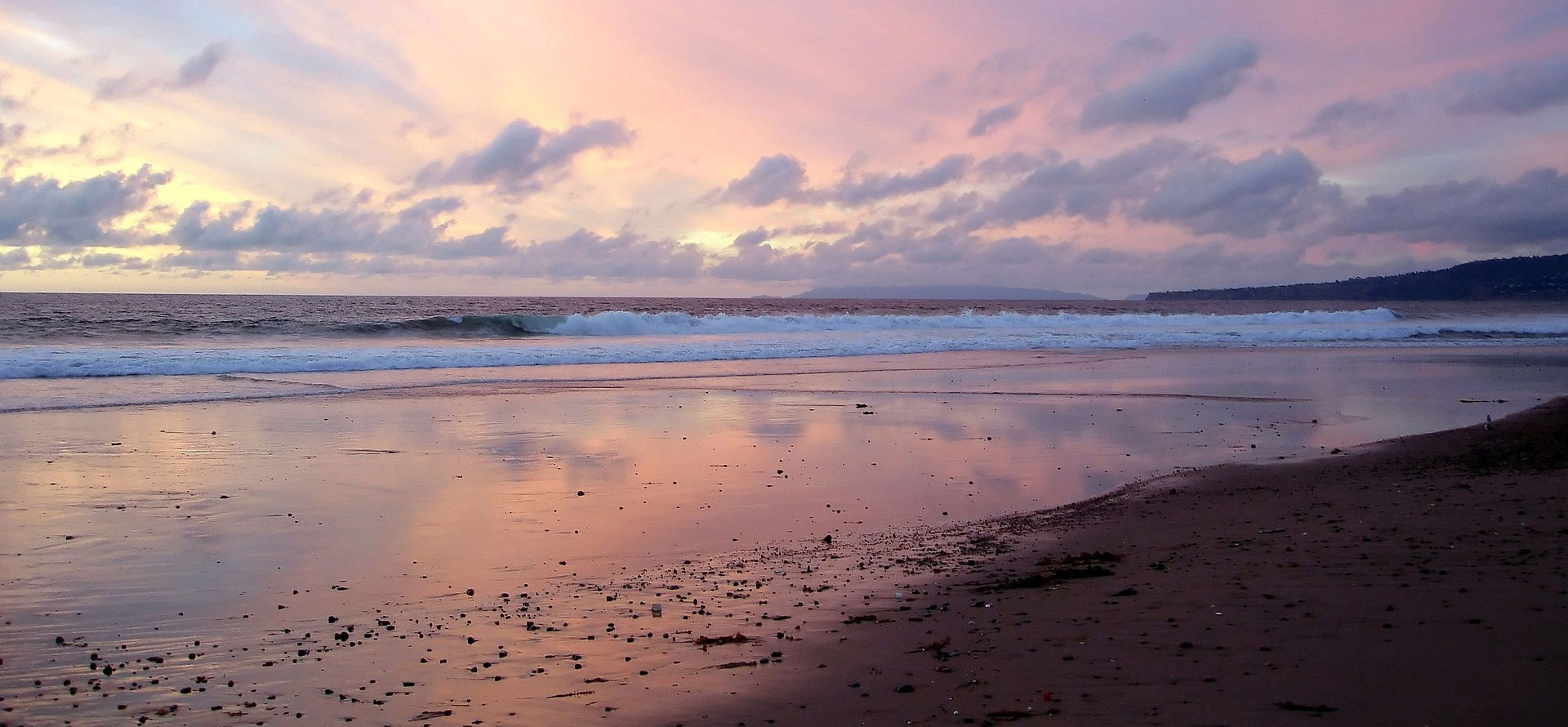 Craigville Beach, Centerville
Known as one of the most popular beaches in Cape Cod, this South-side Cape Cod beach is located on Nantucket Sound in the Barnstable village of Centerville. It is a public beach with a paid parking space available for non-resident tourists, unlike the nearby private beach (Covell's Beach) that parking area is strictly for residents. Craigville Beach has special features that suit all ages and social groups. Surfers can enjoy an exhilarating ride on the waves of the Atlantic tides while sunbathers relish the warm air amidst their glow in the glare of the sunlight.
The skies of this beach are not excluded from the lively activities, as its regular tidal wind allows kitesurfers to display their colorful kites, beautifying the already picturesque landscape. Swimming classes are organized by qualified swimming coaches with lifeguards on standby watch.
Beach facilities like restrooms, showers, changing rooms, restaurants, and bars are available for tourist's convenience. Its walkway is accessible to wheelchairs, thereby making the beach disabled-friendly.
Marconi Beach, Wellfleet
Sitting at the base of towering cliffs that provide a natural pristine background, Marconi Beach has indisputably earned a front position as one of the most beautiful beaches in Cape Cod. This beach extends over a large area of land with prominent dunes in Wellfleet and is part of the Cape Cod National Seashore. Its shores host occasional visits from seals, and the sand often hues the colors resulting from cliffs casting over the ocean waterfront.
Owing to its large area, there is enough space for every tourist to engage in any activities. Lifeguards are on standby in the swimming area, while surfers can use its constant wave to propel their surfboards in a daring wave ride. The sand of the beach is fine enough for sunbathers to keep and get their daily dose of vitamin D and also for family bonding through the building of sandcastles. Volleyballers and game enthusiasts can also be seen overwhelmingly cheering their teams.
The beach has the Wellfleet center nearby for different delicacies and the Marconi station, where the first transatlantic wireless message was sent. Tourists can also hike the 1.2 miles of Atlantic White Cedar Swamp Trail. All these landmarks make it one of the famous beaches Cape Cod boasts of.
Monument Beach, Bourne
This family-friendly beach is located in Bourne town of Massachusetts one of the top beaches in Cape Cod. It looks across the Cape Cod Canal entrance which allows for faster Intracoastal waterway travel. Despite hosting a lot of boating activities, the waters are mostly calm, attracting many water birds like ospreys and cormorants for their feeding session and episodic surface visits from whales or dolphins. An adjacent marina allows boating activities to thrive on this Cape Cod Beach.
The wide expanse of sand hosts different spots for beach volleyball, while aquatic sports enthusiasts can enjoy windsurfing. With the beach's small tides, playing area, and tides pool, even kids are not left out in the fun. The beach has a picnic area which lets for some open-air family time. The Bourne Bridge, Buzzards Bay, and the Cape Cod Canal are some nearby attractions tourists can catch a glimpse. There is also a golf facility in the nearby Brookside club. Tourists can rest assured while on this beach as the large parking area guarantees their vehicles' security.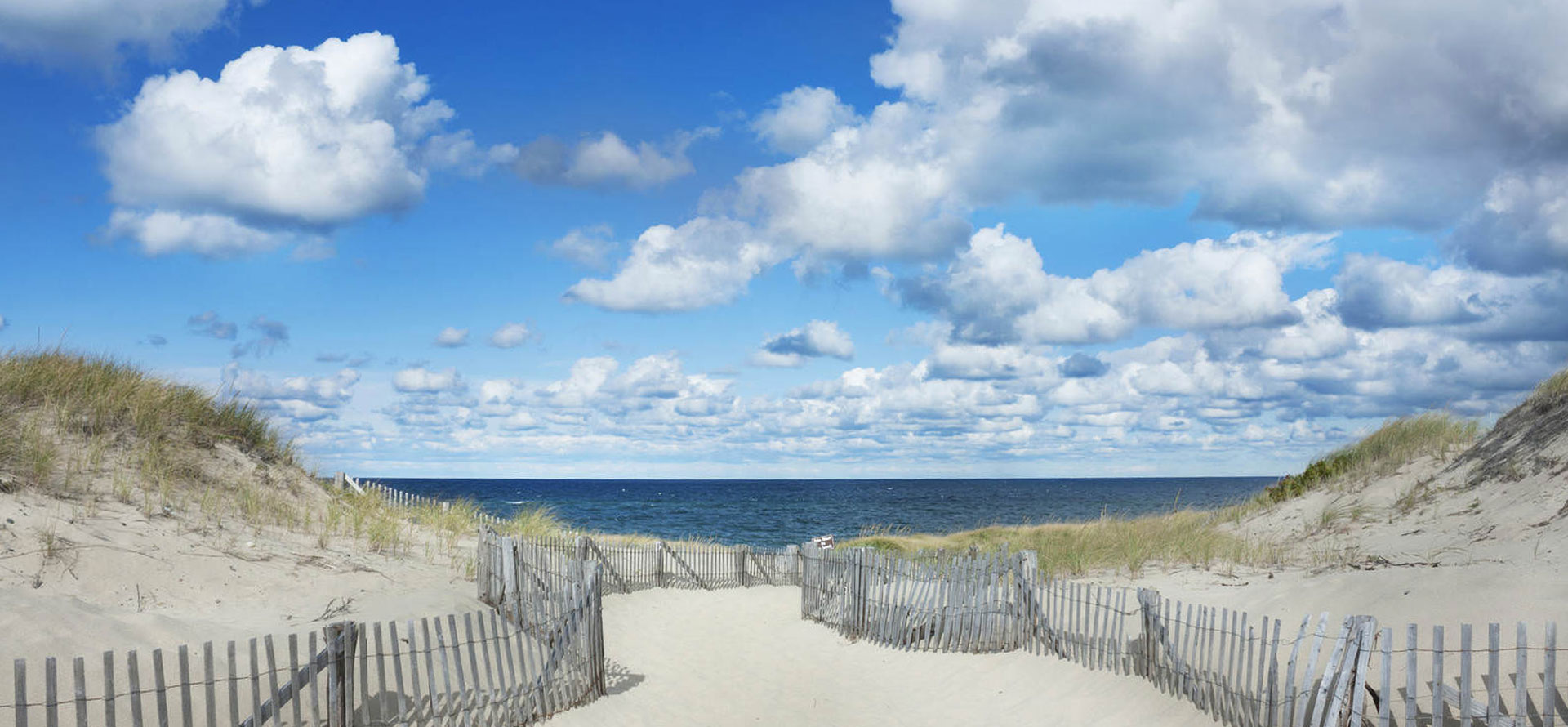 Nauset Beach, Orleans, Massachusetts
This 10-mile beach extends from Orleans to Chatham, featuring a mix of adventure through its offroad trails and action through its boogie boarding. Its patterned undulating waves and readily available lifeguards make it one of the best beaches in Cape Cod for surfing. Occasionally, seals and eiders can be sighted alongside the coast, and anglers are often seen hunting for bass and bluefish at the right seasons. While swimming, tourists must also be cautious of sharks, as they occasionally can be seen near the coast too. Early sunrise on this Cape Cod Beach grants tourists a relivable memory of the golden hour. From long walks, bodysurfing, and free outdoor concerts to partying, the actions on this beautiful beach of Cape Cod are unending.
The beach has a large parking lot for tourists' vehicles at a fair price, swimming facilities for both learners and seasoned swimmers, and a picnic area useful for family/friends bonding. Tourists can get a special permit allowing for offroad vehicles, this is quite uncommon on other beaches in Cape Cod.
Coast Guard Beach. Eastham
As a part of the Cape Cod National Seashore in Eastham, this is one of the most popular beaches in Cape Cod with its breathtaking scenes captured in most famous magazines and channels all over the United States. Striking features include marshlands subtly extending into appealing dunes. Its large glassy blue waves create an attractive backdrop for adventurous surfers and boogie-boarders to have fun and also capture lasting memories. Swimmers have nothing to fear, as trained lifeguards can be seen at every swimming area of the beach. Although the Coast Guard Beach is among the famous beaches Cape Cod boasts of, there is enough space for every tourist to pitch himself after a little exploration of the area. There is a limited on-site parking space reserved for residents only, however, non-resident tourists can benefit from nearby parking spaces at Little Creek. With bright skies during the day and clear, reflective blue skies at night, it is one of the most beautiful beaches in Cape Cod of all time.
The beach is accessible through a boardwalk, and handicap chairs are available. These special features rank the beach high among other disabled-friendly Cape Cod Beaches.
Mayflower Beach, Dennis
Recently rated as the number one beach by US News and World Report, this is arguably the most beautiful beach in Cape Cod. Its natural scenery like the soft white sand mouldable into sandcastles, warm bayside waters, and low tide waves are evidence supporting the claim. It located in Dennis, Massachusetts, this beautiful Cape Cod Beach attracts family vacations and aesthetic photographers.
The warm tidal pool secured by lifeguards is a relish for water-loving tourists while other fun activities like volleyball and sunbathing are enjoyed on the fine shores. Owing to its low tide, tourists can engage in long walks on the tidal flats while also basking in the sunset. The beach is accessible from the large parking space through a boardwalk conducive enough for friendly conversations to be engaged. Public facilities like restrooms, picnic areas, food carts, and chairs for the disabled are available for tourists to have an enjoyable vacation.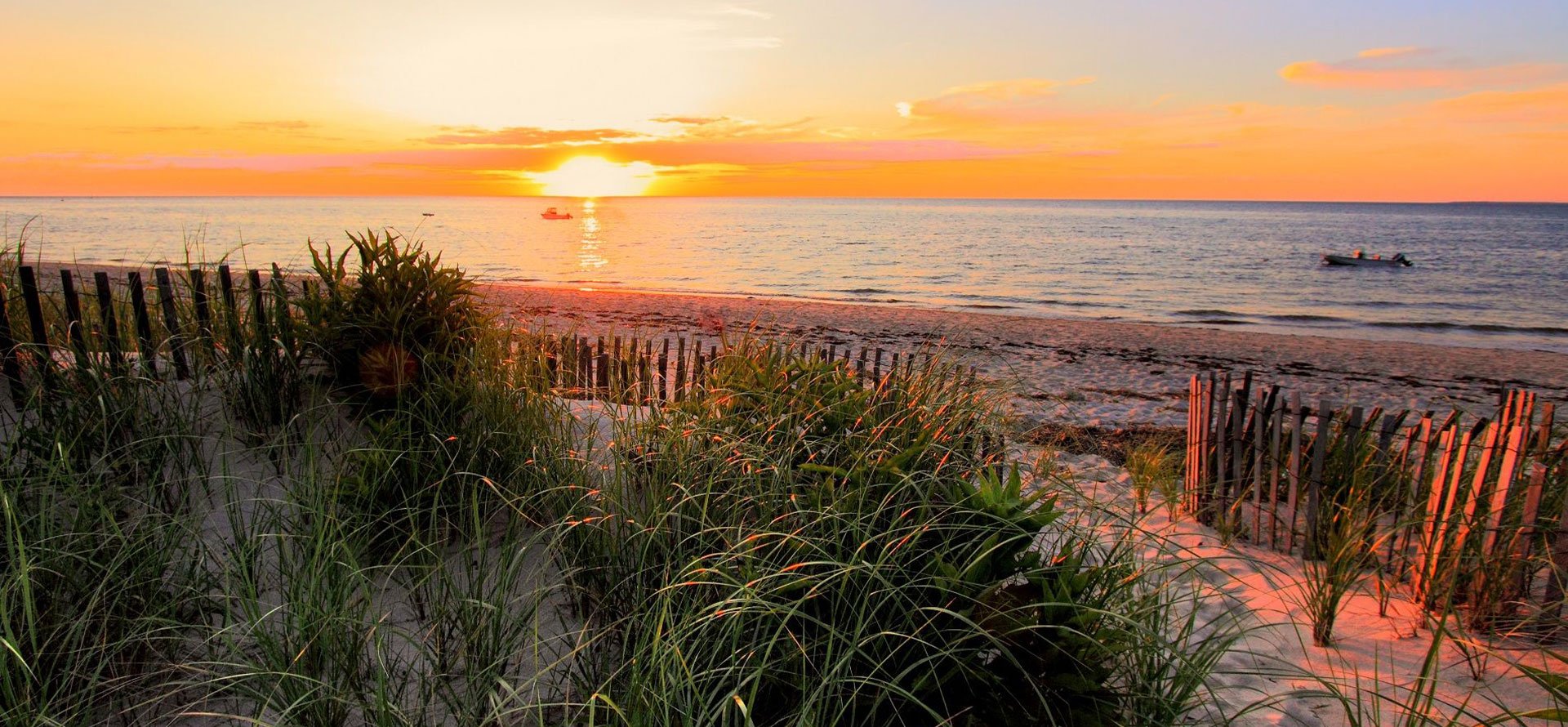 Grays Beach
On account of its wildlife sparsely seen among its tall glasses, thereby presenting a blend of flora and fauna among shades of blue and green, this beautiful Cape Cod Beach in Yarmouth is worthy of mention. It is not as large as other beaches in Cape Cod, but it perfectly encompasses all features needed for a relivable vacation experience.
It has low tides that extend into saltwater marshes with a wooden walkway over it connecting its bay to the nearby Garden Creek. A walk over this gives a sweet sight of its admirable marine life. The beach has a spacious picnic area with a summerhouse to suit every tourist's taste. Seasonal lifeguards are also available. Sporting facilities like basketball and tennis court are also available for sports lovers.
Sandy Neck Beach
A brilliant view of the ocean can be appreciated from the rocky shores of this beach. The water is relatively cold compared to other top beaches in Cape Cod, tourists can,however, still enjoy a refreshing swim in the protected waters. For adventurous hikers, this six-mile-long beach has offroad trails for exploring its wetlands and forests beyond the sandy shores. Off-road vehicles are also allowed for a thrilling drive through the beach's rocky terrains. Its surrounding forest gives tourists a wildlife-themed expedition through its green shrubbery, and serves as a home for a diversity of animals including protected species like the piping plover bird. Animal-lovers have a truly epic sight to behold here.
Cottages are available for short rests after an eventful exploration of the wetlands, cranberry bogs, salt marshes, and dunes of this Cape Cod Beach.
Conclusion
From family time to adventurous activities that can redefine one's leisure, this article phas described what to expect on the best beaches in Cape Cod. The vacation experience on the beach is not just limited to water activities, other wide range of activities that are suitable for kind of tourists to explore are also highlighted in this article. You can always count on us to supply you with the best travel guide and useful content for a gratifying vacation as our site is home to all adventure-seeking readers.
Top Hotels & Resorts