Oahu is one of the islands of Hawaii, which is a popular destination for tourists. There is a lot to do and see including learning about the native culture of the area or experiencing some of the traditional cuisines of the area.
Our Favorite Hotels & Resorts
Oahu has an interesting history and it is the location of Pearl Harbor, which has military significance. The area has a vibrant nightlife and there are beautiful sandy beaches for people who like to swim or surf.
Knowing where are the best beaches in Oahu can be difficult because some beaches are best for surfers while others are best for families with kids, so it depends on what you want. This is why we have compiled this list of the best beaches in Oahu.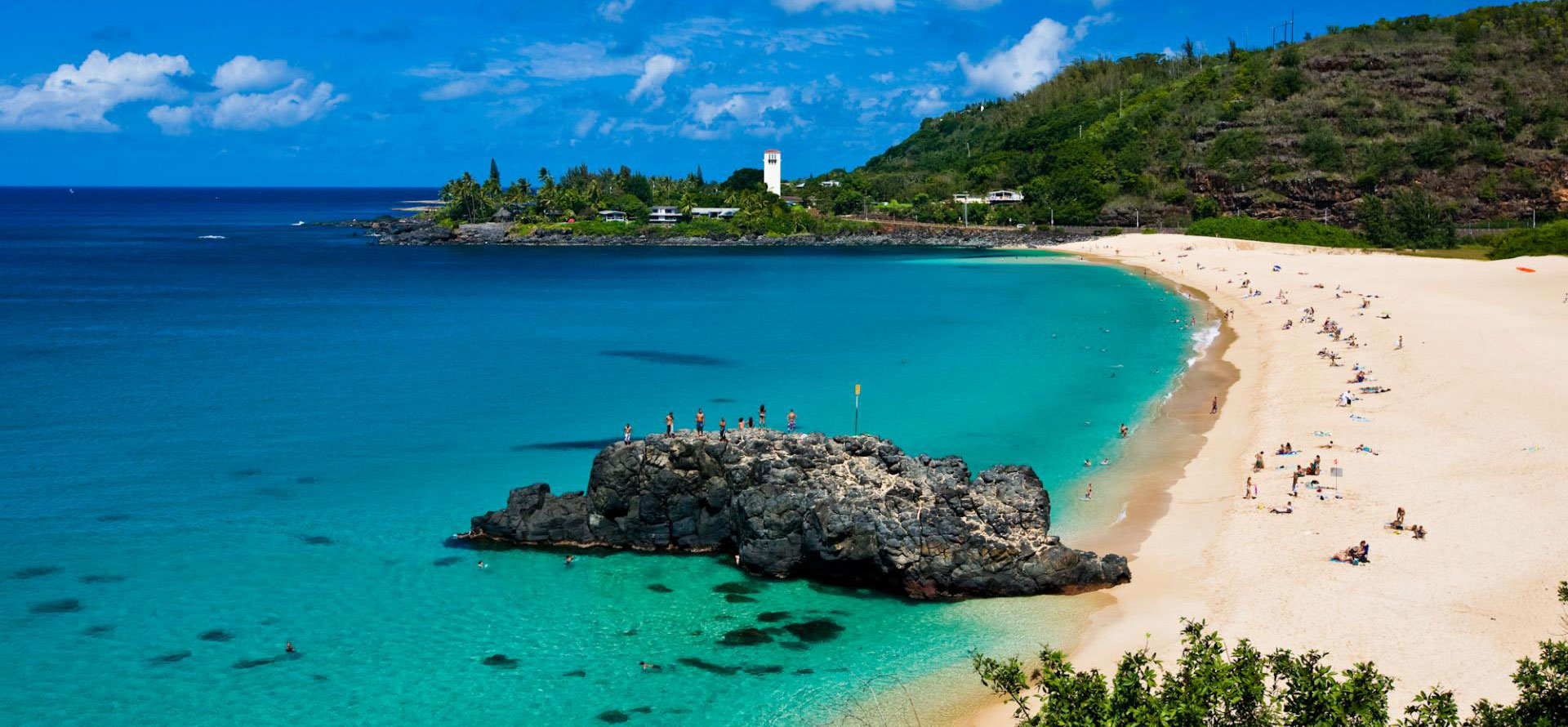 Waikiki Beach
This is probably one of the most famous beaches in Oahu. It is found on the south shore of the island and has a large expanse of white sand and a clear blue sea. There are a lot of resorts and hotels on the beachfront in front of this beach so this is also why it is one of the most popular beaches in Oahu. Waikiki beach is divided into 8 separate beaches, which are all great for holiday-goers. It has the convenience of being close not only to resorts but to an assortment of shops as well. There is a shopping mall and also convenience stores where you can find various items. This beach is good for paddle boarding and swimming, but it can get very crowded, particularly during the holiday season.
Kailua Beach
Kailua beach is only 12 miles away from Waikiki so easy to access. This is a good choice when it comes to popular beaches in Oahu where you can swim. The water is calm and serene and there are lifeguards so there is more safety here than on beaches without lifeguards. This is a 2-mile stretch of sand so there is a lot of space. Make sure if you decide to swim to do so near to the lifeguard towers. The views over the ocean are spectacular and the area also has a nearby park where people can have a picnic. The beach is one of the most famous beaches in Oahu for its canoe races and 4th of July celebrations. During those times it will be more crowded with people.
Ehukai Beach
This is on the north shore of Oahu and it is another one of the famous beaches in Oahu because it is a surfing spot. There are huge waves here causing the formation of the Banzai Pipeline, which is because of a close-to-shore reef. The waters here are not for the faint of heart but it is the place to be to compete or watch Surfing competitions. It has a lovely sandy beach that you can hang out on and lie down to suntan, or sit and watch all the surfers trying their luck in the waters. Swimming in the sea here is not recommended because the waters are rough. There is a hotel nearby for people who want to stay overnight.
Ko Olina
Ko Olina includes a resort and an area with various lagoons. You do not have to be a guest at the resort to swim in the lagoon area. When it comes to the most beautiful beach in Oahu friendly for families. It is a good choice. While Ko Olina is considered safe for families, there are no lifeguard towers or lifeguards in this area, so you need to still be cautious if you let your children swim in the waters here.
There are facilities for the public in the area and the beaches are clean with soft sand. The lagoon waters are somewhat calm and nice for swimming in.

The waters are surrounded by manicured grass and palm trees.

The area is well kept and the waters in the lagoon are usually not too cold.

It is also one of the best beaches in Oahu if you are looking for a less crowded experience and it is a family-friendly environment.
Sunset Beach
This is another one of the many top beaches in Oahu if you are a surfer. Waves are gigantic in the wintertime on this north shore beach. It is only 2 miles away from Ehukai beach and has also been the site of past surfing competitions. In the summer it is safer to swim in the water because waves do not get as big. It is a famous beach in Oahu with white sands and tall palm trees and aquamarine seawaters. It is a lovely place to visit at any time of the year, just do not go into the water if it is winter because it is too dangerous at that time, unless you are an experienced surfer.
Makapuu Beach
This beach is considered one of the best beaches in Oahu to see a beautiful sunrise. The sea is a gorgeous turquoise color and the beach sand is white and soft. It is the perfect spot if you want to sit on the beach and read a book or simply suntan.
It is not a place you can swim safely or use a surfboard.

People do body surf in the waters here but it does have a reputation for strong rip currents at times.

There is also a very nice trail, the Makapuu Point Lighthouse Trail, which climbs up allowing for terrific views of the ocean and good opportunities to take photos of the surroundings.
Waimanalo Beach
Waimanalo Beach is possibly the most beautiful beach in Oahu, with its aquamarine waters and white sandy shores. It is on the windward side of Oahu and has some interesting marine life. This is a great place for swimming and has lots of parking spaces, which is a benefit if you have a rental car. They also have ablutions including showers available for use. The beach provides a safe spot for swimming because you do not often get big waves or strong currents in the sea here, and there are also lifeguards on duty. The area is even popular with locals of Oahu because of its safety and amenities.
Mākua Beach
For privacy and seclusion, it would be hard to beat Mākua Beach. Since this beach is quite far away you do not get crowds of people. The sand is soft and white and the sea is beautiful. From the beach, you can see the beautiful Waianae Mountain Range.
There are no ablutions though but the area is more natural and not developed the way other beaches are.

Snorkelers consider this the best beach in Oahu and you can often see dolphins in the water.

This beach is good for fishing and there are rock pools you can explore.

It is important to note that the area can be dangerous for swimming because there can be strong currents and waves can get big at certain times of the year.

If you do swim do not go out far because the ocean bottom drops off quickly and becomes deep relatively close to shore.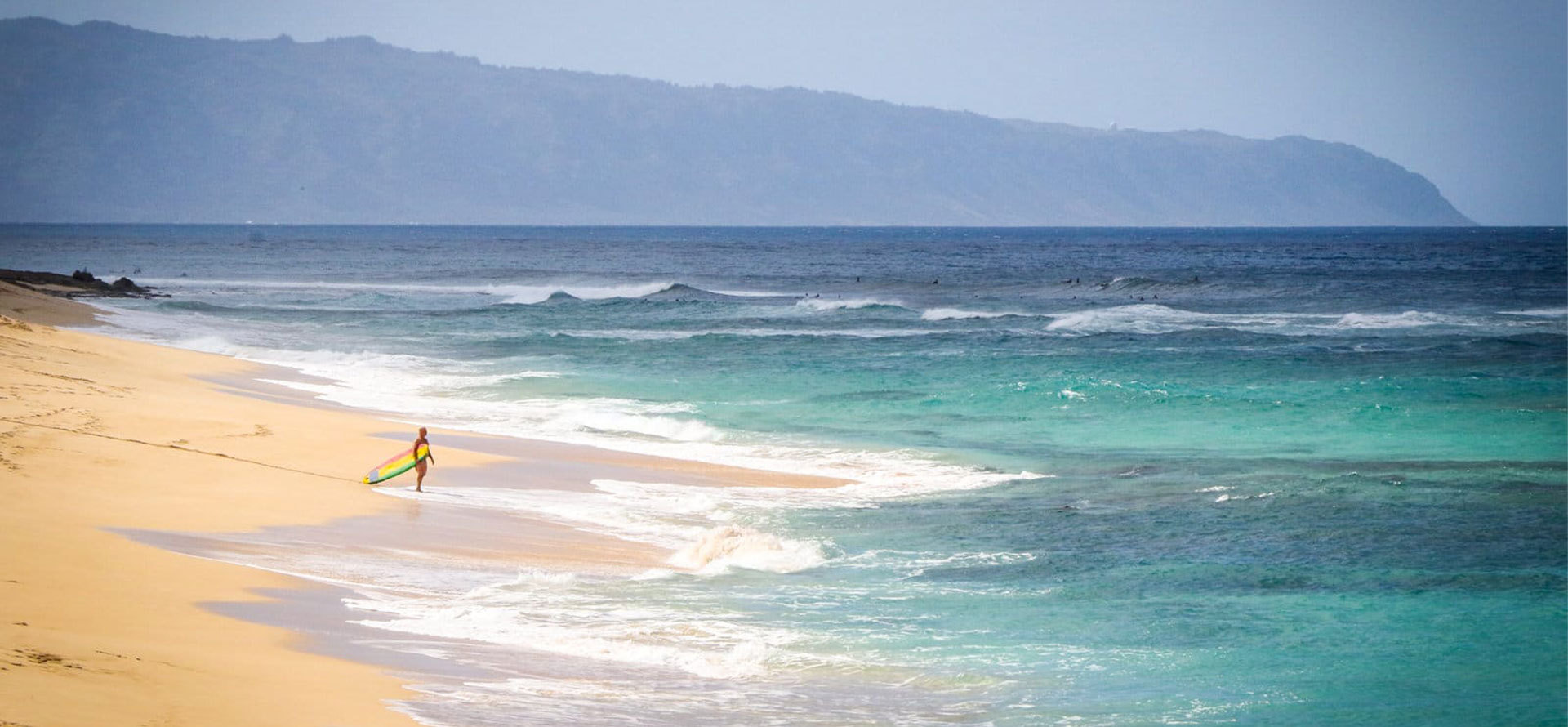 Sandy Beach
Sandy beach is near Hanauma Bay, and it can be reached easily by bus or car from Waikiki as it is not far away (about 30 minutes of driving from Waikiki). Body surfers and surfers, in general, enjoy this beach. Swimming may be dangerous and only experienced body surfers should get into the water. The sea here has many strong rip currents. It is one of the top beaches in Oahu and it has lovely soft sand scenically it is a very picturesque place to visit. There are toilets and showers here so you can comfortably spend the day on the beach enjoying the sun and watching the surfers.
Ala Moana Beach
Although a fairly small beach at about ½ mile long, this is a terrific place to visit and go swimming. There is a nice park here where you can have a picnic. Swimming is best done on the eastern side of the beach though because there are quite a few sharp corals that could cut your feet on the western edge. One downside to this area is it can become crowded during the peak tourist season but it is one of the places where swimming is safe. Many of the beaches have dangerous conditions either during the winter season or all year round. Ala Moana would be a good place for a family to enjoy an outing, have a picnic, and take a dip in the ocean.
Conclusion
We have discussed some of the most beautiful beaches in Oahu that you can visit. Choosing the most suitable beach depends on what your interests are. As we have pointed out some of the beaches in Oahu are treacherous for swimmers and are used more as professional surfing spots. There is a beach for everyone in Oahu, including a couple of beaches where the water is safe for swimming. Explore our site to learn more about countries to choose for your next vacation.
Our Favorite Hotels & Resorts Full Info