The island city of Key West was originally formed from coral reefs. It is influenced by its Bahamian and Cuban heritage. Wondering where are the best beaches in Key West? This tiny island offers plenty of fun in the sun, sand, and the most beautiful beaches in Key West. There are also shops, historical sites, and homes of famous authors Hemmingway, playwrights such as Tennesee Williams and president Harry S. Truman, and musicians like Jimmy Buffett who discovered inspiration and charm in the island city. There is also a Butterfly and nature conservatory in Key West to visit when taking a break from the beach. A description of each of the Key West beaches is provided for potential visitors who are planning a trip to enjoy all these beaches have to offer. Key West has a great beach climate with an overall average high temperature of 82 F degrees Fahrenheit and an average low of 73 F, making it an ideal destination year-round and the rainy season is May through October. The Atlantic Hurricane Season can affect Florida and the rest of the southeastern United States from June 1 through November 30 each year so it is best to be aware of the weather when visiting.
Best Hotels & Resorts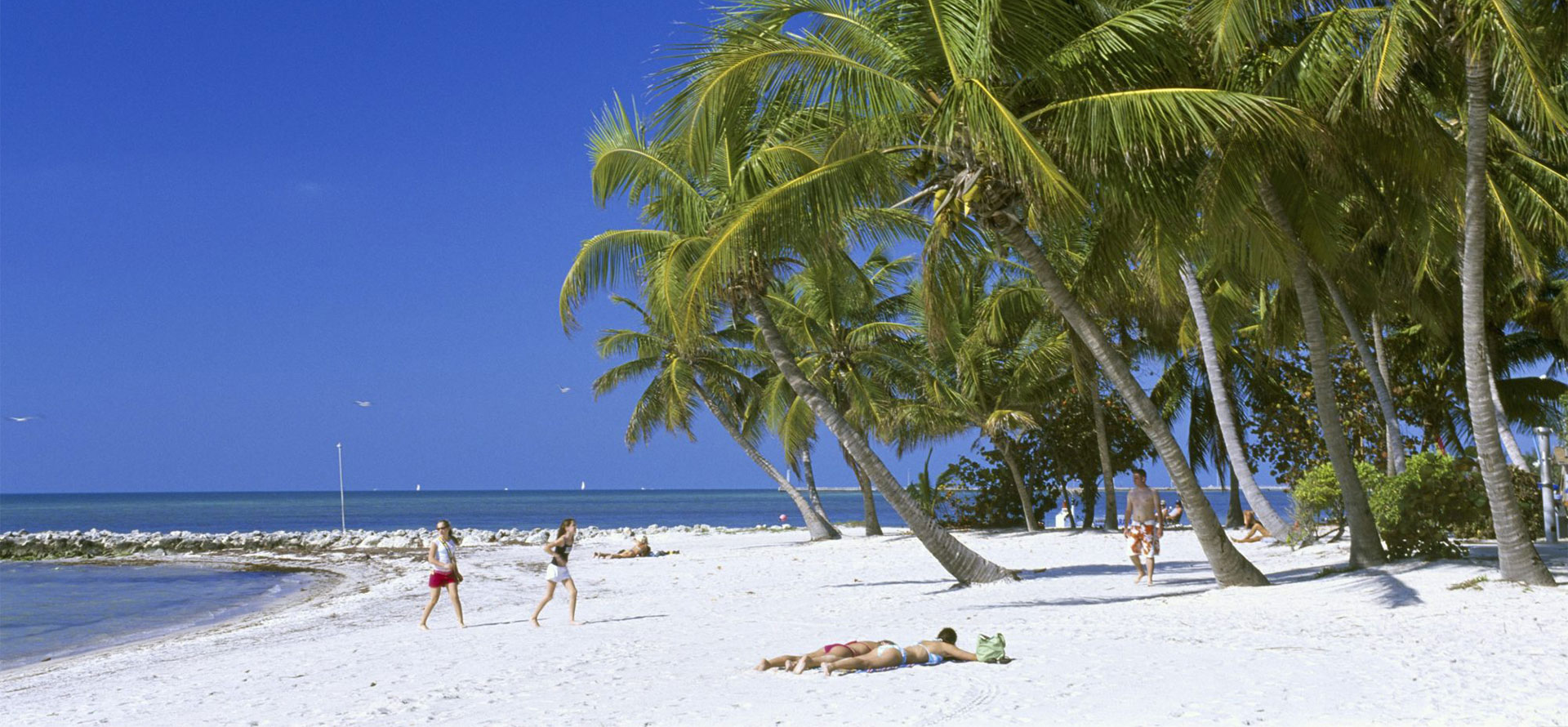 Fort Zachary Taylor Beach
Fort Zachary Taylor is an eighty-seven-acre state park that is a pre-Civil War Fort built in the mid-1800s to defend the southeastern coastline. Fort Taylor was designated a National Historic Landmark in 1973. The entrance is through the Truman Annex at Southard Street. As the best beach in Key West, it is at the south end of the park and has a beautiful sandy beach but is a bit rocky. There are public restrooms, a Cafe', kiosks for food and drink, chair rentals, picnic tables, and grills. There is an admission charge. The park and beach are complete with cannons and guided tours, nature trails, and ideal spots for fishing and snorkeling. It is an adventure to see colorful marine life here when snorkeling with parrotfish, snapper, and lobster. Visitors can enjoy nature trails and bicycles within the park.
Some beaches in the Florida Keys are shallow and somewhat stagnate. Fort Zachary Taylor has one of the top beaches in Key West and has excellent water flow, depth, and clarity. The waters off Fort Taylor beach offer the best beach for scuba diving in the Keys. Since the park is located where the Gulf meets the Atlantic there is excellent water quality, you can view a variety of tropical fish and there are both hard and soft corals. You may see grouper, tarpon, or schools of fish.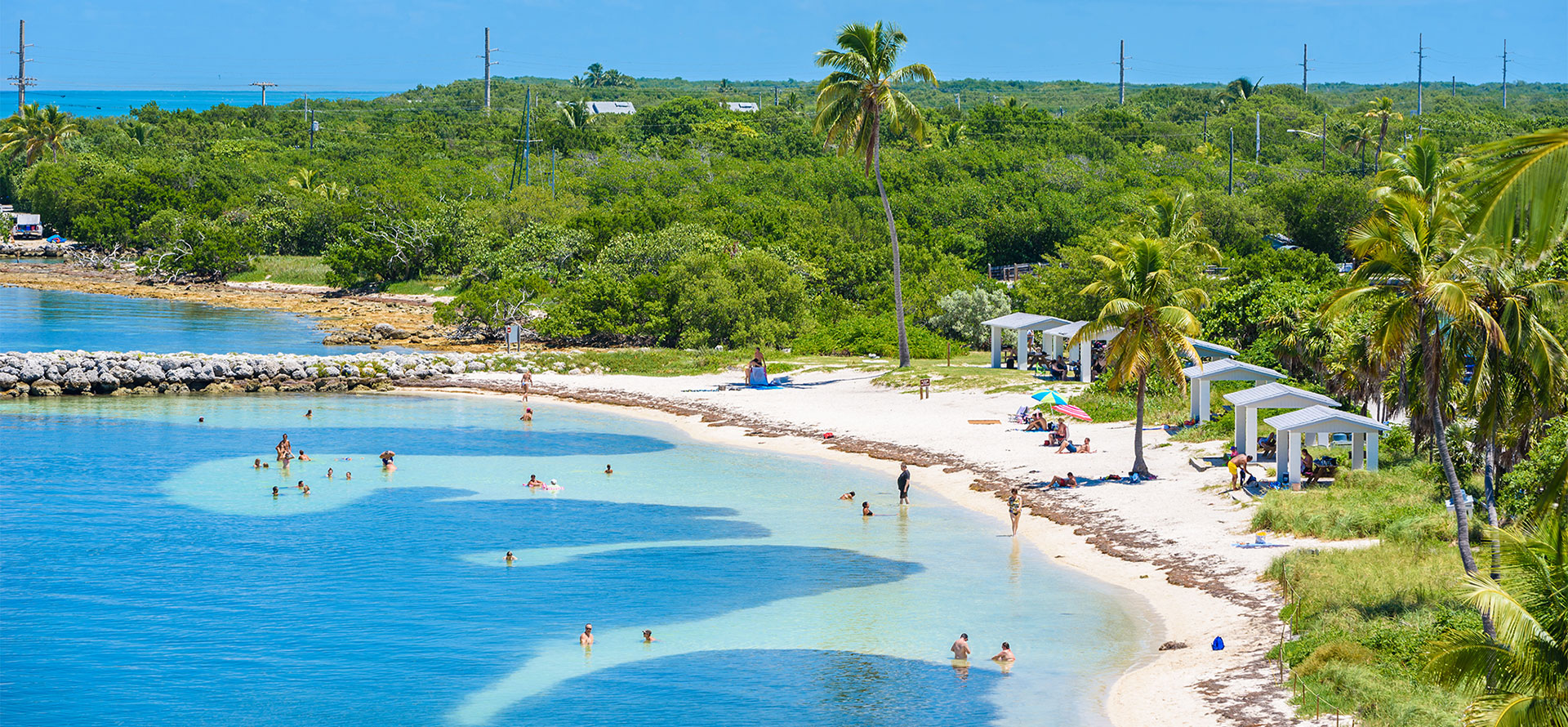 South Beach
South Beach is one of the best beaches in Key West. It is a small soft white-sand beach with clear, shallow, warm waters situated close to cafes, restaurants, and shops. It's one of the famous beaches in Key West for being a relaxing, calm beach that is family-friendly, where you can spend a carefree day off with your family and friends. Water shoes are recommended here because there are plenty of rocks and much slick seaweed. There are lifeguards on duty, and arriving early will help you find a parking place, and there are no public restrooms, but people can use a bathroom at a nearby bar. There are water fountains at the beach, and food can be purchased at a nearby cafe with outdoor dining. The beach is located at the southernmost end of Key West at Duval Street on the Atlantic Ocean. The beach is open from 7 am to 11 pm and has a free entrance, but there is a fee to park. Reasonably priced Sunbeds and umbrellas can be rented, with a complimentary refreshment. The Emma Carrero Cates Pier is a long concrete pier to stroll on or sit and enjoy a sunrise or a sunset view.
Higgs Beach
Higgs Beach is a county-owned beach on the Atlantic Ocean next to the Casa Marina Resort. There are sixteen and one-half acres of oceanfront vista with clear turquoise water, sandy beach, and tropical landscape. Higgs Beach is a public beach park with diverse activities. Higgs Beach has sand imported from the Caribbean to create volumes of soft white sand which makes it one of the most beautiful beaches in Key West. With the way the tides flow in this area of Key West, you often see driftwood, seaweed, and other sea debris floating on the water's surface or washed up on the beach. You can often see tractors raking the beach to make it pleasant for visitors. Higgs Beach has an outside shower to rinse off the sand, and there are also restrooms, which are clean and looked after making it one of the best beaches in Key West. There are palm trees and covered picnic tables providing a lovely and somewhat shady place to sit and rest. Swimming or snorkeling is better by the pier, where the water is more transparent and cleaner, and stingrays and plenty of fish are seen there. Parking is free at Higgs beach, so you don't have to keep walking back from the beach to feed the meter. It's best to arrive early to find a parking spot, as it can be crowded. The White Street Pier makes this one of the popular beaches in Key West. It is an extremely long pier that stretches out from Higgs Beach and is a breathtaking sight and is nicknamed "Road To Cuba". There is an Aids memorial with black plaques embedded into and standing alongside the sidewalk of the pier. It was created for victims who died during the Aids epidemic.
A concierge service is at the beach called Tropical Watersports Key West, which charges $30 for two lounge chairs, an umbrella, all beach gear and water sports equipment, Wi-Fi, and even have notary services. They can also arrange tours for Jet Skis, Parasailing, Snorkeling, Fishing Charters, and Dolphin Tours. If the beach becomes tiresome, there is a children's playground across the road. There is also the Key West Wildlife Rescue Center, on White Street, just down the road from Higgs Beach, where ill and injured animals and seabirds are treated before returning to the wild.
Higgs Beach Park is one of the famous beaches in Key West in that it has the only marine park underwater that is shore accessible in the Florida Keys. A bike and walking trail called the Overseas Heritage Trail is a 106-mile paved rail trail, under construction between Key Largo and Key West in the Florida Keys. Martello Tower has served as the home of the Key West Garden Club, and visitors can tour the gardens for free. The park also contains a large dog park for animal lovers.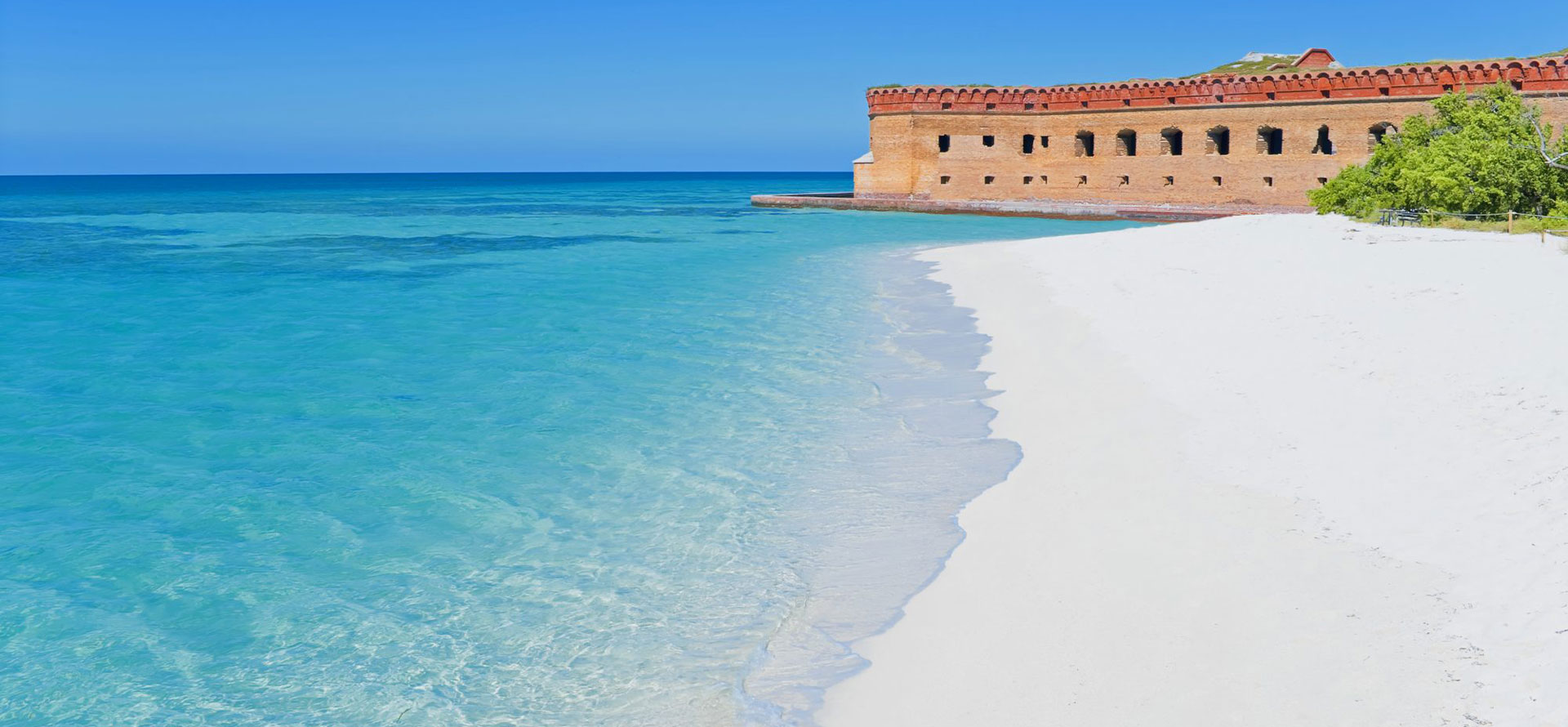 Smathers Beach
Smathers Beach is one of the four beaches that are owned and managed by the City of Key West. It is one of the best beaches in Key West. Smathers Beach runs along the southern shore of the island for almost two miles and faces the Atlantic Ocean along the A1A highway. Smathers Beach is a stretch of finely grained sand, the water is shallow on shore and it is the most beautiful beach in Key West. It's a relatively large beach by Key West standards. Sand is replaced every other year by the city of Key West due to tropical storms.
The small swells in the area aren't conducive to surfing, but paddleboarding is done there. There is a swim zone to enjoy and areas with a rocky bottom. Snorkelers can observe the tiny sea life that lives in these waters. It has public restrooms, and parking is along the street. The beach is not always crowded, and there are concession stands, chair rentals, bike paths, picnic tables, and volleyball nets. Vending trucks also offer snacks, beverages, chairs, and rafts. There are motorized and non-motorized-water sports rentals at the beach, including:
jet skiing
parasailing
windsurfing
The beach is accessed from South Roosevelt Blvd. From Smathers Beach, continue your island exploration aboard the trolley with a tour of the Hemingway Home and Museum if desired or an informative tour on the Conch Train where you will learn about the island's history, visit Mallory square learn about Cuban cigars, and the haunts of local celebrities.
Conclusion
Consider enjoying some of the best beaches in Key West using the information given to plan your next trip. There are many diverse activities and beaches in Key West to pick from to make a memorable and fun vacation. Experience parasailing, windsurfing, and the paddleboard as well as snorkel or dive to see colorful tropical fish native to the area. You can find many useful posts on our website so you are welcome to visit and comment.
Top Hotels & Resorts