Beaches in New England comprise five states in the northeast U.S. that boast over 5000 miles of U.S. coastal ocean front borders. Maine, Massachusetts, New Hampshire, Rhode Island, and Connecticut share a historical past as they are the oldest states in the U.S. From the farthest north cliffs and rocky shorelines of Maine to the southern dunes and sandy beaches of Connecticut, New England beaches have something for everyone to enjoy.
Our Favorite Hotels & Resorts
Connecticut Beaches
Not many people think of Connecticut as an area of beaches in New England. However, Connecticut's coast is filled with 23 inviting sand beaches stretching over 330 miles along Long Island Sound. The state's coastline extends 618 miles.
Sherwood Island State Park
Westport, Connecticut's 235-acre park, is home to one of the most beautiful beaches in New England. Sherwood Island Beach is a 1.5-mile beach comprised of alternating finely ground garnet, quartz, and magnetite layers of sand. The striking red, tan, and black beach offers sweeping views of Long Island Sound.
The State Park has plenty of activities, including swimming, fishing, scuba diving, field sports, a salt marsh, and a nature center. Facilities include bathhouses, concession stands, a first aid station, and drinking fountains.
Hammonasset Beach State Park
The largest shoreline park and one of the more popular beaches in New England is Hammonasset Beach State Park in Madison, Connecticut. Offering more than two miles of beachfront, 550-plus campsites, and ten gardens, it's no surprise that this State Park receives over one million visitors every year. The picturesque coastline is perfect for swimming, saltwater fishing, and hunting for seashells.
Maine Beaches
Maine is the northernmost point of New England. This far north, the water is usually too cold for swimming, and long sandy beaches are hard to come by. However, Maine has 3,478 miles of coastline, including inlets and islands. Maine's rocky coastline is spotted with small sandy beaches amidst enormous rock formations. These beaches are perfect for long quiet walks, fishing, clam bakes, and sunbathing.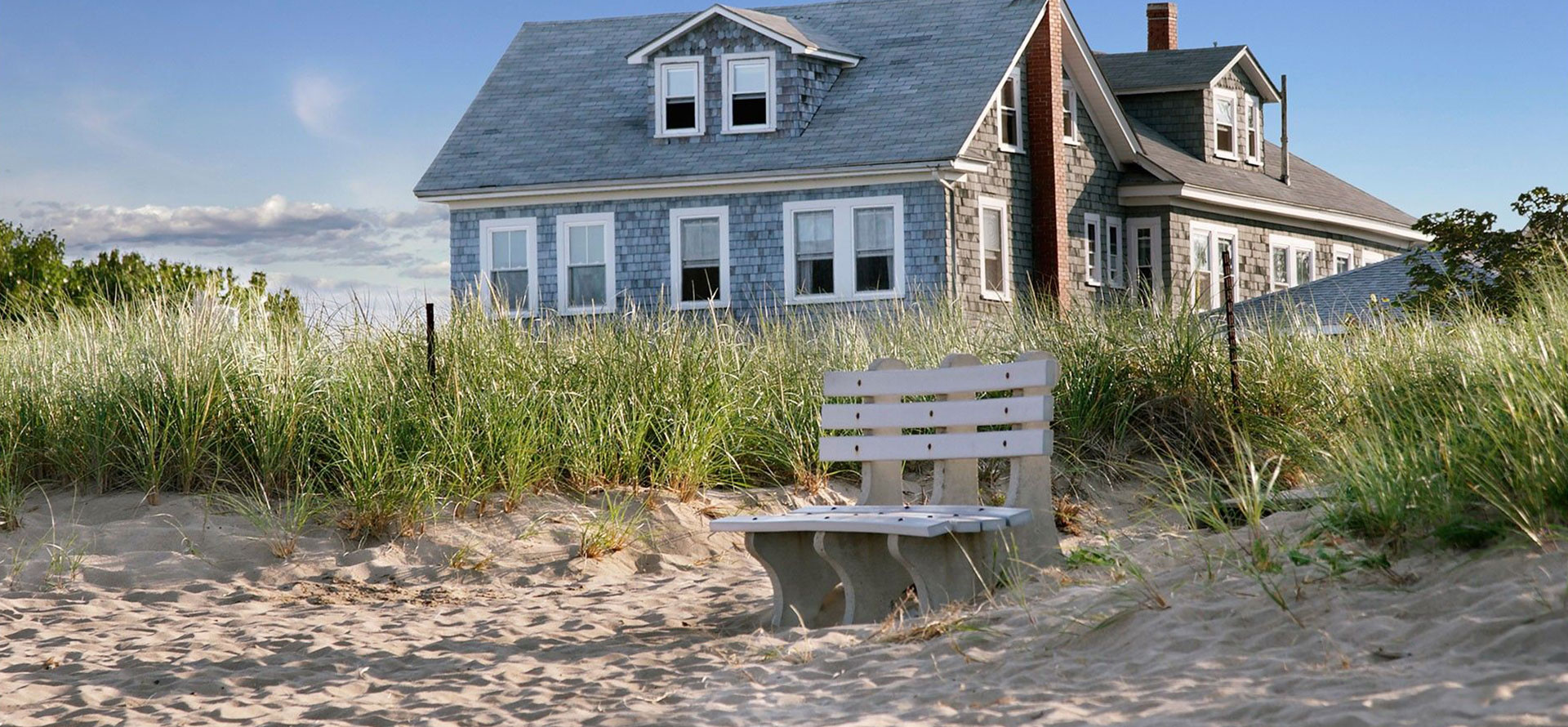 Sand Beach
One of the most beautiful beaches in New England is Sand Beach, a unique destination nestled in a cove beneath a dramatic granite cliff in Arcadia National Park in Mount Desert Island, Maine. Arcadia is one of the oldest national parks in the U.S, and boasts over two million visitors annually.
It sits underneath of pine-topped granite cliff that overlooks a deep green-blue ocean and a vista of far-off granite mountains. As the ocean surf pounds against the soft pink shell beach, the view is spectacular!
Crescent Beach State Park
One of the top beaches in New England is Crescent Beach. It is a mile-long New England beach with grassy dunes, mild surf, and small saltwater coves to explore. Located eight miles south of Portland, Maine, on Cape Elizabeth, Crescent Beach is part of Crescent Beach State Park.
The golden sand beach skirts the coast and boasts hidden trails that wind and curve through small coves filled with native plants and wildlife to explore via kayak. The coastline is perfect for surf casting. Occasional outcroppings of rock mark nature trails that loop along it and coves. The State Park rents paddleboards, offers kayak tours, provides fishing permits, and offers a snack bar and restrooms.
Massachusetts Beaches
With almost 1,500 miles of coastline, it is no wonder that many of the top beaches in New England are in Massachusetts or off its coast. Massachusetts has nearly 400 public beaches. Cape Cod, the Islands of Nantucket, and Martha's Vineyard boast 162 beaches. Whether you're looking for a sandy beach to swim and play in the waves and sand or a historic, rocky beach for water sports or seashell hunting, Massachusetts has no shortage of beaches to visit. Here are some of the most notable.
Crane Beach
Crane Beach is located on the Crane Estate in Ipswich, MA, and is a 1,234-acre beach favorite of locals and visitors. Miles of pristine white sand beach stretching along calm, blue ocean water provide a breathtaking view. The Estate houses a bathhouse, refreshment stand, and a beach store.
Grassy dunes and salt marshes surround it. A 5-mile-long hiking trail and boardwalks allow visitors to take guided hikes through the large pine forest with natural habitats and protected wildlife. Paddling trips are also available.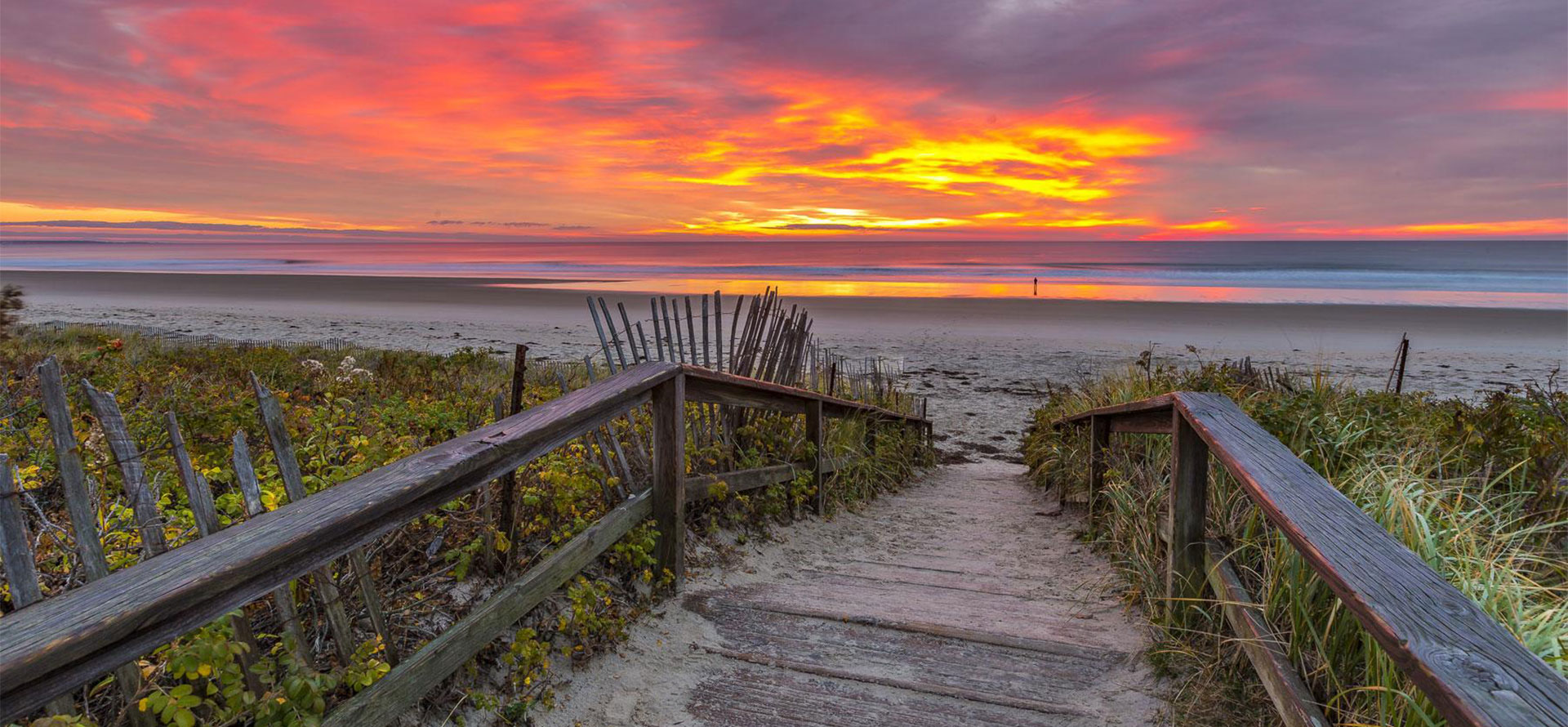 Cape Cod National Seashore
Cape Cod National Seashore is not one beach but a series of six protected beaches stretching 40 miles along the east coast of Massachusetts from Chatham to Provincetown. The area hosts many of the most popular beaches in New England that are part of the National Park system.
Coast Guard Beach in Eastham, MA,

might be the best spot in New England. The Old Nauset Coast Guard Station, for which it was named, still stands on top of the bluff overlooking the beach. This lovely beach id perfect for volleyball, boogie- boarding, and sandcastle building. It is popular with surfers, but there are also great places for swimming. A boardwalk connects it to the salt marshes and dunes.

Nauset Light Beach in Eastham, MA,

is named for three lighthouses that once stood on the bluff overlooking the ocean. Less than a mile long, this destination with shallower waters is tucked behind a cliff.

Herring Cove Beach in Provincetown, MA,

is a partially hidden golden sand beach by the bay with a mild surf. Parents will want to stay on the north side of its place, where more family-friendly activities occur.

Race Point Beach in Provincetown, MA,

is popular with visitors due to its location at the peninsula's tip. Miles of sandy beach framed by grassy dunes and a gentle breeze make this beach a perfect place to spend the day sunbathing. Bring a picnic and stay and watch the magnificent sunset.

Head of the Meadow Beach in Truro, MA,

is a small white sand beach known for the December 1872 shipwreck of the Frances just offshore. Some remains can still be seen at low tide.

Marconi Beach in Wellfleet, MA,

is the former site of Camp Wellfleet, an artillery training facility used by the army during World War II. A steep forty-foot sand cliff overlooks this pristine natural sand beach with views of the bay and the Cape. Stairs built into the cliffs allow access to the beach, and swimmers and sunbathers can use restrooms and a bathhouse during the summer.
New Hampshire Beaches
New Hampshire has the least amount of coastline of all 31 U.S states with a coastline. New Hampshire's coastline totals 131 miles. Despite its small coastline, New Hampshire has seven public beaches along the ocean.
Wallis Sands State Beach
If you are looking for a wide sandy spot with a picture-postcard New England view, look no further than Wallis Sands State Beach in Rye, New Hampshire. Long considered one the best beaches New England, this destination sits back amidst large rock jetties and is framed by white frame beach houses, grassy areas, large green trees, and calm blue water. Sailboats amid glimpses of nearby Star Island and the Isle of Shoals provide a serene view. The State Park provides a bathhouse, picnic tables, and a small store for beach supplies.
Hampton Beach
One of the more popular beaches in New England is Hampton Beach in Hampton, New Hampshire. Although New Hampshire only has 13 miles of beach along the coastline. Hampton Beach is the largest and most visited by locals and tourists. It offers something for everyone to enjoy. The expansive place is the primary draw, with cool water and waves for swimming and boogie-boarding. A sizeable fenced-in playground with swings, slides, climbing rope walls and the like, is popular with the kiddies.
The town's beachside sidewalks feature stores, restaurants, arcades, and entertainment for all ages. In June, master sand-sculpting artists from around the world come to compete in the Hamptons Annual Sand Sculpting Competition. This spot is hopping with live music all summer long at the Seashell Stage, which draws notable performers, fireworks events, and festivals.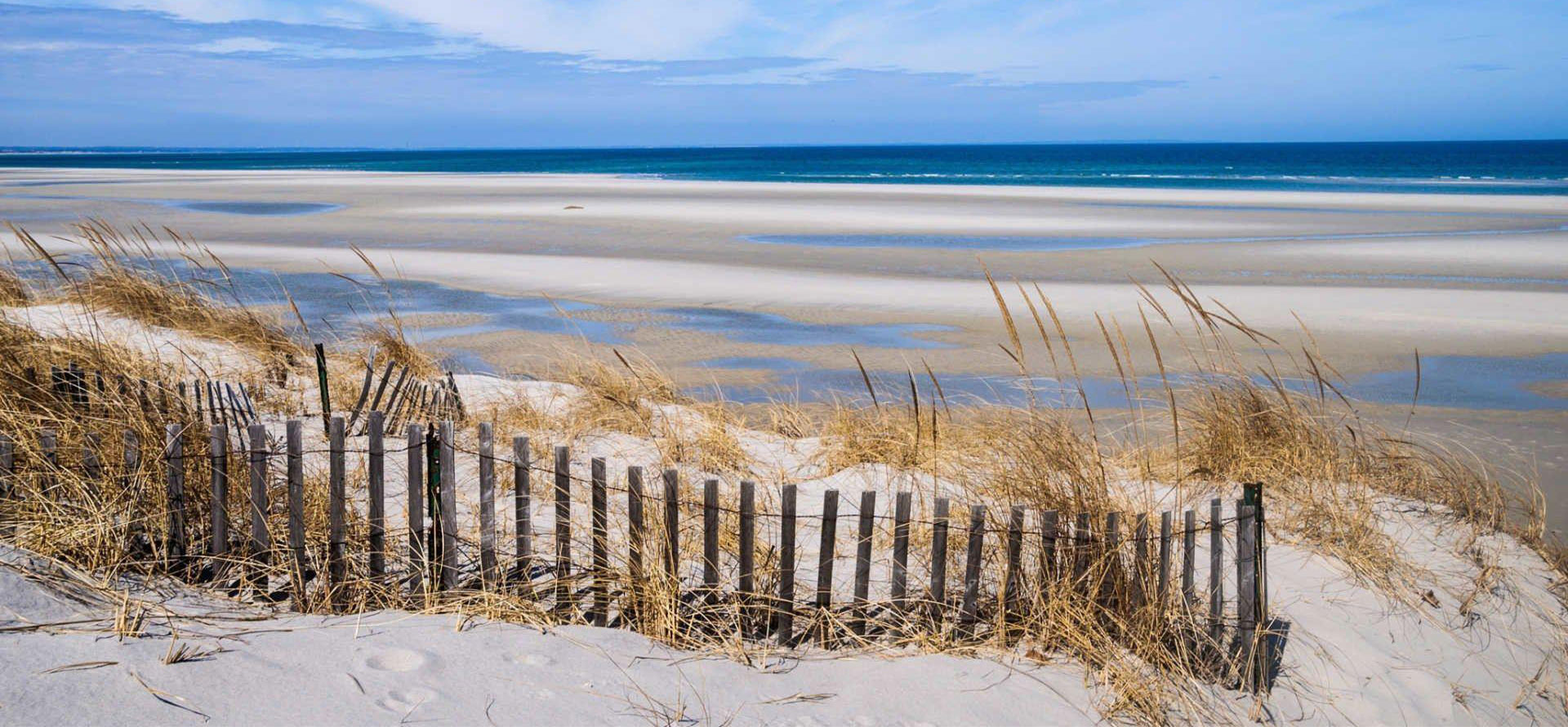 Rhode Island Beaches
Rhode Island's coastline stretches 384 miles from Narragansett to Westerly. Many of its northern beaches are narrow sandy areas interlaced with salt ponds, home to shellfish and small marine life. Further down the coast, visitors can find deeper, more expansive sand beaches framing the Atlantic Ocean.
East Matunuck State Beach
Matunuck Beach in South Kingston, RI, is one of the oldest and the most beautiful beach in New England, first shown on a map in 1857. Before the end of the 19th century, Matunuck Beach was an upscale resort with beach homes and exclusive bed and breakfast inns. It framed by rocky outcrops stands in contrast to the deep blue surf. Distant views of fishing boats and nearby Block Island make for one of the most famous beaches in New England.
Over the years, ocean storms and hurricanes ravaged it and destroyed many resort buildings. However, that picturesque view remains. Beginning in 1956, the Rhode Island State Dept of Public Works started acquiring land and developing it into a 144-acre state park. The place is less than a mile wide, framed by fenced grassy marshes and a modern shaded beach pavilion. Amenities such as restrooms, showers, concessions, lifeguards, and wheelchair accessibility make this beach a popular spot during the summer season.
Scarborough State Beach
Scarborough Beach in Narragansett, RI, is a 26-acre state park with 2,325 feet of beach front. It is one of the best saltwater beaches and the most popular beach in New England. It usually hosts up to 10,000 visitors each day in the summer.
With nearly 20 acres of soft sandy beach, Scarborough Beach is a perfect place to spend the day frolicking in the mild surf and building sandcastles. Bring a picnic lunch, or get something at the concession stand, and eat under the shad pavilion. Every amenity you should need is available here. Lifeguards are on duty from 9 a.m. to 6 p.m., and the park has a large parking lot.
You could ask anyone native to New England, "what is the best beach in New England?" The answers will likely not be the same. The rocky coastline, numerous bays, coves, inlets dotted with white and golden sand beaches, and historical ties to the fishing industry make New England beaches a unique destination. Nowhere in the U.S. will you find the best lobster, clam chowder, lighthouses, and views of giant rock- framed beaches than at the top beaches in New England.
Our Favorite Hotels & Resorts Full Info