Lake Tahoe is scenically beautiful and locates in the Sierra Nevada Mountains of the United States. Both California and Nevada border Lake Tahoe. It is one of the oldest lakes in North America, and it has a reputation for having clean, clear blue water. This region is a popular tourist destination, attracting millions of people annually. There are several beaches in Lake Tahoe that you can visit. The problem is knowing exactly where are the best beaches in Lake Tahoe and which you should choose. Keep reading to know what beach will fit you the best.
Our Favorite Hotels & Resorts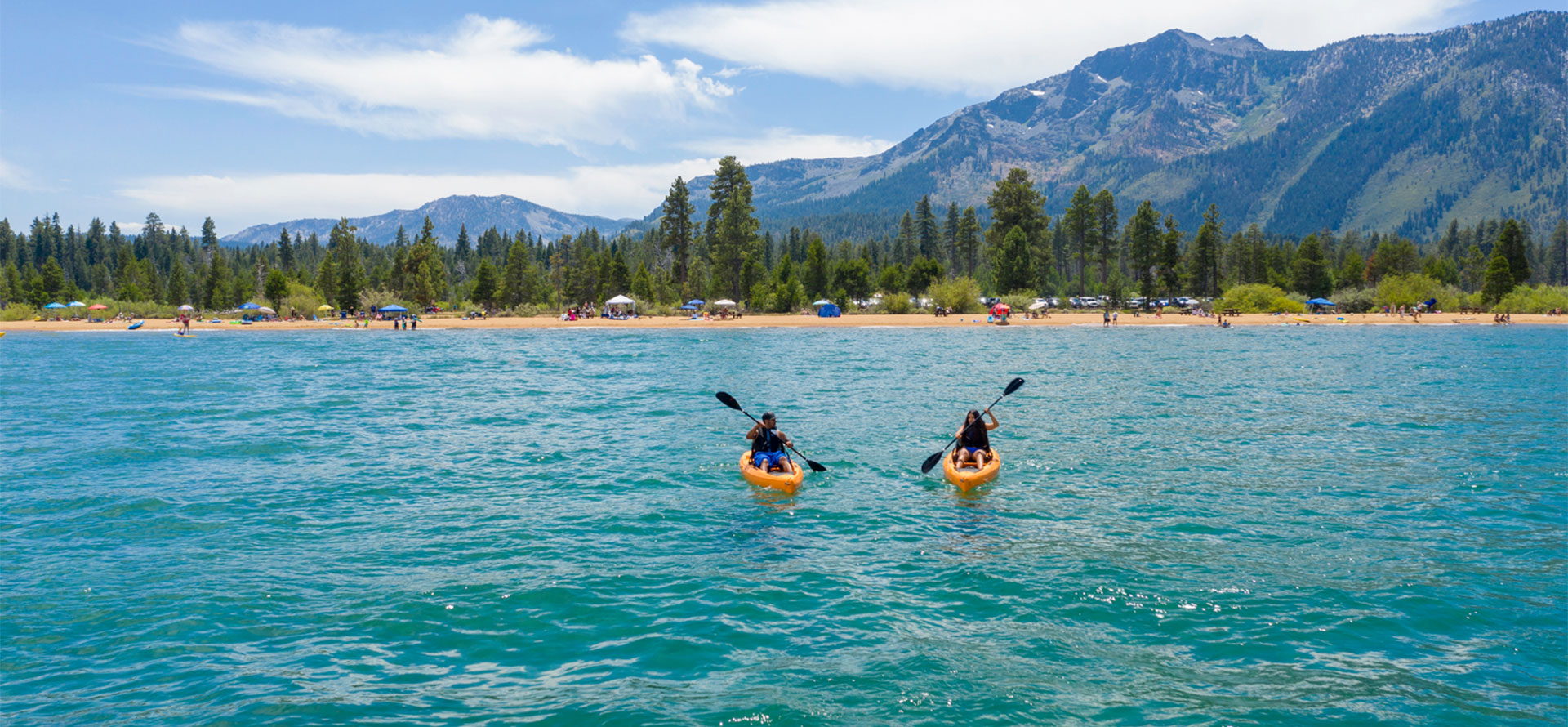 Lakeside Beach
Lakeside Beach is among the best beaches in Lake Tahoe and is on the southern side of the lake. You do need a pass to enter the beach, unless you are staying on the property. It has soft sand, and the water is safe for swimming.
You can have a picnic in the area and visit the Lakeside Beach Grill to get a meal and something to drink. Another benefit of its beach is that you have access to free parking. You can also rent beach umbrellas, jet skis, and kayaks. The summer is the best time to visit if you want to swim and have children with you because there are lifeguards on duty here. On such national holidays as Labor Day and Memorial Day it is allowed free (no pass) access to the visitors, but expect that there will be crowded and noisy.
Pope Beach
According to the tourist reviews, this beach is one of the most famous beaches in Lake Tahoe. If you decide to stop on the south side of the lake, there is a lot you can do there. You can go swimming or venture out on a boat, but motorized boats aren`t allowed to use there. Being one of the famous beaches in the area, it is popular for family picnics; visitors often come here to go mountain bike riding. There are also restrooms available.
There are sand dunes and Pine trees to scout and nature to explore on its beach. This area is under the Forestry Service branch control of the USDA, and pets are not allowed.
Nevada Beach
Unlike Pope Beach and Lakeside Beach, this popular beach locates in Nevada on the southeast side of Lake Tahoe.
This beach is also under the control of the Forest Service, so you need to take note of any regulations given when entering this area.

You are not allowed to use grills that have charcoal or wood, only gas. Some parts of this beach are fenced off to protect the Tahoe yellow cress plant.

You should follow all the rules here and not disturb the plant life.

You can take pets on a leash in the campground area.

You must have the correct and valid fishing licenses for Nevada or California state.
Nevada Beach is a fee for day use and parking. The area has restrooms, and you can rent a kayak or paddleboard. Nevada Beach is one of the most popular beaches in Lake Tahoe because there are also campsites, and you can have group activities here.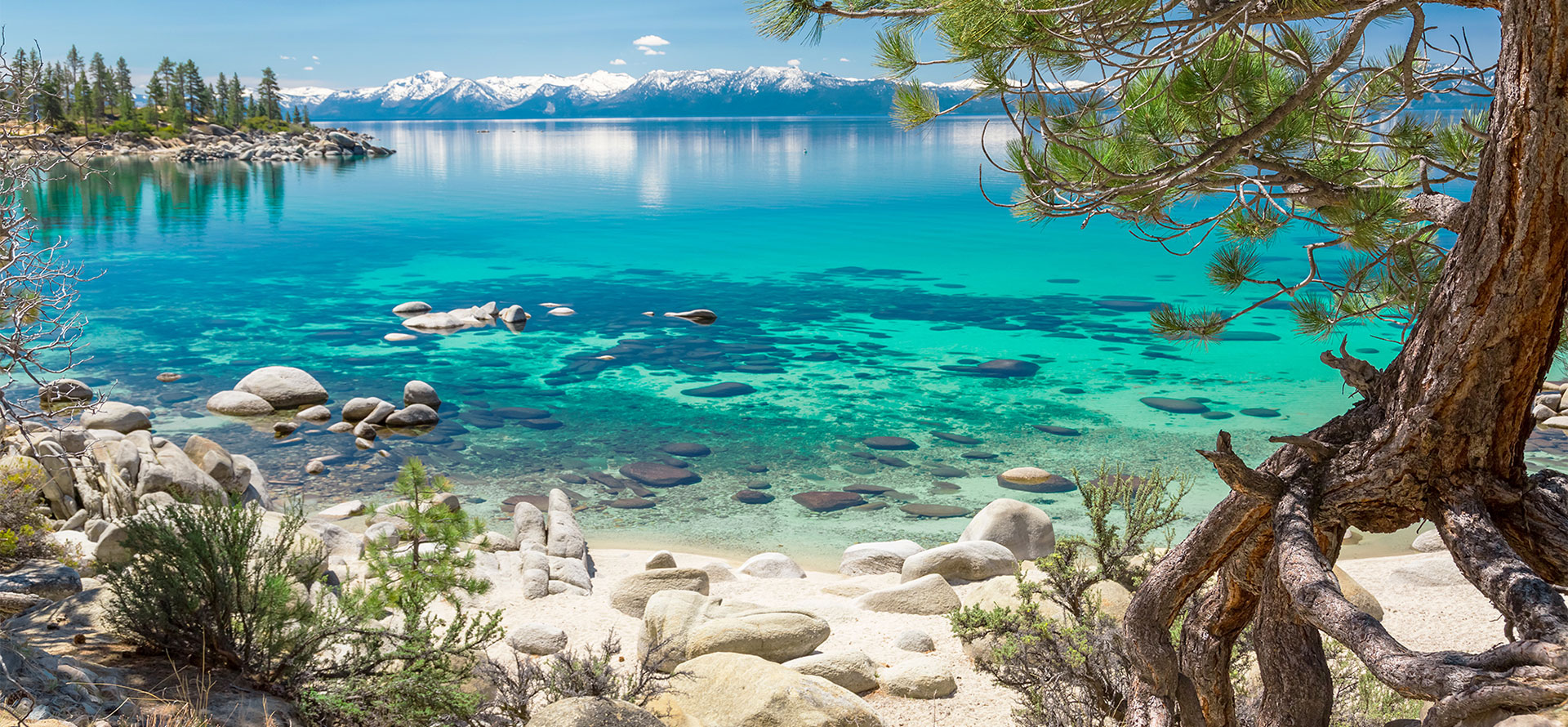 Commons Beach
For a range of family activities to choose from, it would be hard to beat Commons Beach. It is one of the top beaches in Lake Tahoe to take your family to. There, you can have night movies, free during summer, and summer concerts.
This beach is terrific for children as there is a playground and picnic area. Its area is popular among fishermen. The Commons beach also has facilities for groups as barbecue and camp spaces. The beach has an expansive area of grass and sand, and it is an excellent place to bring the family for a day of fun in the sun.
Kings Beach
It has a boat ramp and restroom facilities. There is a camp area and a half basketball court, so we can consider it a family-friendly beach. This beach is on the California side, and they allow dogs, but on the leash only and in a small rocky area. Kings Beach is a superb destination to enjoy the day with your family or spend some time together. You can fish, but the water is shallow for quite a distance out into the water, so it is difficult to catch fish from the beach, so it is not a good fishing spot.
Sand Harbor
When it comes to the most beautiful beach in Lake Tahoe, it would be hardly possible to get better than Sand Harbor. This area is also popular tourist spot, so it is wise to arrive early in the day if you need to park a car, and occupy a place for sunbathe as it can get very busy.
There are ablutions and picnic tables, and a boat ramp. The Sand Harbor have rocks in some sections of the beach. The beach has golden sand, and water is clear blue, and here you can hang out and enjoy the rest of the day with your friends or family.
Zephyr Cove Resort and Marina
This is another one of the most beautiful beaches in Lake Tahoe. . It is on the eastern side of the state of Nevada. This gorgeous beach has soft white sand and clear blue turquoise waters. This beach has a lot to offer visitors of all ages.
There is a designated swim area and a particular place where dogs are allowed.

There is a restaurant here and you can also rent a boat or jet ski.

There is a fee if you are a day visitor and need to park.

Another big advantage of this beach is that there is a campground and cabins that can be rented, so overnight stays are possible. This is a huge benefit for people who want a relaxing and peaceful holiday right on the shores of Lake Tahoe.
One drawback of this beach is that it can become very crowded on public holidays, so it is best to plan a trip here outside of days like the Fourth of July holiday
Kiva Beach
This is one of the most pet-friendly beaches in Lake Tahoe as here your dogs can swim in the waters and walk on a leash on the beach.
Parking is free here, which is a bonus because this is not the case for most of the beaches in this destination.

Kiva beach is close to a nearby protected marshland, and the beach itself is under the control of the Forestry Service.

The waters close to the beach are perfect for swimming.

However, a disadvantage is there are no restrooms here, only portable potties, so you should keep that in mind if you plan a trip here.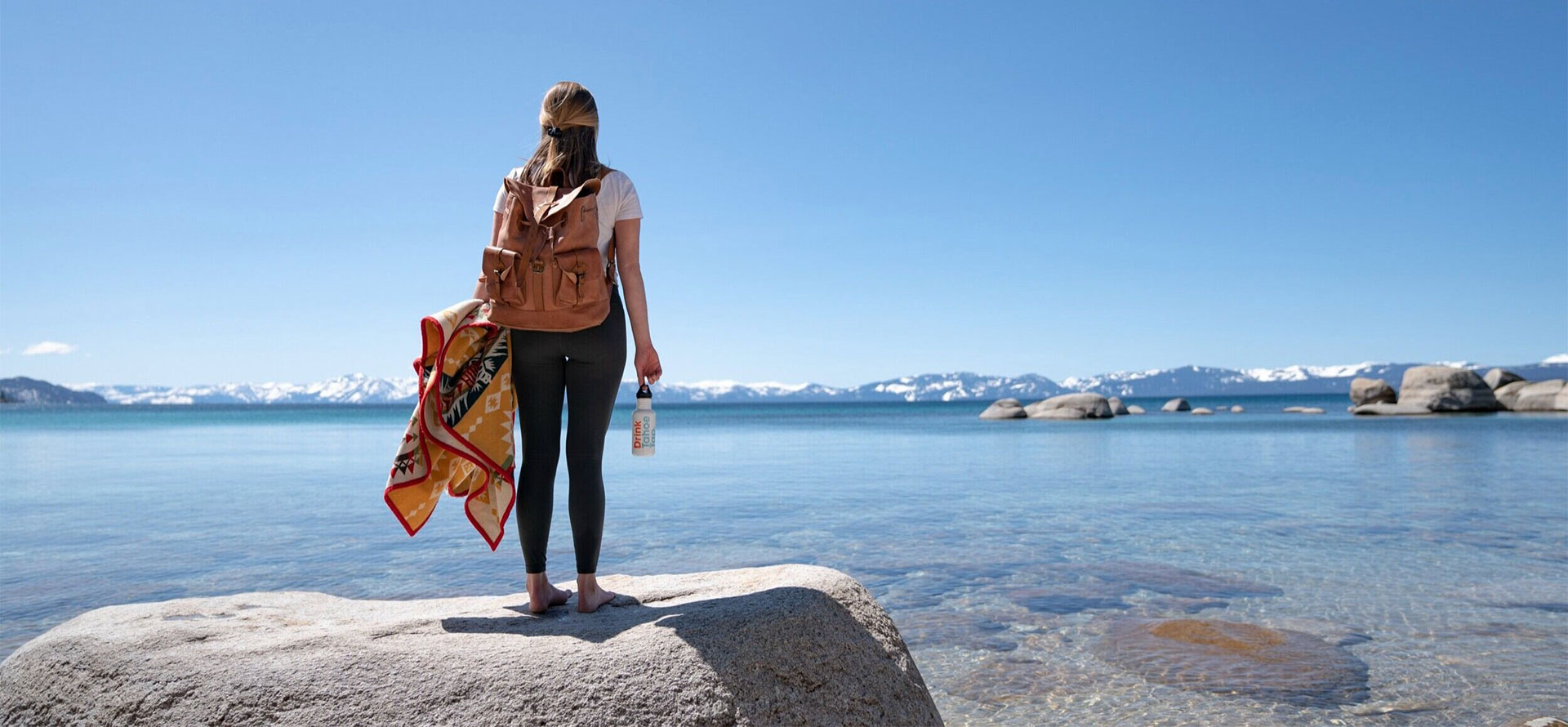 Lester Beach
It is a picturesque part of Lake Tahoe and it tends to become busy because it has so much to offer a visitor. Swimming is not recommended here, the water is actually deep here, and it can be dangerous for small children. Young toddlers should not be allowed to swim in the waters alone. This part of Lake Tahoe is close to extremely deep waters in a section known as the Rubicon Wall. The area is great for kayaking or paddle boarding, and it is pleasant for fishermen, too. There are picnic areas, and you can camp here; however, there is a fee to park.
Vikingsholm Beach
Located in the Emerald Bay section of the lake, this beach is gorgeous, one of the most scenically wonderful places to spend the day.
Swimming and boating are popular in this area in designated areas. You can also rent paddleboards and kayaks.

There are picnic tables so you can enjoy a nice picnic here.

There are also restrooms available.
One disadvantage of this beach is that it is quite a steep hike into and out of the area, so this makes it difficult for some people to access this beach. It suggested that people with mobility issues not try this hike because it could be dangerous.
Conclusion
We hope our guide to the best beaches in Lake Tahoe can help you plan your vacation or simply have a fun day with family and friends in the Lake Tahoe region. Explore our site to find more useful tips and information about different places you can visit.
Our Favorite Hotels & Resorts Full Info