The top vacation destination in Mexico is the Cancun beaches. Cancun is a multi-million-dollar paradise for tourists on the northeastern coast of the Yucatan Peninsula in the Caribbean. December through April each year, tourists worldwide travel to Cancun by ship or air to bask in the sun and play on the beaches. "Where are the best beaches in Cancun?" is every traveler's first question.
Best Hotels & Resorts
Most of the best beaches in Cancun sit in front of the over 83 all-inclusive resort hotels in the "hotel zone." Every resort has a different theme, onsite pools, restaurants, beach areas, and entertainment options. While the beaches are public, most hotels have secured direct access. Some hotels will allow visitors to purchase a day pass to enjoy the beach facilities.
Most Beautiful Beach in Cancun
Some of the most picturesque beaches in Mexico are in Cancun. Boasting vivid turquoise water surrounded by sugar-white, soft sand, these beaches beg to be photographed. It is no wonder that some of the finest resorts are in Cancun. The most beautiful beaches in Cancun are:
Playa Delfinas (Dolphin Beach)
Playa Delfines is the largest and most beautiful beach in Cancun. The beach is a favorite with the locals as it is the only beach in the hotel zone that does not have a hotel or restaurant. The view will take your breath away with a blinding white sand beach framed by a hilltop deck overlooking sparkling blue water crested with rolling waves.
It sits at km. 20 in the Hotel Zone, you can reach the beach by city bus or car. Free parking is available. You can find umbrellas made from thatched palapas, chairs for rent, and clean restrooms. This beach is family-friendly with a small play area. A lifeguard is on duty daily, but the water can get rough at times, so be cautious when children are swimming.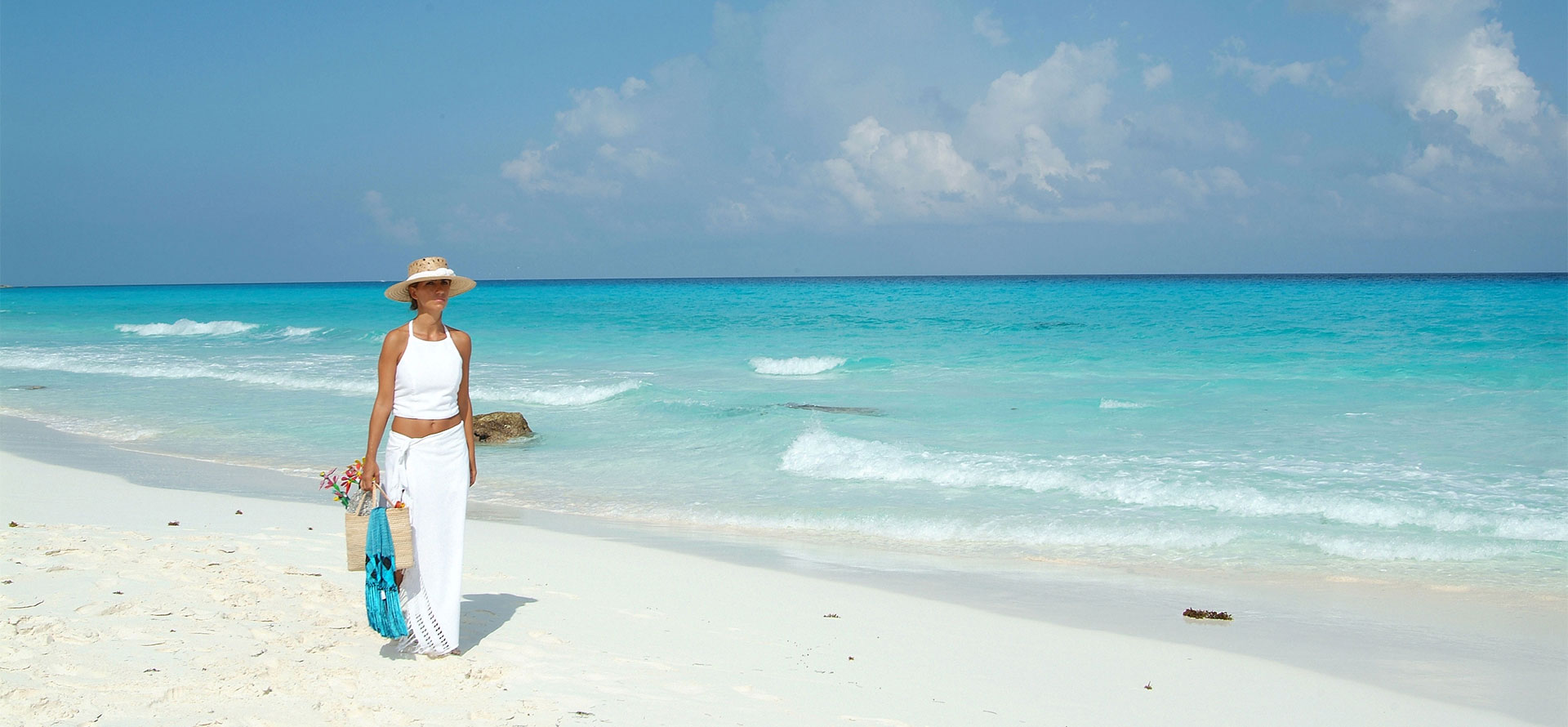 Famous Beaches Cancun
While there are many well-known destinations in Cancun, one beach stands out above the rest as the top of the famous beaches in Cancun.
Playa Maroma (Rope Beach)
One most photographed and famous beaches in the area is Playa Maroma, located at km. 55 on the Cancun-Chetumel Hwy between Cancun and Playa del Carmen. This area is renowned for some of the most exclusive resorts in Cancun, notably El Dorado Maroma, the only bungalow rooms located over the water. The view of Playa Maroma's soft, bone-colored sand beach contrasts starkly with the turquoise ocean waters and provides an enviable view.
Playa Maroma is considered by many to be the best beach in Cancun and one of the top beaches in the world for snorkeling. The southern point of the beach is one of the finest places to snorkel offshore. Playa Maroma offers many areas for water sports, swimming, and charter fishing excursions. Also, there are plenty of places to dine and enjoy the nightlife.
Most Popular Beaches in Cancun
With so many miles of beaches and all located in a tourist-dominated area of Mexico, it is hard to choose the most popular. However, two beaches are frequented by many locals and tourists.
Playa Marlin (Marlin Beach)
One of the most popular beaches in Cancun is Playa Marlin, found in the Hotel Zone at km. 13. It is one of the few public beaches you can access without going through a beach resort. Located just a short walk from Kukulcan Blvd at Tepen Rd., this beach is an expansive stretch of white sugar sand abutting azure ocean waters.
Sunbathers gaze as boogie-boarders, surfers, and parasailers revel in the powerful waves. Lifeguards are constantly watchful, as the area is known for a strong undertow. Plenty of amenities such as food and shopping are available near this place, and chairs and umbrellas are available for rent here.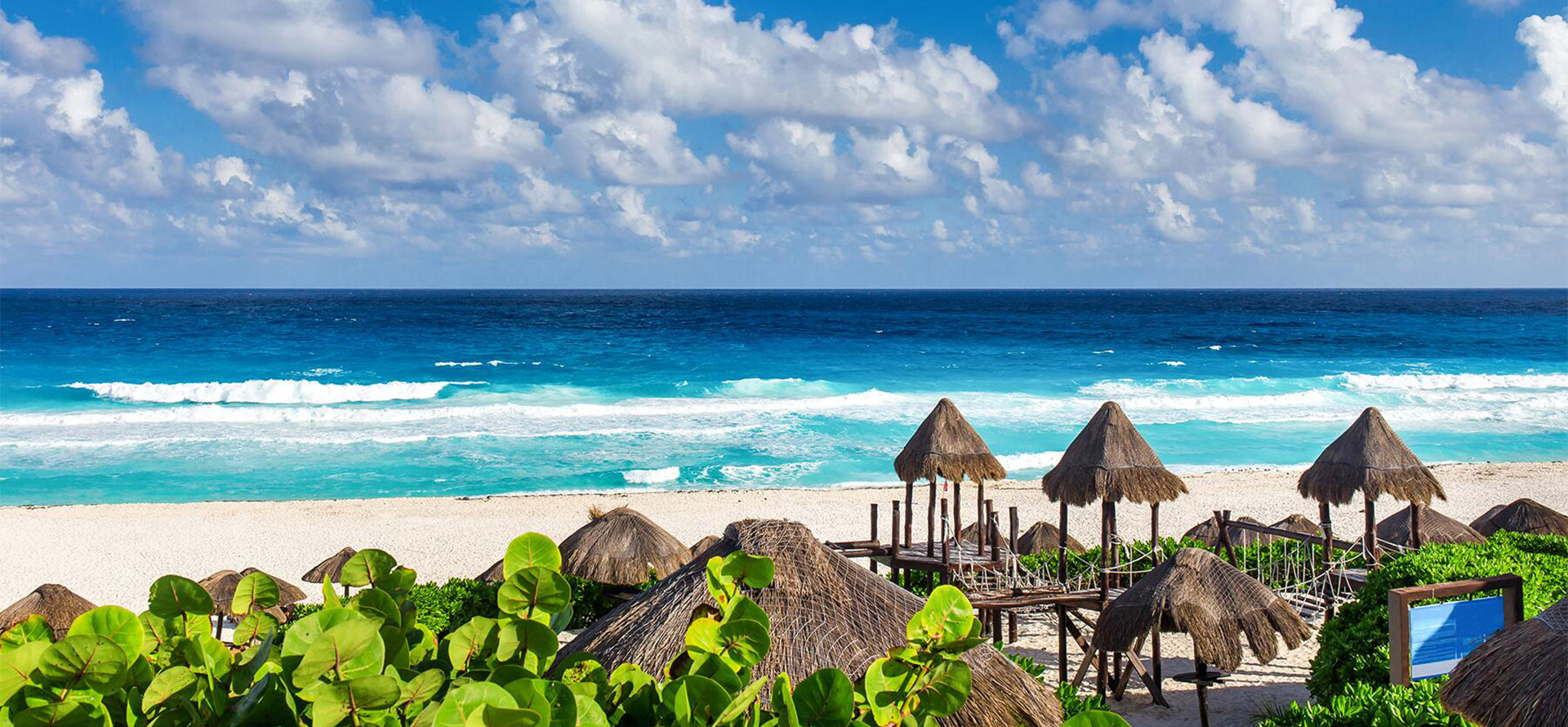 Playa Chac Mool (Red Paw Beach)
Another popular place for the ideal beach day is Playa Chac Mool, located on the eastern side of the Hotel Zone at km.10 across from Senor Frogs just off Kukulcan Blvd. Locals and tourists enjoy swimming and sunbathing in the calm, azure ocean and white sand beach framed by rocks, sidewalks, and statues.
Some parking is available for the beach but you should get there early as the spaces are few. There is usually a lifeguard on duty, and several vendors rent everything from chairs and umbrellas to boogie-boards, etc. Across the street, restaurants and beachside bars cater to the beachgoers.
Top Beaches in Cancun for Adults
All Cancun is a paradise for honeymooners, lovers, and couples. However, some best beaches Cancun are more adult-oriented, and some are perfect for some quiet "alone time."
Playa Gaviota Azul (Blue Seagull Beach)
One of the top beaches in Cancun for adult play and partying is Playa Gaviota Azul at km. 9.5 on the southern Caribbean side of the Hotel Zone. With an abundance of beach clubs, bars, and restaurants, this place is a lively party all day and all night. Just south of the best surfing spot in Cancun, Playa Gaviota Azul draws an adventurous, fun-loving crowd. Access the beach for free just next to Coco Bongo's. There is very little free parking, but a paid parking lot is available at Plaza Forum.
X'cacel Beach (known as Turtle Paradise)
Finding a quiet, uncrowded beach to spend time alone with your sweetheart can be difficult in Cancun. However, if you are willing to take a drive, you can get away from the crowds and drive south on Hwy 307 to X'cacel Beach between Chemuyil and Xel-Ha. This tranquil, powdery sand beach is one of the best beaches in Cancun. It is framed by some of the bluest water you have ever seen and a coral reef about 40 meters out. You'll hike from the parking area through a slight stretch of jungle to a trail leading to the beach.
Finding the entrance to the beach is challenging, and the road is not very well maintained. However, the local turtle sanctuary maintains a gated entrance and parking area for a 20-peso (CASH) donation. This pristine spot is a protected area for nesting sea turtles, so there are no restaurants or amenities here. You cannot bring a cooler to the beach, but you can bring water and fruit. While this place is unsuitable for swimming due to the strong waves and rocks, it's a perfect spot for snorkeling and sunbathing.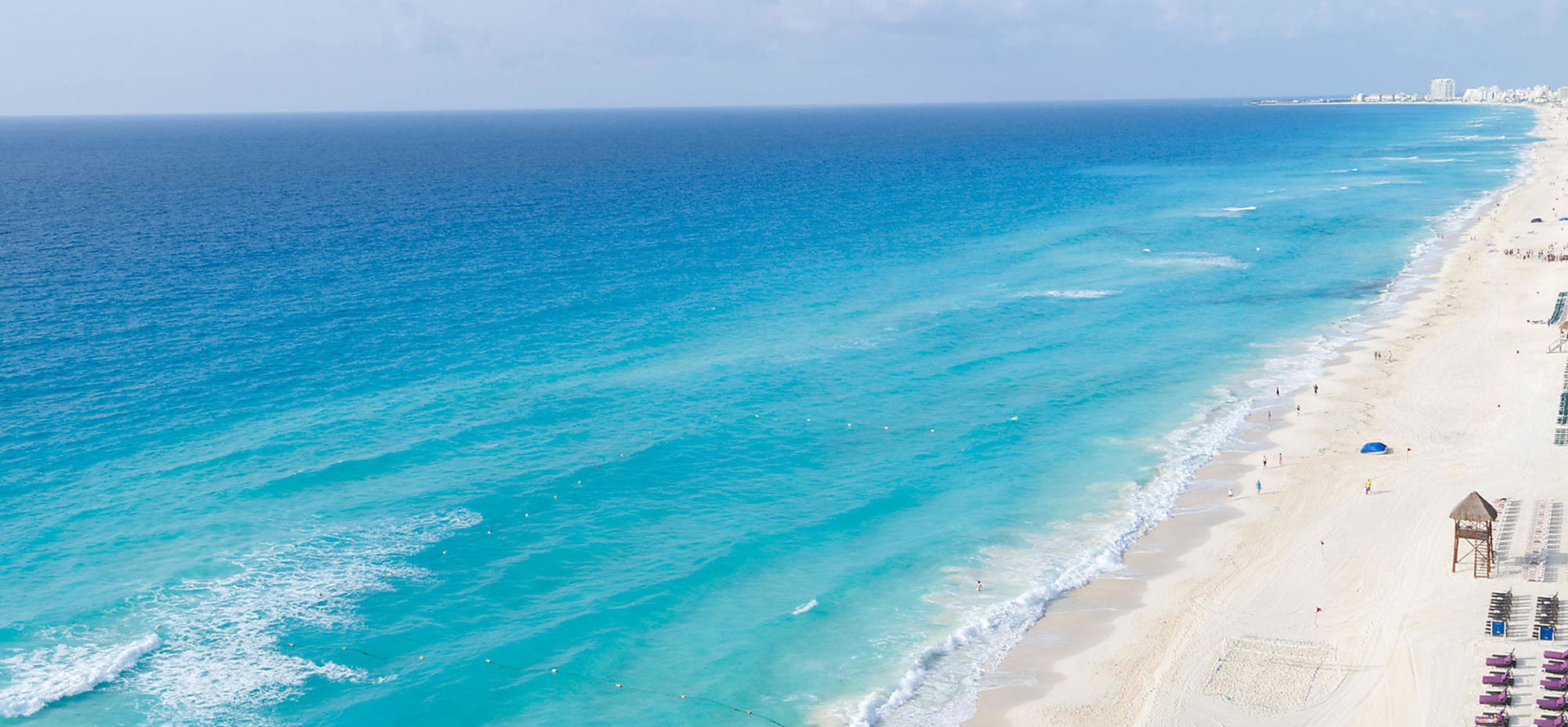 Best Beaches in Cancun for Families
Most of Cancun's beaches are designed for exclusive resorts and adult play which is not appropriate for children. However, family-friendly beaches with play areas and lifeguards are also available. Here are the most beautiful beaches for families:
Playa Tortugas (Turtle Beach)
Many public family-friendly beaches are at the Northern end of the Hotel Zone on the Peninsula in Cancun. Playa Tortugas is a favorite among local families for its calm, shallow water and soft white sand. Swimming and parasailing are popular here, and there are several vendors for beach umbrellas and lounge chairs. This beach is at Km. 6.5 Marina Adventure Bay and next to the Isla Muerte ferry docks, so numerous shops, restaurants, and bathrooms are available. Playa Tortugas can get crowded, so plan your beach trip earlier in the day.
Playa Langosta (Lobster Beach)
The best beach in Cancun for children is Playa Langosta. This little beach is made for families. Travel just over 2 km from the Hotel Zone in the north. A lovely sandy beach fronting shallow, warm turquoise water makes this place ideal for little ones to splash around, build sandcastles, and play on the playground. The beach is easy to find near a long pier, and public transportation is readily available. There are few beach vendors, so you should bring your beach chairs and umbrella. It has public restrooms, and it is not far from areas of restaurants and shopping.
The beaches in Cancun are one of the most popular tourist vacation destinations in Mexico. Known for their beautiful white sand and stunning turquoise ocean views, they are a magical paradise for people of all ages. Many of the world's most famous people and celebrities choose Cancun and the Riviera Maya's all-inclusive resorts to unwind and be pampered. However, the average traveler or family looking for a worry-free vacation to explore, play in the water, and bask in the sun will find it all at the top beaches in Cancun.
Top Hotels & Resorts