Every vacation to Colombia is worthwhile because of its Caribbean beaches, national parks, rainforests, and snow-capped Andean mountain peaks. With its incredible range of climates, varieties of delicious cuisine, great festivals, and warmth of its people, any day is a good day to visit Colombia.
But, before you book your next travel to Colombia, think about the weather, the activities, and how much you're ready to pay to have a good time. Each of these factors would help you decide the best time to visit Colombia.
December to March is the dry season in Colombia and one of the best months to visit Colombia. Most travelers like to visit at this time. The weather is warm and favorable for water and offshore activities. During the holidays, December and January, including the Easter holiday, the tourism volume increases dramatically as well as the prices of hotels and resorts. Traveling at this time will sure reward you for your expenses but not ideal if your budget is tight.
You'd expect the rain to come from May to November or early December. There is a heavy downpour in September and October, although it could still be hot and sunny.
Apart from the high season, June to August have a short dry period and are also considered the best time to visit the mountains and rainforest of Colombia.
Weather in Colombia
Weather is a critical factor to consider when thinking about the best time to travel to Colombia. A honeymoon or holiday vacation in the most conducive weather is pleasurable and relaxing.
Being close to the equator provides Colombia with different climatic features, but they are generally tropical and isothermal. Each region – Atlantic Lowlands, Pacific coast, Andes, Llano, and the Amazon rainforest lies in a climatic zone, varying from tropical rainforests, savannahs, deserts, and mountains. The mountain climate includes tierras calientes, tierras templadas, tierras frías, tierras helado and paramos, and characterizes the Andes and other high altitude regions.
The weather does not change frequently, and the temperature remains relatively steady throughout the year with just minor variations. However, the majority of the differences are attributable to changes in precipitation and altitude.
The Amazon, northern Pacific coast, and the central Magdalena valley regions are within the tropical rainforest. They are mostly hot and humid with heavy rainfall. In Savannah, the dry season runs from November to April and usually comes with wind and dust. From May to October, the rainy days predominate, but you may experience dry days in between.
The hurricanes may hit from June to November, but the risk is low in Colombia's Caribbean coast.
Average Temperature
The temperature averages 74 °F in the Amazon, Pacific coast, and the Magdalena valley region. In the mountain regions where the temperature is determined by elevation, you'd expect temperatures to drop by roughly 3°F (0.6°C) with every 1,000 feet (0.6°C per 100 meters) on average.
In the Tierra template, which lies 900 to 2,000 meters above sea level and makes a home for most Colombians, the temperature hovers around 65 and 75°F. The Tierras frías, between 1000 to 2000 meters above the sea, is a cold climate and hosts the Colombian capital city, Bogota. In Bogota, San Juan de Pasto, and Tunja, temperatures are around 50.0 and 62.6°F. You may want to pack up some warm clothing if you plan to visit any of these cities in Colombia. In the high mountain regions of Paramos, the temperature is usually below 50°F.
Average Precipitation
When you consider the best time to visit Colombia, the rainy seasons are the last option. However, you are most likely to strike the best hotel deals at this time.
The amount and distribution of average precipitation vary with different locations. In the tropical rainforest, there is more than 2,500 mm of precipitation annually. The Atlantic Lowlands, some parts of Magdalena valley, and the Llanos region located within the tropical savannah zone have annual precipitation of 1,000 to 1,800 mm. in the desert zones, precipitation is usually below 1000mm but not absent.
In cities like Bogota, the rain may be roughly 1000mm on average and occur for about 223 days in a year.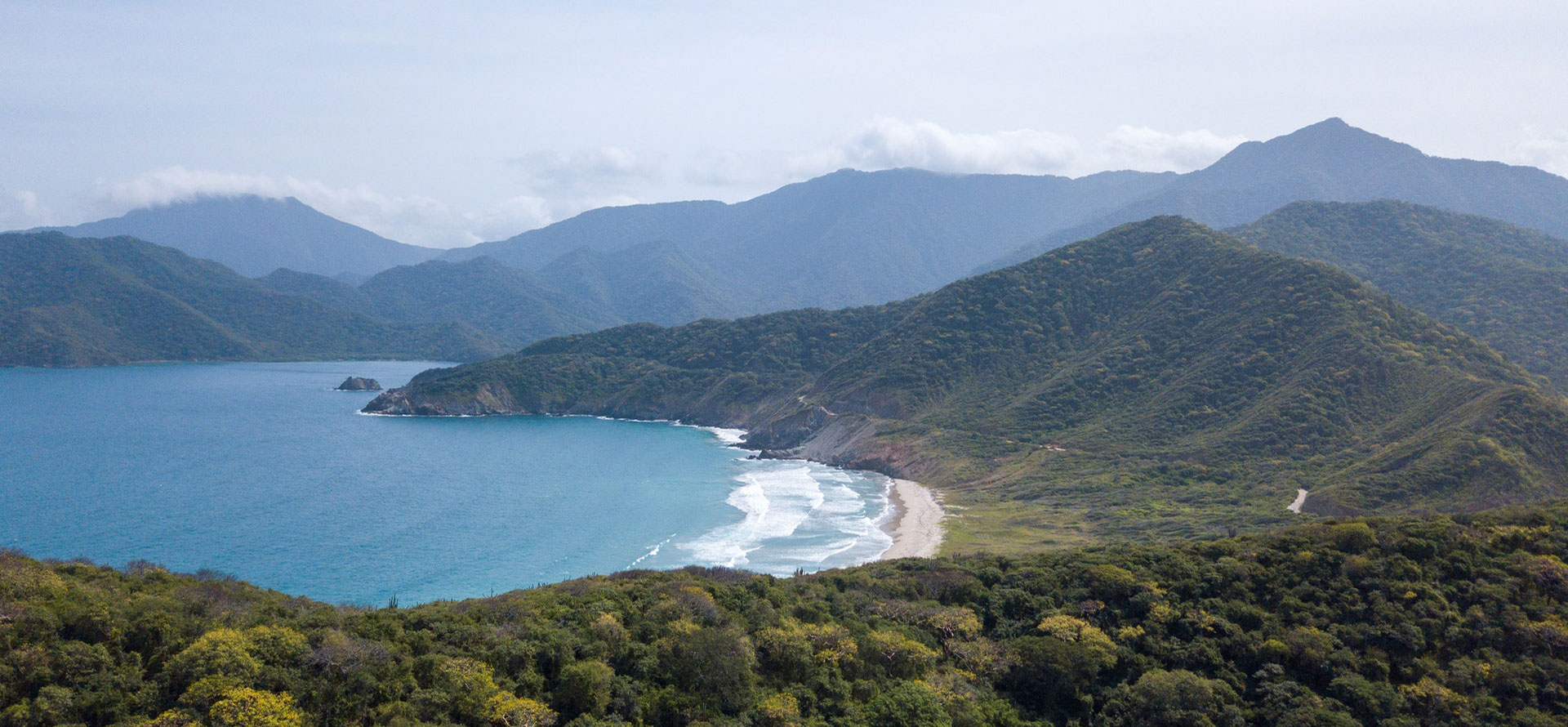 Average Tourist Volume
Colombia is a destination that is very popular with tourists. During the high season, you'd expect tourists to visit in their numbers. Because it is warm and sunny and ideal for beach activities. For most people, it is not the best time of year to go to Colombia because the prices of flights, hotels, resorts, and entertainment would be high.
If you want to avoid the crowd, travel between April to June and August to October. Keep in mind that you may be interrupted by rain for several days, but having a luxurious resort to yourself at a cheap rate would make up for it. This period also features trails and interesting wildlife activities.
FAQ
When is the best time to go to Colombia?
The weather, for instance, can be quite variable depending on the time of year and region of the country. In general, however, the dry season (December to March) is usually considered the best time to visit Colombia. This is when the weather is typically at its best, with less rain and fewer mosquitoes. Keep in mind, however, that this is also the busiest time of year, so expect higher prices and crowds.
When is hurricane season in Colombia?
The hurricane season in Colombia typically runs from June to November. The best time to visit Colombia is during the dry season, which runs from December to March. However, depending on your travel plans, you may want to avoid certain areas of the country during hurricane season. For example, if you're planning to visit the Caribbean coast, it's best to avoid the region from August to October, when most hurricanes occur.
When is Colombia's rainy season?
The rainy season in Colombia typically runs from April to November. The heaviest rains usually occur in September and October, which can sometimes lead to flooding. If you're planning a trip to Colombia, the best time to visit depends on what you want to do. For example, if you're interested in seeing the country's famous coffee plantations, the best time to go is during the dry season (December to March). However, if you want to experience Colombia's vibrant Carnaval celebrations, you'll need to visit during the rainy season.
What is the cheapest time to visit Colombia?
The cheapest time to visit Colombia is during the low season, which runs from mid-April to late June, and again from early September to mid-December. Low season is the best time to find deals on airfare and accommodations. However, this is also the rainy season in some parts of the country, so be sure to check the weather forecast before booking your trip. If you're flexible with your travel dates, you can often find even better deals by traveling during the shoulder seasons (March-April and July-August).
Is April a good time to visit Colombia?
If you want to experience the best weather, then April is not the ideal month to visit Colombia. However, if you are interested in seeing the country during its busiest time of year, then April may be a good option for you. Keep in mind that the weather in Colombia can vary greatly depending on the region, so be sure to check the forecast for the specific area you will be visiting.
What month is the hottest in Colombia?
The hottest month in Colombia is usually January, followed by February and March. However, there can be regional variations, with coastal areas being cooler than inland regions. For example, the city of Cartagena has an average temperature of 27 degrees Celsius (81 degrees Fahrenheit) in January, while Medellin has an average temperature of 22 degrees Celsius (72 degrees Fahrenheit).
Tags: best travels deals, barbados all inclusive adults only resorts, maldives versus bali, best beaches in lake tahoe, all inclusive maldives vacation package, maldives versus tahiti, best time to travel to barbados, la romana all-inclusive packages, family vacation packages st thomas, seychelles all inclusive honeymoon packages