Known as "The American Riviera," Santa Barbara is a city of timeless beauty located along the central Californian coast. The Mediterranean-styled white stucco buildings emphasized by the red-tiled roofs of the region's Spanish colonial past pay tribute to the beautiful historical influences that have shaped this idyllic corner of western USA.
Our Favorite Hotels & Resorts
Serving as the original epicentre of California's movie industry, Santa Barbara is known as one of the most beautiful cities in the state. Unlike the larger cities such as LA and San Francisco, Santa Barbara has managed to maintain its small-town charms situated at the forefront of the Santa Ynez Mountains and retains some of the most idyllic stretches of coastline in California.
Santa Barbara beaches attract millions of tourists each year. The mountainous beach vibes meet the town's colonial ambiences in a way that few other destinations in the world can even hope to achieve. With panoramic views facing both outward to the Pacific Ocean and toward the inland mountainscape, simply relaxing on the soft sands of one of the best beaches in Santa Barbara is enough to take your breath away.
But, with a myriad of perfectly idyllic pieces of shoreline to explore, it can be challenging to decide which is the best beach in Santa Barbara for your next visit to this iconic city. While each section of the coast is as beautiful as the next, each of the beaches in Santa Barbara offers a unique experience serving a diverse set of amenities and attractions. This list will help you determine where are the best beaches in Santa Barbara for your next visit to the California coast.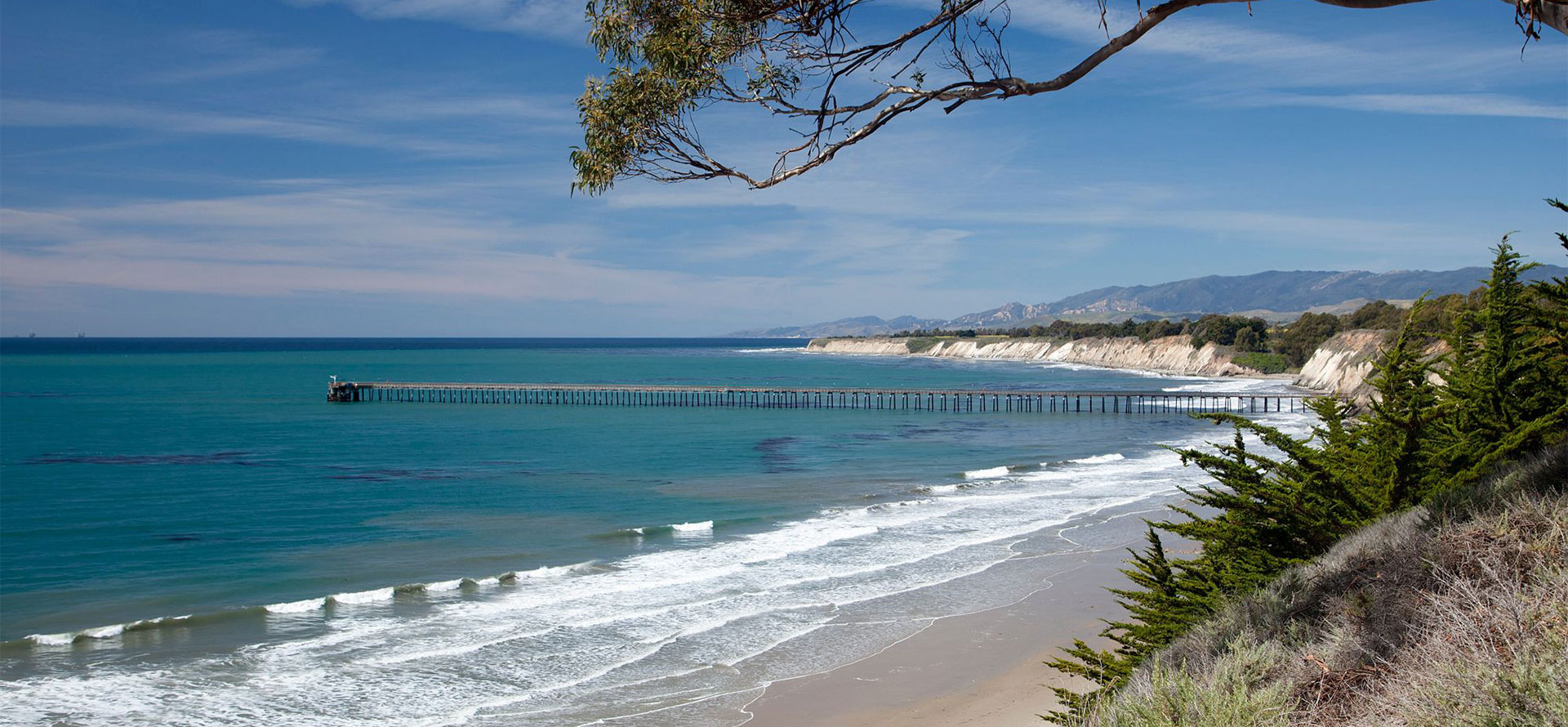 Butterfly Beach
The west-facing Butterfly Beach is arguably the most beautiful beach in Santa Barbara, and is one of the best spots in town for catching the majestic sunsets. Montecito, the community Butterfly Beach is located within, is home to such international icons as Oprah Winfrey and Prince Harry. And while these pinnacles of the social food chain will rarely be seen walking along a public beach, other local celebrities and actors can often be spotted enjoying the soft white sands.
The beach is small, and the shore almost disappears entirely during high tide. However, the beach opens up during low tide and offers a spectacular location for soaking up the sun and frolicking in the cool waves of the Pacific. And come evening, the rock cliffs lining the beach's upper portions are one of the best seats in Santa Barbara for admiring the sky's crimson shifts at sunset.
Leadbetter Beach
Situated across the street from Santa Barbara City College, Leadbetter Beach is one of the most popular beaches in Santa Barbara and is a favourite amongst college students and international visitors alike. As the most sheltered beach along Santa Barbara's downtown waterfront, Leadbetter is the perfect spot for escaping city life while taking advantage of the beach's full-service amenities. With its public restrooms, outdoor showers, and massive public parking lot, Leadbetter is well-equipped to host even the most hardcore beachgoers.
Along with several nearby bars, restaurants, and hotels, visitors to Leadbetter have access to many beach activities. The paved path that lines the beach is perfect for bikers or walkers looking to explore the coast. Meanwhile, in the water, the light winds that blow along the shore provide the ideal weather conditions for newbie surfers to try their hand at catching some waves. Whatever you enjoy doing on your beach day, Leadbetter Beach offers the perfect spot for doing it.
Santa Claus Beach
Also known as Padaro Beach, Santa Claus Beach is one of the most famous beaches in Santa Barbara. Located to the south of the city, the beach at one point used to feature a myriad of Christmas-themed stores. Now, it has become one of the favourite pieces of coastline amongst locals for its soft sands, mild waves, and quiet beach town vibes.
Considered one of Santa Barbara's best-kept secrets, this destination is the ideal spot for escaping the heavy tourist crowds. Here visitors can enjoy their own piece of the shoreline while enjoying the beach's selection of restaurants, shops, and board rentals, for a day full of fun along the California coast.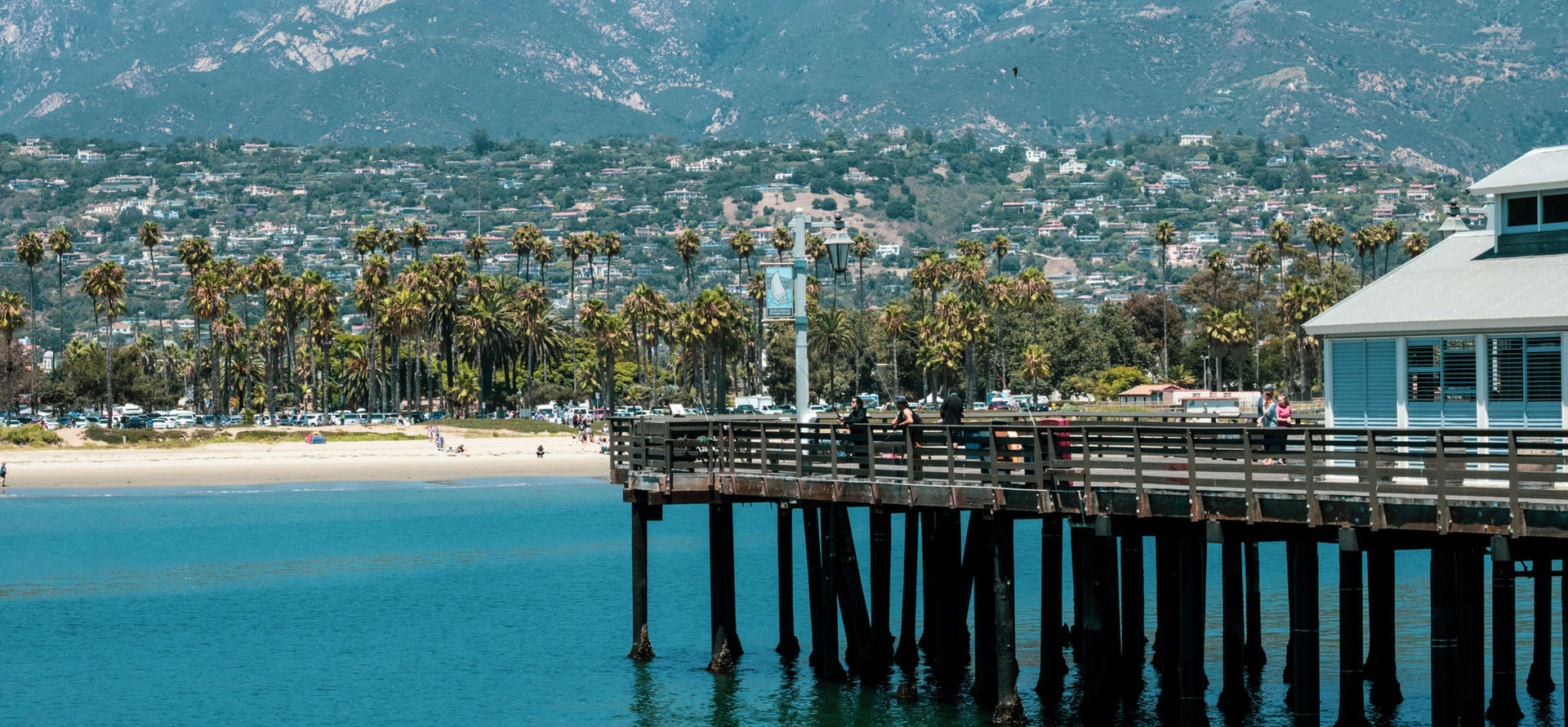 Goleta Beach County Park
With just about every amenity, you can think of, Goleta Beach County Park is one of the top beaches in Santa Barbara and features far fewer crowds than its downtown counterparts. Only minutes away from Santa Barbara Airport, Goleta Beach is a favourite amongst University of California Santa Barbara students and families and features such recreational amenities as picnic tables, volleyball courts, horseshoe pits, barbeques, and kayak rental services.
It has an iconic 1,500-foot pier that is an ideal spot for fishing or for catching the evening sunset. Goleta Beach County Park is also a fantastic place for families with small children. With a playground and gentle waves, there is plenty of beach day fun to be had with your little ones.
Arroyo Burro Beach
Commonly referred to as Hendry's Beach, Arroyo is one of the most famous beaches Santa Barbara features and is one of the top touristed destinations in the city. Identifiable by its towering palms and ridges, Arroyo Burro Beach is a dog-friendly destination frequented by many locals and their canine companions.
Beyond being one of the best beaches in Santa Barbara for your bringing your dog, Arroyo is also a fantastic destination for gathering with your family and friends and has plenty of coastlines to go around. Some of the amenities that make this place such a great spot for large groups include picnic areas, public restrooms, and a selection of restaurants and shops to enjoy.
West Beach
Adjacent to the Stearns Wharf Pier, West Beach is one of the best beaches Santa Barbara has in its diverse catalogue of world-class beaches. Only one mile long, it is one of the most touristed in the area and features plenty of boutique hotels and condos lining its parallel street. Offering plenty of trails and footpaths, West Beach is an excellent spot for taking a leisurely stroll or bike ride along the Californian coast.
It also features a variety of amenities to make the most out of your beach day for those looking to relax on the soft white sands. Along with the several beachside shops and restaurants, West Beach features amenities such as volleyball nets, boat launching sites, and umbrella and cabana rentals for a comfortable and exciting beachgoing experience.
East Beach
Spanning eastward from the Stearns Wharf Pier, East Beach is often considered the sister destination of West Beach. It features many of the same amenities, including volleyball courts, bike rentals, and a selection of water sports. This resting place has an advantage over its western counterpart in that it is slightly less touristed. However, this also comes as a result since East Beach also features fewer restaurant and hotel selections than West Beach. Overall, both places offer much of the same experiences, but if you prefer to enjoy your beach day away from the heavy crowds, East beach is the spot for you.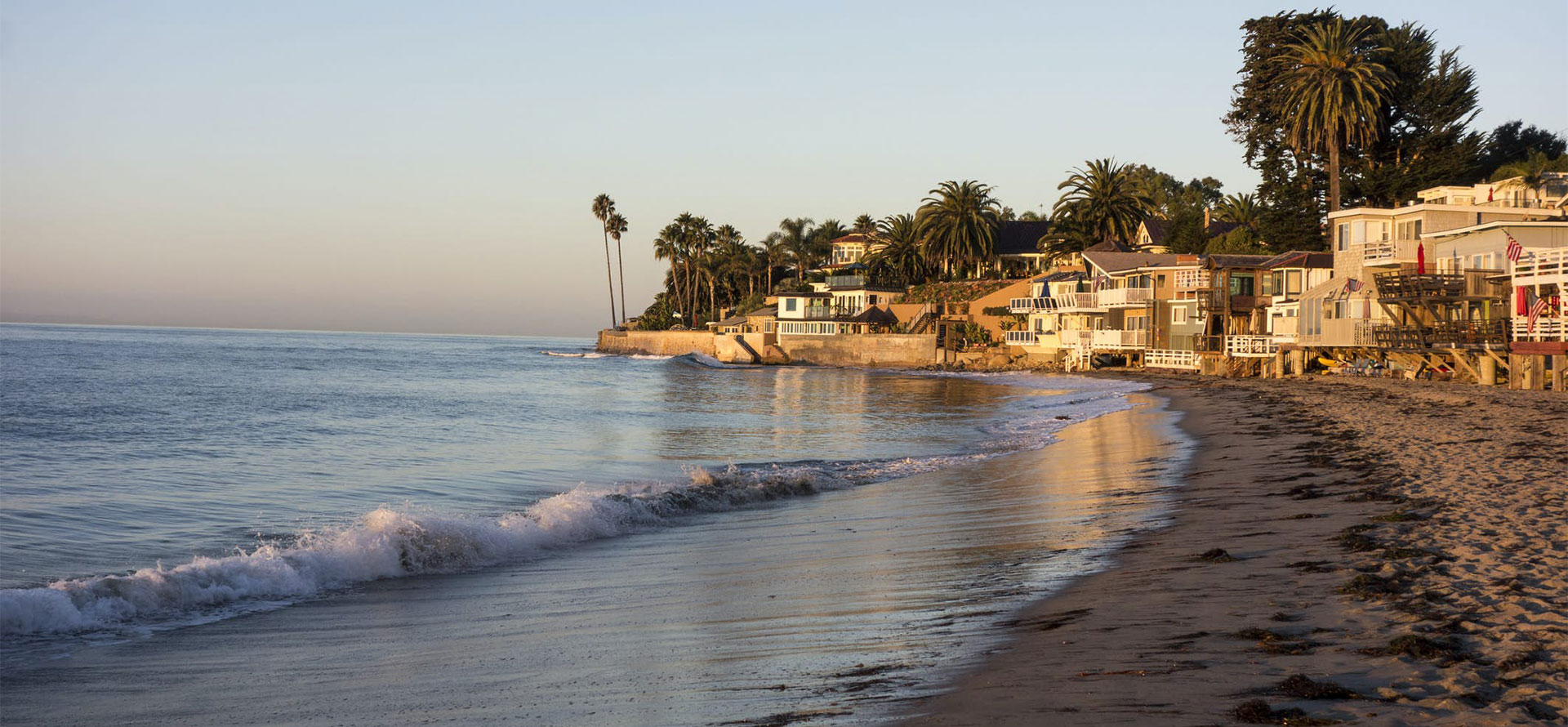 Carpinteria State Beach
Named one of "the world's safest beaches", Carpinteria State Park is one of the top beaches in Santa Barbara for families travelling with young kids. Featuring picnic tables, showers, and restrooms, this mile-long beach is a fantastic place for swimming, tide pool exploring, surf fishing, and camping. The gentle waves are well-suited for young swimmers and offer great boogie boarding opportunities.
Nearby Rincon Point is popular amongst locals and is an excellent destination for older, more experienced surfers. Also located nearby is the Carpinteria Salt Marsh Nature Park, which invites guests to explore the surrounding ecosystems and the diverse flora and fauna that call the region home.
Miramar Beach
Located in the same upscale community as Butterfly Beach, Miramar is a tucked away beach of golden sand and gentle waves. Popular amongst residents, the resting place offers some of the best swimming waters and surf. Unfortunately, the beach does not feature any on-site amenities or parking. Still, it does provide its guests with an isolated beachgoing experience in one of the most prestigious communities in the state. Those who venture to this underutilized destination can park their cars in the residential community surrounding the coast. Come evening, the nearby resorts welcome guests to eat at one of their many seafood restaurants, while enjoying the beautiful sunsets from their outdoor patio.
Conclusion
With some of the best pieces of coastline in California, Santa Barbara is a fantastic destination for beach lovers seeking that old-school Californian vibe. And while this list of the most beautiful beaches in Santa Barbara is a great place to start planning your trip to the city's iconic shores, these destinations are only the tip of the iceberg. With plenty more beaches to be discovered, and several inland attractions beckoning adventure, Santa Barbara is a place begging to be explored.
Be sure to check out our complete list of posts for more information as you plan your trip to this iconic Californian city.
Our Favorite Hotels & Resorts Full Info