Antigua is a tropical island in the West Indies. Just north of the equator, the Caribbean Sea meets the Atlantic Ocean here. This island was born out of the sea by a volcano millions of years ago. Antigua has a blend of cultures and a variety of stunning, picturesque locales such as rainforests, deserts, numerous bays and beaches, and mountains. It's no wonder this island is a popular family vacation destination. There are many to choose from for the best family all-inclusive resorts Antigua, consider what type of accommodations you want on an island resort. Family hotels in Antigua offer everything from luxury to low-key atmospheres. Options include apartments, suites, villas, or cottage-style accommodations that may have fully equipped kitchens or minibars.
Our Favorite Hotels & Resorts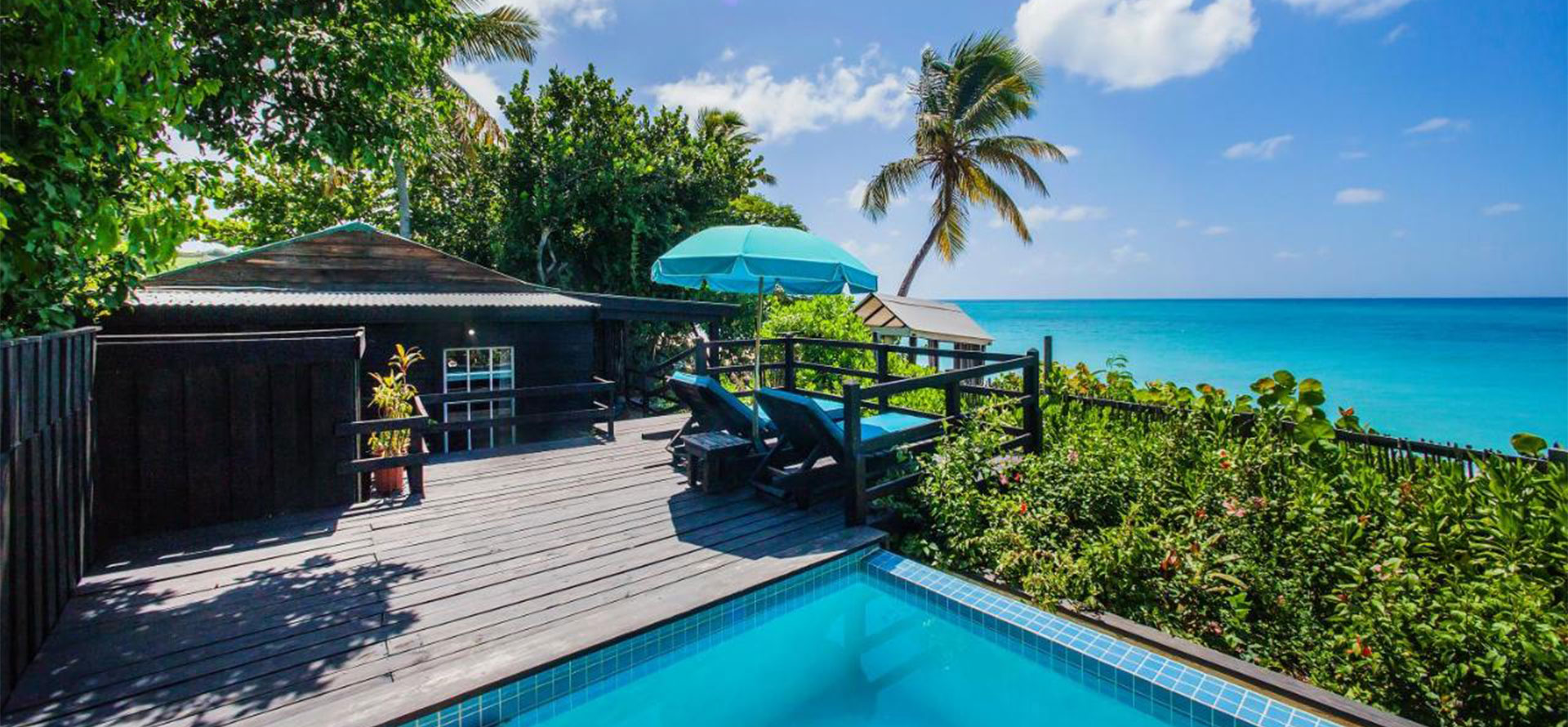 Things to Look for When Choosing Antigua Kid-Friendly Resorts
Are they located on the beach or within walking distance?
Do they feature several pools?
Are kids' clubs available with fun playgrounds, outdoor play, and nature activities?
Does the hotel or resort offer an extensive range of fun water sports?
Does the resort or hotel have multiple restaurants offering a variety of delicious food and lively bars?
Be sure to inquire at Antigua family hotels and Antigua family resorts whether they have sanitary procedures in place. You may also want to know what child safety equipment they provide, such as life vests, fences, and barriers around pools and hot tubs. Make sure they minimize potential hazards with lifeguards on duty supervising swimmers and a resident medical person to handle medical emergencies.
The best Antigua all-inclusive family resorts have most of these options.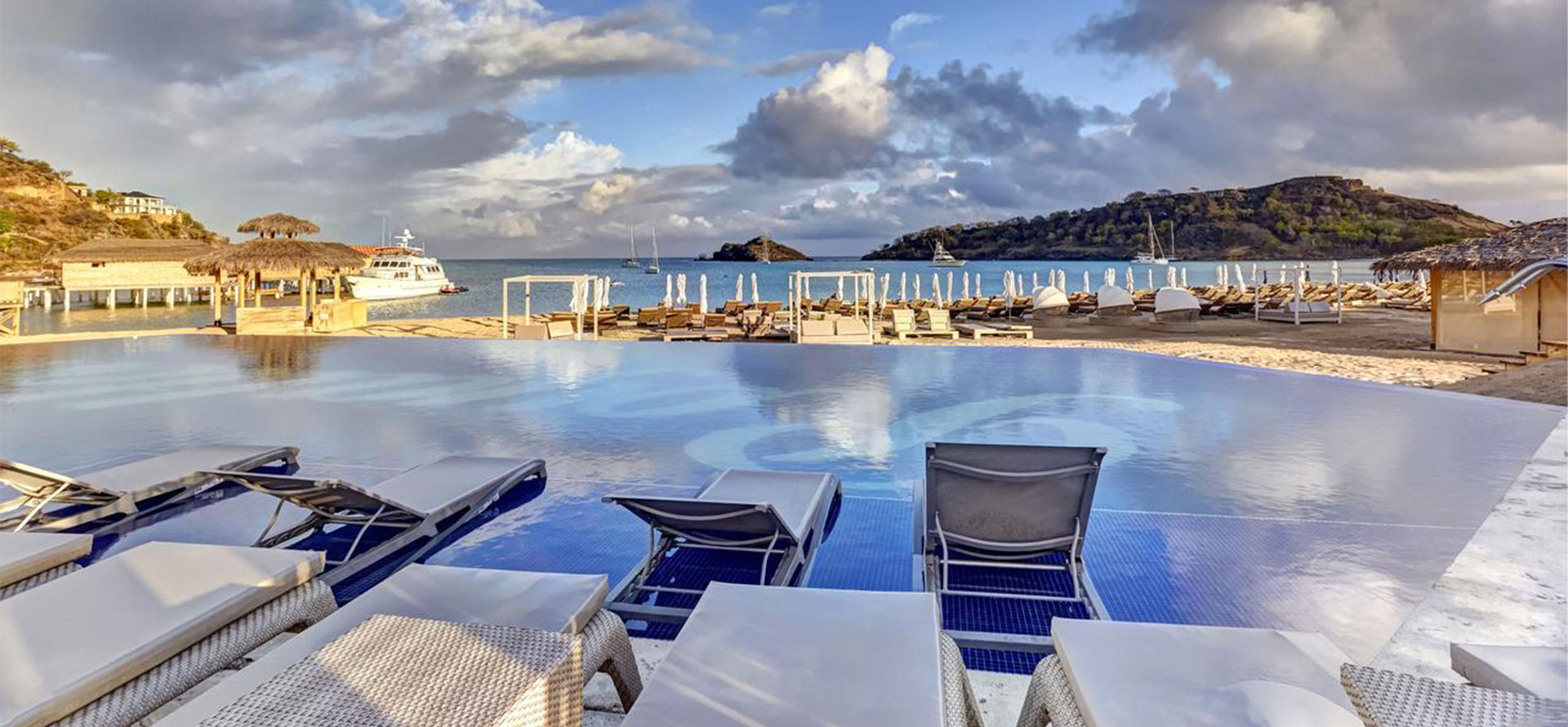 Best Time to Visit Antigua with Family
Antigua is close to the equator, so it doesn't have many seasonal differences. The temperature stays between 28-32°C and 83-88°F year-round. Low rainfall, lots of sunshine, and the local trade winds temper the heat and makes Antigua a year-round holiday destination.
You can Swim in the sea year-round as it remains warm and pleasant. Humidity is highest in August and September, and the risk of hurricanes is most significant from mid-August to mid-October. When planning to visit Antigua, the best time is between mid-December and mid-April.
Average Cost of Antigua Family Resorts
December through April is the high season as tourists seek a comfortable and relaxing alternative to harsh winters. During this period, travel and prices for Antigua family hotels increase significantly. If you want lower prices, it might be best to plan a visit during either the shoulder or the low seasons. The shoulder seasons consist of May and early December.
The low season is the time of the year when the least amount of people visit Antigua. Prices for Antigua hotels for families and flights are down, which makes for a great time to travel. Budget traveling will require you to gather information, plan, and be ready to act on opportunities. Don't be too timid to ask for a discount when booking at Antigua all-inclusive family resorts.
Family Things to Do in Antigua
The island of Antigua has 365 beaches, bays, caves, reefs, and shoals to explore. Antigua hotels for families can help you find most of the experiences below:
You can meet and befriend donkeys and help the sanctuary personnel brush them.
Visit a historical sugarcane plantation.
The island of Hell's Gate and Devil's Bridge has rock formations and even a natural jacuzzi. Great for snorkeling to see reefs and marine life.
Take Fig Tree drive through Antigua's rainforest and see the mango and banana trees, as well as pineapples.
Stingray City is a sandy lagoon where kids can pet, touch, hold, and feed stingrays.
Prepare for a fun-filled day with older kids or teens on the Antigua zip-line tour. Climb a treehouse, a ropes course in the trees, walk through suspension bridges, kayaking, speed boating, and numerous other activities.
Galley Bay Beach is the best coastline for snorkeling, swimming, or sunbathing. You may catch sea turtles coming up to the shore to rest or lay their eggs or see baby sea turtles hatching from their eggs.
Pigeon Point Beach is a crescent-shaped public beach that is ADA-accessible and has diaper changing facilities.
Prickly Pear Island offers fun in the water and sun.

While kids are at the Kids club in the resort, this is a great time for adults to have:

Go on a date night at a restaurant and evening entertainment.
Have some adult water fun at Dickenson Bay Beach with water adventures like snorkeling, scuba diving, glass-bottom boat tours, kayaking, jet-skiing, paddle boarding, a catamaran cruise, and more.
Try your luck at King's Casino on a slot machine, table game, or try out bingo, usually held on Thursday nights.
Hop on your Segway and follow a tour guide of the island.
Conclusion
Antigua is an excellent destination for a family on vacation. This island offers plenty to see and do, so it is a popular holiday destination. If your family travels to Antigua, an Antigua all-inclusive family resort is the best choice you can make.
FAQ
Are Antigua All-Inclusive Family Resorts a good family vacation?
Yes, Antigua is a great family vacation destination! The island has something for everyone, from pristine beaches and crystal-clear waters to fun activities and delicious food. Plus, there are plenty of all-inclusive resorts that offer great value for families. So if you're looking for a hassle-free vacation where you can relax and enjoy quality time with your loved ones, Antigua is the perfect place for you!
Are Antigua All-Inclusive Family Resorts safe for a family vacation?
Yes, Antigua is a safe destination for a family vacation. All-inclusive resorts are typically located in areas that are well-protected and monitored, so you can feel confident that your family will be safe while enjoying the amenities and activities that these resorts have to offer. Of course, it is always important to use common sense and be aware of your surroundings, but overall Antigua is a very safe place to visit.
Are Antigua All-Inclusive Family Resorts good for kids?
Yes, Antigua All-Inclusive Family Resorts are good for kids. Antigua All-Inclusive Family Resorts offer plenty of activities for kids, such as pools, water parks, kid-friendly restaurants, and more. Antigua All-Inclusive Family Resorts also have staff that is trained to help keep your kids safe and entertained.
What are the best months to visit Antigua All-Inclusive Family Resorts with family?
The best months to visit Antigua All-Inclusive Family Resorts with family are June and July. The weather is perfect for spending time on the beach or by the pool, and there are plenty of activities and amenities for families. Antigua is also less crowded during these months, so you'll be able to enjoy your vacation without big crowds.
Our Favorite Hotels & Resorts Full Info
Tags: best travels deals, bali vs seychelles, costa rica or puerto rico, aruba honeymoon resorts all inclusive, puerto rico vs cancun, bali all inclusive honeymoon, maui or hawaii, best time to travel to puerto rico, maui all-inclusive family resorts, miami underwater room