St. Thomas Luxury Resorts
Talk of swoon-worthy resorts, beautiful beaches, fantastic snorkeling, and world-class diving experience; and you'd never go wrong by taking a trip to St Thomas. Luxury resorts in St Thomas capture the true essence of the Caribbean – a perfect place for a relaxing vacation. If you want to, you can explore the Virgin Island's coast to further appreciate the crystal clear, turquoise blue, water.
After staying for a few days, you begin to feel like St Thomas is where you belong to. The reason is not farfetched from the huge presence of ex-pats. Most of the resorts in St Thomas are close to the beaches on the island, providing you with a mix of beautiful views, relaxation, and enough marine activities.
In terms of rooming options, amenities, and overall ambiance, St Thomas luxury resorts have so much to offer. Apart from these, they also have the added advantage of providing you with a great opportunity to experience a city without having to walk around. In other words, luxury resorts bring to your doorstep every fun you can have within the cities they're located.
It is worthy to note that your choice of luxury hotels in St Thomas will depend on your needs and preferences. What do you seek in terms of location, cost, and noise? With luxury resorts, for instance, you can be sure that the comfort you'll enjoy would be worth every cent you pay.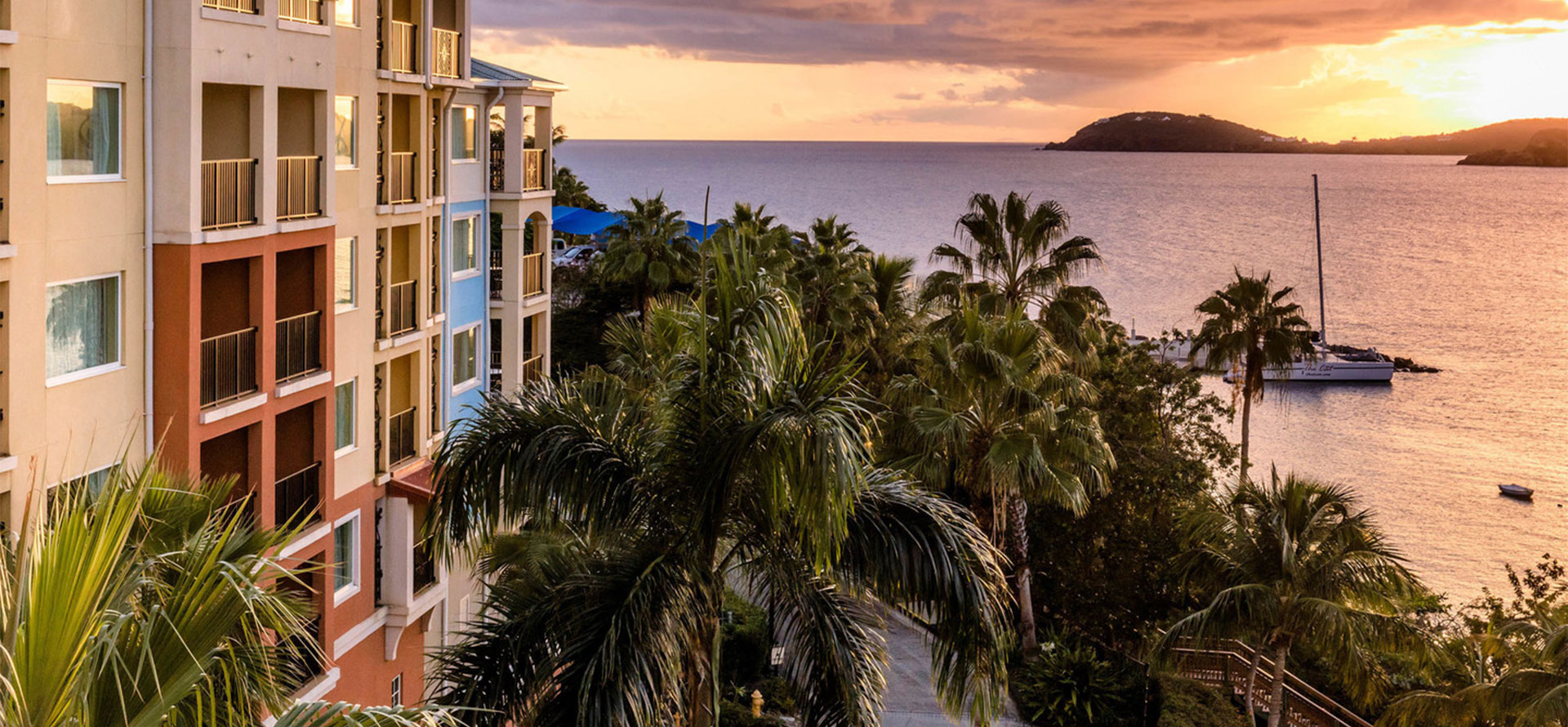 Best Time to Visit St. Thomas Luxury Resorts
The table above shows the climate in St Thomas for each month to give you a clue on the best time that suits your needs and wants. Irrespective of the time you decide to visit the island, you can always expect warm weather. From the table, you'd discover that the temperatures stay around 80 degrees between December and March. Usually, the costs of St Thomas luxury resorts are high during this time of the year.
The average temperatures between April and June range from mid-70OF to high 80OF with little rainfall. Between July and November, temperatures often get too high 80OF with plenty of rain. Usually, the hurricane season comes during these periods – from late June to October. Since the periods come with high risks, many resorts offer great package deals. However, you may have to consider purchasing travel insurance to offer your trip the protection it requires, in case your travel plans go awry.
The island witnesses a total of almost 40 inches of rain throughout the year. Of all the months of the year, September is the time with the heaviest amount of rain, though it can extend a few months on both sides of the month. This makes September the least popular month, and this is followed by August and October. The hottest month is usually August, with temperatures rising to around 84OF. February is the month with the least amount of rain.
You can visit St Thomas at any time of the year. However, if you'd like to consider factors such as climate conditions and travel costs, you may want to visit the popular cruise-ship stop between April and early June. During these periods, hotel rates are on the low side. This is as the tourist season slows down.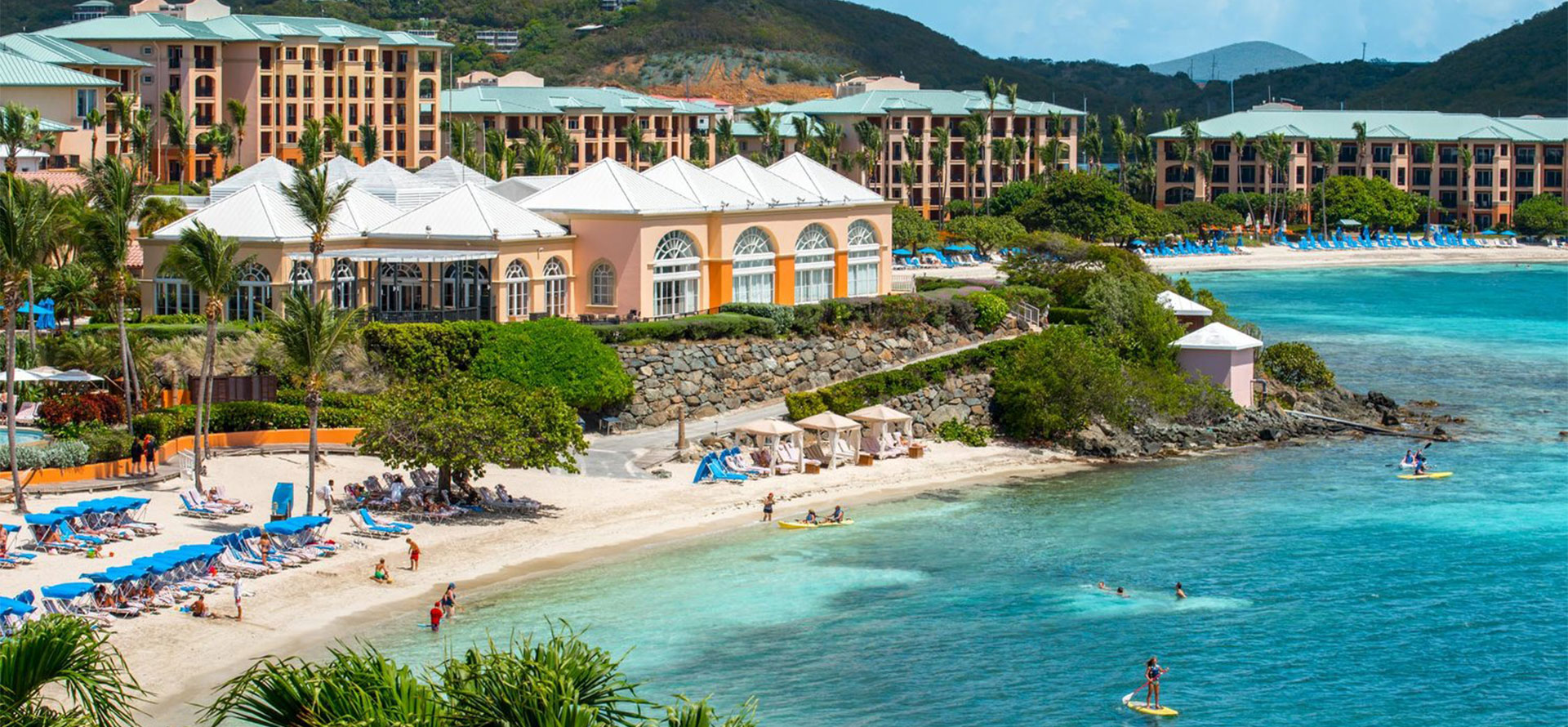 Average Costs of Luxury Resorts in St. Thomas
Apart from offering you luxury stay and deluxe amenities at their villas, even the best luxury resort in St Thomas will require that you leave your resort to explore posh shopping malls and undertake diving or snorkeling adventure, all of which come at steep prices. This implies that traveling to St Thomas is not cheap.
Depending on what you want to do and the type of experience you want to have in St Thomas, it might be difficult to estimate the cost of a luxury trip. Notwithstanding, the average cost of accommodation (for a solo traveler) in one of the best luxury hotels in St Thomas is $550 per night, though some vacation rentals offer accommodation as high as $2,000 per night.
What determines the costs of a luxury vacation includes the time of flight, the cost of the property where you'd be staying, and the daily expenses you tend to incur. For instance, it is cheap to fly in on Tuesdays.
Also, the cost of vacation gets to the peak in December. At this period, the weather is favorable – the temperature is lower, the wind blows gently, and the beaches are calm and tranquil. This gives tourists moments to explore the Island and experience what it has to offer them. For these reasons, many of them make arrangements for visiting during these months, thus increasing the costs of accommodation and items.
Note that the prices given here are based on averages and may not always reflect current prices.
Tags: travels deals, portugal honeymoon, aruba vs cancun, zanzibar and seychelles, cozumel vs playa del carmen, all inclusive resorts mexico adults only, overwater bungalows antigua, best time to travel tulum, best time to travel to costa rica, maldives honeymoon resorts