When you hear the names of these two destinations, white sands, clear waters and seaside villas come to mind. But what makes these two places different from each other, what is the difference Maldives vs Bora Bora? We will try to clarify this question for you!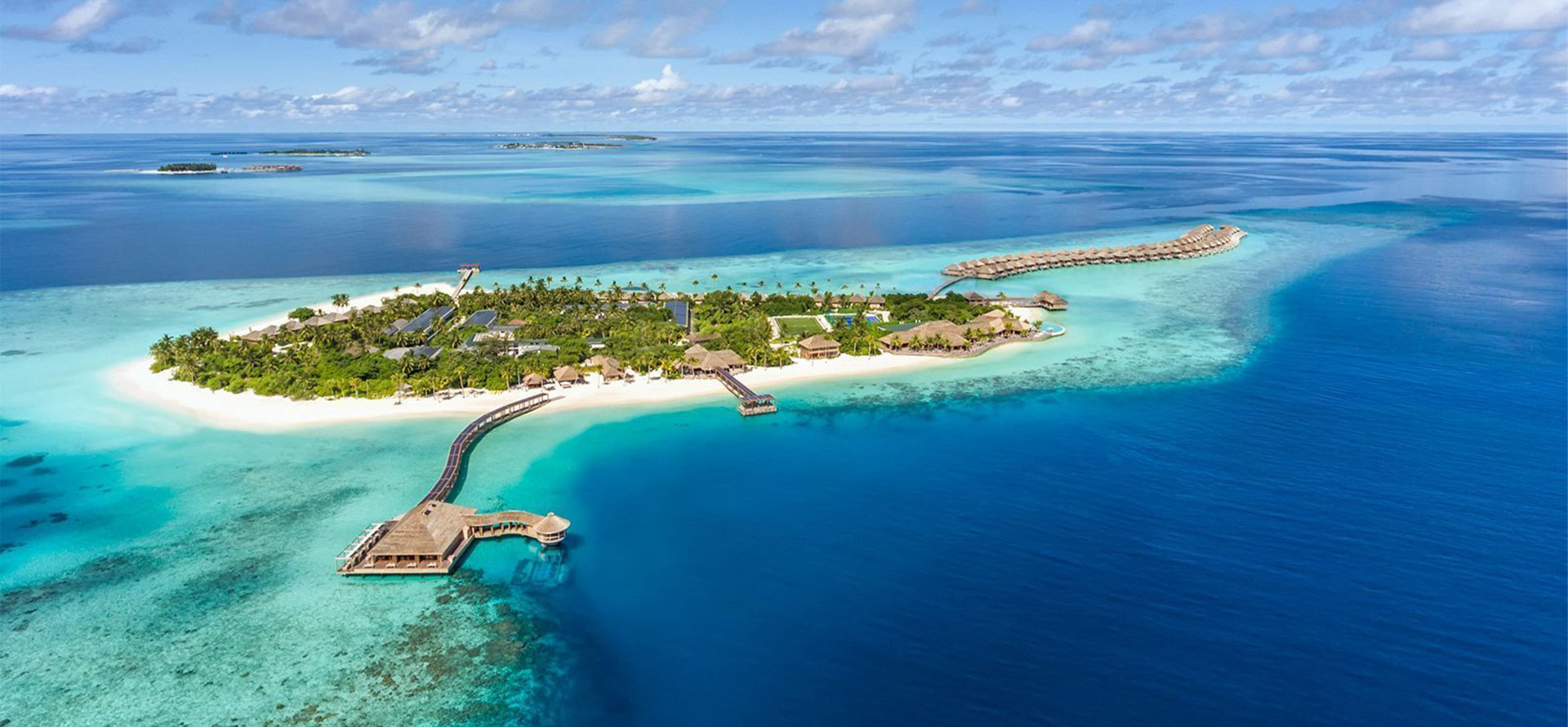 Most popular hotel booking services
Best booking
#1
Book your
perfect holiday and enjoy our great discounts on hotels, homes, flights and activities.
Less Hassle, More Travel
#2
Over a billion
Reviews & Contributions for Hotels, Attractions, Restaurants, and More
World's most trusted travel advice
#3
The Best
Hotels, Flights, Car Rentals & Accommodations
Save time, save money!
Best Time to Visit Bora Bora and Maldives
So which destination has the best weather conditions, Maldives vs Bora Bora? The best time to visit the Maldives is during the European winter months, December - March is the most popular time. This is when the weather is the hottest and you also have less chance of experiencing rainfall. The daylight hours are very long during this period too, making it ideal to adventure around the islands all day long. The sea temperature is average all year round, so you can enjoy those clear waters any time of the year.
Bora Bora has a very different climate compared to the Maldives, almost the opposite. Although it's warm over the wintertime, December - March, this is also the rainiest season and you are at huge risk of experiencing not just rainfall, but monsoons during these months. The best time to visit is in the summer months, June through to October, here the rainfall is much less and the weather is still warm, plus the daylight hours are the longest during this period.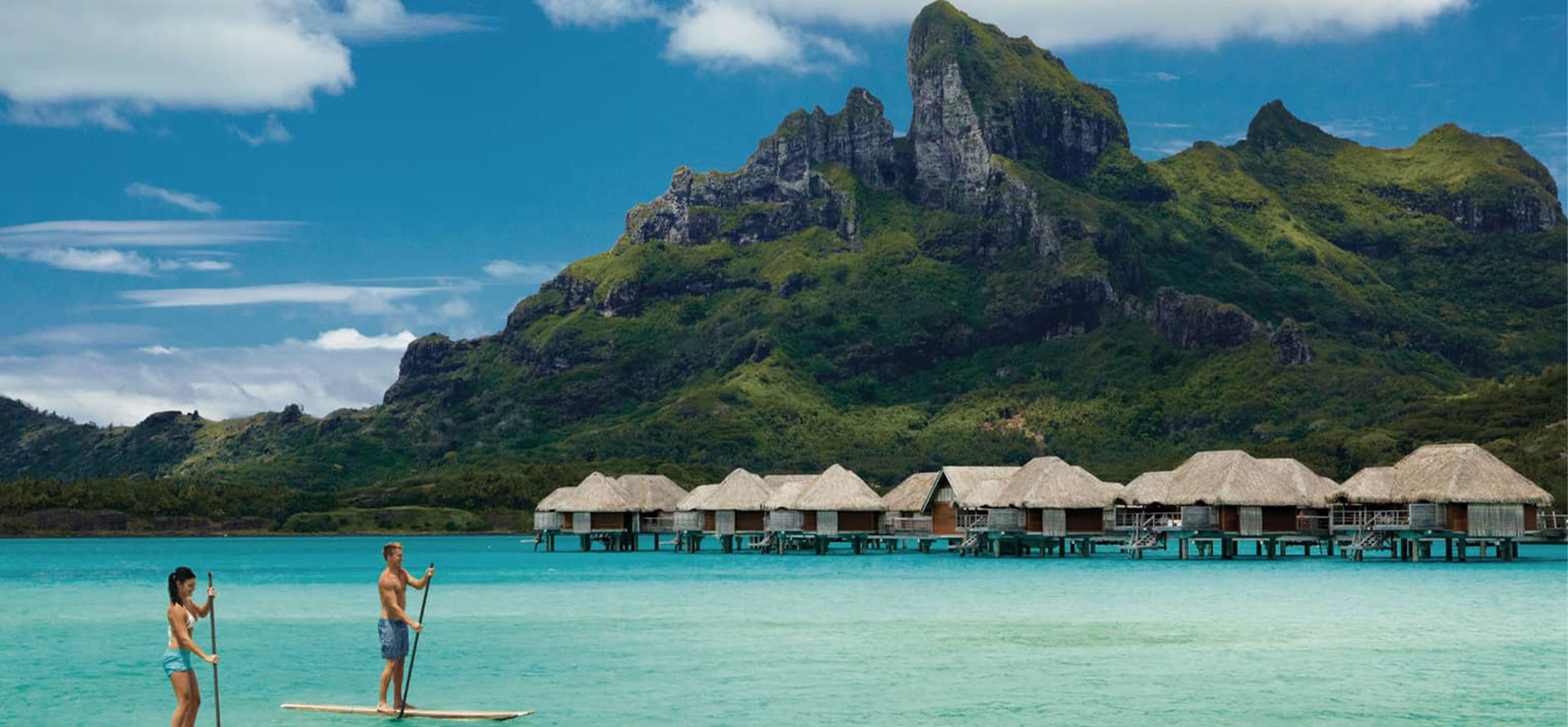 Bora Bora vs Maldives: Average Hotel Price
In the Maldives, the cheapest time to visit is between May and August, this is because these are the rainiest months and people tend to steer clear of the islands. The daily temperature, as well as the sea temperatures, are also at their coolest during this time. January - April are the most expensive months to travel to the islands, the weather is incredibly warm and dry and the sea has warmed up to be at its hottest.
December — April is the cheapest time to travel to Bora Bora, exactly the opposite of the Maldives. This is the rainiest season and the daylight hours are quite short which reduces any holidaymakers' trips. The only benefit about traveling to Bora Bora during this time the weather is at its hottest, but often it's very humid. The most expensive months are May through to September as this is the dry season and the temperature is still high during the day and night. People flock here during this time because the daylight hours are very long during these summer months, perfect for exploring!
Things to Do in Bora Bora and Maldives
Maldives beaches:
Cocoa Island beaches are extremely popular due to the clear waters and incredible coral reefs, there is the option to scuba dive here to experience marine life.

Baros beach is best known for having the best lagoons in the Maldives, perfect for snorkeling.

Reethi Beach is the most secluded and tranquil of all, across 3 miles of coastline there are 12 amazing beaches.
Bora Bora beaches:
Matira Beach is open to the public and is known for its fantastic clear water and white sandy shore.

Bora Bora Pearl resort beach is only accessible to guests and the hotel itself sits on its own private island, a pure scene of luxury.

Beach at Le Meriden faces Mount Otemanu and offers a protected lagoon perfect for snorkeling.
Nightlife Maldives vs Bora Bora
Maldives:

The majority of the nightlife in the Maldives is inside the hotels on the private islands, the mainland occupied by locals doesn't host bars or clubs due to their religion. Any hotel you book would offer some sort of evening entertainment, be it an outdoor cinema, meal on the beach, or cocktail making party, there's something for everyone on every resort. The majority of the entertainment is couple-focused, travelling here with kids could be difficult when it comes to evening entertainment.

Bora Bora:

Similar to the Maldives, Bora Bora isn't exactly known for its nightlife, but there are ways to enjoy hours after dark. A popular option is to take a shuttle boat back to the mainland and enjoy entertainment at places alongside the friendly locals. Places such as The lucky house, The Tiki Bar, and Bora Bora yacht club are where you can enjoy some local cuisine as well as a local company.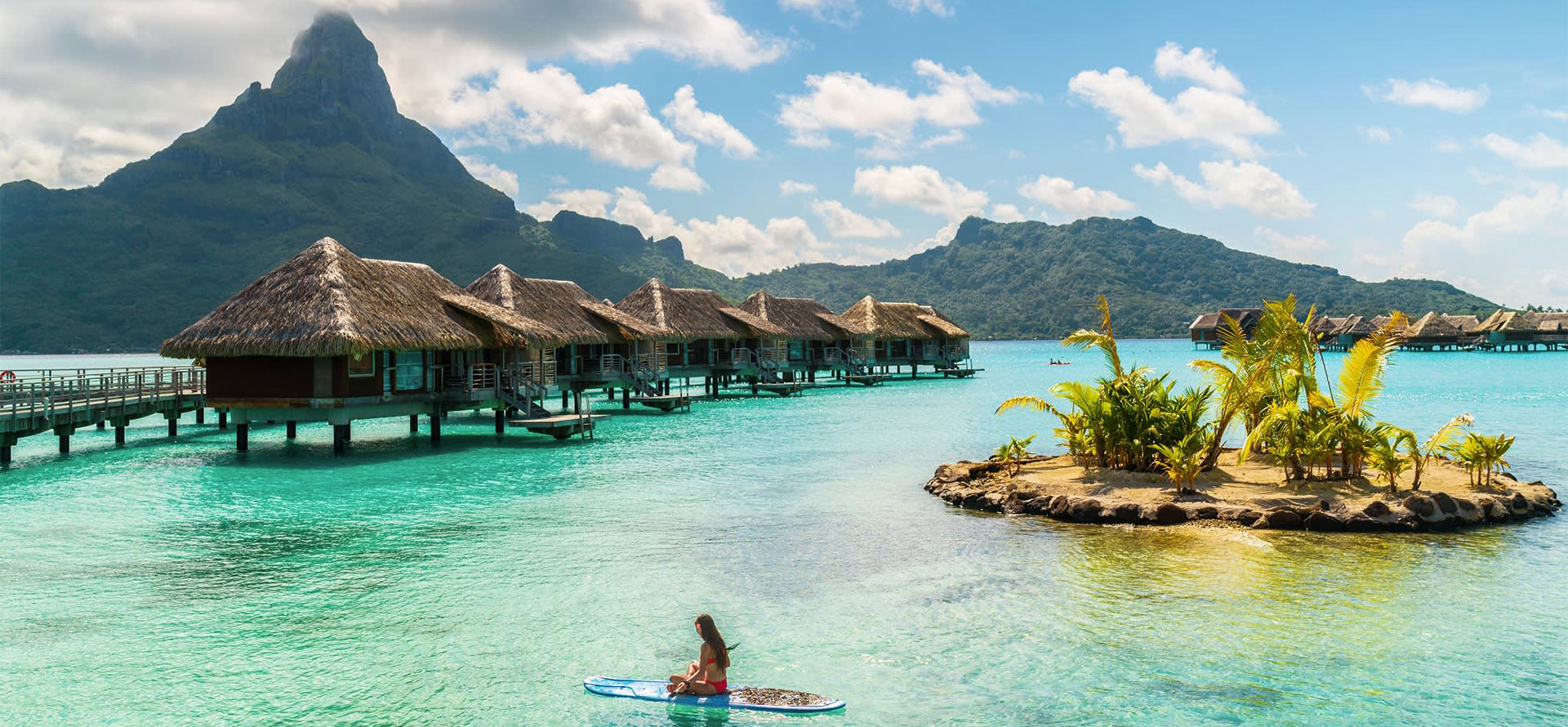 Conclusion: Which is Better Bora Bora or Maldives?
The biggest decision you need to make when choosing between these destinations is what time of the year are you planning to travel? The Maldives is suitable for winter travels if you fancy a Christmas getaway; the temperatures and lack of rain between December and April make this the perfect choice. Bora Bora is ideal for spring and summer holidays, there's much less rain than in winter and combined with the warm temperatures it's a wonderful place to visit.
FAQ
Which is better, Maldives or Bora Bora?
Bora Bora is renowned for its overwater bungalows and stunning turquoise waters, while Maldives boasts some of the best diving and snorkelling in the world. Ultimately, it depends on what you are looking for in a holiday. If you want relaxation and luxury, Bora Bora is a great choice. If you are looking for an adventure-filled trip with lots of activities, Maldives is the place for you. Whichever destination you choose, you are sure to have an incredible time!
Is Maldives cheaper than Bora Bora?
Generally speaking, Bora Bora is going to be more expensive than Maldives. Bora Bora is a luxury destination, while Maldives is more of a mid-range option. Bora Bora has higher costs for accommodation, food, and activities. If you are looking to travel on a budget, Maldives is going to be the better option. You can find cheap accommodation and food options in Maldives. Bora Bora is an exclusive destination, so prices are going to be higher across the board.
How far apart are Maldives and Bora Bora?
The distance between Maldives and Bora Bora is about 1020 kilometers (635 miles). But that's not the only difference between these two destinations.
What is the difference between Bora Bora and Maldives?
Bora Bora and Maldives are both tropical island destinations that offer stunning scenery, crystal clear waters and a relaxed pace of life. However, there are some key differences between the two. Bora Bora is part of French Polynesia, while Maldives is an independent country. Bora Bora is known for its luxurious resorts, while Maldives is known for its more affordable accommodations. Bora Bora has a volcanic landscape, while Maldives is made up of coral reefs. Bora Bora is located in the Pacific Ocean, while Maldives is located in the Indian Ocean.
Is the weather better in Bora Bora or Maldives?
The answer to this question really depends on what you are looking for in terms of weather. If you are looking for warm weather all year round, then Bora Bora would be the better choice as the average temperature is around 27 degrees Celsius. Maldives does have warm weather all year round as well, but the temperatures can range from 23-32 degrees Celsius. So if you are looking for more consistent warm weather, Bora Bora would be the better choice. However, if you are looking for a wider range of temperatures and weather conditions, then Maldives would be the better choice as it experiences everything from sunny days to rainstorms.
Tags: best travels deals, best time to travel to cabo, boutique hotels oklahoma city, paris honeymoon cost, boutique hotel in scottsdale, usa underwater hotels, maldives mauritius, best overwater bungalow in hawaii, five star hotels los angeles, fancy hotels in charlotte, sacramento hotels airport, all inclusive resorts in belize, best resort in turks and caicos, jacuzzi suites in maryland, cabo or cancun vacation, jamaica vs bahamas, all inclusive hotel guam, best hotel nantucket, hotels near downtown little rock, hotel romance packages