Cabo San Lucas is rated as one of the top 5 tourist destinations in Mexico. The city houses the famous Playa del Amor beach that all lovers yearn to visit, and many other tour-worthy beaches that keep tourists coming every year. The weather is usually sunny and appropriate for tourists to explore the city. Apart from the tour-worthy sites in Cabo, the local dishes and accommodations available make your stay worth the while.
Wondering when is the best time of year to go to Cabo? You don't want to visit when the weather conditions are harsh. The best time to go to Cabo San Lucas is when the weather is not too hot or cold. Harsh weather conditions will only make your tour uncomfortable and cut it short. If your sole purpose is to tour Cabo, then the best time to travel to Cabo is from May to June. Those are the months between the end of winter and the start of summer when the weather is just right for tourist visits.
Best Hotels & Resorts
Best hotel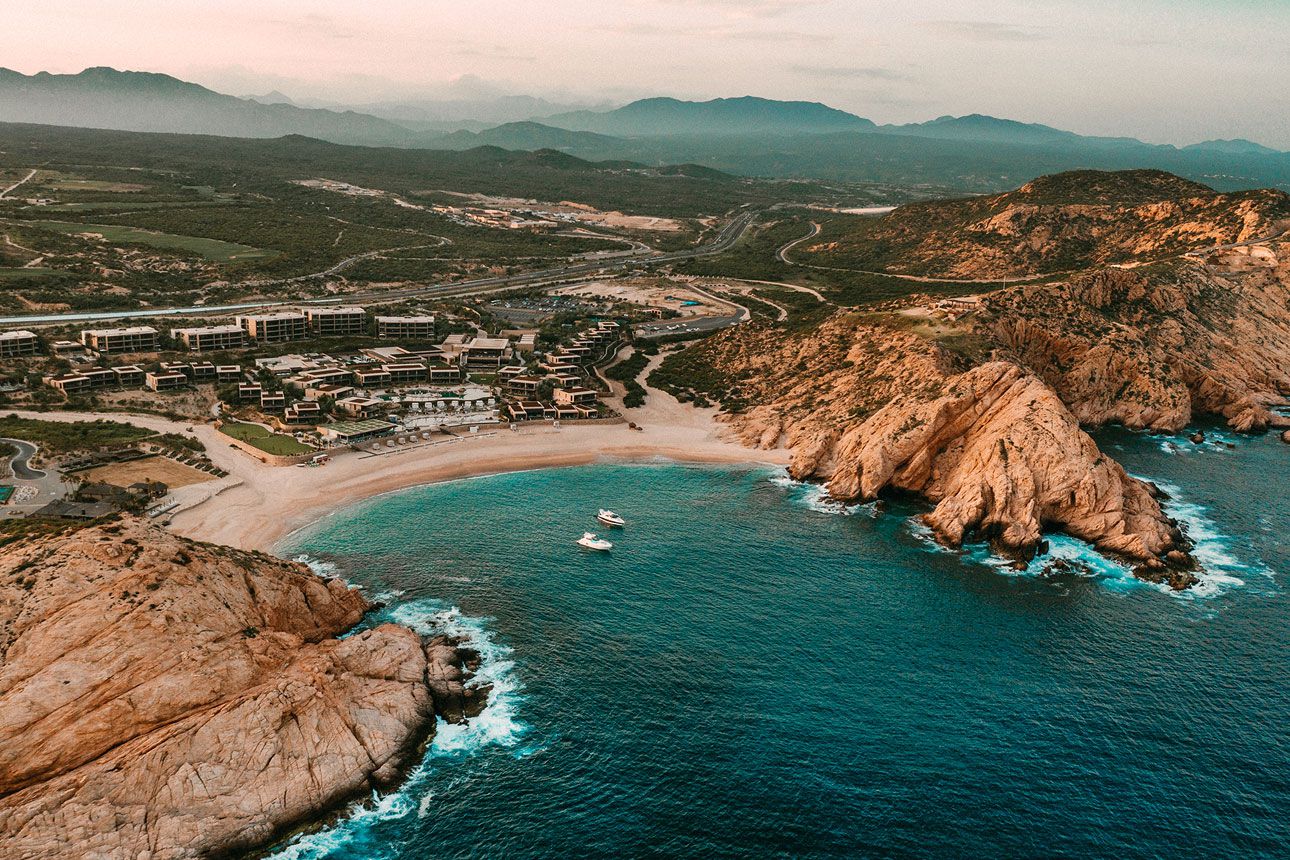 $1,223.00
Price per night from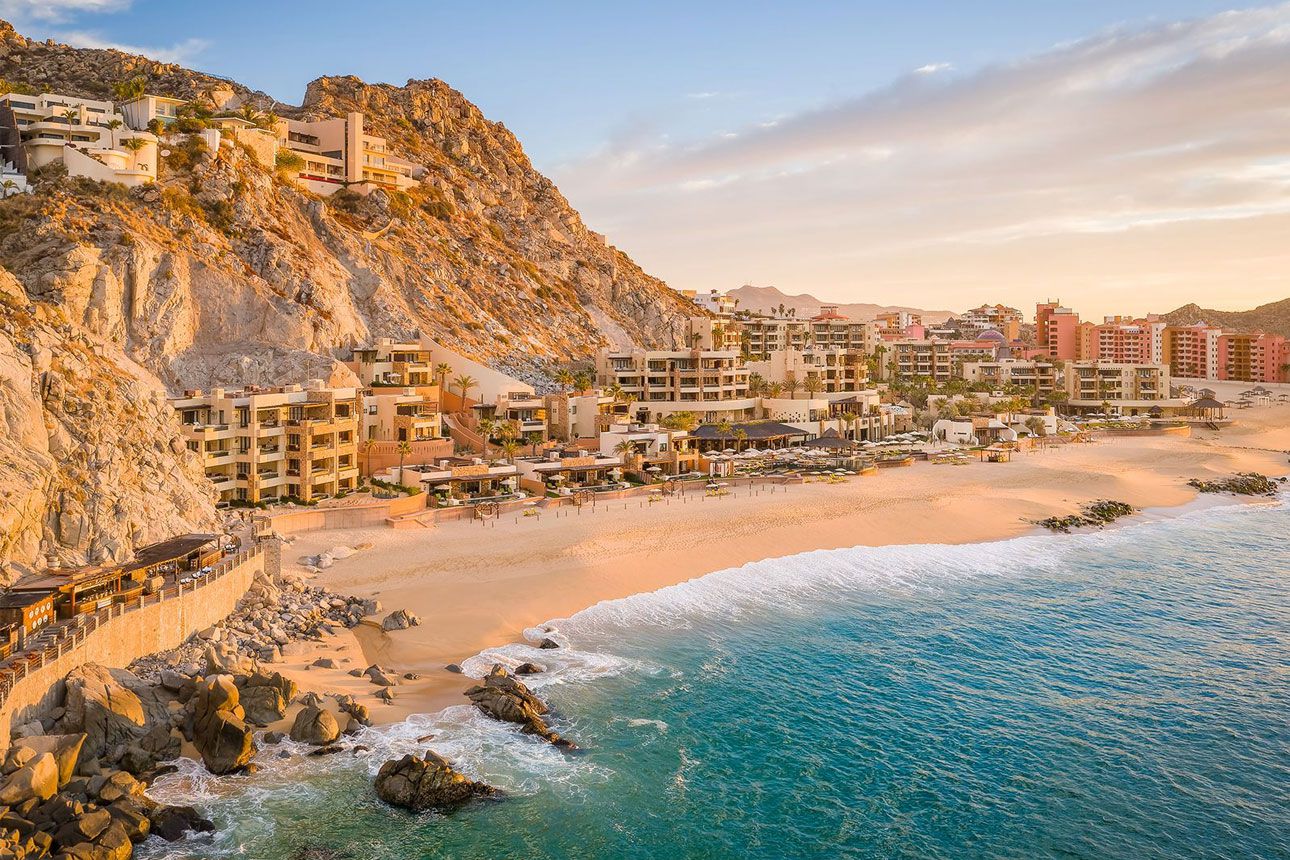 Waldorf Astoria Los Cabos Pedregal
Pet-friendly
Free parking
Airport transfer
$901.00
Price per night from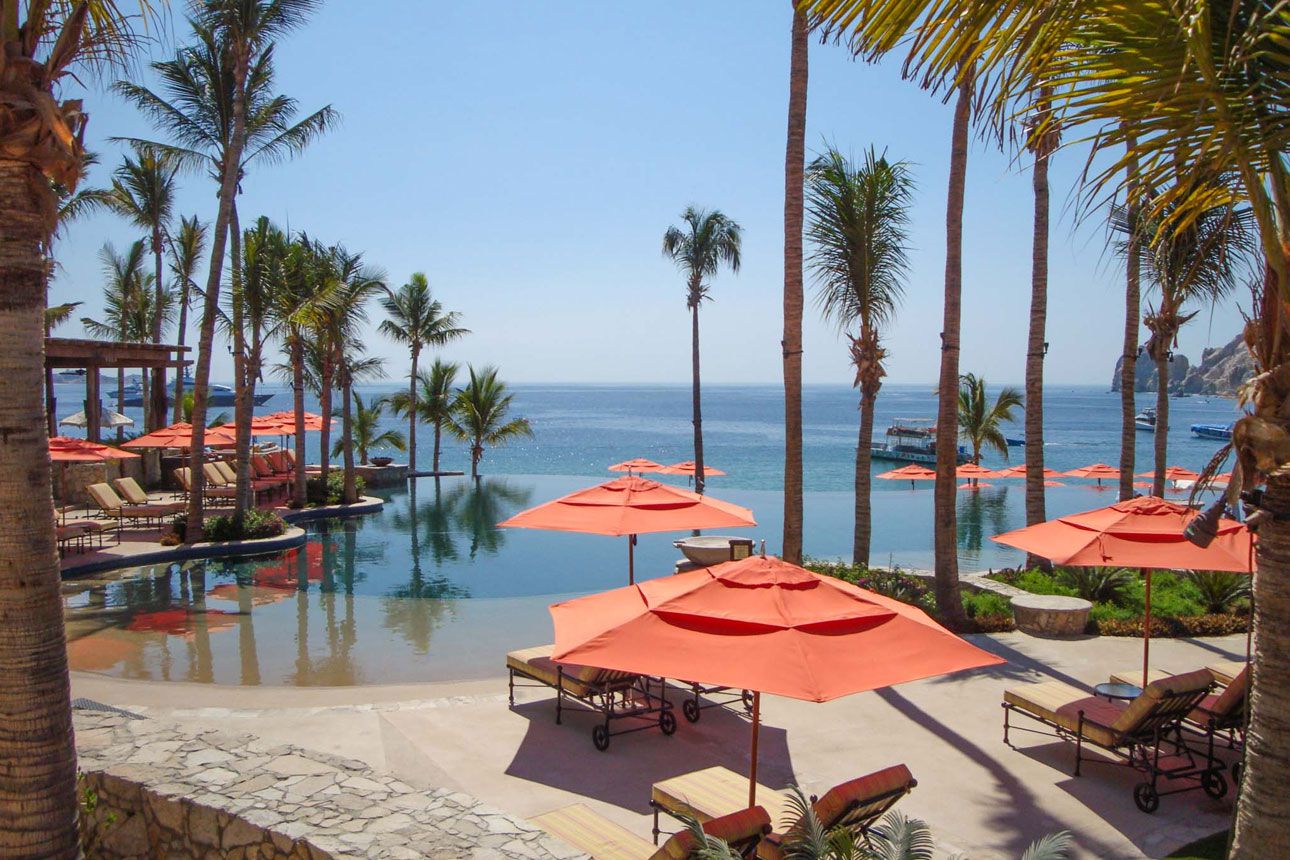 Hacienda Beach Club & Residences
Pool
Free parking
Free WiFi
$550.00
Price per night from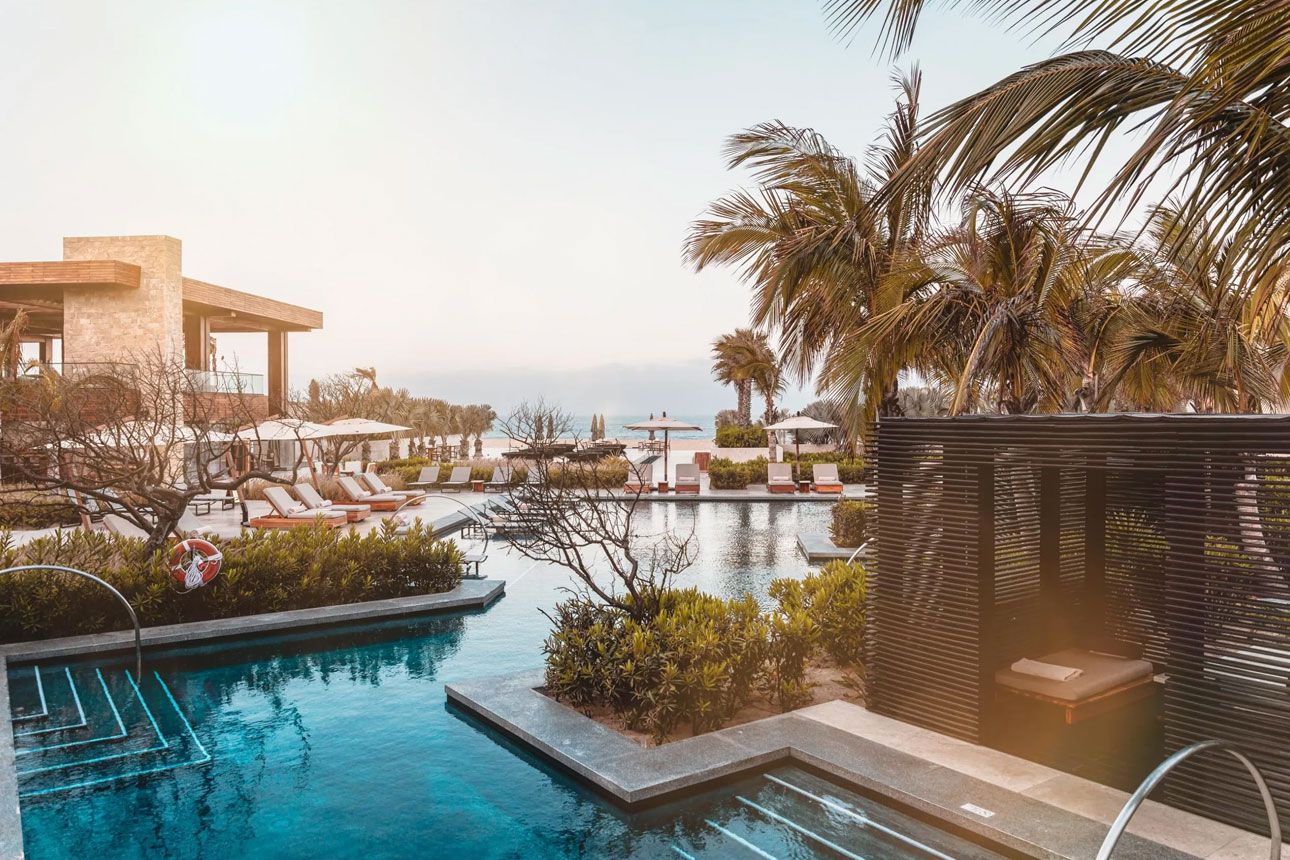 Non-smoking
Pool
Free parking
$479.00
Price per night from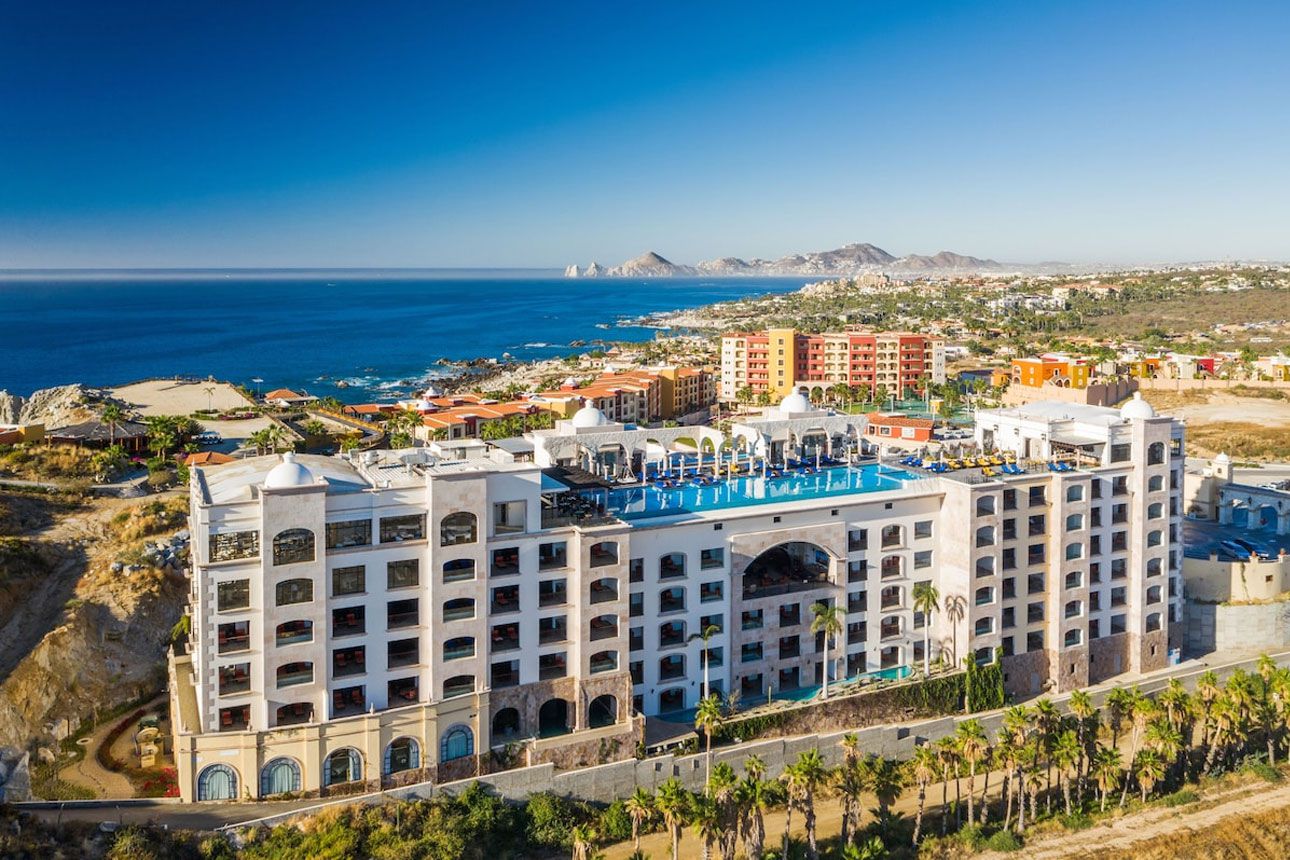 Vista Encantada Resort & Spa Residences, A La Carte All Inclusive Optional
Free WiFi
Airport transfer
Free parking
$403.00
Price per night from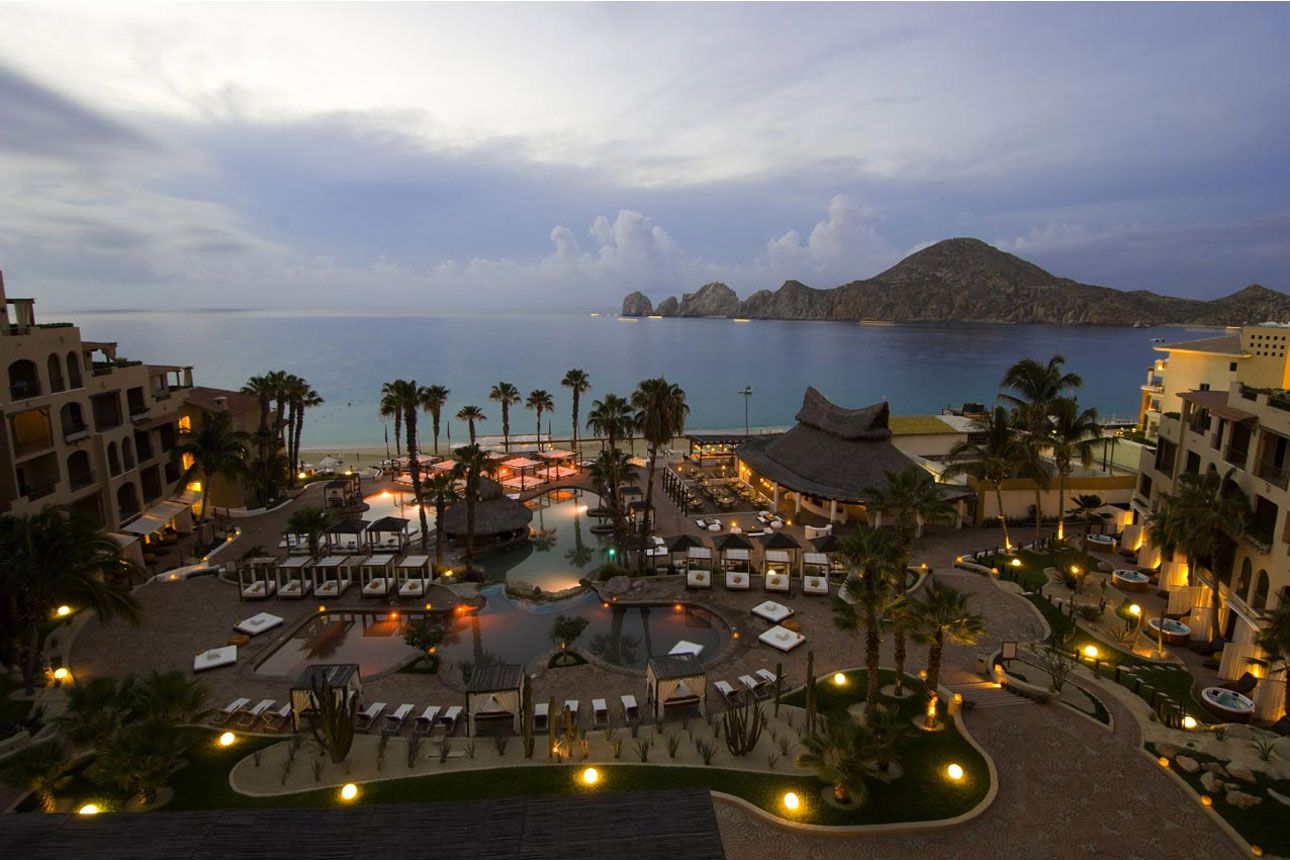 $478.00
Price per night from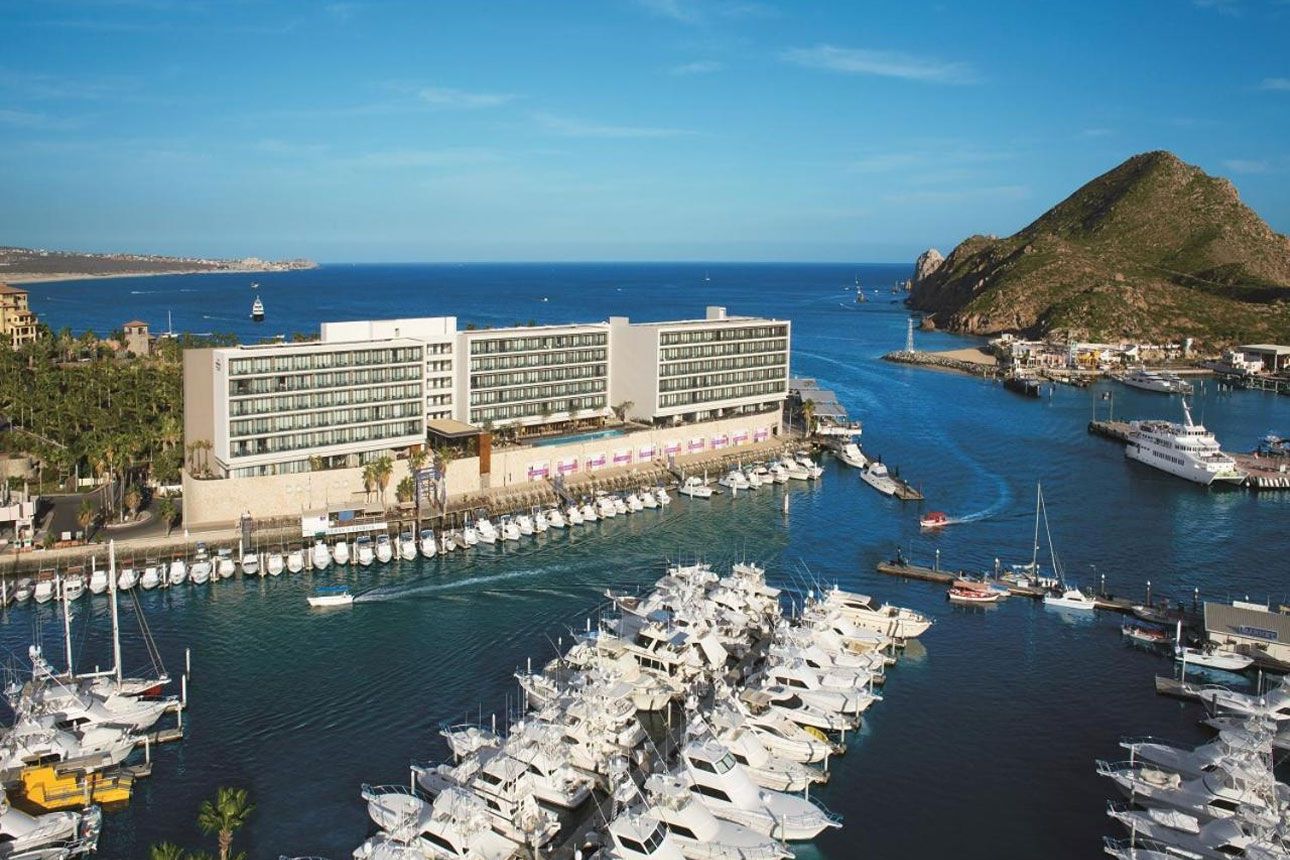 Breathless Cabo San Lucas - All Inclusive - Adults only
$485.00
Price per night from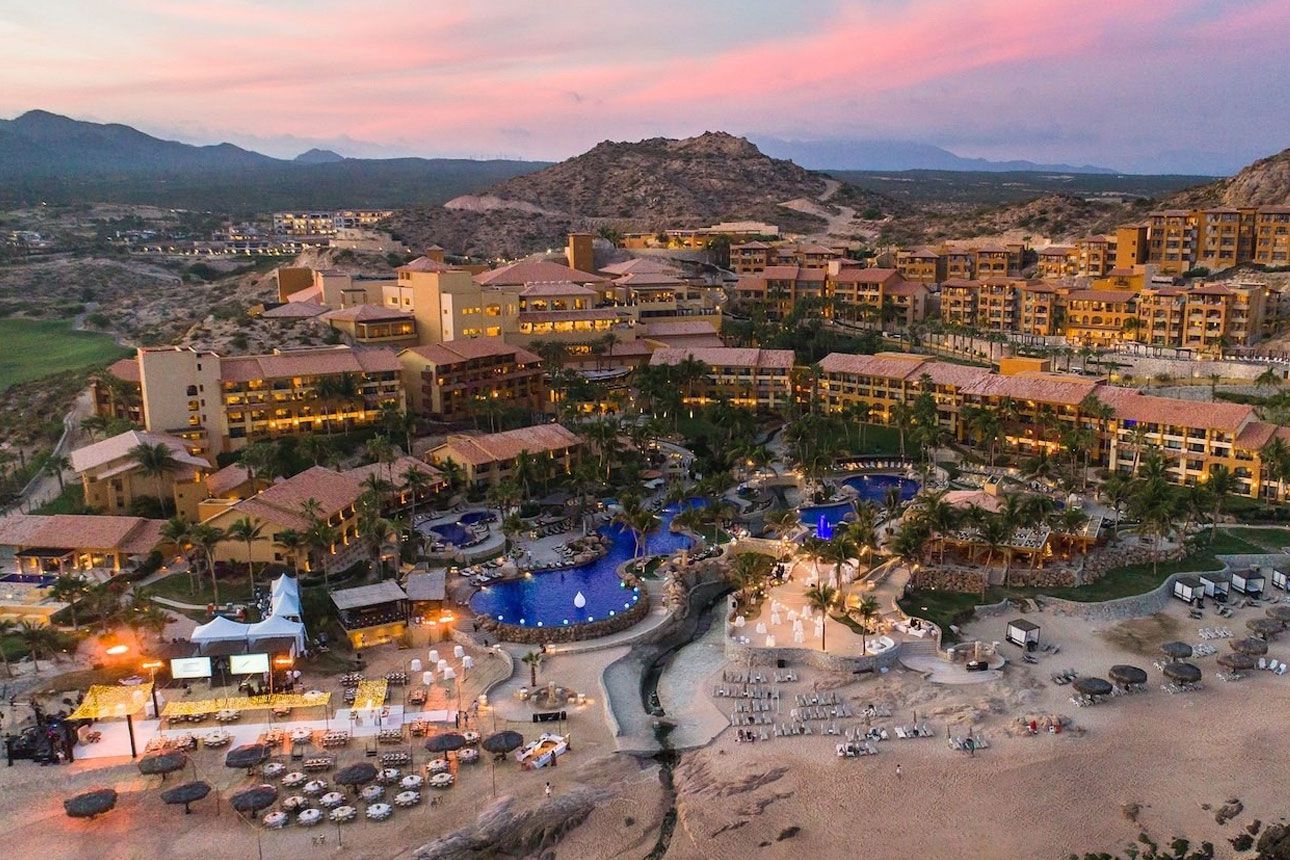 Grand Fiesta Americana Los Cabos All Inclusive Golf & Spa
Pool
Airport transfer
Free breakfast
$382.00
Price per night from
If you are not in Cabo for the beaches, then you can visit anytime between December and April too. That is the period after the rainy season and before the Pacific hurricane season begins. There are also several interesting festivals within those months.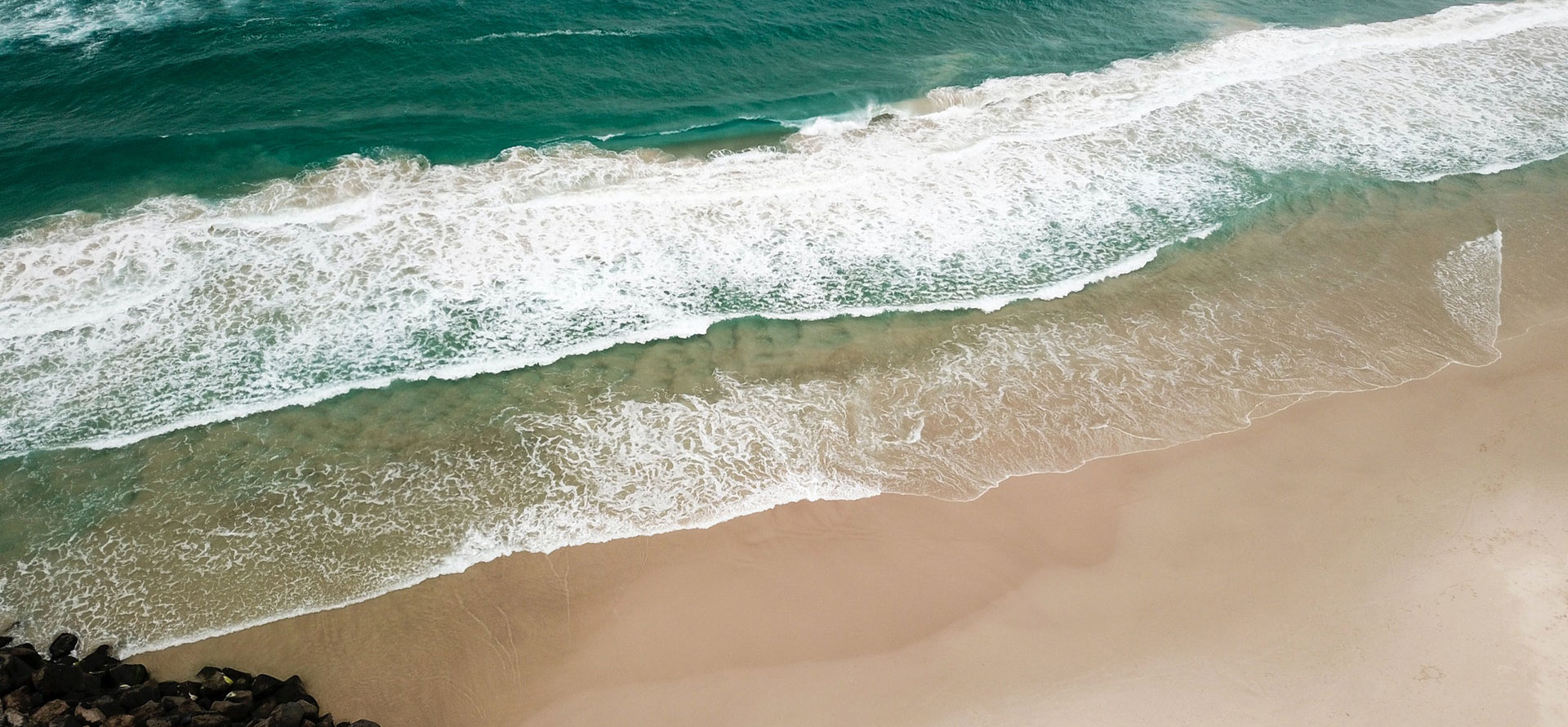 Weather in Cabo San Lucas
The spring break season in Cabo starts in December and ends in April. During that period, you get to see amazing aquatic animals and experience a host of festivals. The weather is usually mild with a high of 68°F and a low of 59°F on average. There is also minimal rainfall during that period. For some tourists, this period qualifies as one of the best times to go to Cabo San Lucas.
As spring break closes, the shoulder season begins around May and stays all through June. The crowd in Cabo is usually minimal because spring has just ended, and summer is coming through. This factor of a moderate temperature, combined with little to no rainfall and a breathing space for tourists is what makes this period the best time to visit los Cabos.
July welcomes summer into Cabo and many tourists go home because of the weather conditions. If you choose this time to visit Cabo, it means you will be staying mostly indoor and there will not be a lot of sightseeing as it's the Cabo rainy season, which runs well into September. There is also the risk of a hurricane happening during this period, although most storms occur in September. To be on the safer side, you might want to steer clear of the city between August and September.
In the fall season, which runs from October to November, the rain reduces to a few drops, the temperature drops, and the weather becomes much cooler. The area is usually less crowded, and everyone is preparing for the winter season. If you love privacy, this period would be your best time to travel to Cabo San Lucas.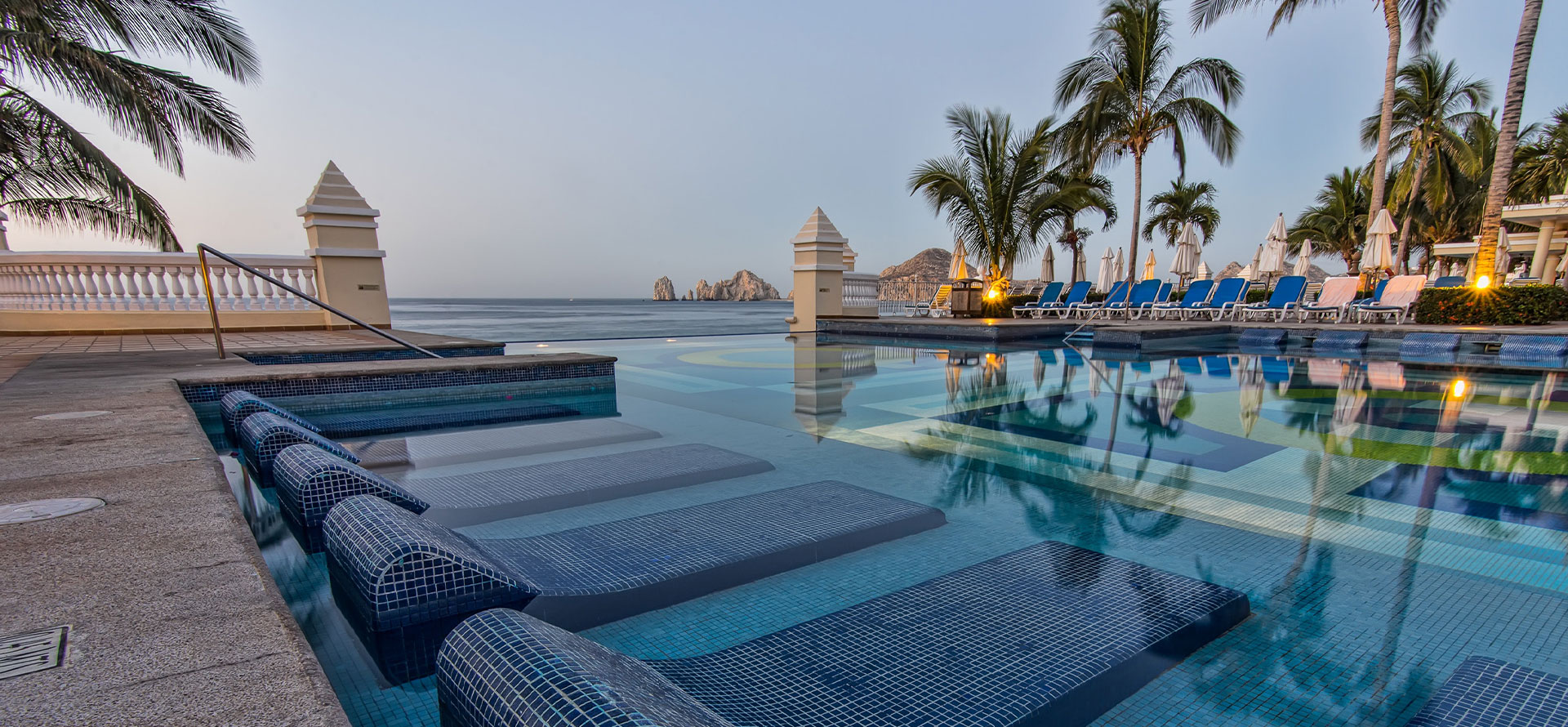 Average Temperature
+25°C
mean annual
temperature
temperature
On average, the annual temperature of Cabo falls between 50°F and 86.81°F. January is usually the coldest month in Cabo while July is the hottest. Summer days are mostly humid in Los Cabos but when the wind blows from the ocean, temperature drops, and the atmosphere becomes cooler. In winter, the night temperature can drop as low as 50°F with the daytime temperature hovering around 68°F.
Many people visit Cabo during the months of December to March. That is because most of the festivals happen during those times and the temperature is bearable for tourism. The days are not too hot, and the evening wind is just perfect. There is also a very low probability that a hurricane happens during the winter season.
Average Precipitation
september
the most
precipitation
rains
The average yearly precipitation in Cabo is about 220 mm which means there is usually limited rainfall in the place. Los Cabos experiences higher rainfall from August to October. Precipitation in the month of September is usually the highest of the three rainy months with an average of 80mm annually. Throughout the year, it rains for an average of 60 days in total. The driest months are April and May with 0mm average precipitation annually.
The hurricane season of Cabo occurs between the rainiest months of the year. Although it rarely occurs, it is best to wait till the rainy season is over before visiting Cabo to avoid hurricanes.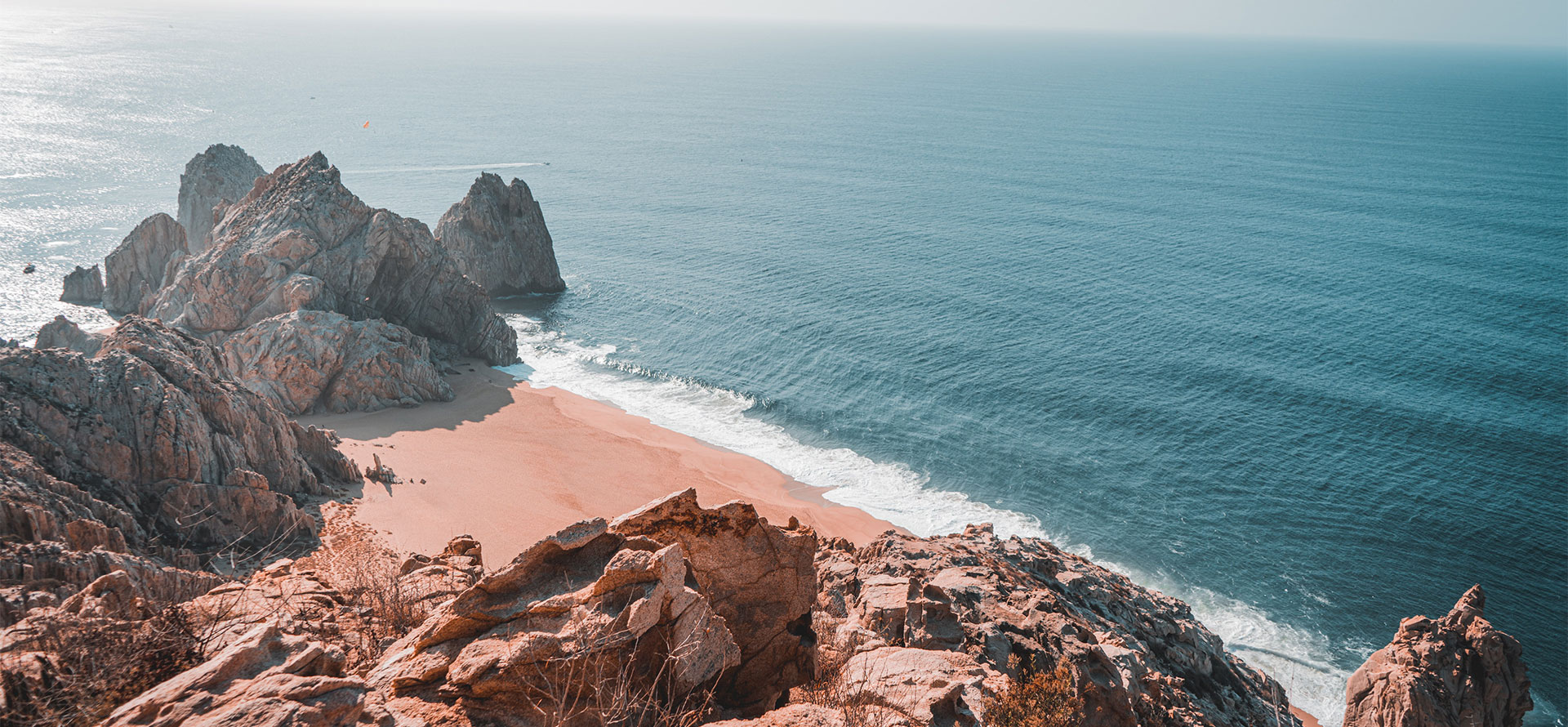 Average Tourist Volume
An average of three million people visit Los Cabos every year through air and cruises. Records show that the highest tourist visit months are between May and June, January, and April. Those months are the times when tourists flock to Cabo San Lucas for the festivals and appearance of magnificent Sea creatures.
FAQ
When is the best time to go to Cabo?
If you're interested in escaping the cold weather and enjoying some warm sunshine, the best time to visit Cabo is from November to April. These months offer the most consistent weather, with temperatures ranging from the mid-70s to low 80s.However, if you're looking for the best deals on accommodations and flights, you may want to visit Cabo during the summer months. While the weather can be hot and humid during this time of year, you'll find that rates are significantly lower than they are during the winter season.
When is hurricane season in Cabo?
Hurricane season in Cabo typically runs from June 1st to November 30th. However, the risk of hurricanes is highest from August to October, with September being the peak month. So if you're looking to avoid hurricanes, the best time to visit Cabo would be outside of hurricane season - either from December to May, or during the shoulder months of June and November.
When is the rainy season in Cabo?
The rainy season in Cabo typically runs from mid-October to mid-April, with the heaviest rains falling in December and January. However, this is also the time when Cabo sees the most tourists, so if you're looking to avoid the crowds, you may want to plan your trip for another time of year. Keep in mind that even during the rainy season, days are often sunny and pleasant, so don't let a little rain deter you from enjoying all that Cabo has to offer.
When should you not go to Cabo?
Cabo is a great place to visit all year round, but there are certain times of the year when it may not be ideal. Here are a few things to consider before booking your trip: the rainy season runs from July to October and can bring heavy rains and even hurricanes; summertime can be very hot, with temperatures often reaching over 100 degrees Fahrenheit; spring break is a popular time to visit Cabo, but be aware that prices will be higher and crowds will be heavier during this time.
What is the cheapest time to go to Cabo?
The cheapest time to visit Cabo is typically during the summer months, when there are less visitors and prices are lower. However, this can also be the hottest time of year, so be sure to pack sunscreen and plenty of water! If you're looking for a cheaper but still sunny vacation spot, consider visiting in the spring or fall. These months tend to have milder weather and fewer crowds.
What is the hottest month in Cabo?
The hottest month in Cabo is August, with an average temperature of 27 degrees Celsius. However, the heat is often accompanied by high humidity levels, so it's important to stay hydrated and take breaks in air-conditioned areas. If you're looking to avoid the crowds and enjoy more moderate temperatures, April and May are great months to visit Cabo.
Top Hotels & Resorts
Tags: travel, best all inclusive resort guam, best time of year to go to dominican republic, best beaches in puerto rico, what to do in Ibiza, maine honeymoons, vacation resort tulum, all-inclusive resorts in colorado, best beaches in virginia, suites downtown oklahoma city, adult only resorts bahamas, best time of year to go to antigua, 5 star hotel in nashville, airport hotel san jose, top all inclusive resorts puerto rico, houston boutique resort, best overwater bungalows in the florida, croatia vacation packages all inclusive, nicest hotel in hilton head, family resort in cancun