Aruba creates the right atmosphere for lovers all year long with its pristine beaches, colorful architecture, beautiful landscapes, and exotic nightlife. Honeymooners, enjoy Aruba because of the relaxing and fun filling effect it adds to their vacation and the memories they take along after the trip.
Aruba honeymoon can be very intriguing and memorable. That is why lovers choose the Caribbean island as their honeymoon destination. The only problem is not only that honeymooners yearn to visit Aruba. Because of its various attractions and soothing weather, Aruba receives millions of visitors, including tourists and other honeymooners, all year long.
As a result, the hotels and resorts get filled up more often as more people come in when earlier visitors leave. In the peak seasons, which is one of the best seasons to visit Aruba, tourists flock to the Caribbean island to enjoy the period. During that time, the location with nice views and the ones near tourist attractions get booked in no time. That leaves the late comers searching for good accommodations at a reasonable price.
We often advise honeymooners to book their rooms before their visit to prevent hustling for space. Doing such ensures that you secure comfy suites in the hotels or resorts at a reasonable cost. Some resorts create Aruba honeymoon all inclusive packages for the newlyweds. The items on the Aruba honeymoon packages ensure that you attend events and visit places designated for lovers during your time on the island.
Ready to plan your honeymoon trip to Aruba? Check out our list of top Aruba honeymoon resorts and hotels for premium satisfaction. The table below shows the top honeymoon hotels in Aruba, their offers, and prices.
Best Hotels & Resorts
Best hotel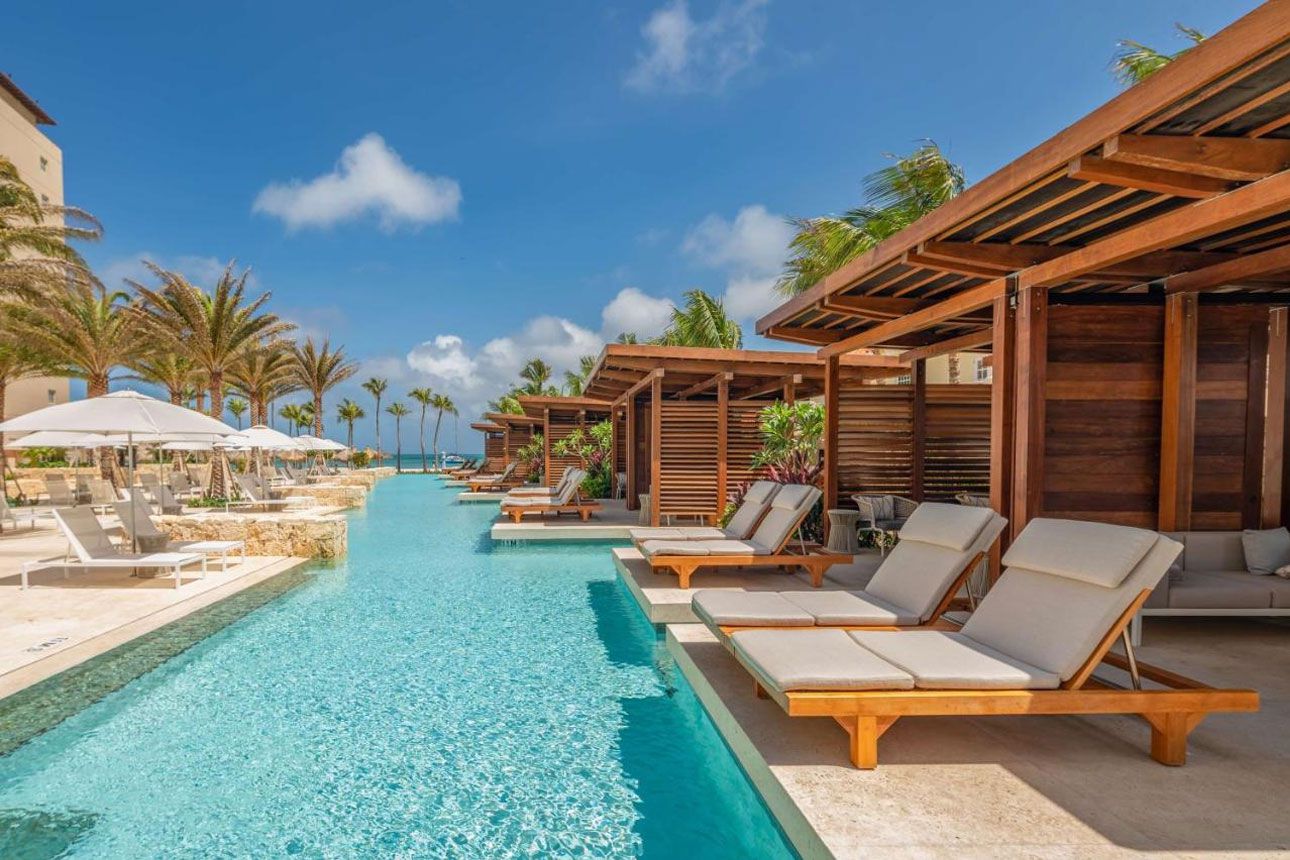 Hyatt Regency Aruba Resort, Spa And Casino
Free WiFi
Pool
Air conditioning
$508.00
Price per night from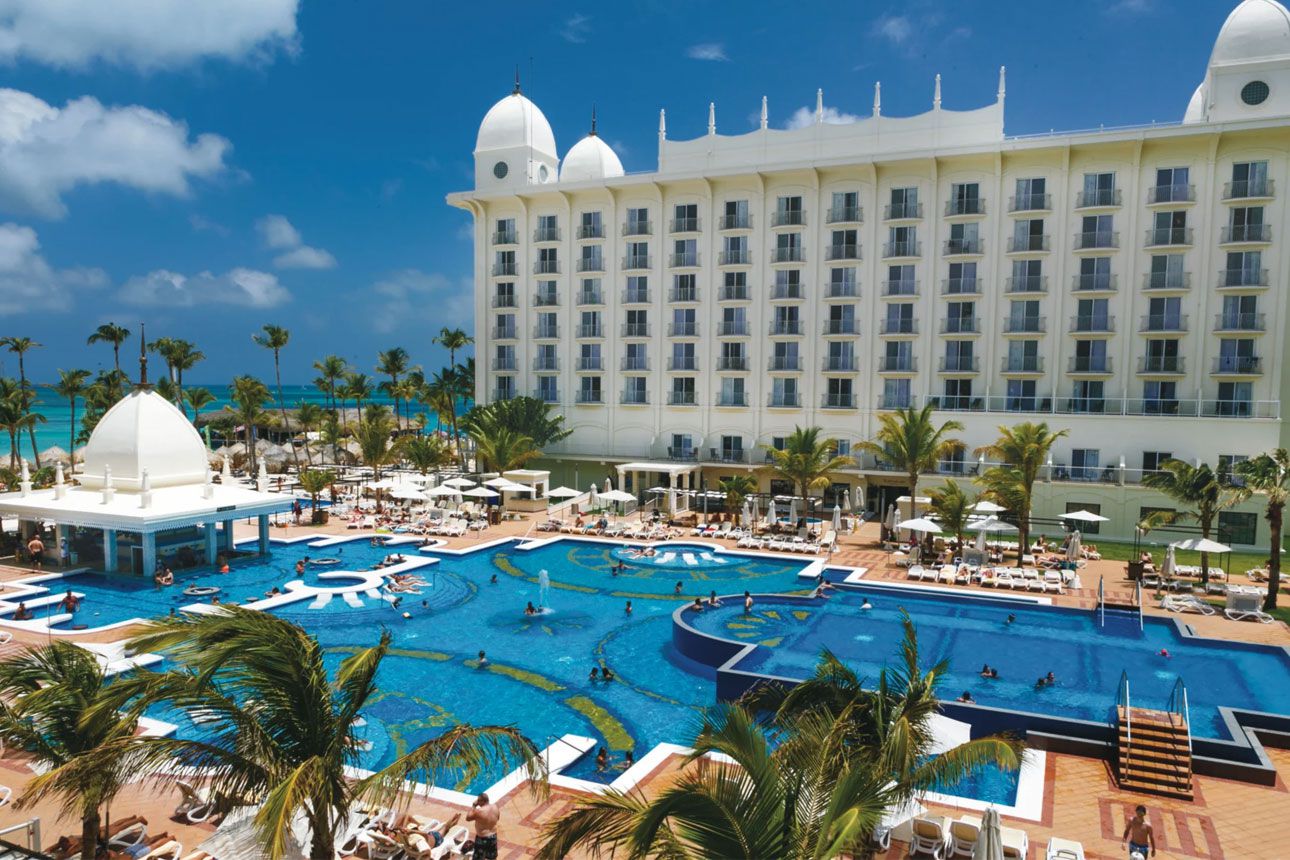 Riu Palace Aruba All Inclusive
Free WiFi
Air conditioning
Pool
$606.00
Price per night from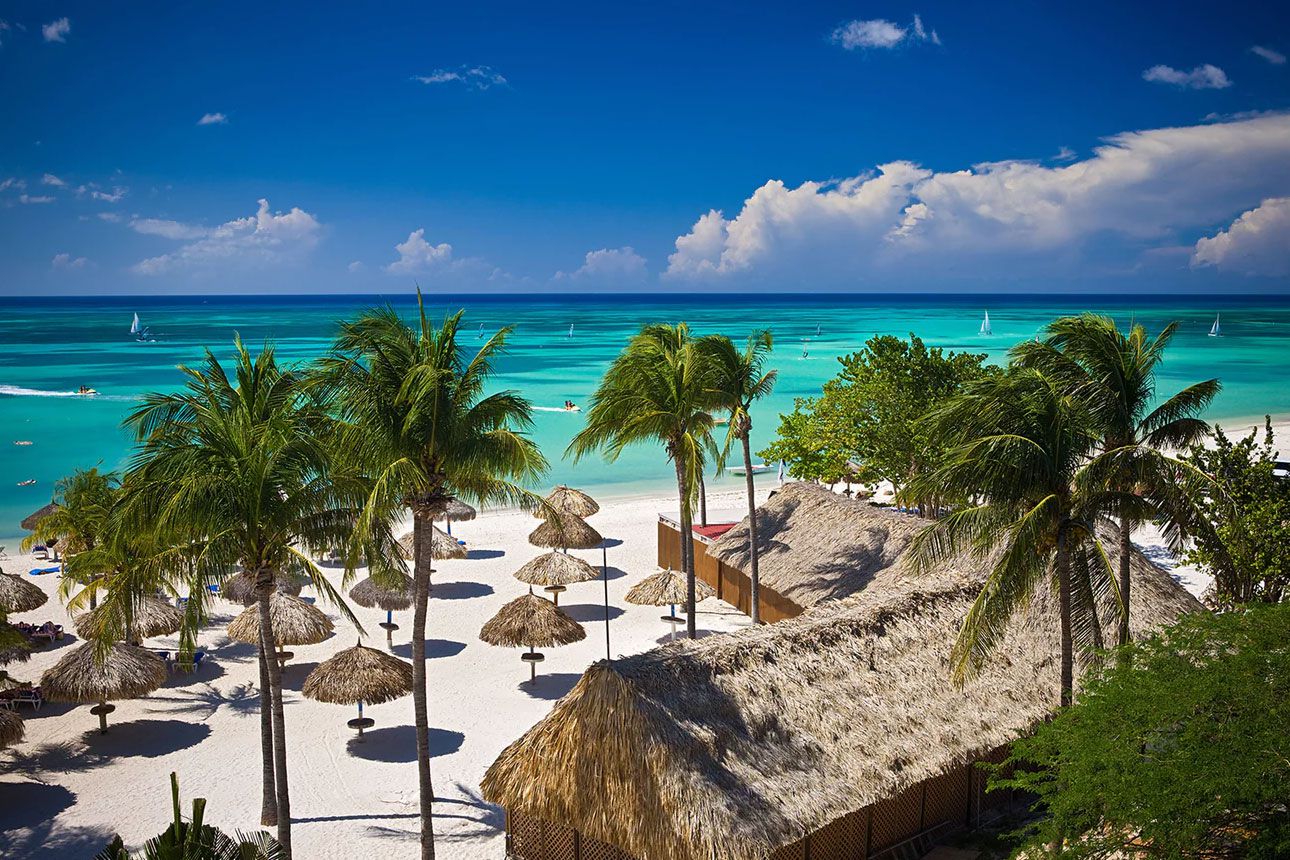 Aruba Marriott Resort & Stellaris Casino
$459.00
Price per night from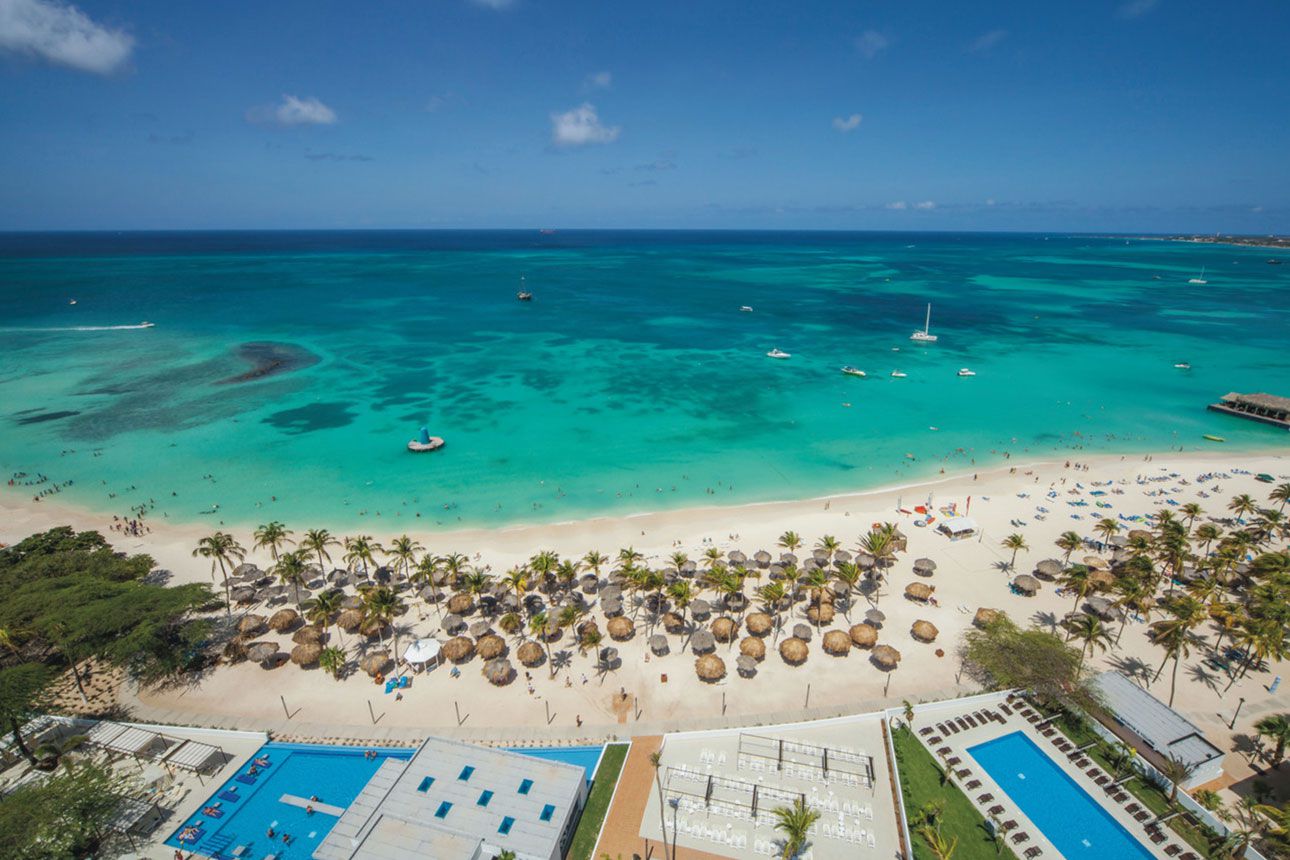 Riu Palace Antillas - All Inclusive - Adults Only
$565.00
Price per night from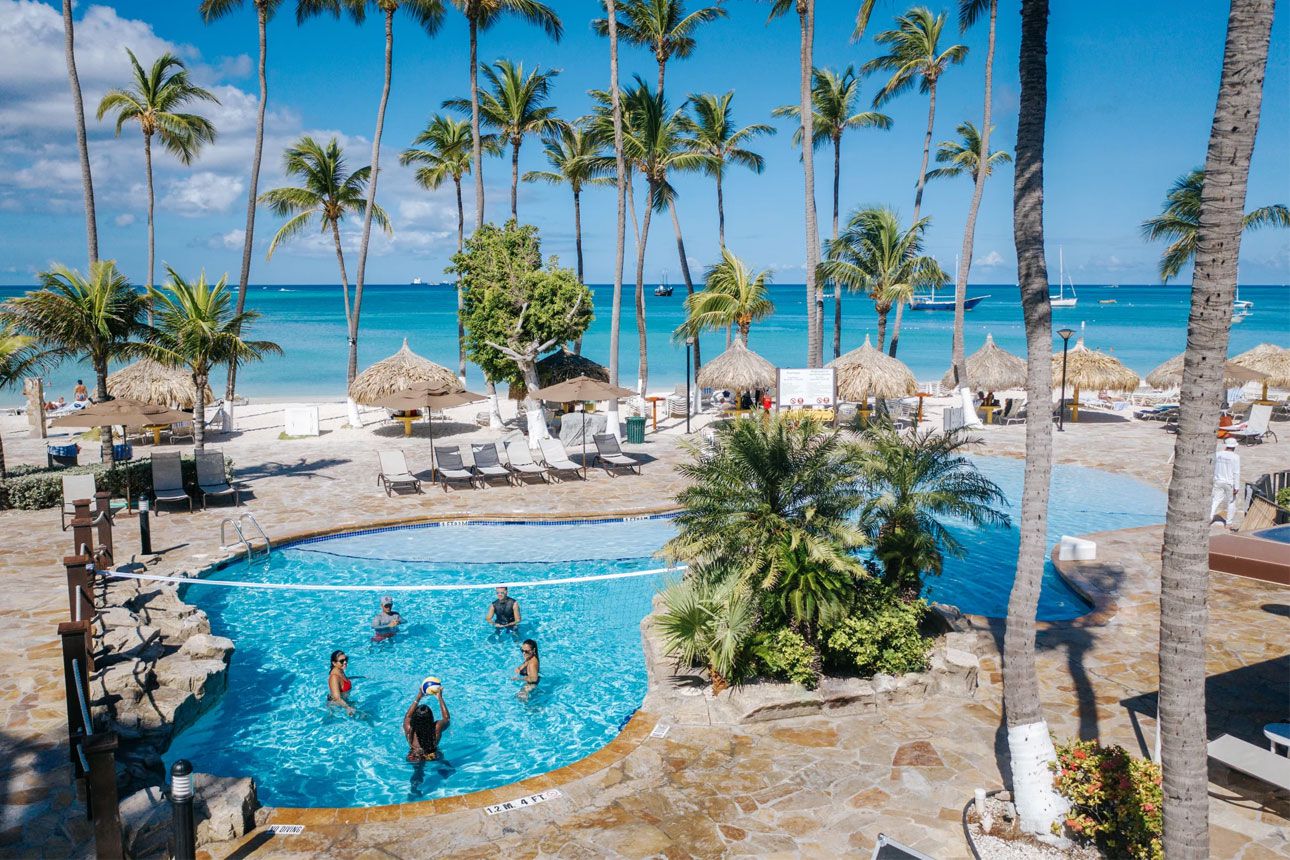 Holiday Inn Resort Aruba - Beach Resort & Casino, an IHG Hotel
Non-smoking
Air conditioning
Free parking
$246.00
Price per night from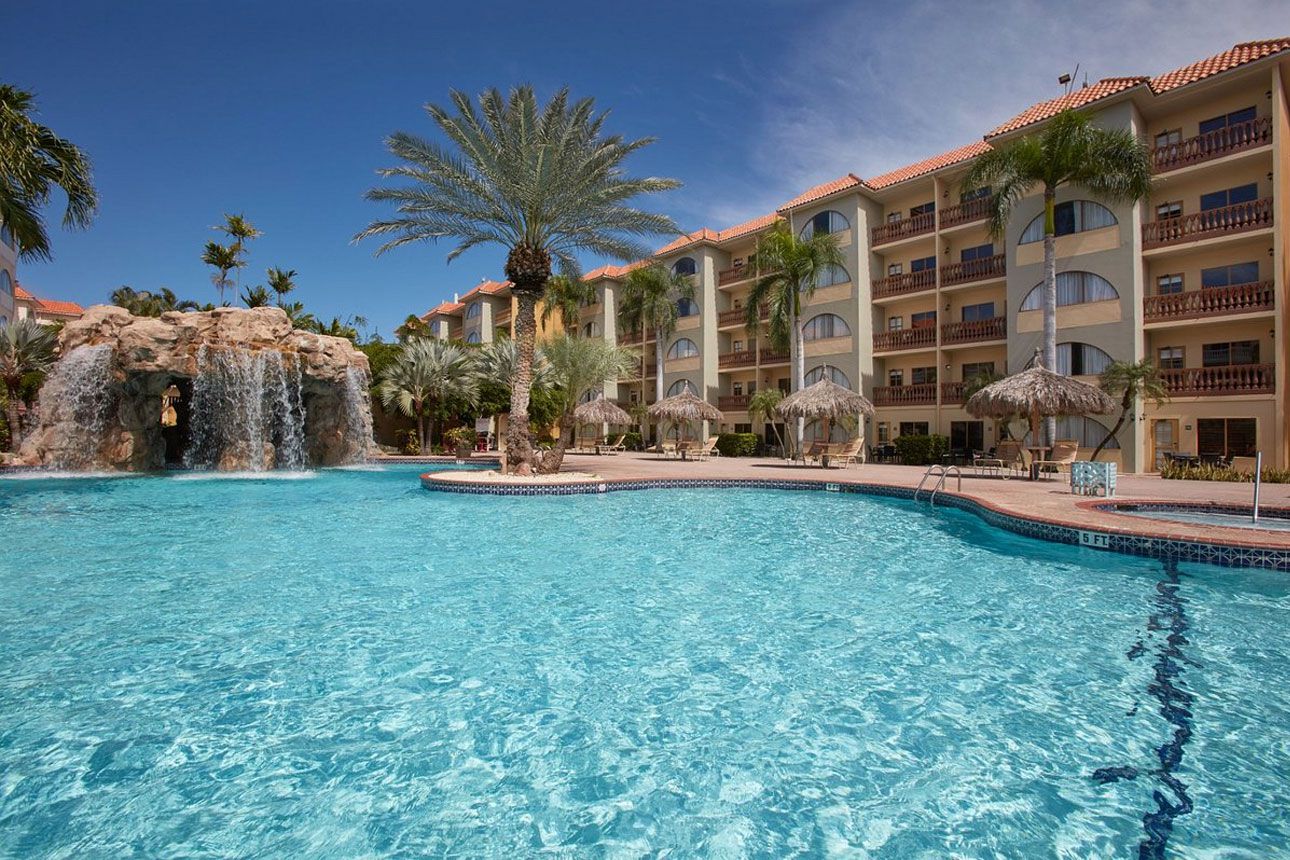 Eagle Aruba Resort & Casino
$190.00
Price per night from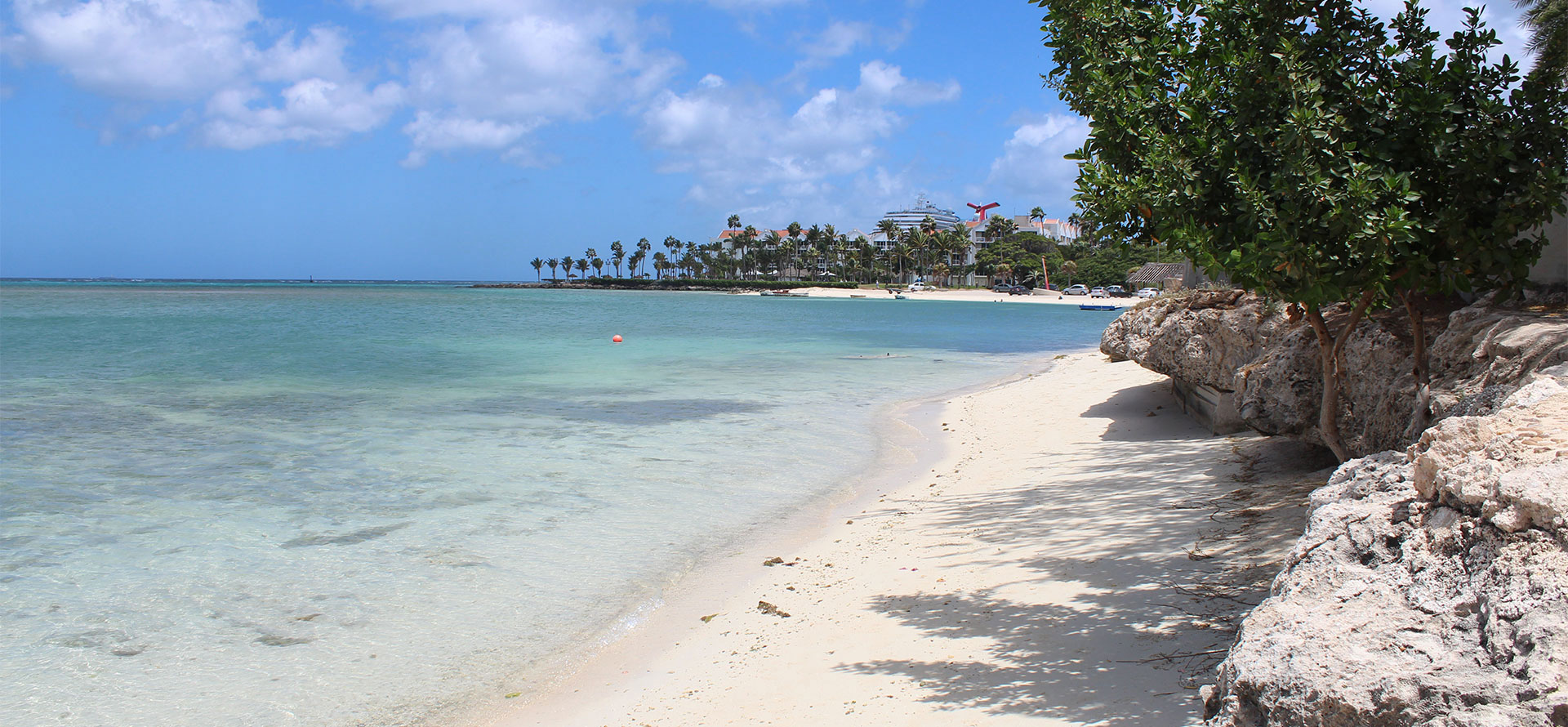 Best Time for Honeymoon in Aruba
The best time for your Aruba honeymoon is from April to August. That is the time preceding summer and when you get tasty hotel and resort deals. The temperature usually hangs between the 80 and 90s, and the high wind keeps the heat away. At that period, there is low humidity and no risk of hurricanes bashing your jolly trips. 
In August, a lovers' festival called the Auba's Vow Renewal Ceremony happens. It is time lovers, young and old, confess their love all over again and make promises to their partners. The ceremony is usually very romantic and ideal for honeymooners because of the theme.  September to December is the shoulder or fall season just before winter. You also choose this time to travel to Aruba for your honeymoon if you cannot not make the summer season. Hotel and resort prices fall during the shoulder seasons, and there are fewer crowds. You can also experience rainfall at night and dryer days if you visit during the fall seasons.
January to March are the peak months in Aruba. It is when the prices of everything hike, from flights to accommodations. Tourists choose the time to travel to Aruba because of the fine weather and the opportunity to explore the outdoors. If you choose the peak seasons for your honeymoon, book your space ahead to get a discount and comfy spaces.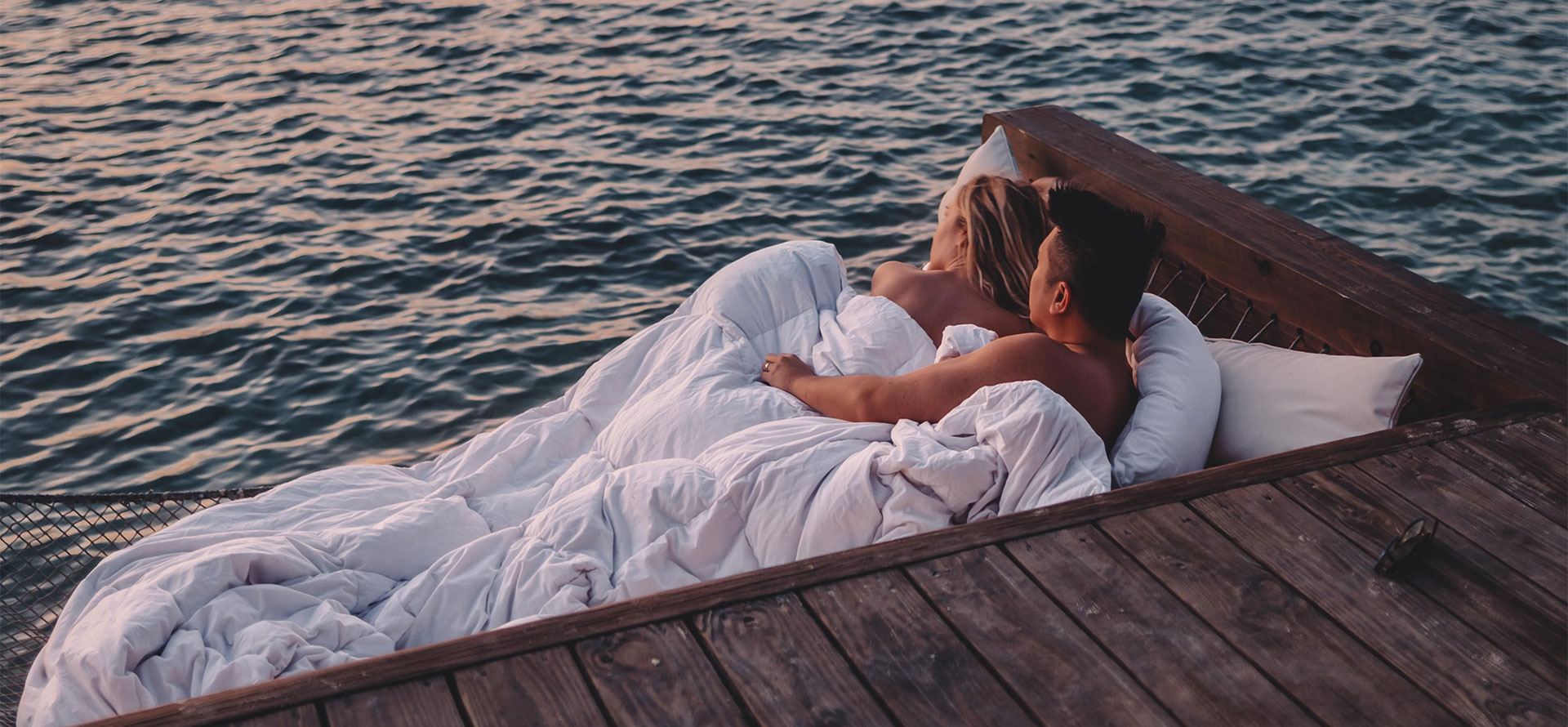 Average Cost of a Honeymoon in Aruba
Aruba hotels honeymoon costs vary with the seasons. While the prices drop during the fall season, they hike by the beginning of winter. That is because visitors flock to Aruba to enjoy the bearable weather of the peak season. At that time, the best available accommodations get filled quickly due to the high tourist number. During the summertime in Aruba, Honeymoon hotels charge less than during the winter period. That is because the number of visitors reduces and there are more spaces to be filled. The hotel owners drop their prices slightly to attract visitors to their establishment.
Other times when the costs of Aruba honeymoon resorts may reduce is during festivities. Hotel owners sometimes give discounts to celebrate holidays or to thank their consistent customers.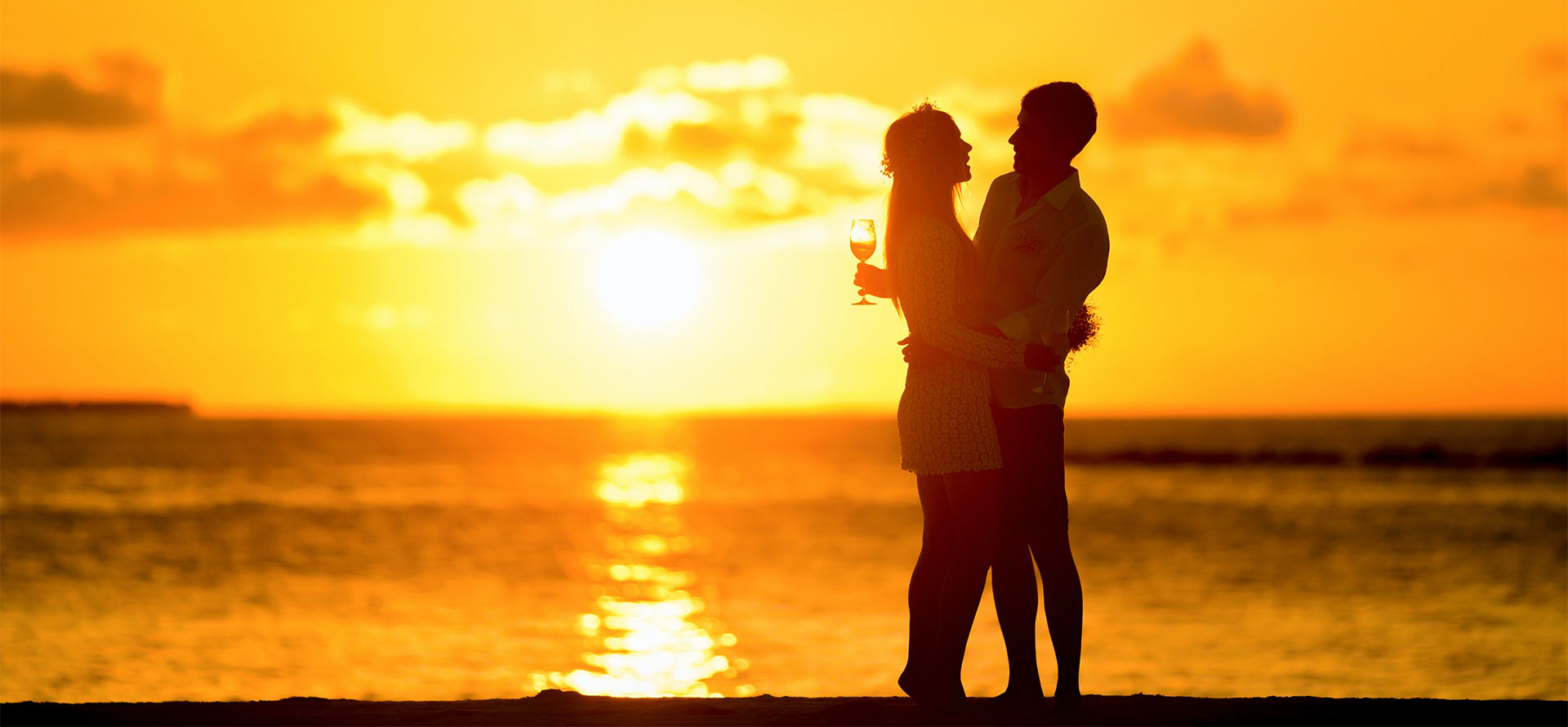 Things to Do in Aruba for Honeymoon
Aruba is an island of wonders. Therefore, you cannot run out of things to do while on your honeymoon trip. Check out some of our top activities and destinations for honeymooners in Aruba below:
Visit the flamingo beach in Aruba to enjoy the balmy water and mesmerizing view.
Rent a jeep or car and explore the city with your lover in Aruba.
Attend the Aruba vow renewal ceremony in August.
Visit the Aruba natural pool.
Enjoy the sunset on one of the stunning beaches in Aruba.
Attend a night event or two with your partner.
Go snorkeling in a deep-water area.
Dine or enjoy a picnic with your lover by the beachside.
Go shopping with your partner.
Visit the highest point in Aruba, California Lighthouse.
Go hiking in the Arikok national park.
Attend one of the music concerts in Aruba.
FAQ
Is Aruba good for honeymoons?
Aruba is a great honeymoon destination for couples who want to relax on a beautiful Caribbean island. The beaches are stunning, the weather is perfect, and there are plenty of activities to keep you busy. Aruba is also a great choice for couples who want to stay at an all-inclusive resort.
What month is the cheapest to go to Aruba for a honeymoon?
The cheapest month to visit Aruba for a honeymoon is from mid-April to mid-December. These months correspond with the island's shoulder and low seasons. Travelers can save money on accommodations, activities, and dining out during these times. However, keep in mind that Hurricane Season runs from June to November, so there is a risk of inclement weather during these months. If you're looking for the best deals on a honeymoon in Aruba, consider traveling during the shoulder or low season.
What is the best month to go to Aruba for a honeymoon?
Aruba is a beautiful island located in the southern Caribbean Sea. It is known for its white sand beaches, turquoise waters, and year-round sunshine. Couples who are looking for a romantic and relaxing honeymoon destination will find that Aruba is the perfect place to spend their first days as husband and wife.
What to Pack for an Aruba honeymoon?
Aruba is a beautiful island destination for a honeymoon, and there are a few things you should pack to make sure you have the best possible time. Here are some tips on what to pack for an Aruba honeymoon! First and foremost, you'll want to pack light, comfortable clothing. Aruba is a very casual island, so there's no need to pack anything too dressy. You'll also want to make sure you pack sunscreen and hats, as the sun can be very strong in Aruba. Other essential items to pack for your Aruba honeymoon include insect repellent (there are mosquitoes on the island), swimsuits, and comfortable walking shoes. If you're planning on doing any hiking or adventuring during your honeymoon, you'll want to pack appropriate clothing and shoes for that as well. Finally, don't forget to pack your camera! Aruba is a truly stunning island, and you'll want to remember your time there forever with plenty of photos.
Top Hotels & Resorts
Tags: travel site, nice hotels in albuquerque, las vegas honeymoon, all inclusive resort in honolulu, south carolina vacation resorts, all inclusive la romana, dog friendly hotel branson, best hotel buffalo, puerto plata packages all inclusive, water bungalows florida, best hotels lexington, romantic getaways in maryland with hot tubs, best all inclusive aruba, boutique hotels in charleston, best hotel in lake tahoe, on the water bungalows antigua, 5 star hotel miami, best hotels chicago, lake hotels, top boutique hotels in charlotte