Bali inspires visions of a fantasy setting with towering volcanic mountains draped in a deep green canopy, sandy shorelines that dissolve into turquoise waters, and coastlines with pagodas. Bali, believe it or not, rarely lets you down. The average tourist stays at the opulent beachside resort and enjoys lavish spa treatments, delicious dining, and lazy sunbathing. The historian at heart, on the other hand, will revel in the island's various temples. Bali is a dream come true, so make your reservation now.
About The Laguna
The Laguna Resort & Spa, located in Nusa Dua, Bali, is set on a beachfront surrounded by lush tropical gardens. It provides a variety of accommodation types spread out over its expansive grounds. The resort has a breathtaking view of the Indian Ocean, with 19 suites and 257 guest rooms, and a perfect blend of modern Balinese style with tropical garden views. The Laguna has unique Lagoon Access Rooms that allow you to step directly from your private balcony into crystal-clear lagoon waters. It also has 11 pool villas and offers expansive private pools.
Awards Received
Some of Laguna's latest awards include: Booking.com Traveler Review Awards 2021 and Hotels.com Loved by Guests Award 2021
The Laguna has previously won awards in the categories of Indonesia's Leading Resort and Asia's Leading Resort.
The Best Time to Visit
There are only two seasons in Bali: rainy season and dry season. The dry season in Bali, which runs from April to October, is the perfect time to visit. The daytime temperatures remain consistent throughout the year, ranging from the mid-80s to the low-90s, with precipitation patterns fluctuating. The lack of rain throughout the summer months makes it more pleasant for beachgoers in Bali. This wonderful weather, however, does not come cheap. The peak tourist season on the island occurs during these months. Room rates rise in July and August, so book early to avoid paying outrageous prices. If you book before (April, May, or June) or after (September), which is the peak season, you'll get a modest discount on hotel costs.
Rooms & Services Available
This enormous mansion is unrivaled in terms of size, and it covers an almost infinite number of elegantly dressed rooms that provide every imaginable convenience and amenity. The tremendous private pool is flanked by loungers, ideal for lazy days spent swimming, sunbathing, and reading.
Air-conditioned
This room is non-smoking
Outdoor spaces: terrace (1)
Living/sitting area
Dining area
Living room is separated
Walk-in closet
Windows may be opened
Private pool
Pool cabana
USB Outlets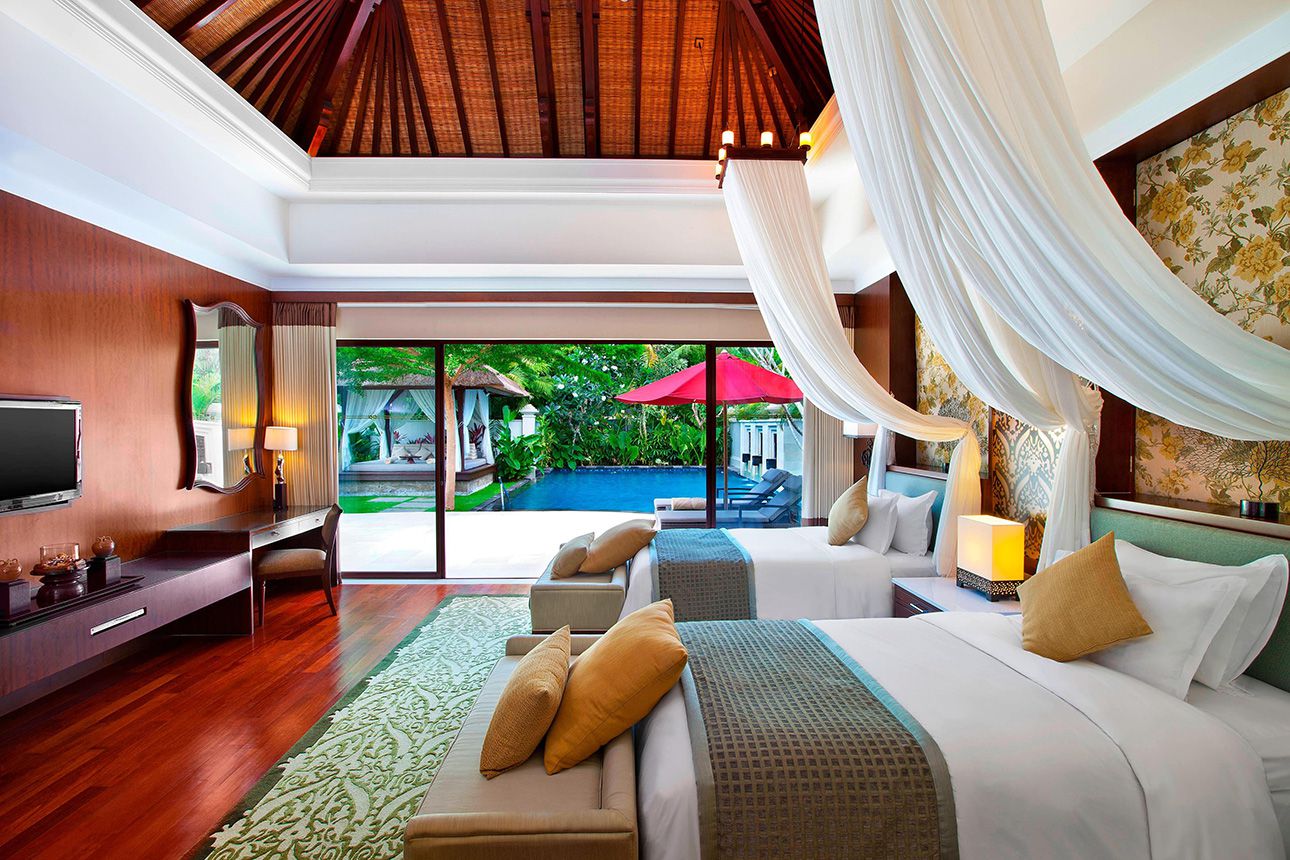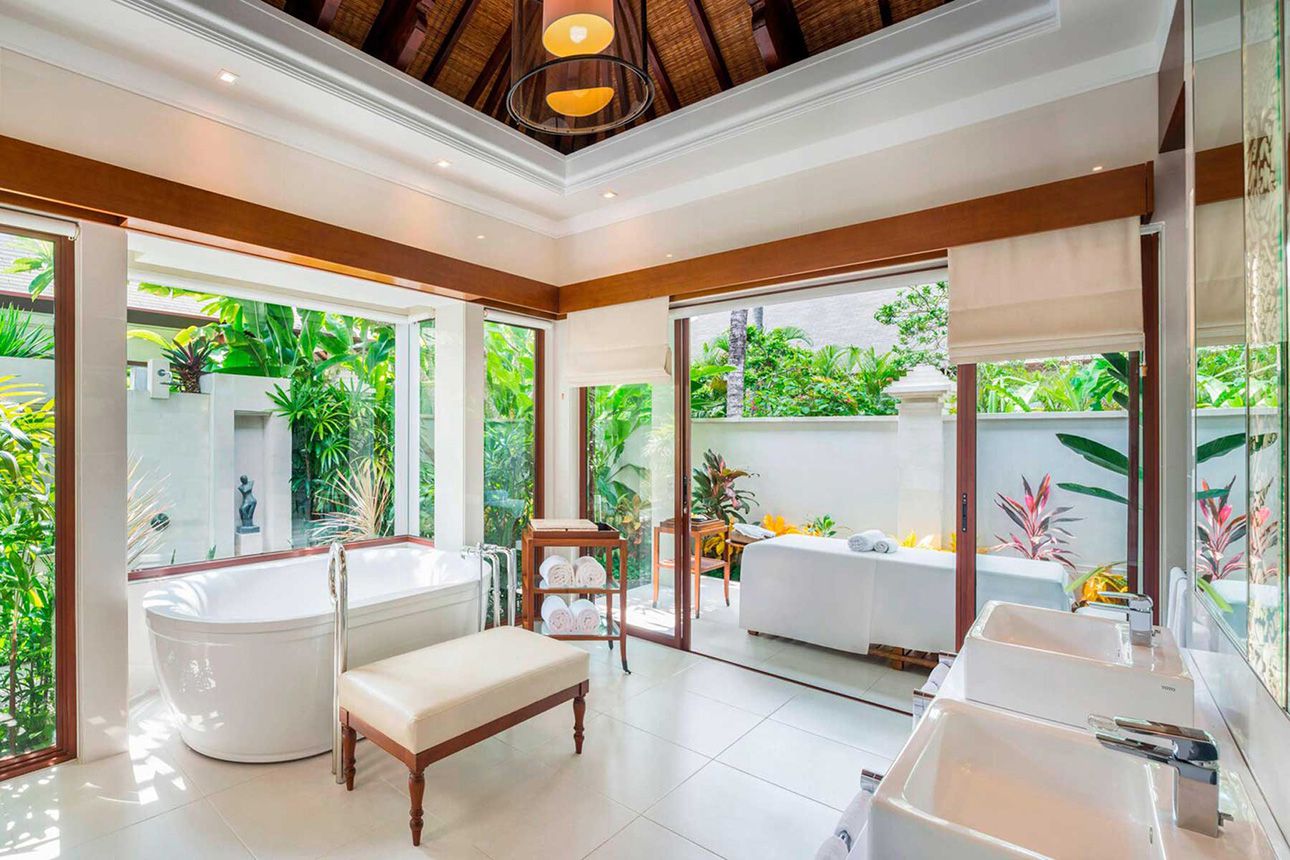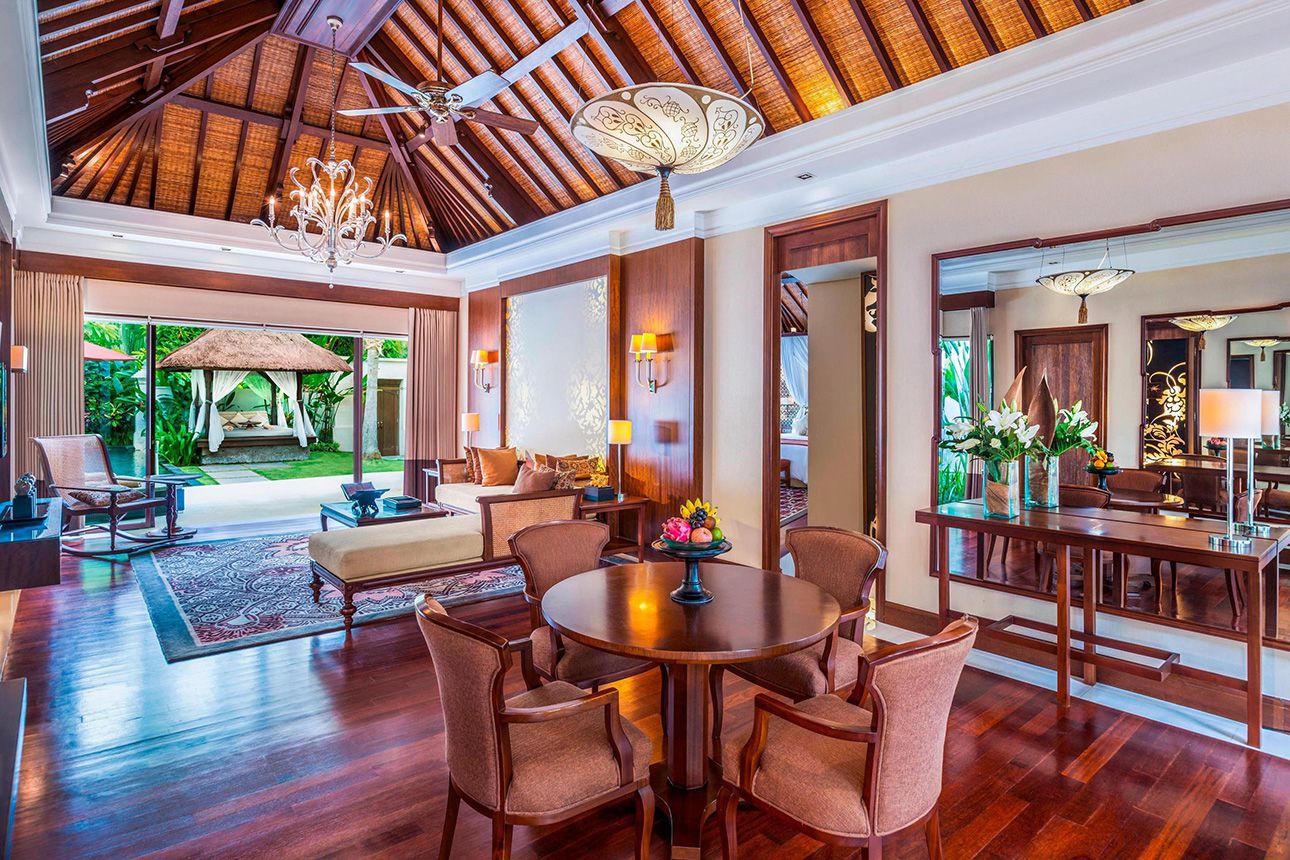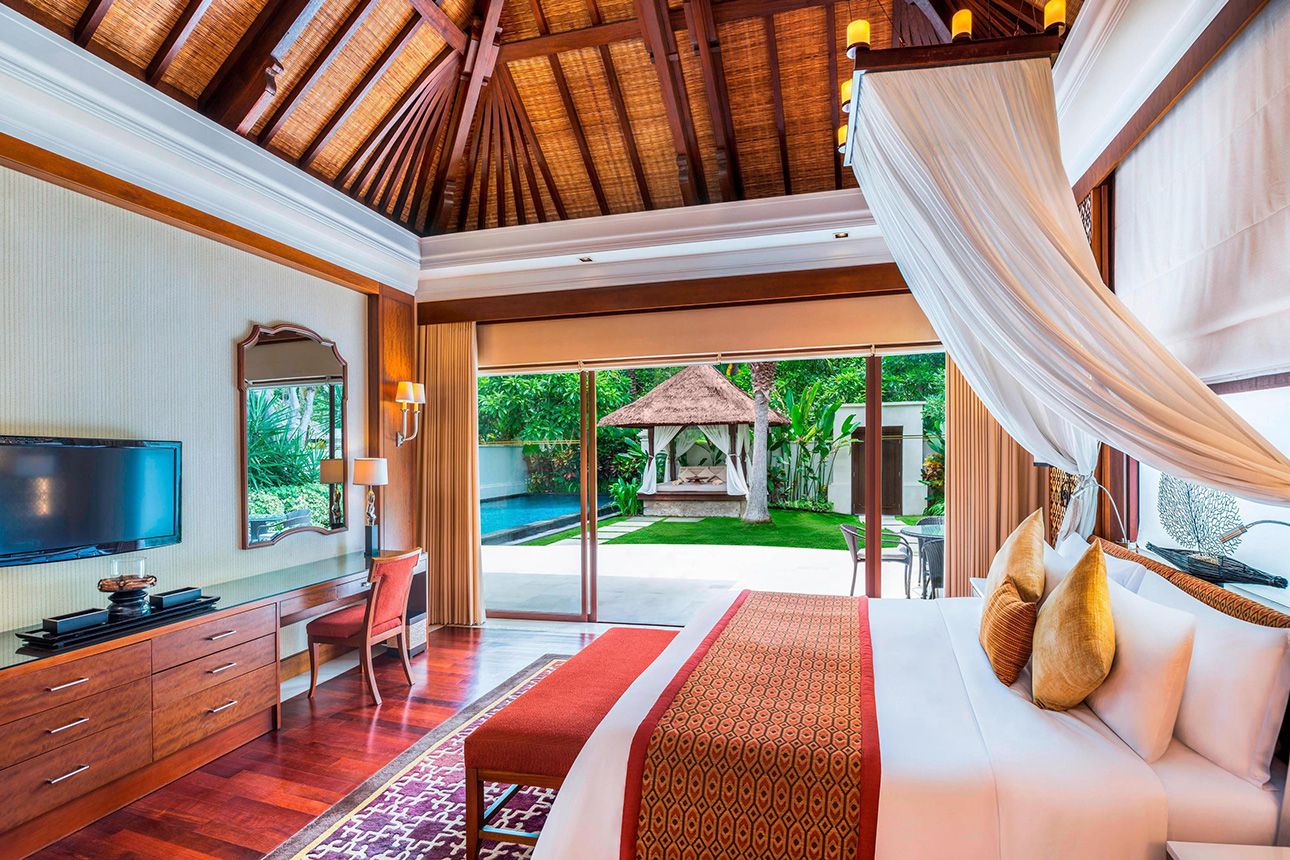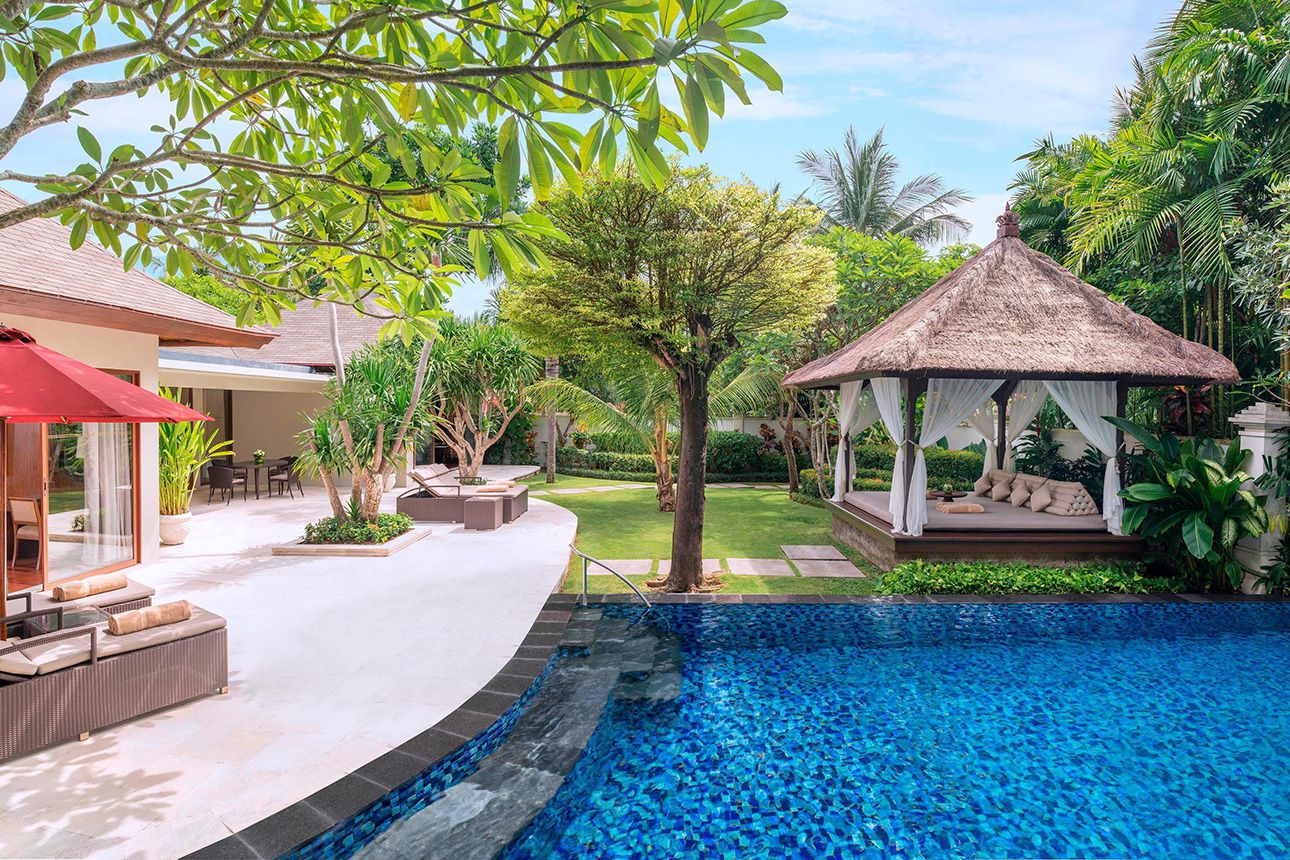 The Deluxe Lagoon View rooms at the Laguna are mostly similar to Deluxe Garden View rooms, with one exception: as soon as you step on to their balconies, it's clear that they're different. The view from here extends beyond the resort's landscaped gardens and over its sparkling lagoons.
Air-conditioned
This room is non-smoking
Outdoor spaces: balcony (1)
Living/sitting area
Windows may be opened
USB Outlets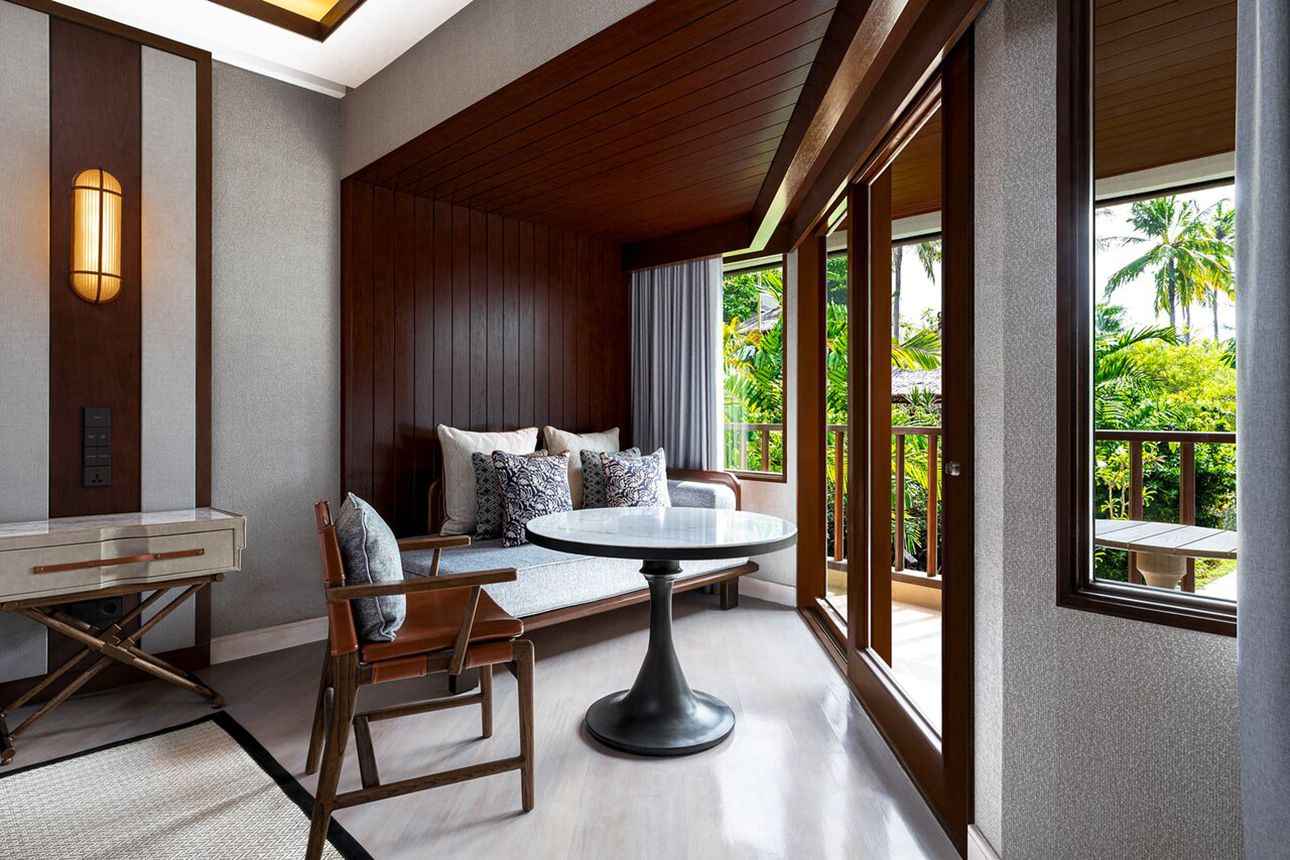 These rooms, which overlook either the resort's lush gardens or its lagoon pools, are generously sized and a popular choice for extended stays. The interiors blend ancient Balinese aesthetics with contemporary comforts.
Air-conditioned
This room is non-smoking
Outdoor spaces: balcony (1)
Living/sitting area
Windows may be opened
USB Outlets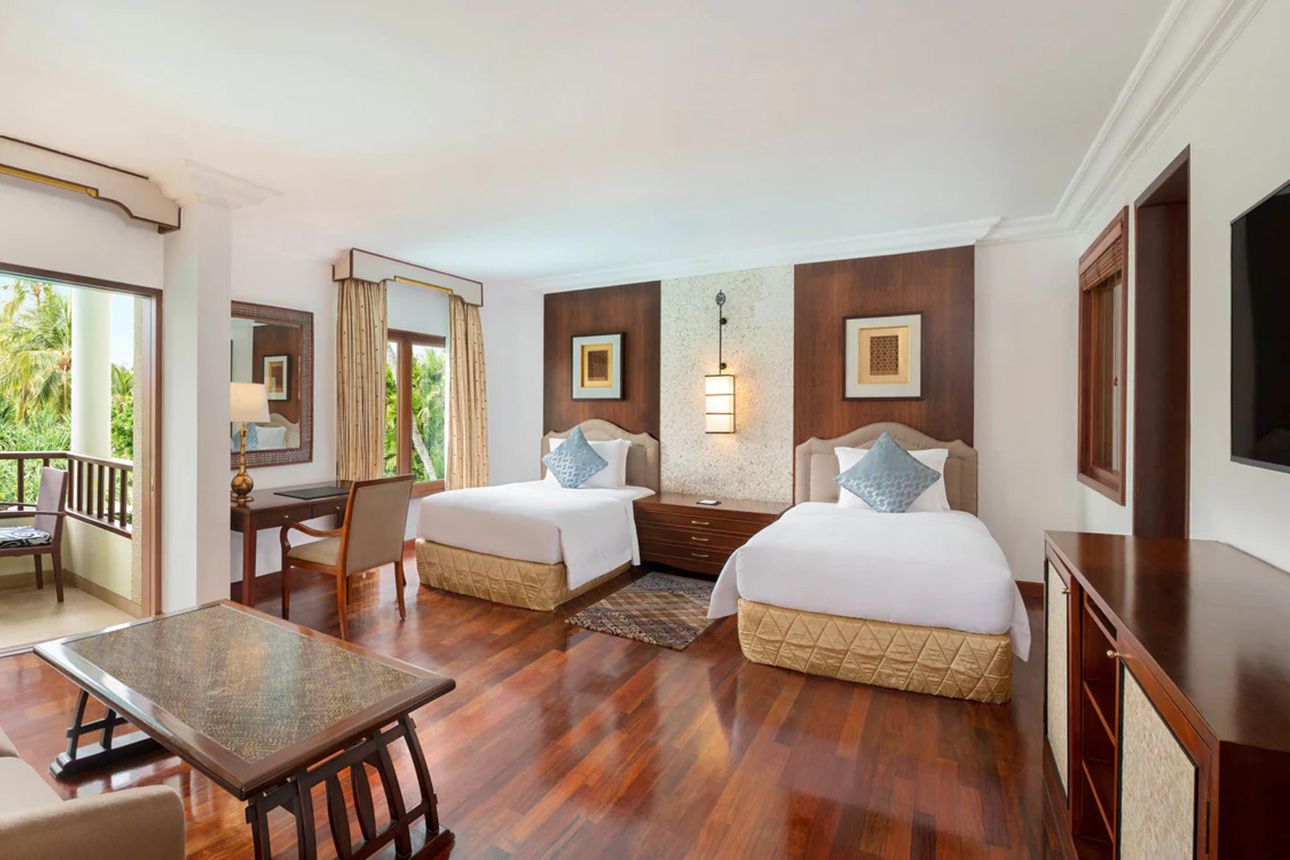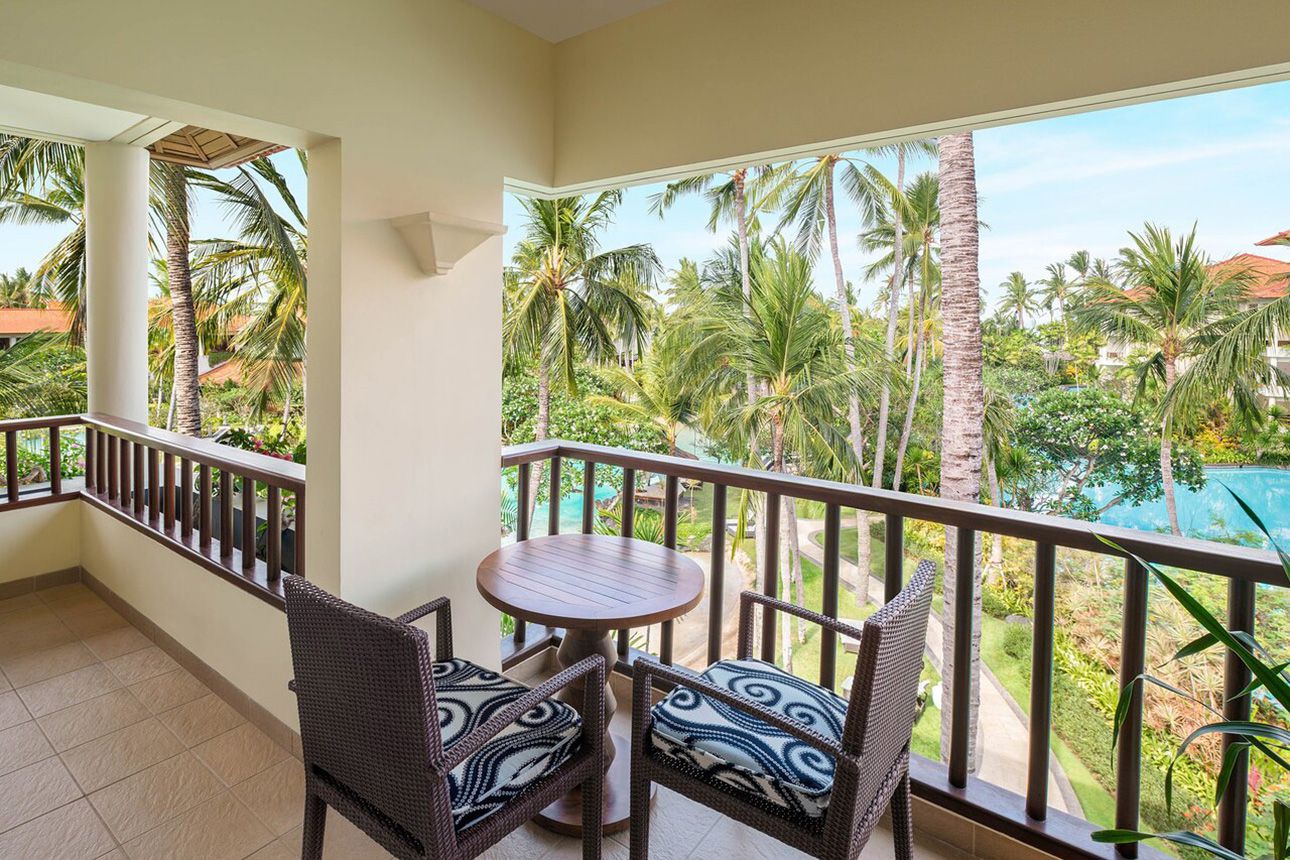 Guest room, Lagoon access
A vast selection of rooms, from luxury studios and apartments to more intimate cottages, swimming pools, and overwater bungalows. The Deluxe Lagoon Access rooms include direct access to the resort's lagoons as well as their sun loungers and sun pavilions.
Air-conditioned
This room is non-smoking
Outdoor spaces: terrace (1)
Living/sitting area
Windows may be opened
USB Outlets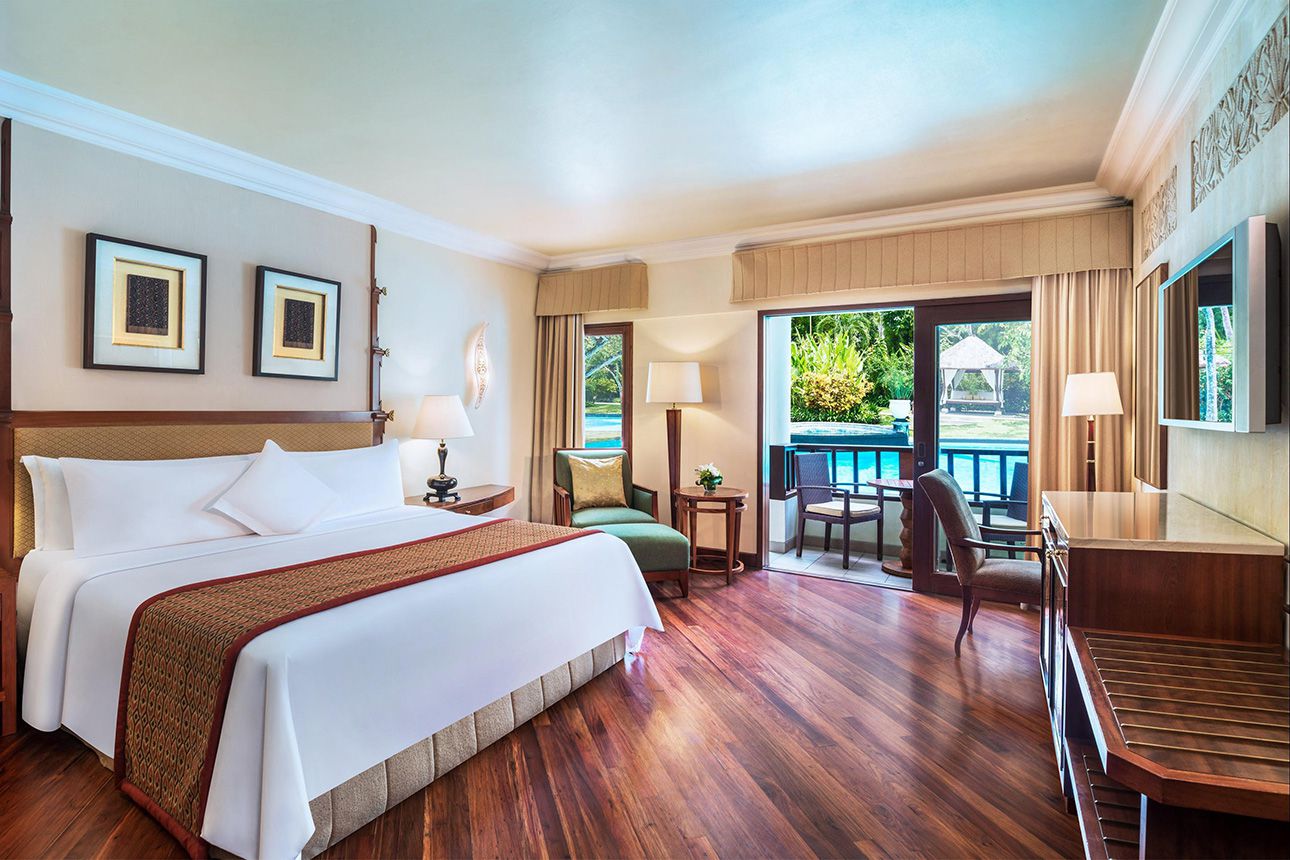 Deluxe Garden View rooms overlook the resort's lush gardens and are restful and tranquil. Balconies provide soothing vistas of greenery, while bedrooms are elegantly furnished with Balinese crafts and include all standard contemporary comforts.
Air-conditioned
This room is non-smoking
Outdoor spaces: balcony (1)
Living/sitting area
Windows may be opened
USB Outlets
Amenities
The Laguna Provides some amenities, which include:
Swimming pools: Surprisingly, there are seven pools. Some are large enough to include waterfalls, and beaches, while one is specifically designed for kids.
Fitness center: This features modern equipment and is open 24/7.
Spa: The Lagoon Spa, in its elegant building, offers a wide range of treatments, and massages are also available at gazebos along the beach. Men's and children's therapies are available, as well as a sauna.
Restaurants available: Banyubiru — Banyubiru is where the breakfast buffet is provided each morning, as well as where you can dine for supper. It has a large indoor and outdoor seating area that overlooks one of the lagoon pools. Cornerstone — This delicatessen/café offers a tantalizing assortment of delectable delicacies. It also includes an ice cream parlor with homemade ice cream and a wine shop. Arwana Restaurant — This restaurant has won numerous prizes for contemporary cuisine focusing on seafood. It is in a beautiful beachfront location, right on the sand.
Activities offered: Yoga, tennis, water sports, and lessons in dance, arts/crafts, dance, music, and language. You can also access a florist, bicycle rentals, hair salon, cash machine, and gift shop.
Laguna Rooms: Deluxe Lagoon View, Deluxe Lagoon Access, Deluxe Executive Suite, 1 Bedroom Executive Suite, 2 Bedroom Villa, Lagoon Access Suite, and many more.
How To Get To The Hotel
Only a taxi or a chartered car can get you to or from the airport. Depending on traffic, it takes roughly 20 minutes. The resort is situated on the Nusa Dua peninsula, about 25 minutes from Bali's Ngurah Rai International Airport.
Pros
Here are some advantages of The Laguna:
Located in the heart of Nusa Dua, on the beach, close to entertainment and retail.
Traditional style rooms, suites, and villas are spacious and elegant.
Marble bathrooms, butler service, and plush beds are all available in the accommodations.
Kayaking, swimming, snorkeling, and diving are all available at the beach.
Spa, exercise center, and children's activities are all available.
There are excellent restaurants and bars in the area.
Airport transport and car service can be arranged.
Free Wi-Fi.
Disadvantages of The Laguna
There are a few cons that you may want to take note of; they include:
The beach of the resort has vendors, and this might be uncomfortable for some visitors.
There is a fee for the buffet (breakfast).
Some rooms might need minor updates.
Conclusion
The Laguna, a beachfront resort in Nusa Dua's center district, is one of the best you can find in Bali. A sizeable tropical lagoon pool, a large saltwater pool, two smaller pools, a beach with water sports, a full-service spa, and numerous excellent bars and restaurants are available at the resort.