The Float House River Kwai Resort is regarded as the Pride of Thailand. The elegant hotel is arguably one of the best floating hotels in the world. You would love everything from their spacious environment to rich and private items. The resort is a balance between local and modern artistic traditions.
It is located in the center of Kanchanaburi, Thailand. The hotel is the perfect hideaway for couples, family, and friends to enjoy a private lifestyle. It faces a remarkable cliff as it floats above the River Kwai. Without a doubt, it is a globally renowned luxury resort.
Awards and Recognition
You would agree that awards and recognition show a level of guarantee to visitors. The Float House River Kwai is no stranger to tangible recognition, with many awards and honors to her name — thanks to its effectiveness.
The major ones include:
Thailand Boutique Awards in 2014-2015.
2012 South East Asia Best Floatels by CNN GO.
Certificate of Excellence for 2013, 2014, 2015.
The Telegraph UK recommended House River Kwai for your best stay in Thailand.
2014 World's TOP 10 Floating Hotels by SUN (Toronto).
Bob Dylan said, "Watch River flow," in his article, "Travel Pulse."
Best time to Visit
The best time to visit Float House River Kwai is during the Winter or Summer. Both seasons have their distinctive characteristics.
The Winter is appropriate because the river is at a maximum level. You would get to see a more desirable view of the river. Also, the season is marked by lots of people and heightened aquatic activities.
On the other hand, summer could be hot. However, the relaxed environment of the resort makes every visitor experience chilled weather. Some people, they can swim in the water after the hot water. You can also get involved in several water-world events.
Check the next section to see what you can enjoy during your stay.
Rooms & Services Available
This beautiful Thai-style design floating house (90 sq.m) has been expertly finished with teak wood furnishings to provide comfort and harmony with nature. Each unit comes with its own private terrace, which features a teakwood swing and pier where you may unwind while being captivated by the stunning scenery.
Air conditioning
Balcony
Bathrobe
Body gel or soap
Cable or satellite television
Desk lamp
Dining area
DVD player
Fan
Free bottle water
Fridge
Hair conditioning
Hair dryer
LCD television
Mini bar
Openable window
Safe
Shampoo
Shower cap
Slippers
Tea and coffee facility
Tea and coffee maker
Television
Terrace
Walk-in closet
Water heater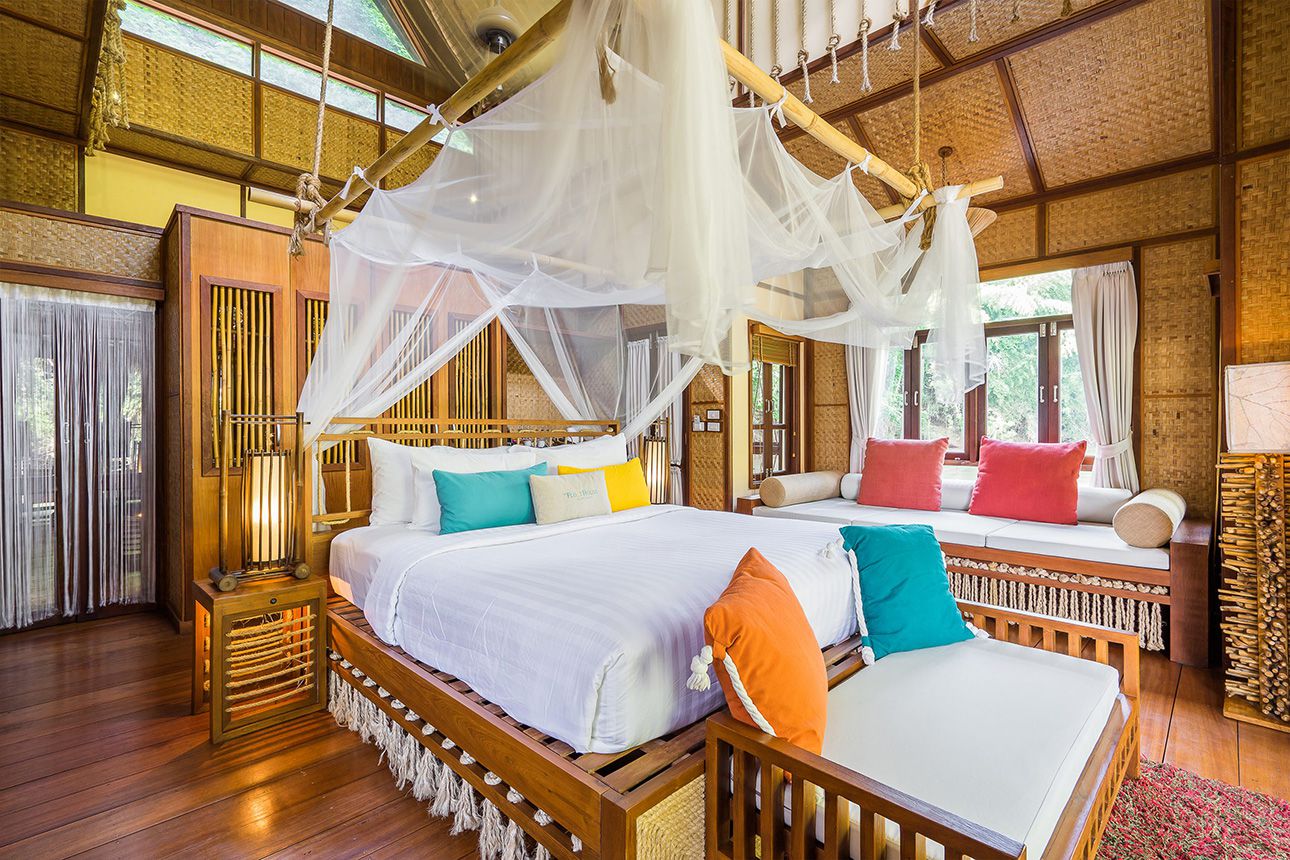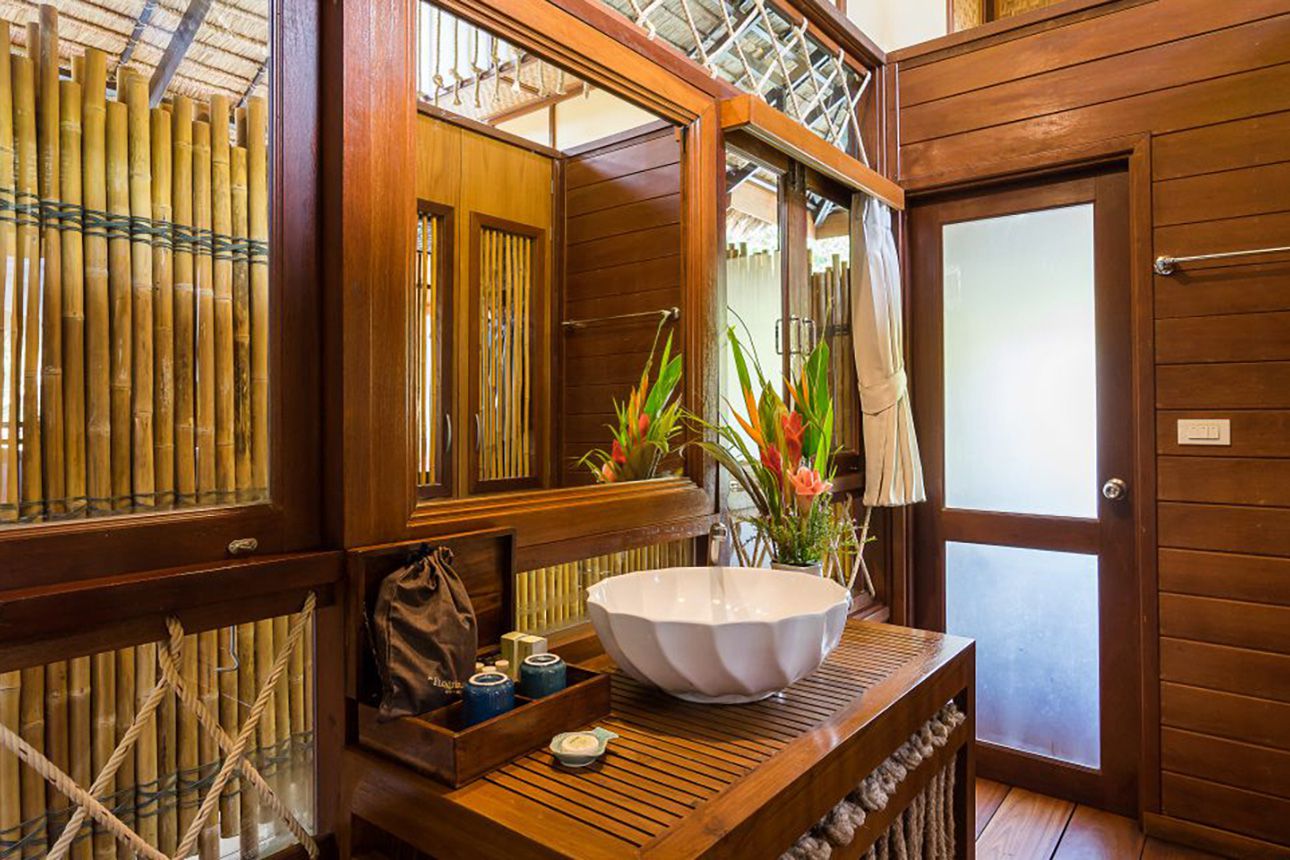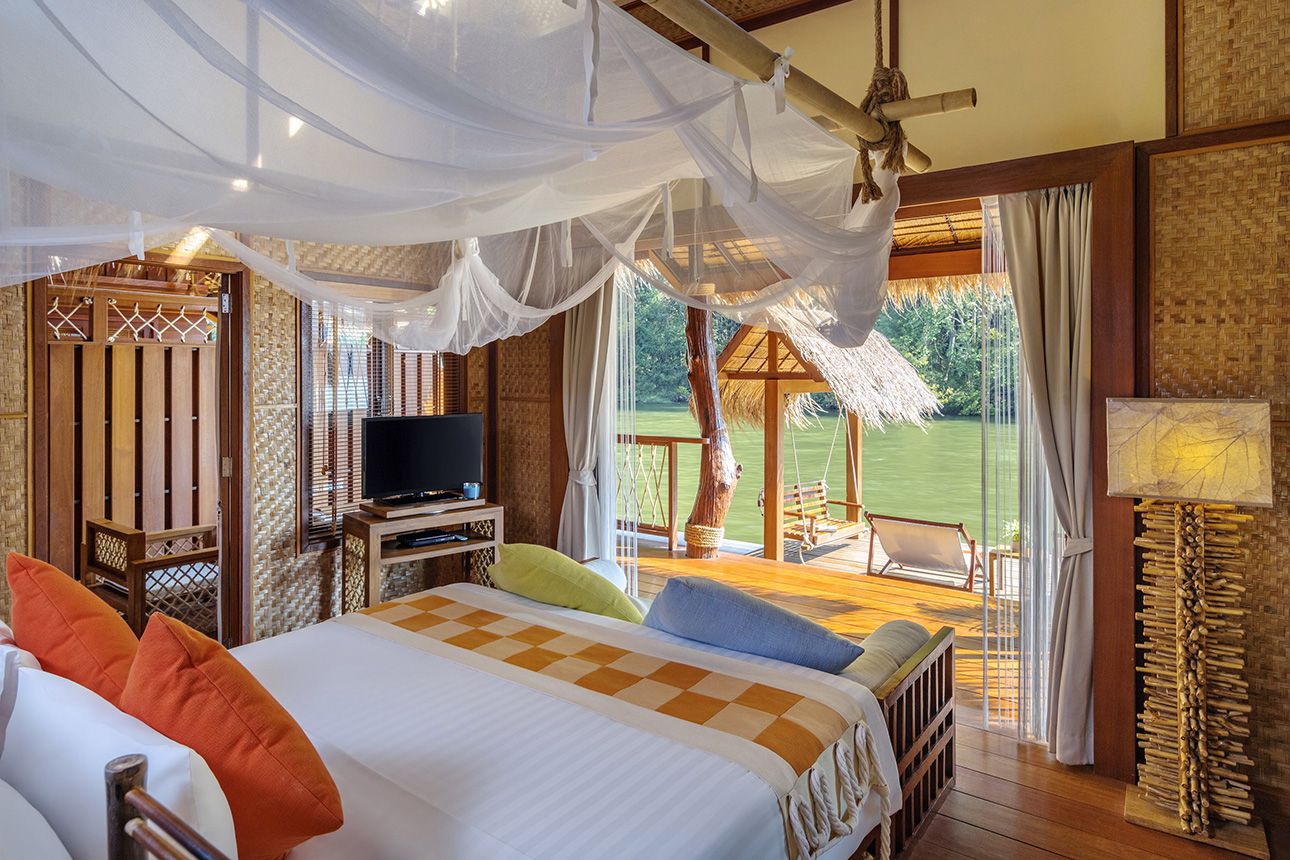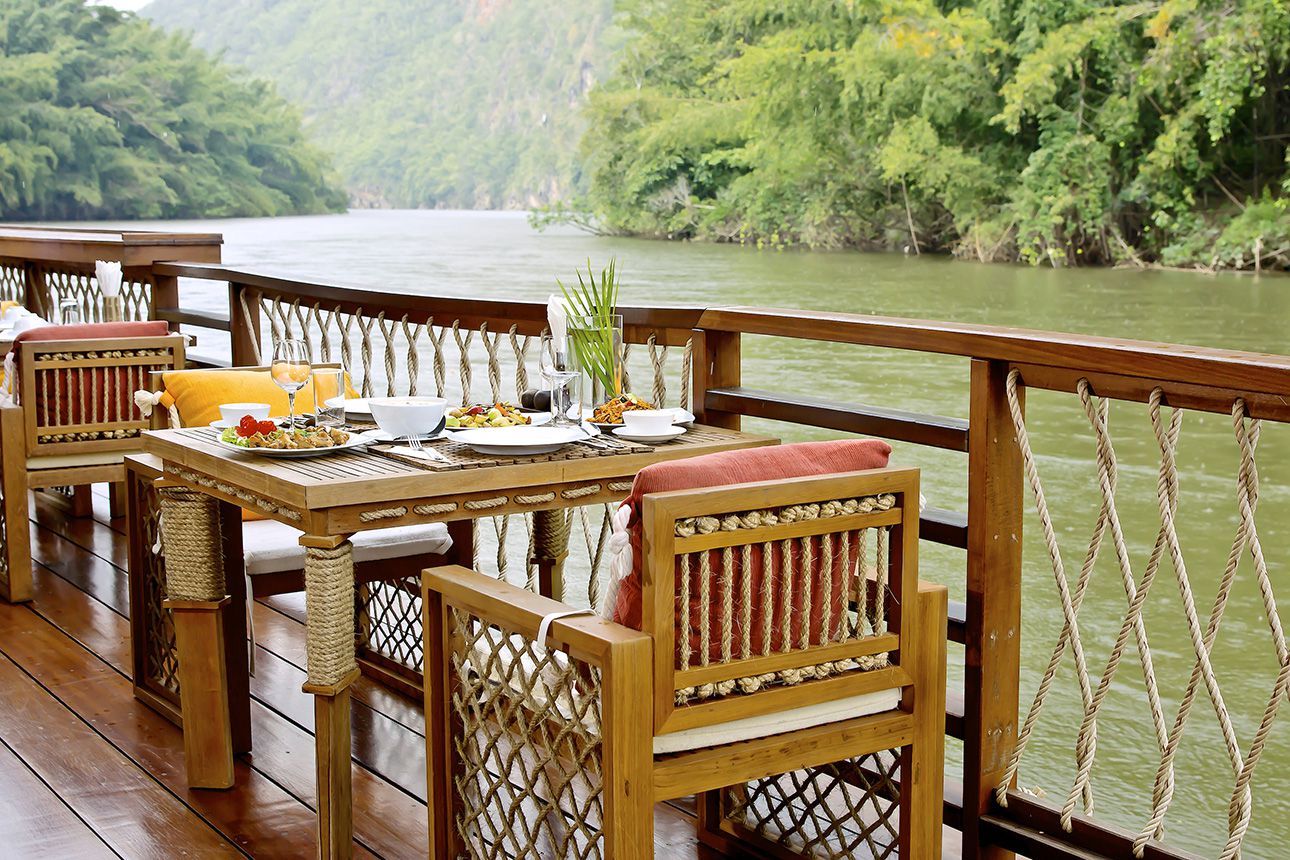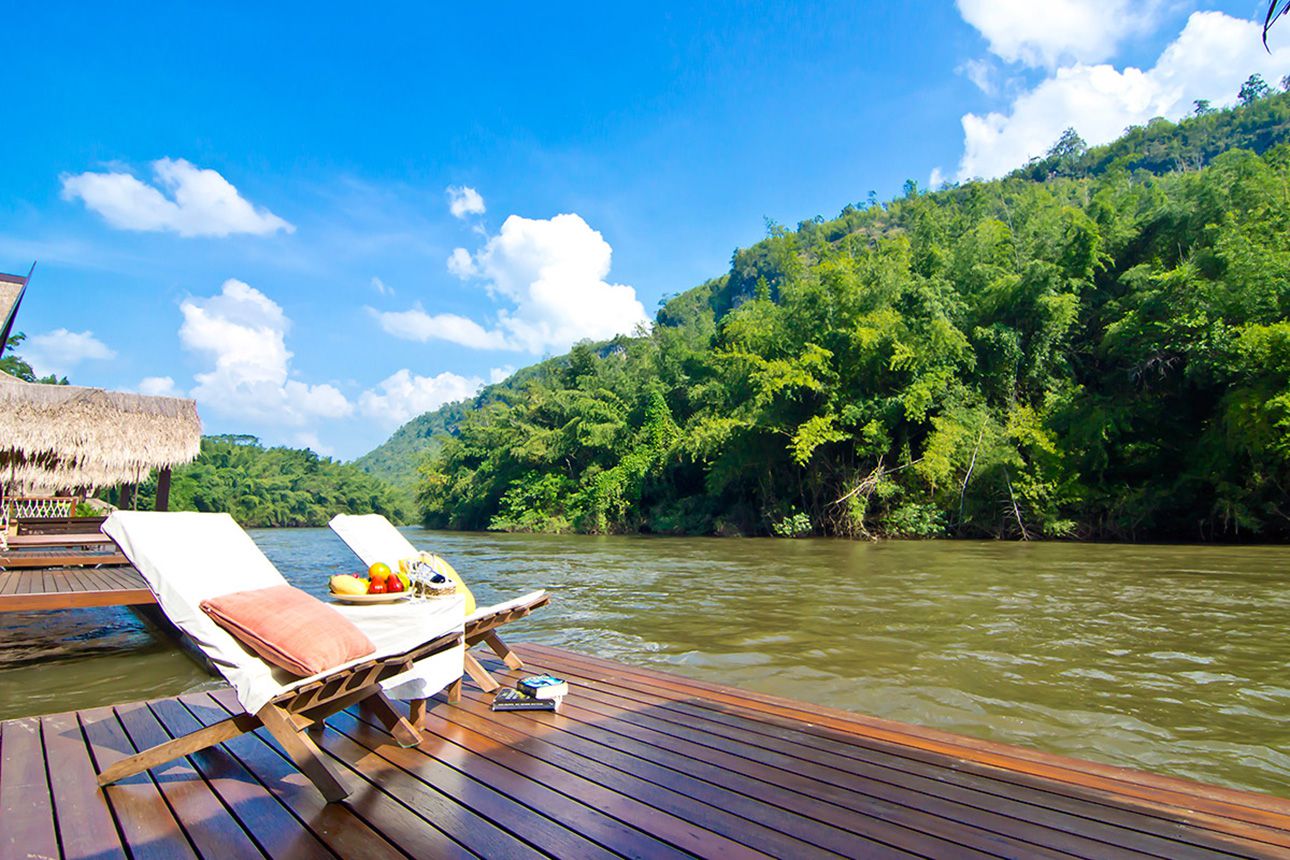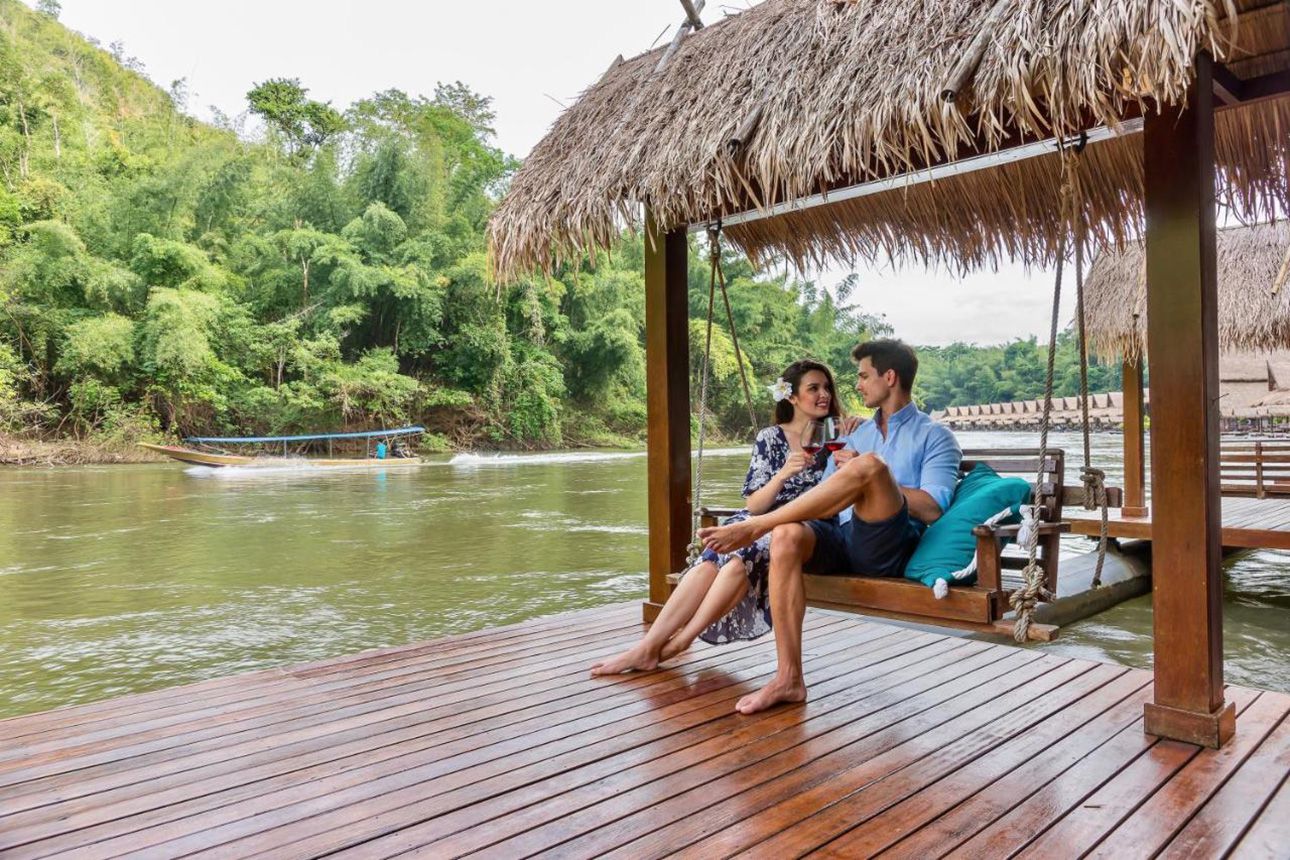 Amenities and Services
Top amenities help to ensure maximum comfort. They include:
Quality internet services in the rooms
Airport transport
Boating or Canoeing
Garden
Daily housekeeping
Onsite entertainment
Massage
More so, there are two categories of activities you can participate in:
1. Onsite Activities
There are many onsite activities you can engage in. Here is a few of them:
Long-Tailed Boat Trips: Everyone wants a long ride on the water. Of course, residents commute on this river. However, you can learn about the culture and enjoy maximum relaxation.
Canoe: People also love to paddle the canoe and view the lushness of the forest. It is another form of exercise.
Explore the Lawa Cave: The Lawa Cave is situated in Saiyok National Park. It is the largest in Kanchanaburi.
Mountain Biking
Bird Watching
Sun Bathing
Sup Board
2. Nearby activities
Similarly, you can perform the following outdoor activities near the hotel:
Treetop Adventure Park
Hellfire Pass Walking Trails
Mon Village and Mon Temple
Hellfire Pass Memorial Museum
Bamboo Rafting
Waterfalls like Erawan waterfall, Saiyok Noi waterfalls, and Saiyok waterfalls
Tham Sue Temple
Cultural Mon Dance Show
How to Get to The Float House River Kwai Resort
Are you visiting this hotel for the first time? We will help you to get to the Float House River Kwai Resort. The nearest airport to our location is Dawei Airport, Myanmar. Other landmarks that are around us are Elephants World, Taweechai Elephant Camp, and the remarkable Sai Yok National Park.
You can use the flight or shuttle service from the airport. You can book any to make your trip straightforward.
Hotel Pros
This hotel has an excellent review from most customers. About 95% recommend the resort to interested people. Check out some of the hotel pros to know the reason.
Quality hotel services
Access to free Wi-Fi in the rooms
Airport transfer
Daily housekeeping
Sumptuous food and dining
Complimentary breakfast for SHA Extra plus
Highly affordable
Possible Cons
Save the fear of water for people who have aquaphobia; there are no possible cons with The Float House River Kwai Resort.
Conclusion
Following this content, you have sufficient information about this resort and how you can plan adequately. The truth is that the hotel is top-rated by individual and group travelers. Visit today and share your experience. Definitely, you will not regret it.