Greece is a destination for tourists wanting to soak in the Mediterranean sun. Santorini is a small Greek island that provides the perfect conditions for vacationers. It is located in a part of the Mediterranean Sea known as the Aegean Sea. Santorini island attracts at least 1 million visitors every year.
The Celestia Grand is a luxurious resort located on a hillside just outside of the city of Fira on Santorini. It overlooks a caldera and provides views of the sea. The Celestia Grand consists of a number of luxurious villas that people can stay at. While the resort has not earned any awards, it is a top-rated all-inclusive resort. Read on to learn the optimum time to visit this resort, how to travel to these luxury villas, and what features you can expect.
Best Time to Visit
The Celestia Grand is open year-round. The best time to visit the island of Santorini is from June to September. The island is sunny and warm during these months of the year. The most rain falls during January and February. The hottest and driest month for Santorini is in August.
The cheapest prices for accommodation are April and October. However, an all-inclusive resort such as the Celestia Grand will already be on the high end, when it comes to the price.
You may get better deals on flights at certain times of the year. For instance, the cost of travel to the island tends to be lower during September and October for tourists flying from the UK and the United States.
What The Hotel Has to Offer
The Celeste Grand are a series of opulent villas. A number of amenities and other features are included at the Celestia Grand. The features offered are given below.
A private pool that is heated, is available for each villa.
There is an indoor jacuzzi or a hot tub for guests. It depends on the specific villa.
Each villa comes with a kitchenette for you to prepare your own meals.
There is a large terrace attached to each villa, so you can easily sit outside and watch the sunset in private.
Villas can be either studios or two bedrooms.
Transport services include shuttles to Fira and transport to and from the airport and port for your convenience.
Additional services at the Celestia Grand include a private chef.
There are helicopter charters and caldera cruises for further exploration of the area.
Rooms & Services Available
The upper level boasts an open-plan living area with a sofa bed, an entertainment center, a writing desk with computer and a kitchenette. Balcony doors lead to a furnished balcony with harbor views. At the lower level, there are 2 bedrooms with an en-suite bathroom each. The south-west-facing villa terrace is ideal for late night wine sessions with friends while being well protected from the north winds.
2 bathrooms each with hydro massage tub
Bedrooms open to pool yard
Open plan living room with kitchenette
Sea view balcony from lounge area
Sofa bed in living room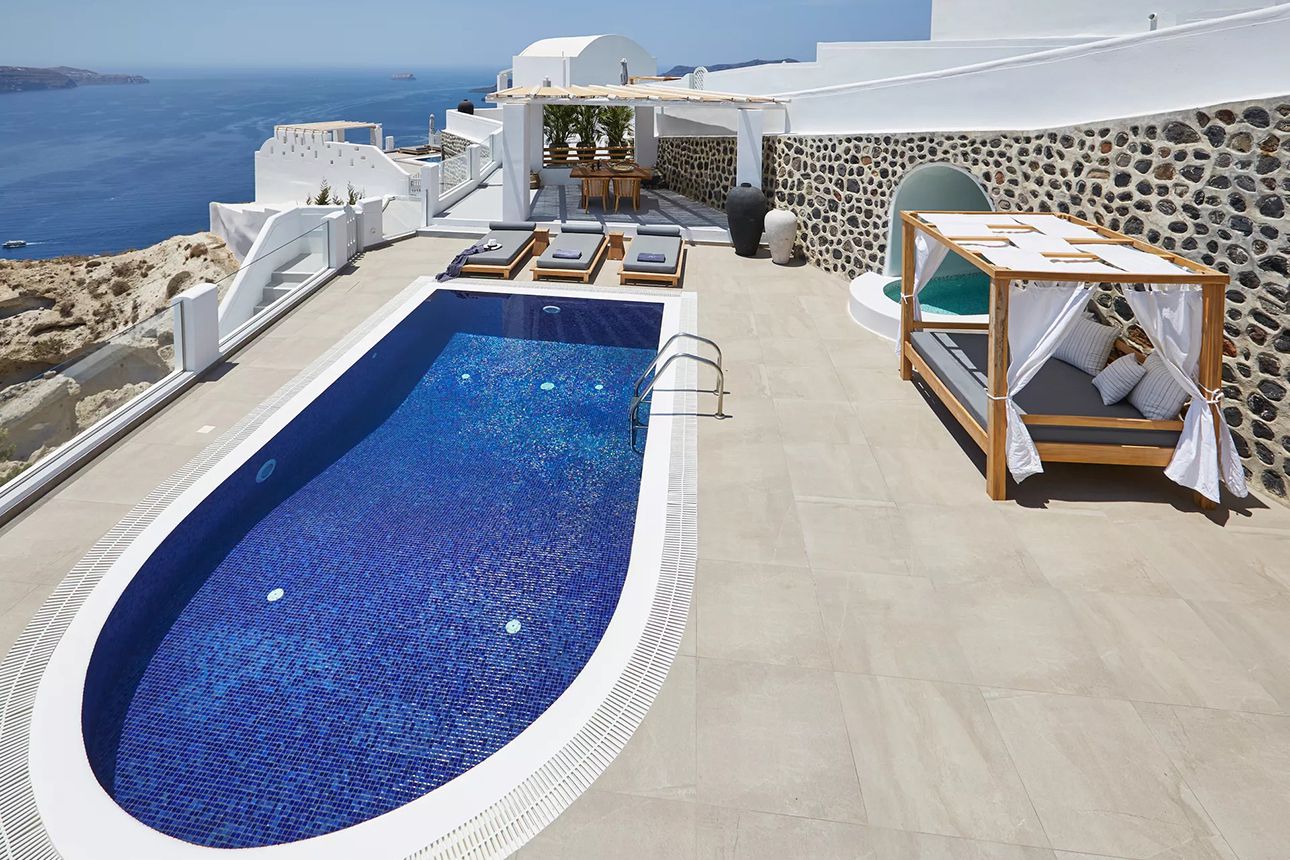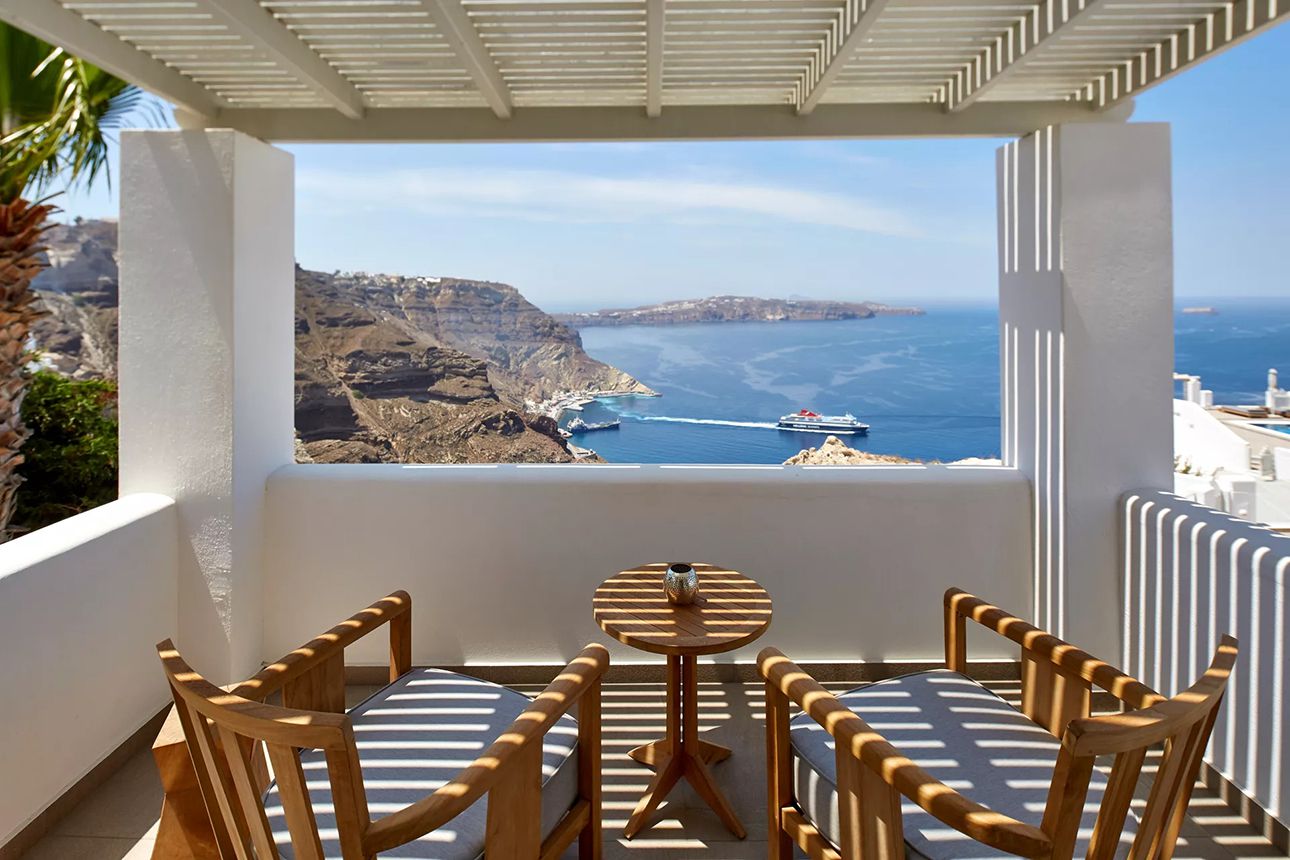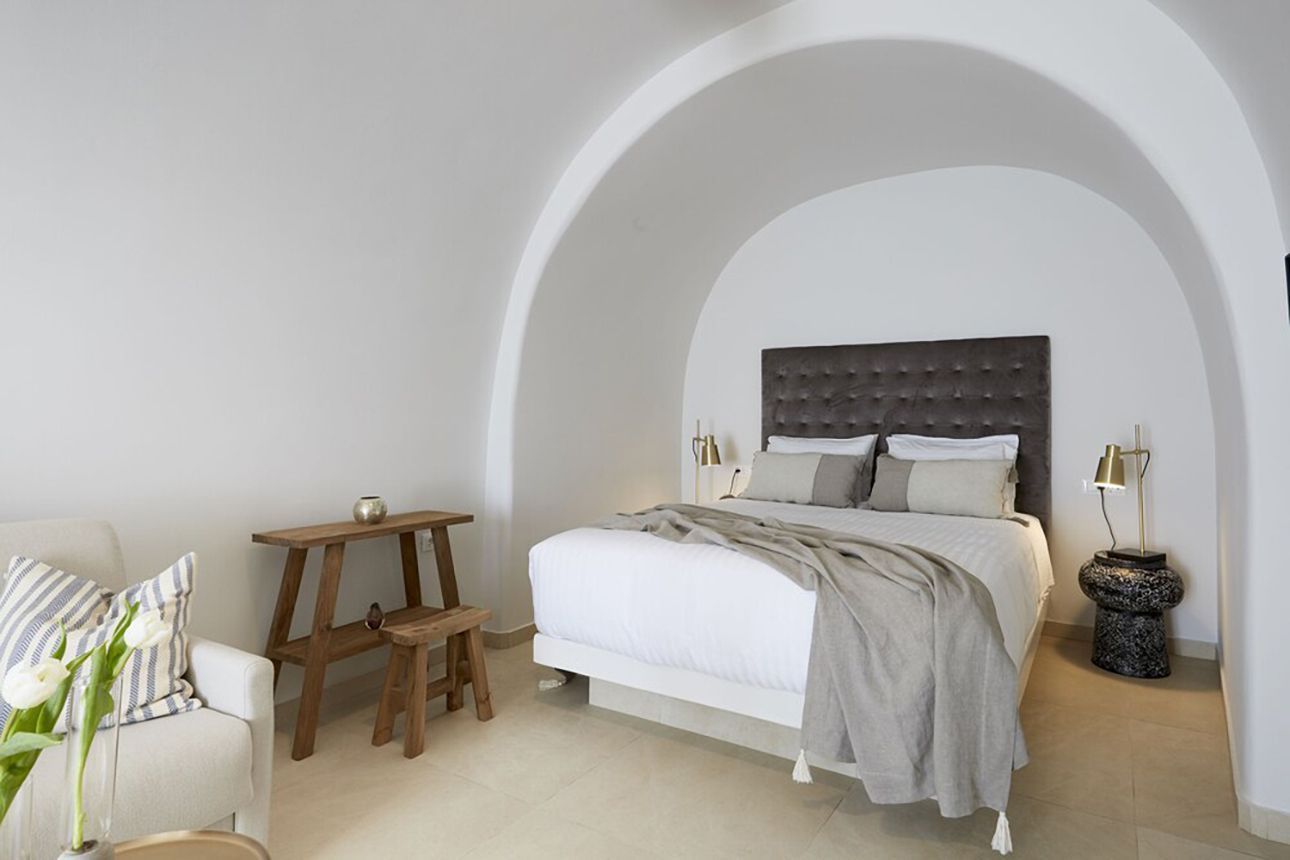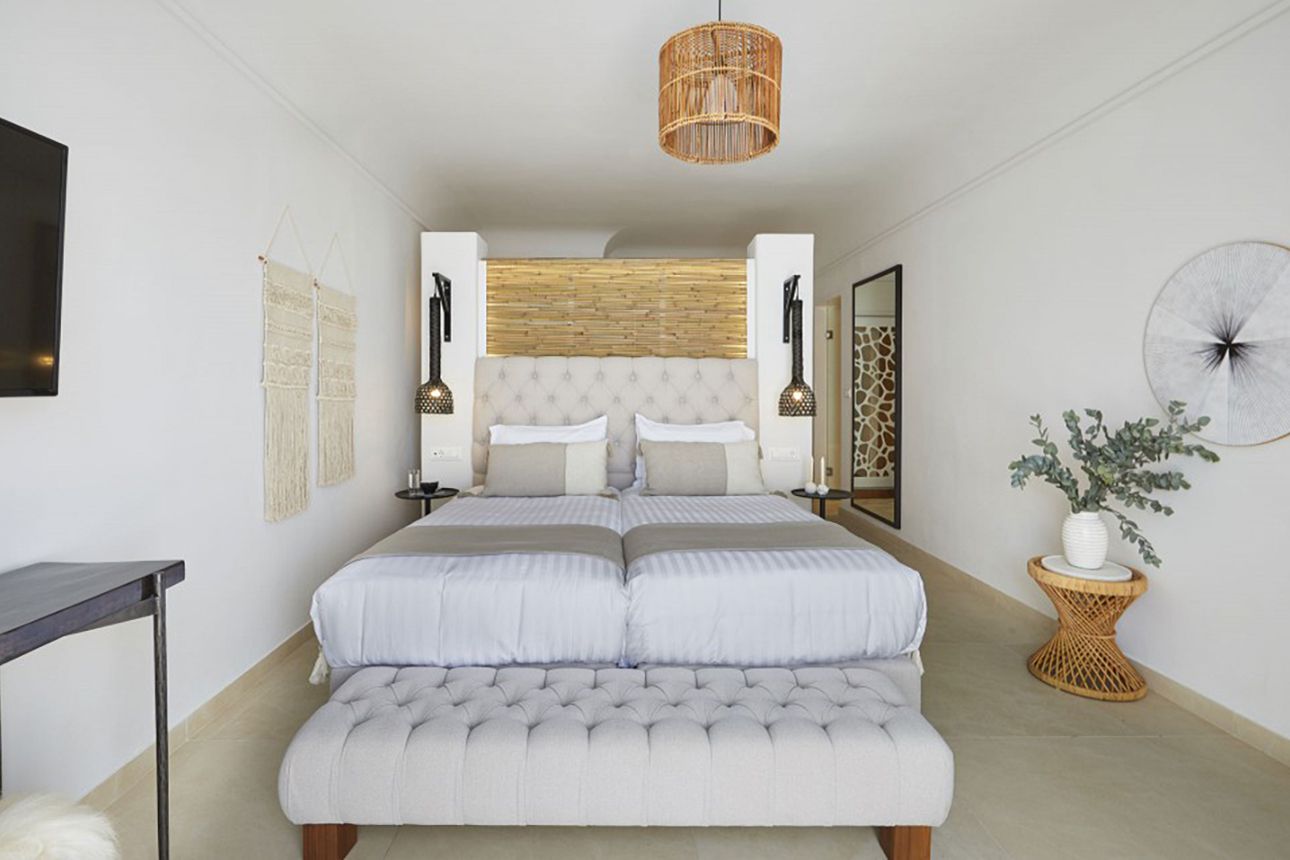 Artemis Villa is a two-story house with rooms that have their own personalities. We have an open-plan living room with a comfy sofa bed, kitchenette, and glass doors leading to a furnished balcony with unobstructed Aegean Sea views from the upper level.
1 royal sized bathroom with large 4 person jacuzzi
Bedroom balcony doors opens to pool terrace
Open plan living room with kitchenette
Sea view balcony from living room
Sofa bed in living room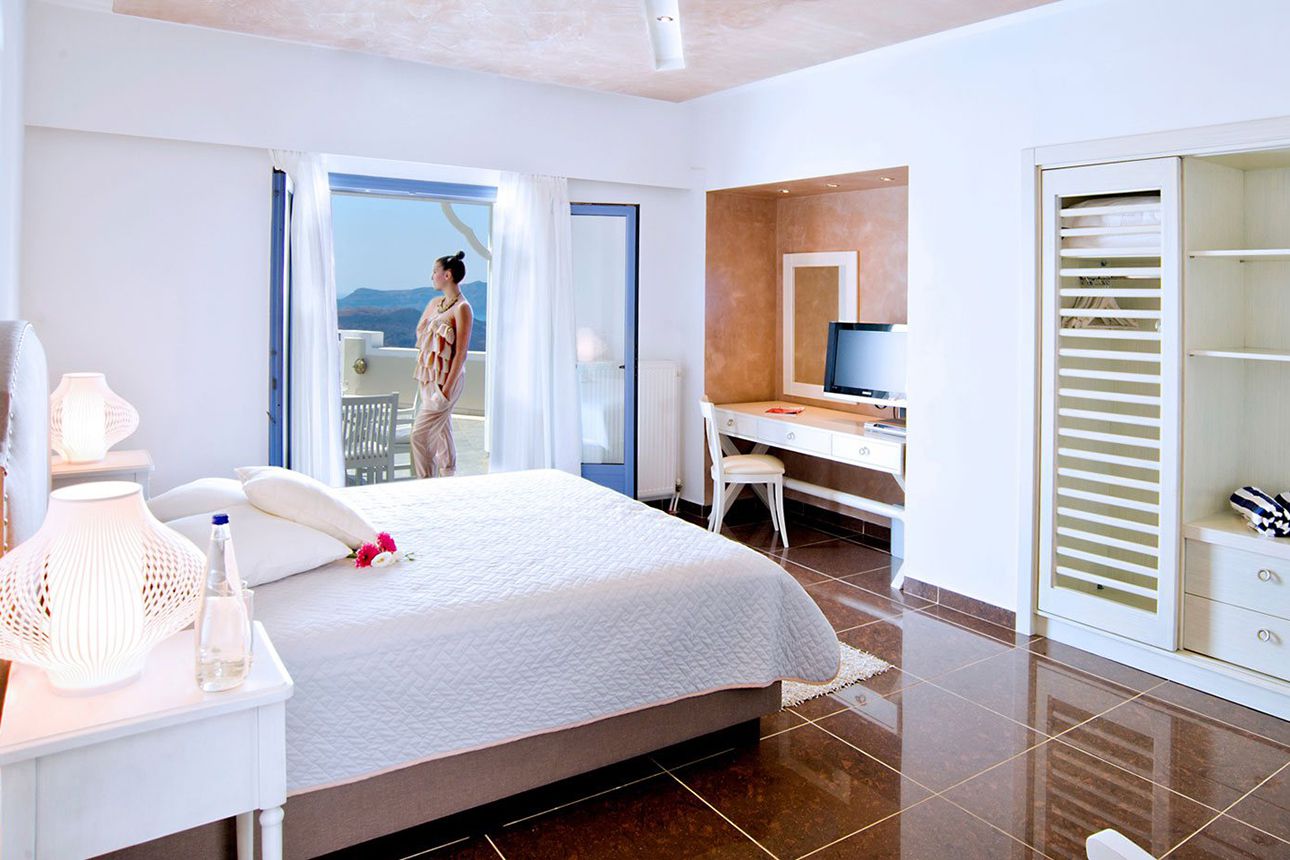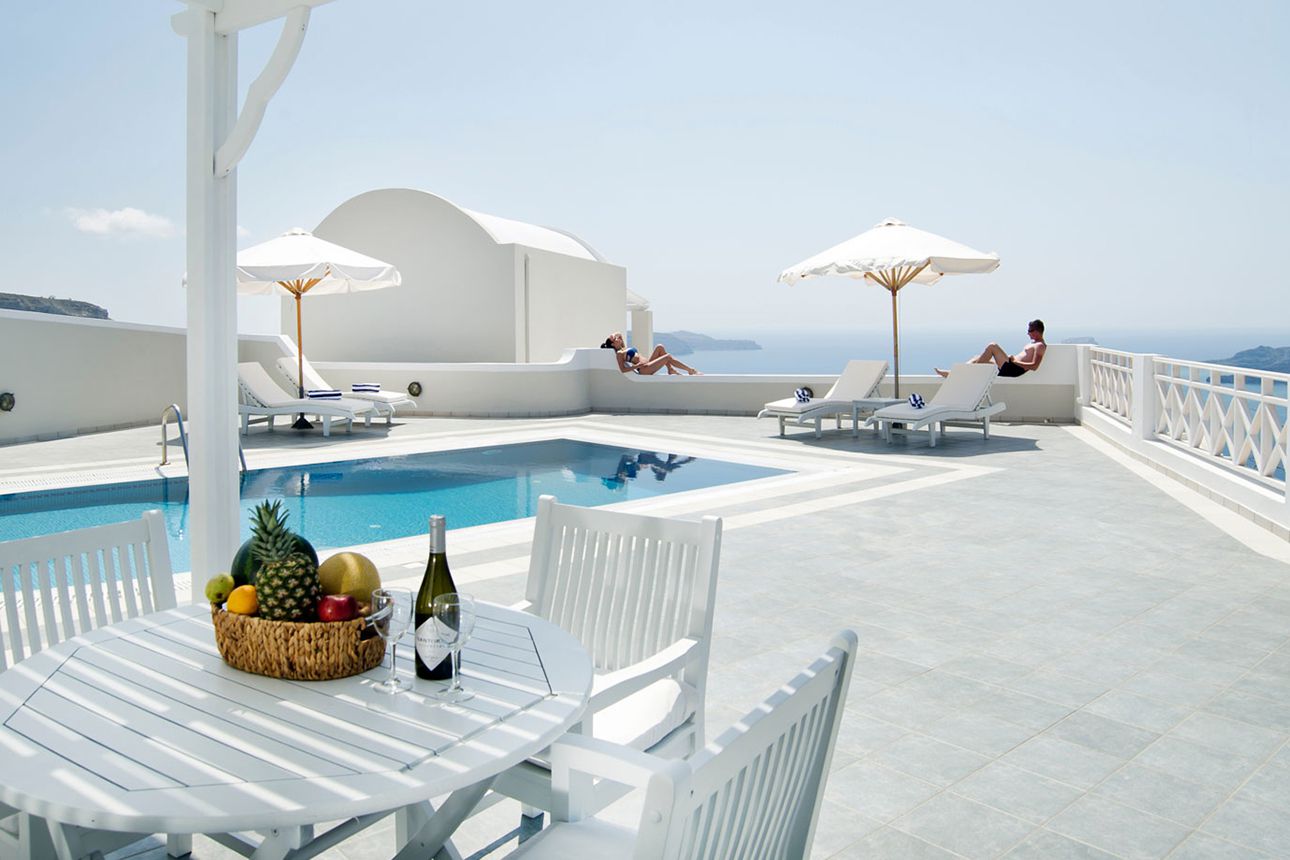 Your stay at the lovely two-level Erotas Villa will begin with a charming welcome. The famous Caldera vistas and unwinding on the spacious private cliff-side terrace while swimming, gazing at the golden sunset from your private swimming pool.
1 hydro massage tub
2 bathrooms
Open plan living room with mini bar kitchenette with table
Sea view balcony
Sofa bed in living room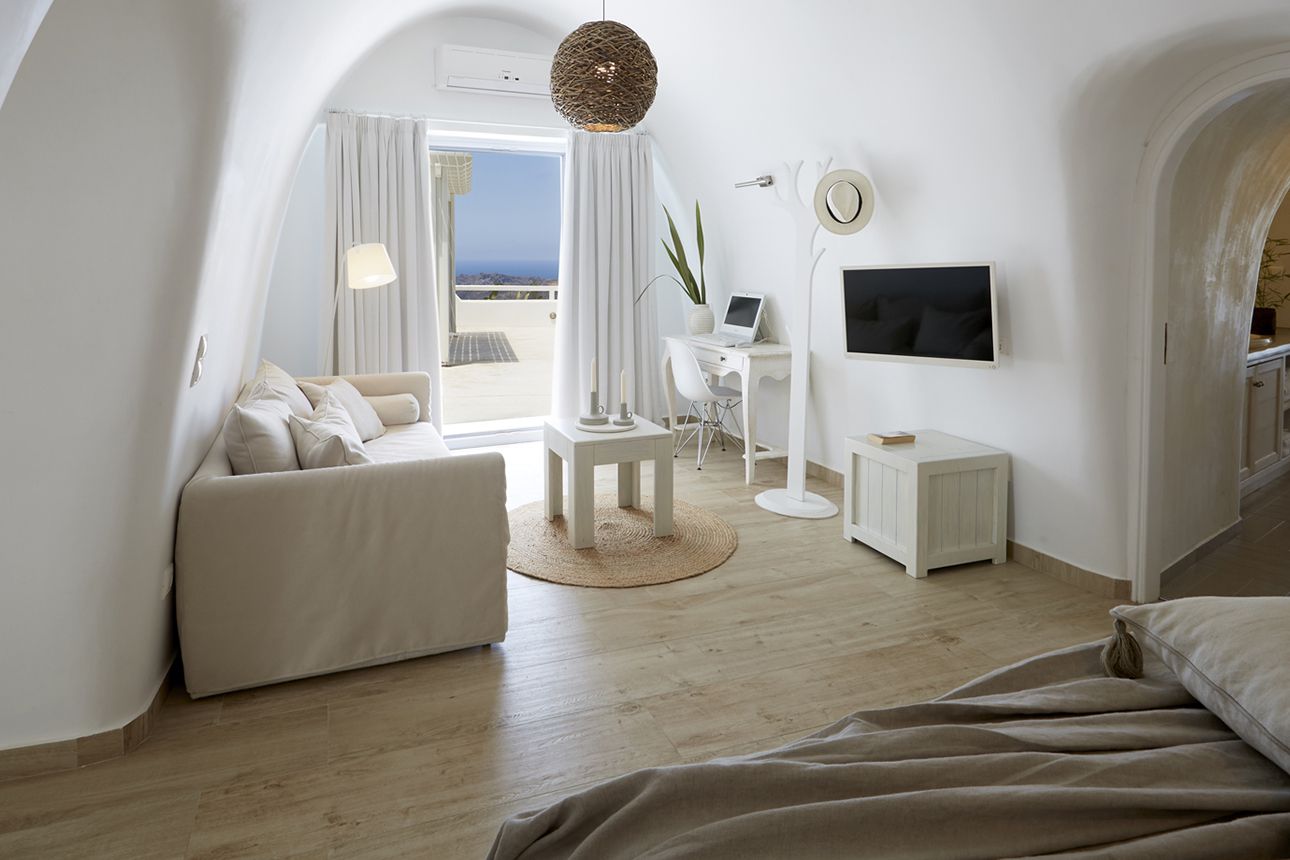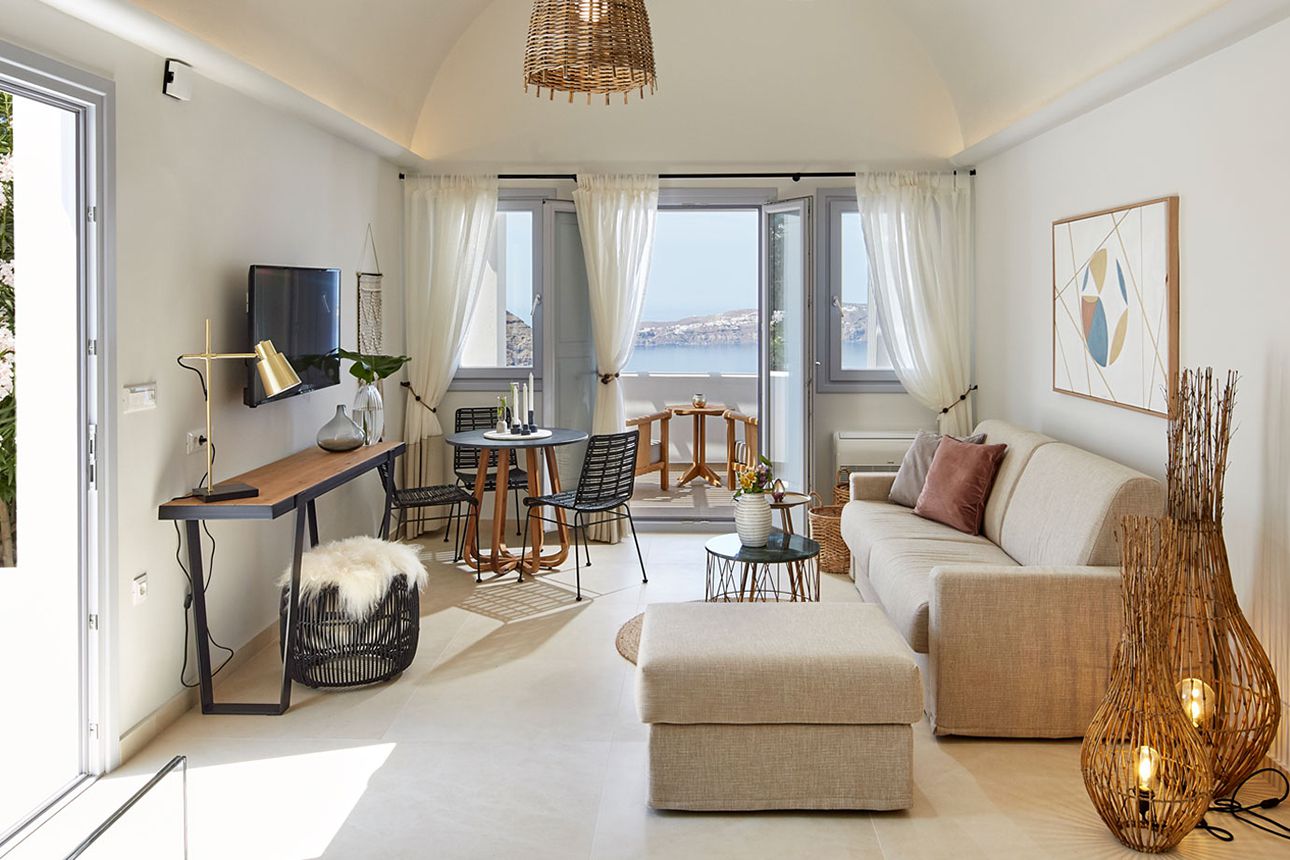 The Caldera cliffs and the azure of the Aegean Sea are on display, as well as stunning panoramic views. Comfortable and spacious interior spaces with minimal and modern decor inspired by bright colors. The two bedrooms with en-suite bathrooms are located on the lower level. An open-plan living room with a sofa bed.
2 ensuite bathrooms with hydro massage tubs
Open plan living room with kitchenette
Sea view terrace with private pool
Sofa bed in living room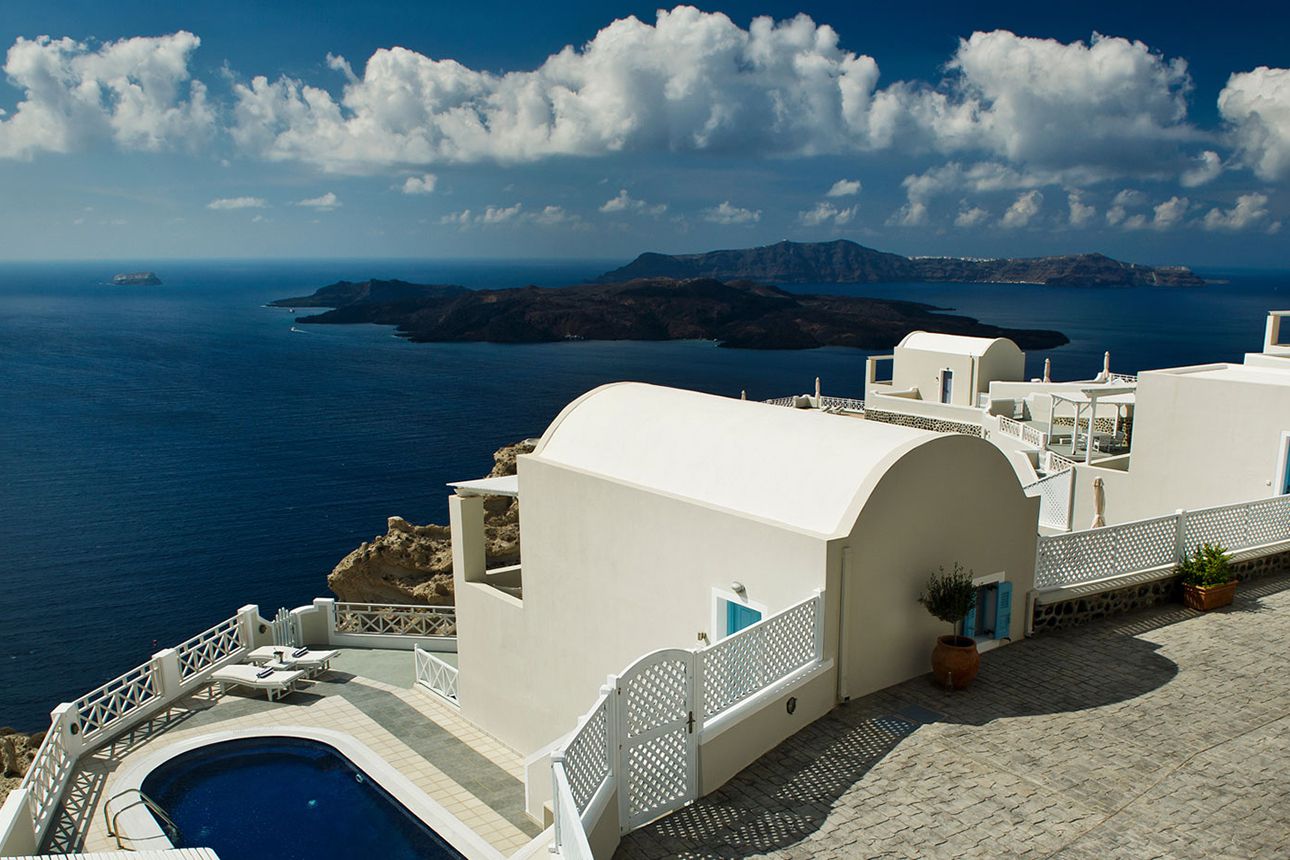 The spacious open-plan Junior Villa has an airy bathroom with a huge handcrafted hydro massage tub. The villa includes a comfy king-size bed and a sofa bed in the sunken living area. A lovely patio with stunning harbor views is located just outside the residence.
1 ensuite bathroom with hydro massage tub
1 hydro massage tub
Air conditioning
Alarm clock
Bath amenities
Bathrobes and slippers
Beach towels
Cable-satellite tv
Cd/dvd player
Closet
Coffee facilities
Daily maid service
Dining table
Direct dial telephone
Dvd player
External jacuzzi
Flat screen tv
Hairdryer
Mini-bar
Modern furnishing
Safe deposit box
Sea view
Sitting area
Sofa bed in living room
Wake-up call
Wi-fi internet access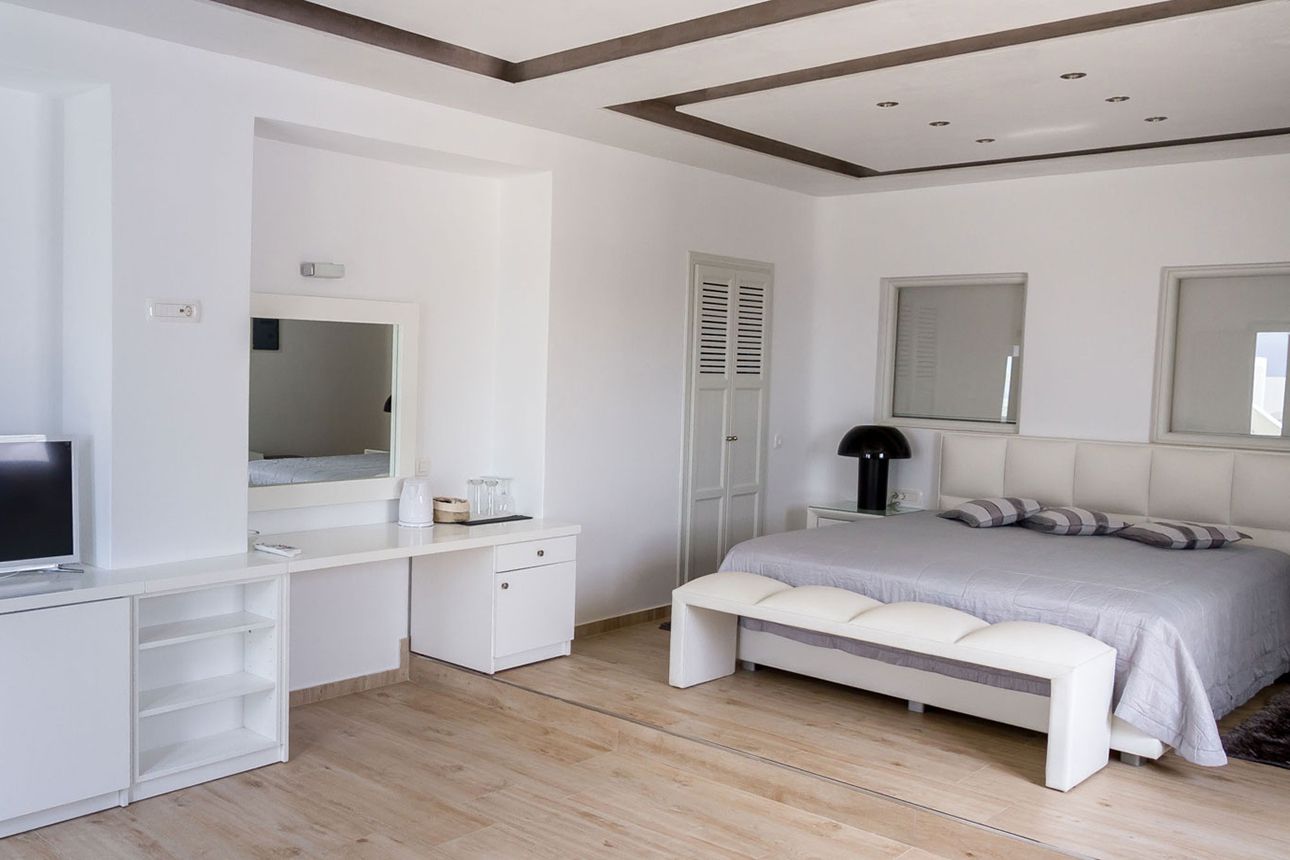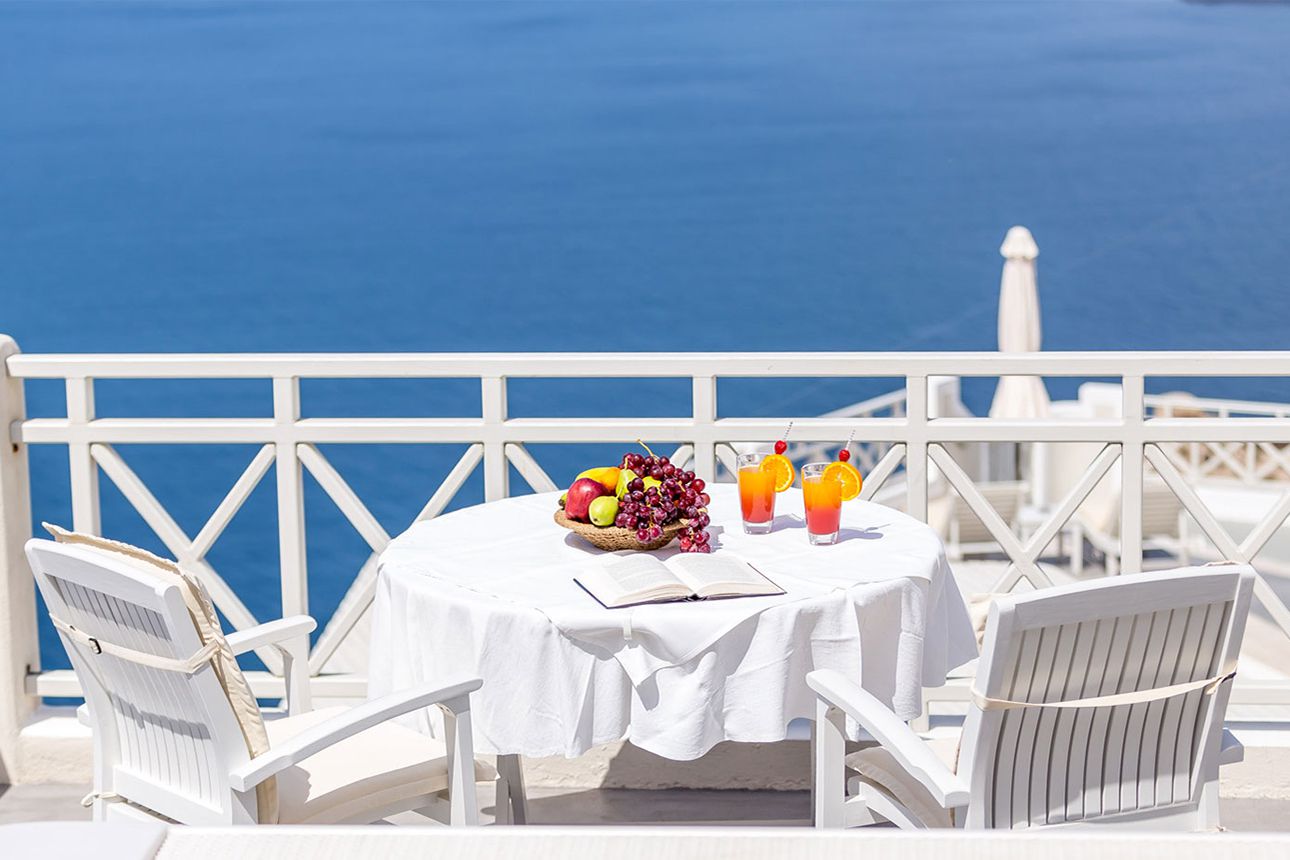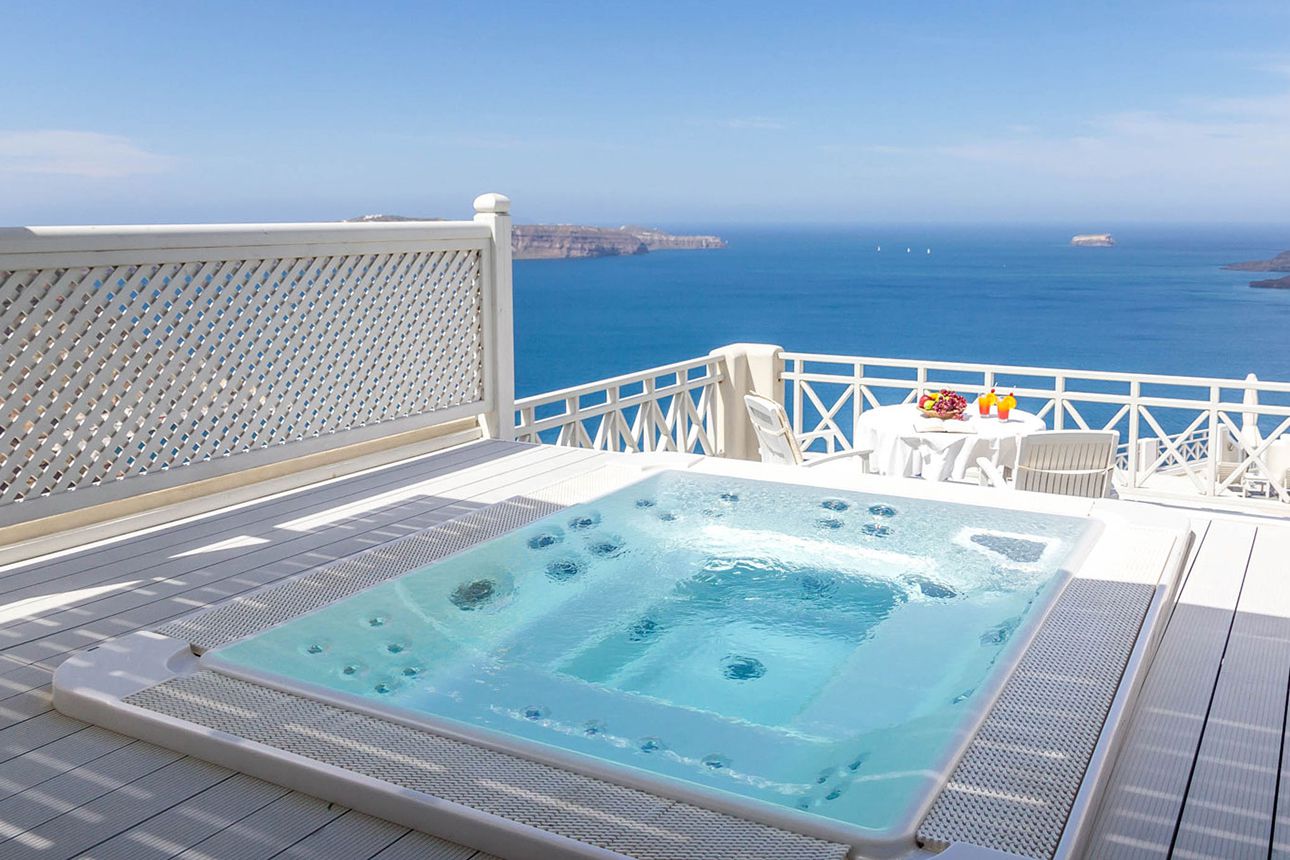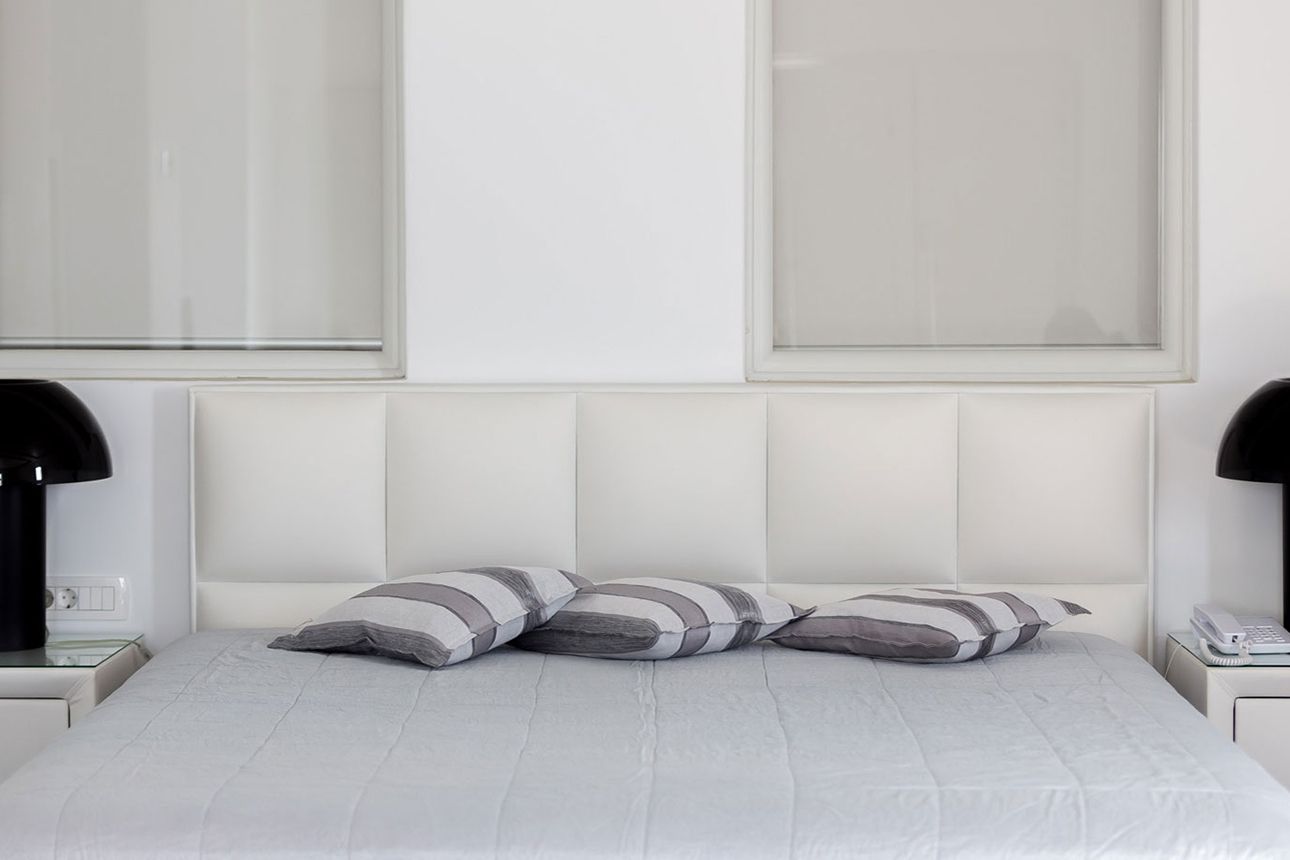 The Sapphires Resort certainly caters to the most discriminating tourists, who enjoy living on the edge and expect only the finest from their life experiences. Sapphire Villa is located at the heart of the Celestia Grand complex, on a peninsula-shaped cliff that overlooks one of the world's most beautiful panoramic views.
1 ensuite bathroom with hydro massage tub
1 grand ensuite bathroom with large 6 person hot tub
Bedrooms open to pool yard
Open plan living room with kitchenette
Sea view balcony from lounge area
Sofa bed in living room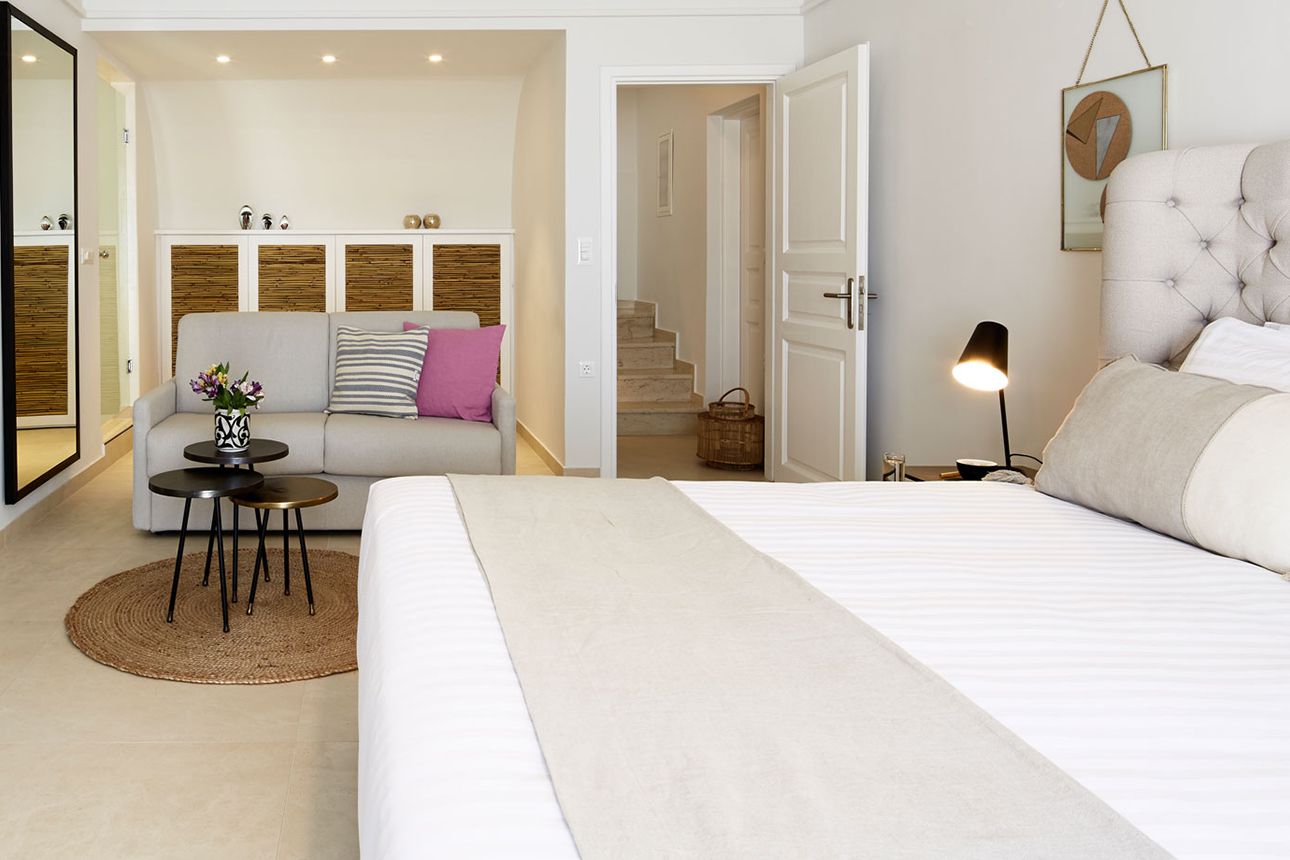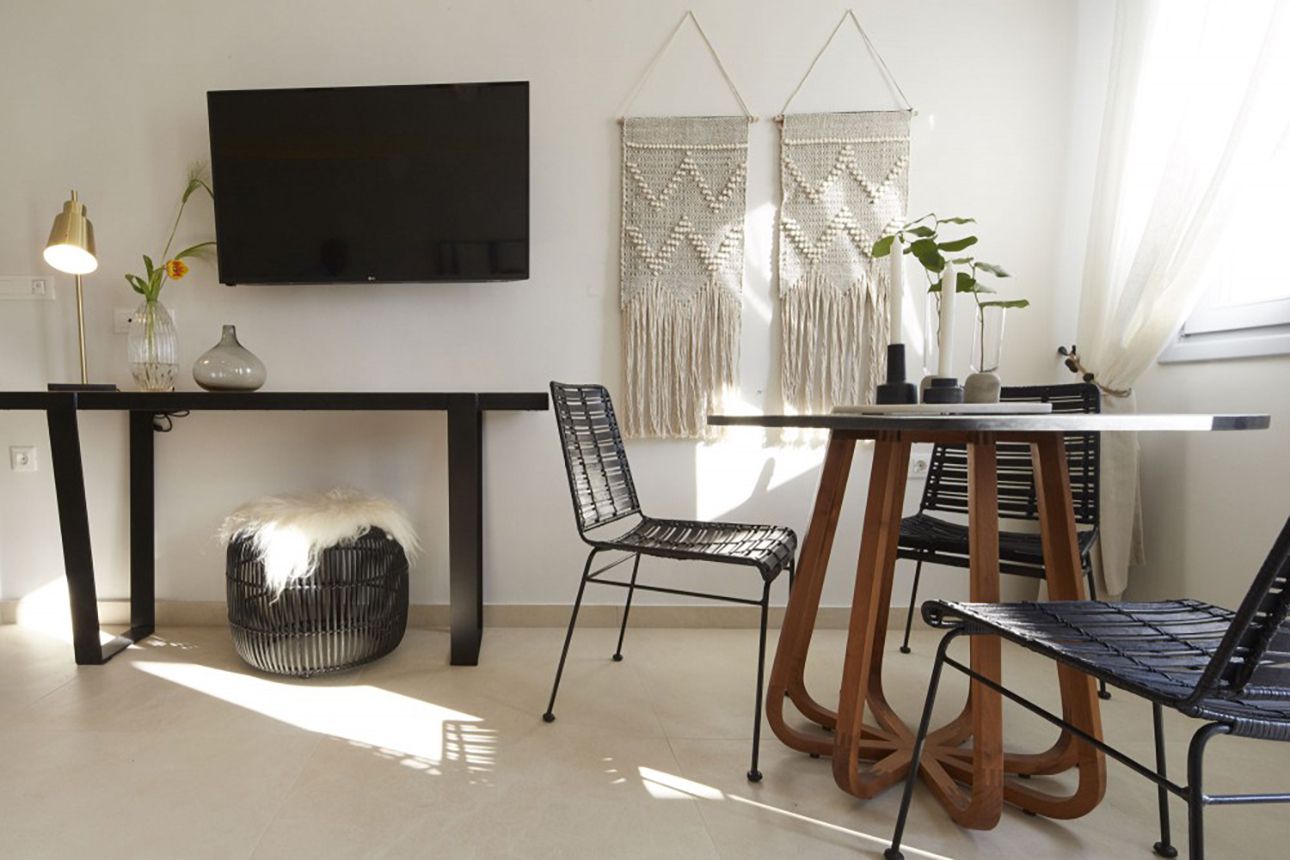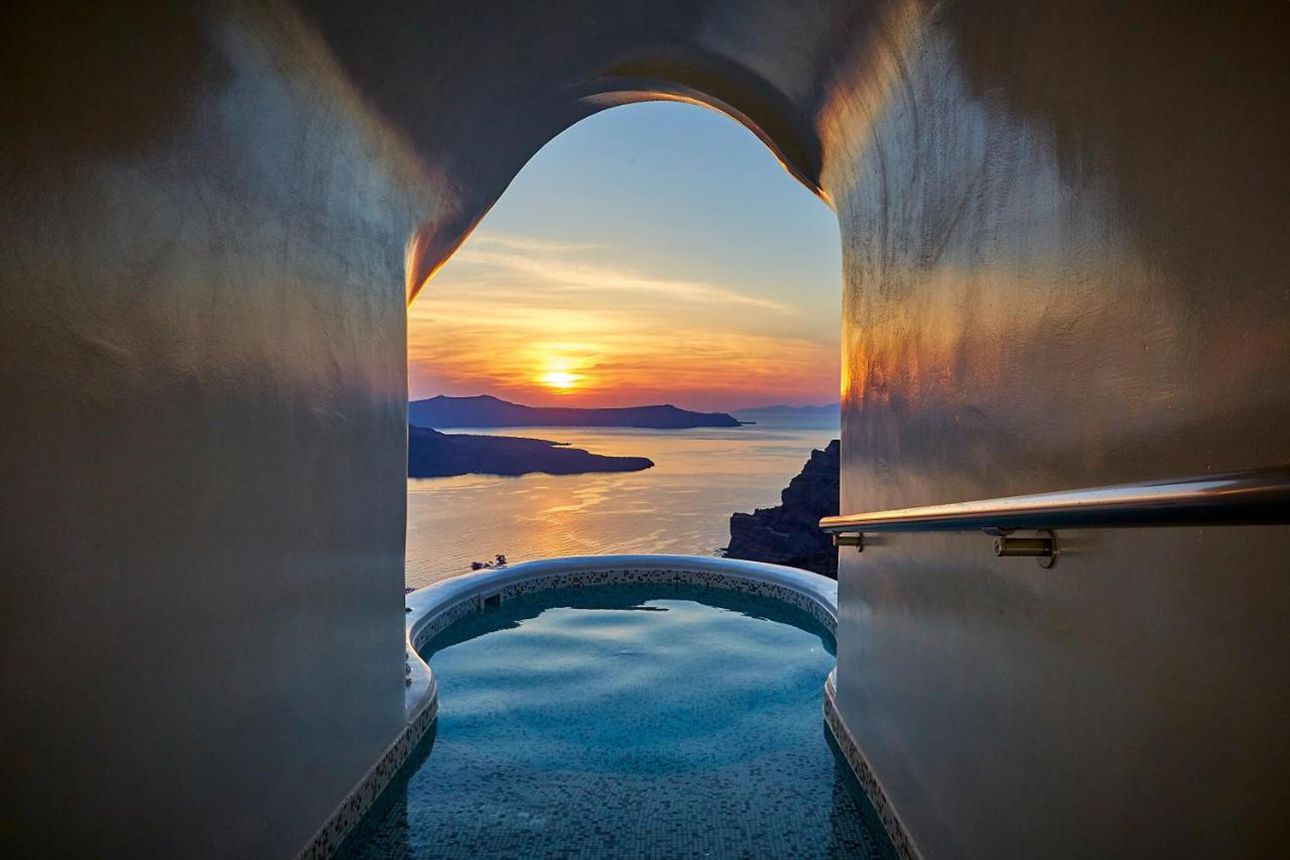 This magnificent home provides the ideal location for a dream honeymoon. The Superior Honeymoon Villa exudes an air of unrivaled sensuality. It's especially designed to provide an unforgettable, romantic stay in classic Cycladic style with curvy white walls and domed ceilings.
Traditional cycladic style
Living area
King sized bed
Sofa bed
Kitchenette
Bathroom with a cave shower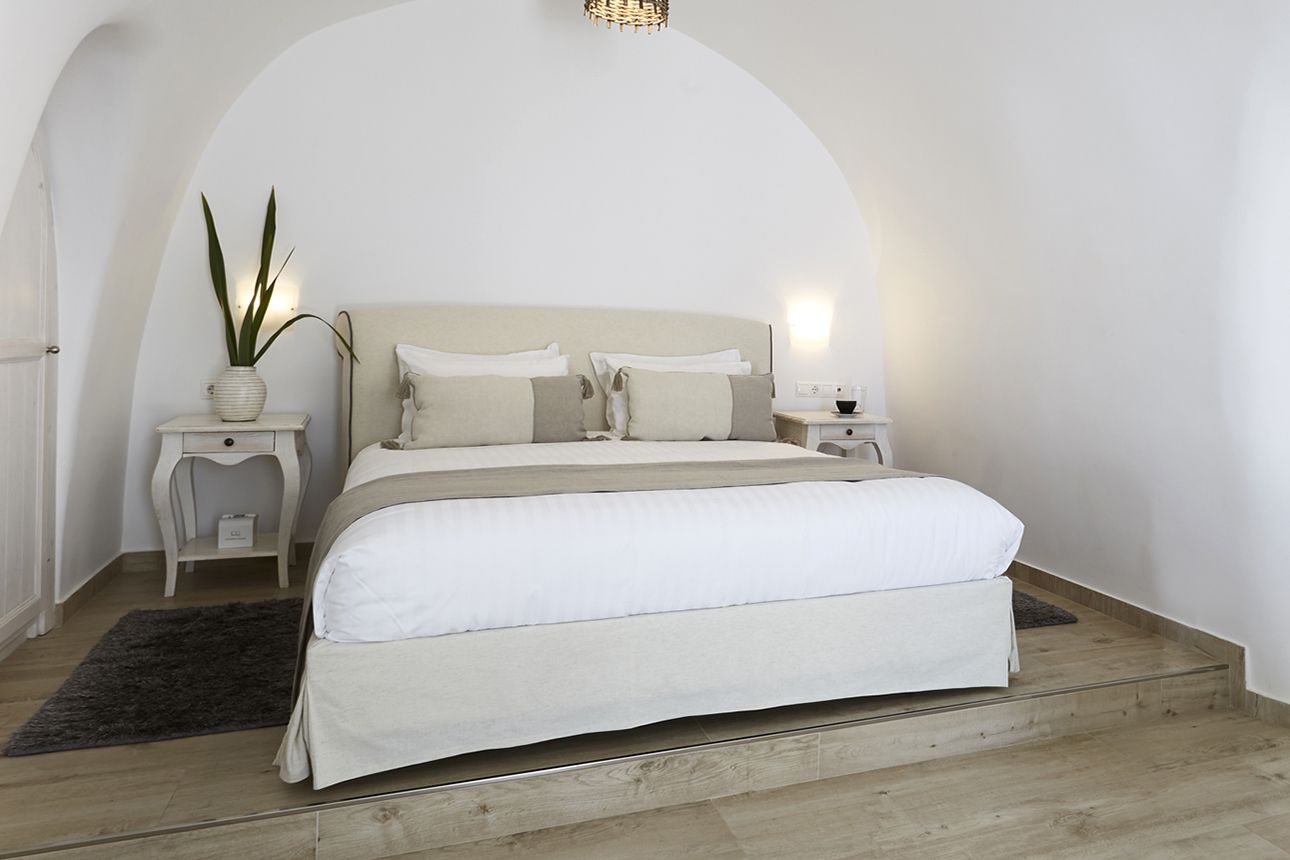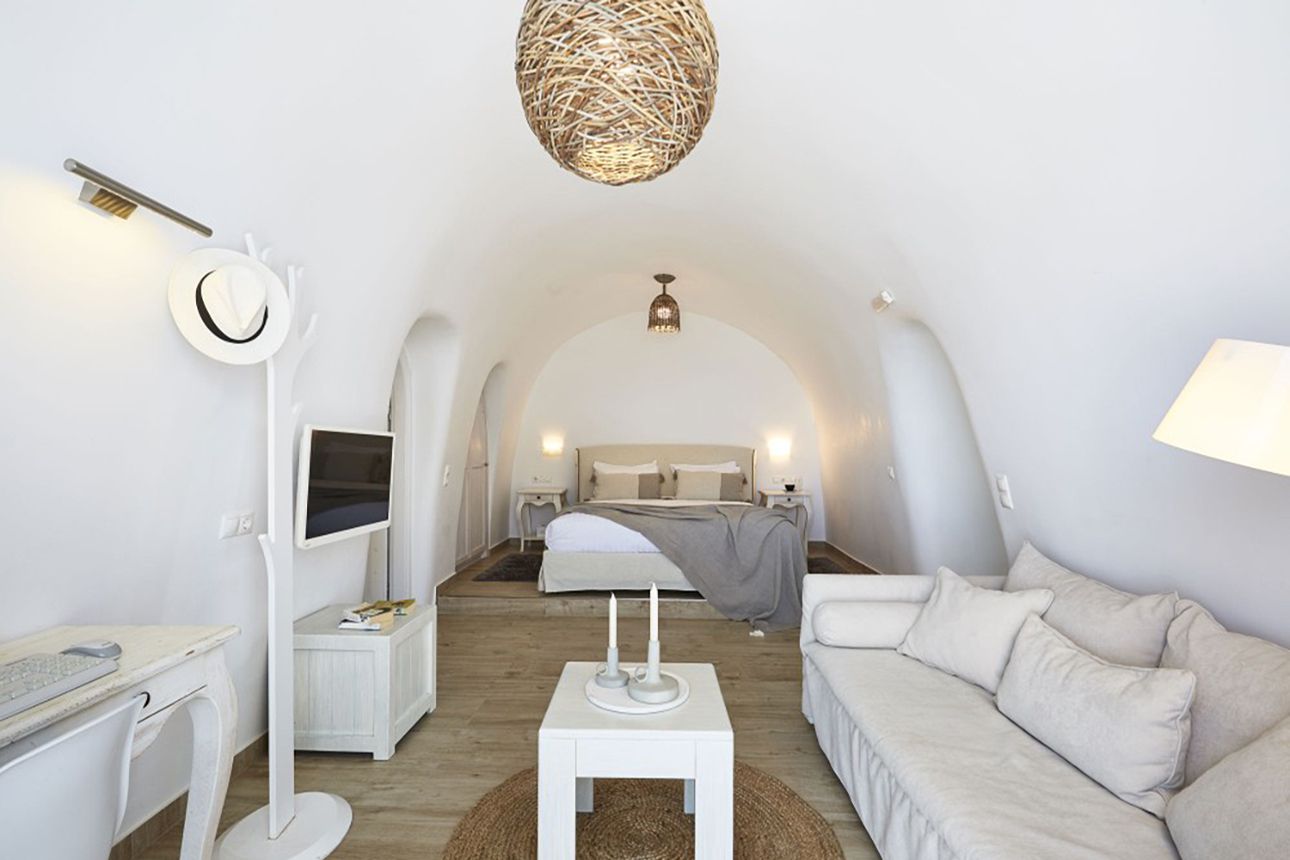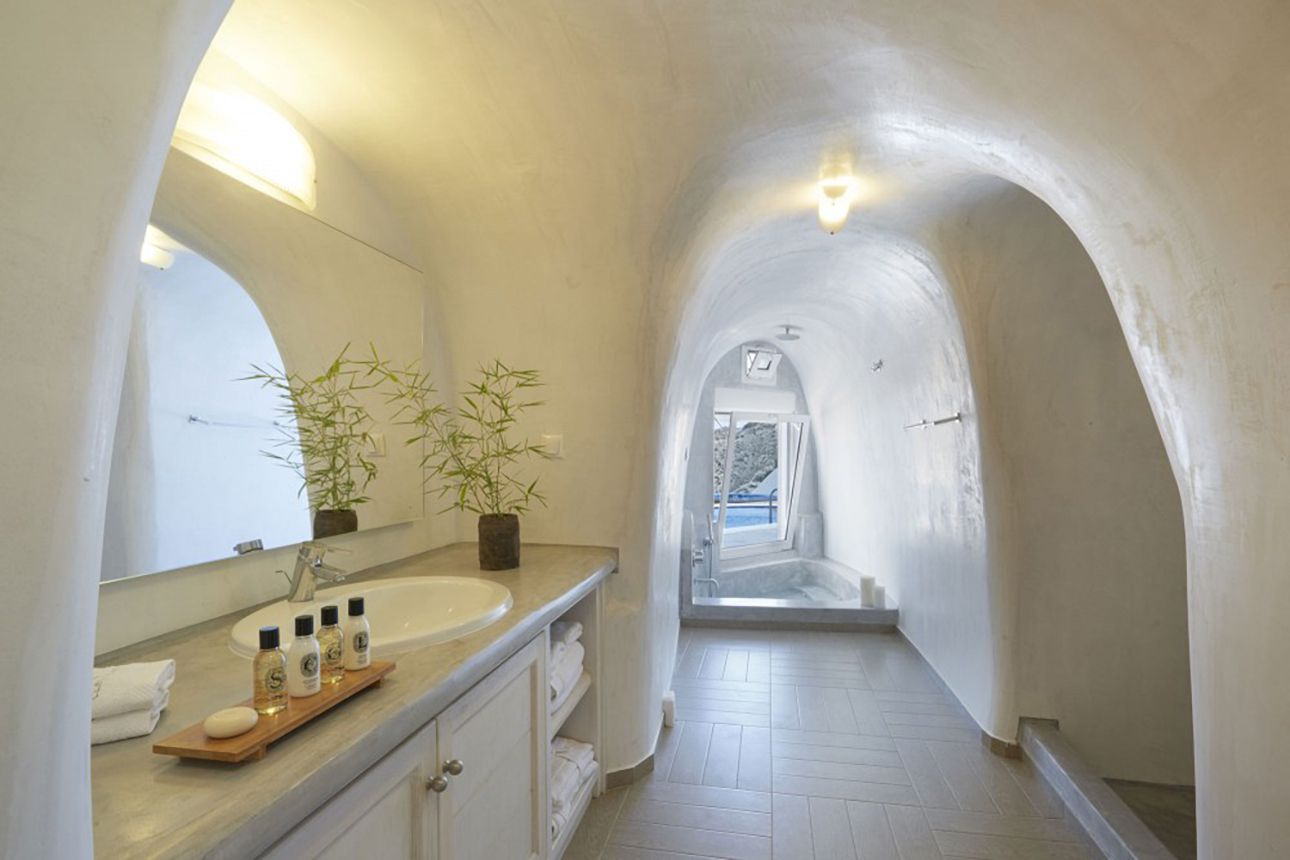 Getting There
The hotel is approximately 8 km from the Port and approximately 5 kilometers from the Airport. From Celestia Grand, you can easily head to all major tourist attractions on the island. Santorini has a big airport and receive international flights, so most of the time, travelers can fly direct from their home country to Santorini.
You can travel to the Celestia Grand by bus once flying into Santorini airport. There are also ferries that go to Santorini from other Greek islands, such as Paros and Naxos. As a guest at the Celestia Grand you can get free transportation from either the airport or the port to the villas.
Buses, taxis, and car rentals are also available on the island. You can rent a car at the Celestia Grand and in the city of Fira if you want to explore the island on your own.
Celestia Grand Pros and Cons
The Celestia Grand is ideal for visitors wanting a quiet, private experience on a Greek island. The area is scenically gorgeous. There are many benefits to staying at the Celestia Grand, which are listed below.
The villas are large and truly luxurious.
A big bonus is having a private pool and an additional indoor jacuzzi or hot tub.
You receive 24-hour concierge service.
A buffet breakfast is provided as part of the price of your stay.
You can rent a motorbike or motor vehicle on site.
You do have access to a free shuttle service to and from Fira.
There are only a few disadvantages to choosing the Celestia Grand.
The cost is high, but it is worth it for everything that you receive since it is an all-inclusive resort.
Internet access may not always be reliable because the area is so secluded, but this is not an issue for those seeking a proper holiday.
Conclusion
For an outstanding Mediterranean island adventure, I can guarantee you won't be disappointed by the highly-rated Celestia Grand villas. It is the perfect getaway for those seeking a luxurious vacation in a beautiful place.