Santorini (formerly known as Thira, a name that incorporates the volcanic islets inside Santorini's orbit) is a Cyclades island group that stands in the Aegean Sea, roughly midway between Athens and Crete. A massive volcanic explosion thousands of years ago caused the center of Santorini to descend, leaving a caldera (or crater) with towering cliffs on the east side, which is now Santorini's signature feature.
Santorini is the Greek islands' stunner, a head-turner whose visage is easily recognizable around the universe: multicolored cliffs' tower out of a sea-drowned volcanic crater, crowned with whitewashed buildings.
It's no surprise that Santorini is on so many people's bucket lists, with its spectacular landscapes, beautiful sunsets, and volcanic-sand beaches.
Perivolas Hotel Santorini
The lovely and tiny Perivolas Hotel epitomizes 'island living' at its most calm and elegant. The luxury of utter tranquility is combined with spectacular vistas, beautiful architecture, warm hospitality, superb cuisine, and fascinating land and seascape.
Perivolas is the epitome of relaxed luxury. This tiny hideaway, perched high above the Aegean, is designed to be a haven where you can forget about the rest of the world.
Best Season to Book a Room
The best times to book a room at Perivolas Hotel Santorini are from late March to early June and from early September to late October. During these times, you can take advantage of the warm, sunny island weather by going on adventures such as scuba diving, mountain trekking, and ocean swimming.
The on-season begins and ends at this time; however, it is not the peak. These windows are also less expensive and less crowded than summer ones, while still delivering all the fun facilities and activities you anticipate! Santorini and Greece experience their busiest tourist season from late June to early September.
Therefore, you mustn't visit around this time if you want to save some money and avoid the crowds.
Getting There
Perivolas is situated on the cliffside overlooking the caldera at the Oia village entrance. You can get to Oia by car in 30 minutes from the port and airport of Santorini (Ia). Drive to Fira as directed, then continue to Imerovigli as directed from Fira.
That will lead you to the major road leading to Oia. Make a left turn at the "Perivolas" sign, which will be on your right side, and proceed through the main hotel gate to the parking lot.
Rooms & Services Available
Deluxe Suite With Jacuzzi
The lovely terrace, once the home of a local winemaker, has a bright and airy cave-carved interior with whitewashed walls and smooth vaulted ceilings in the bedroom. The steam shower in the bathroom adds to the luxury, and its spacious living area is adorned with handwoven carpets and cushions for optimum comfort.
Free toiletries
Hairdryer
Jetted bath
Private bathroom
Shampoo
Air conditioning
Bed sheets
Down duvet
Minibar
Free Wi-Fi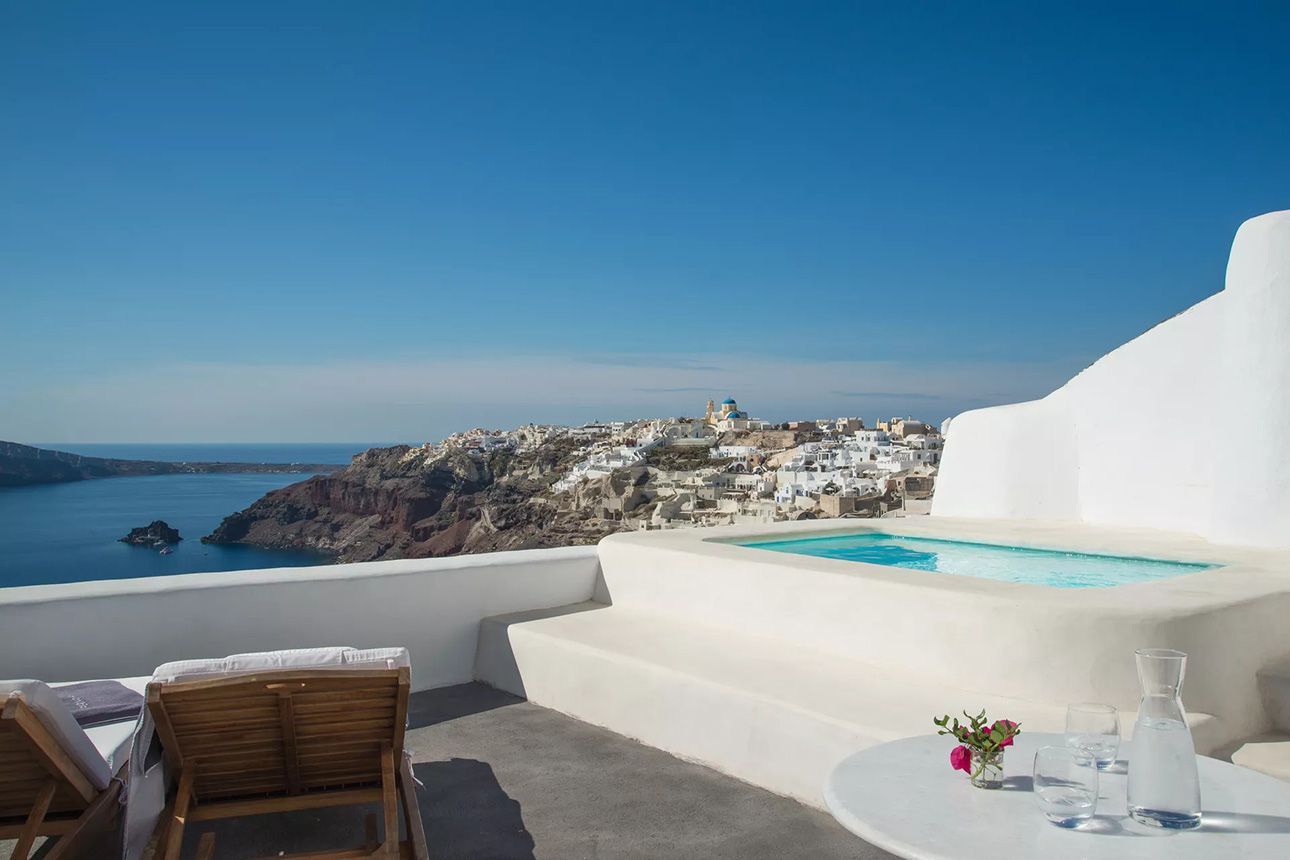 The Cycladic-style Junior Suites are characterized by the relatively plain interior decor. These rooms, which include a bedroom and sitting area integrated into an open plan design, offer plenty of space and breathing purity and sophistication. The patio extends out to offer stunning views of the Caldera and the Aegean Sea.
Free toiletries
Hairdryer
Jetted bath
Private bathroom
Shampoo
Air conditioning
Bed sheets
Down duvet
Minibar
Free Wi-Fi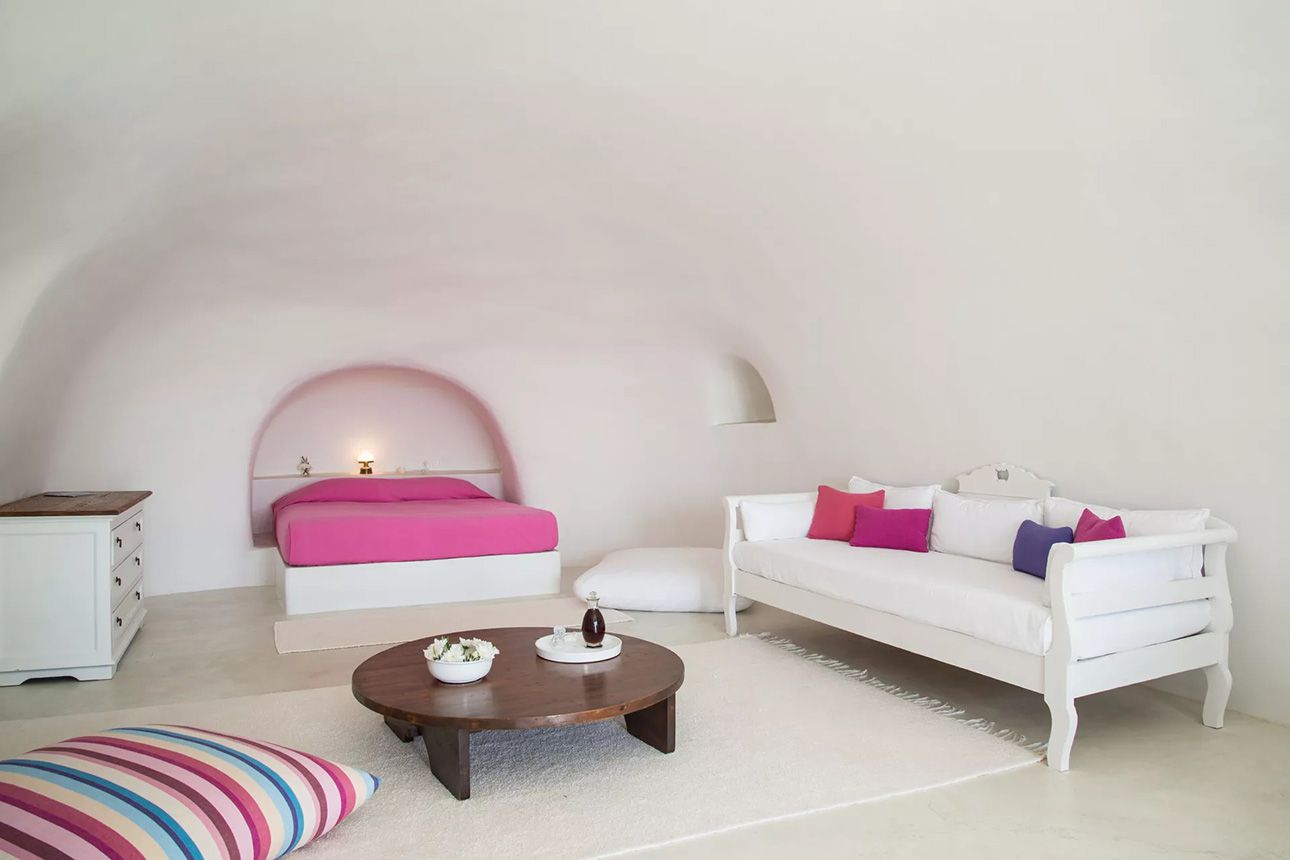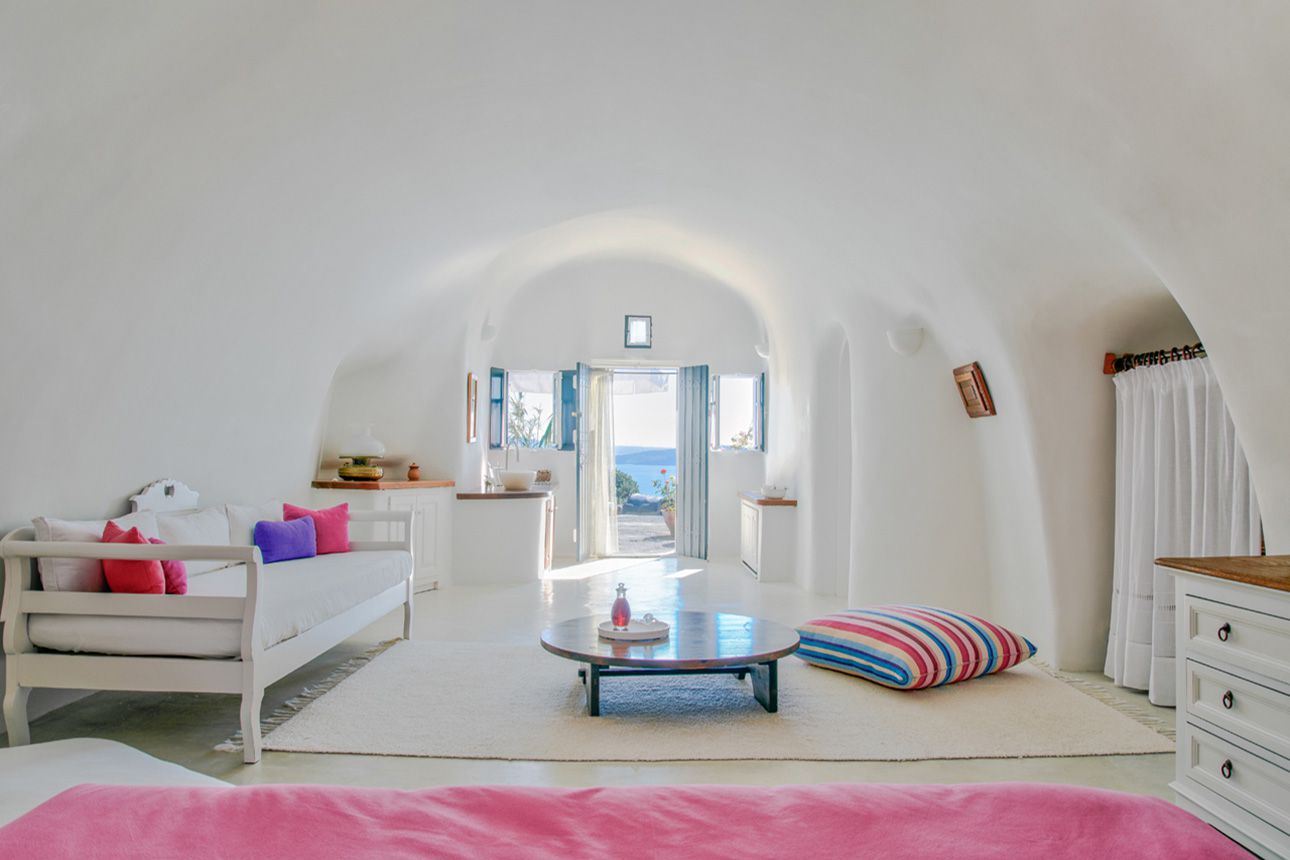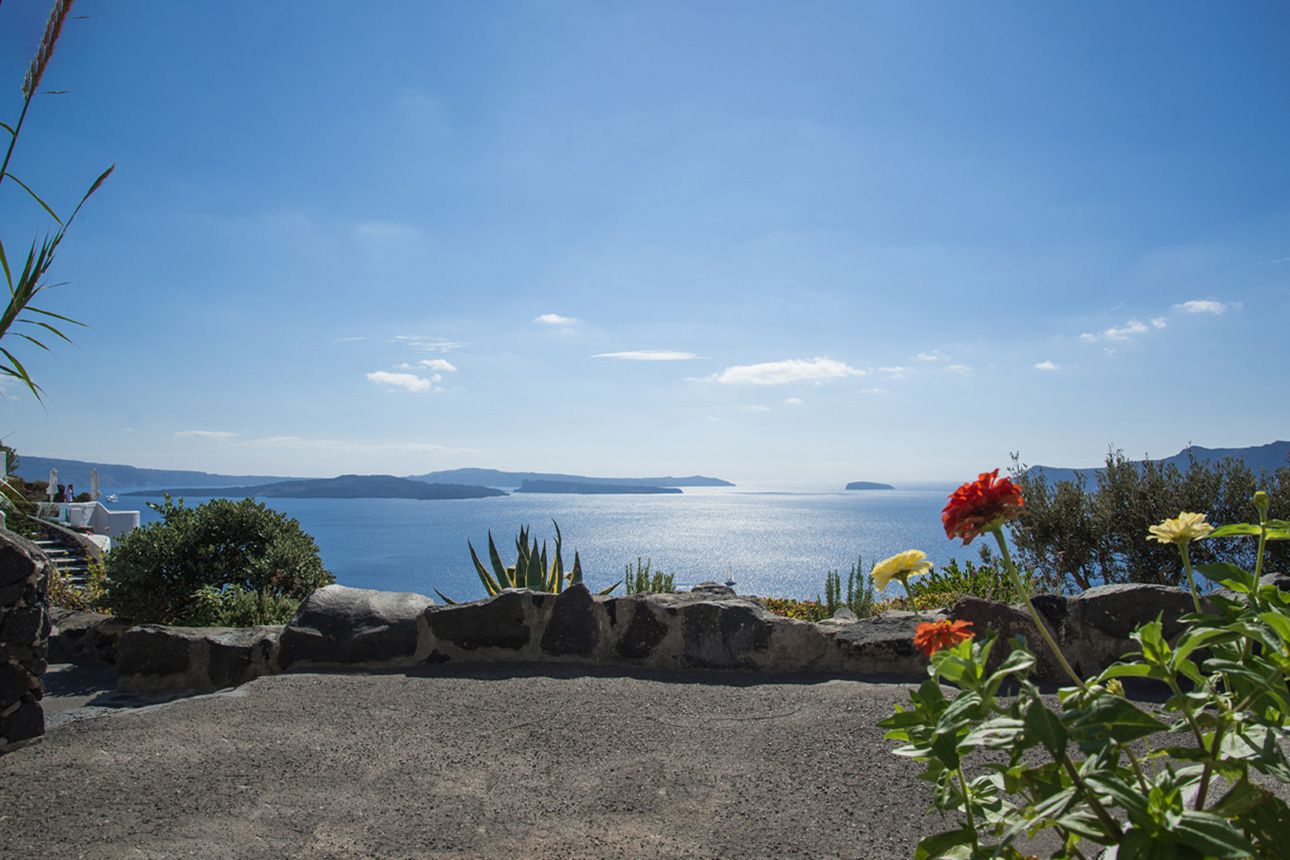 The Lifestyle Studio, in keeping with the surrounding rural environment, is traditionally carved into the earth and decorated with hand-woven cotton rugs and cushions in vibrant warm hues. The Perivolas Lifestyle Studio features an open plan sitting area that includes a queen-size bed built into a snug alcove.
Toilet
Sofa
Bath or shower
Towels Linen
Bedside socket
Seating area
Slippers
Refrigerator
Telephone Coffee/tea maker
Heating Fan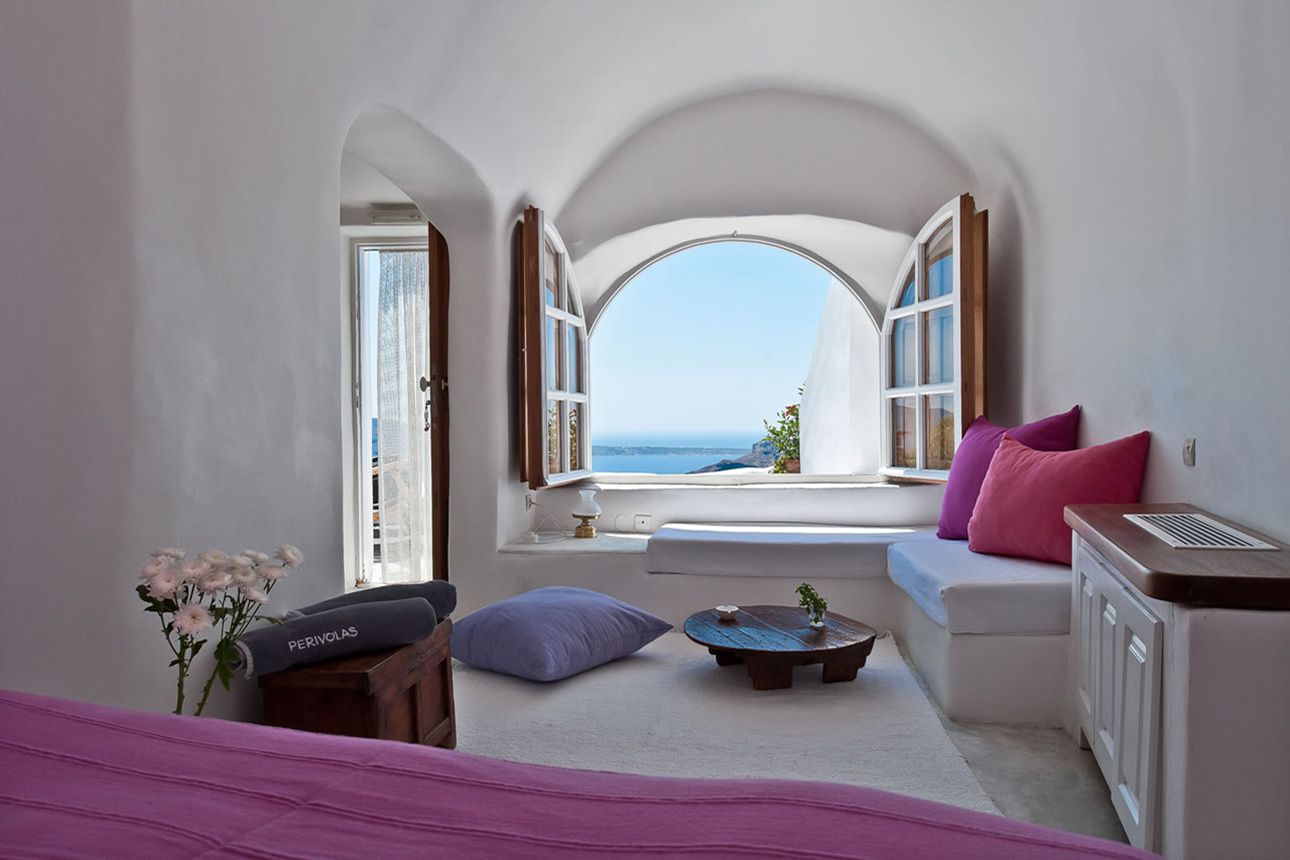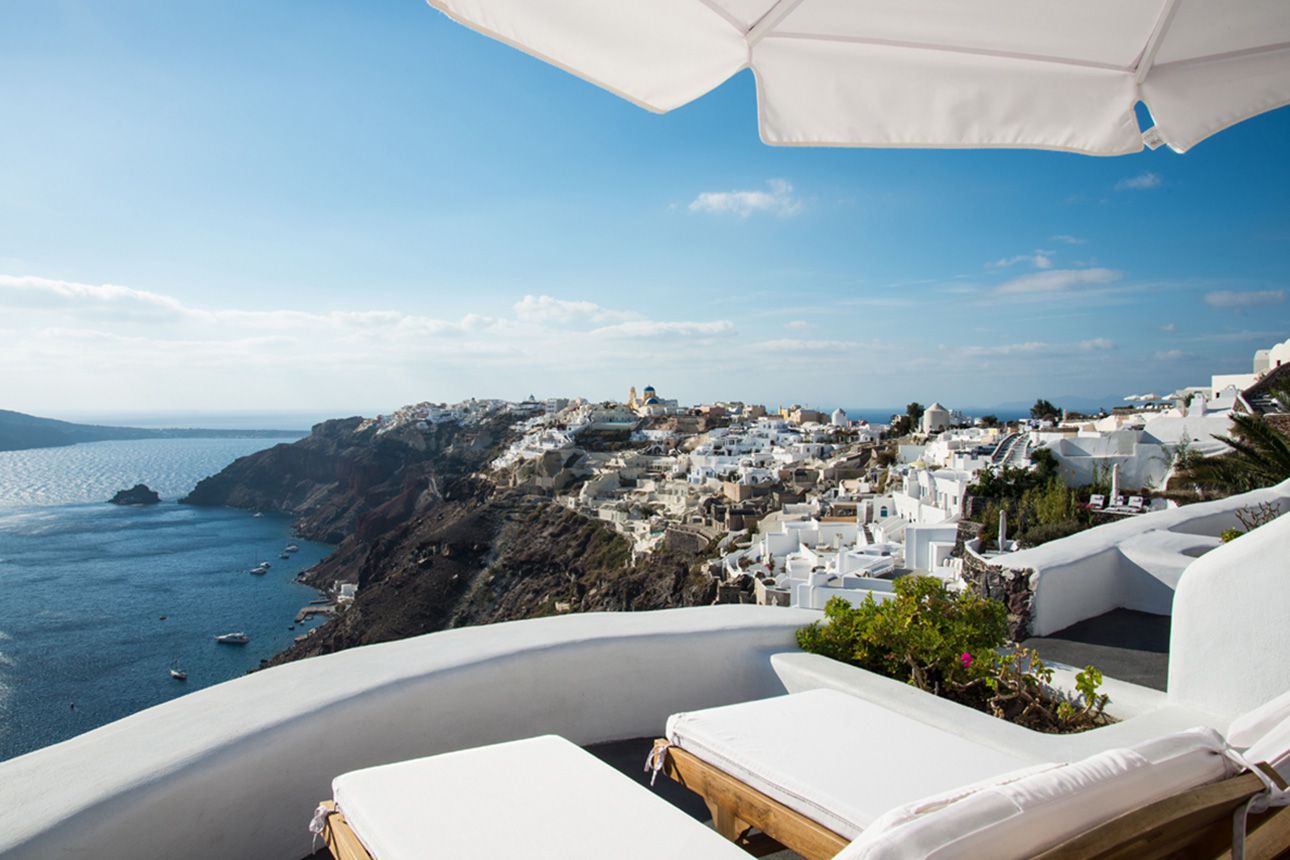 Unique in character this romantic hideaway covers over 120 sq. metres and is situated in a unique private location. It is decorated with the luxurious simplicity of whitewashed walls and smooth arches, enhanced by the soft touches of freshly cut flowers and vivid dashes of colour. There is a semi-private bedroom and a separate spacious living room area including a king-size bed. This luxurious setting has a private swimming pool with hydrotherapy massage and a bathroom with a private steam room. Rocky formations surrounding the private pool overflow into the terrace which is overlooking a magnificent panoramic view. It is an ideal honeymoon residence.
Toilet
Sofa
Bath or shower
Towels Linen
Bedside socket
Seating area
Slippers
Refrigerator
Telephone Coffee/tea maker
Heating Fan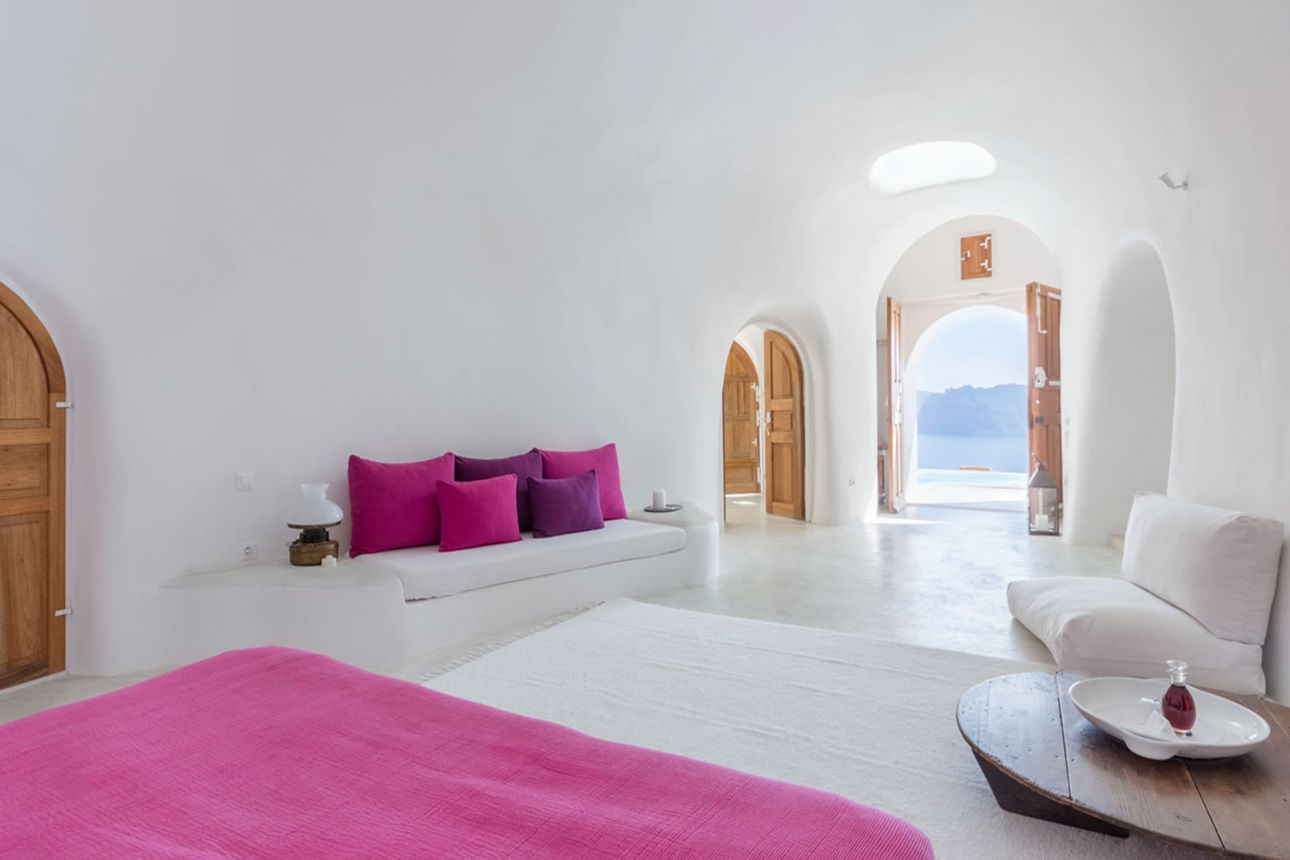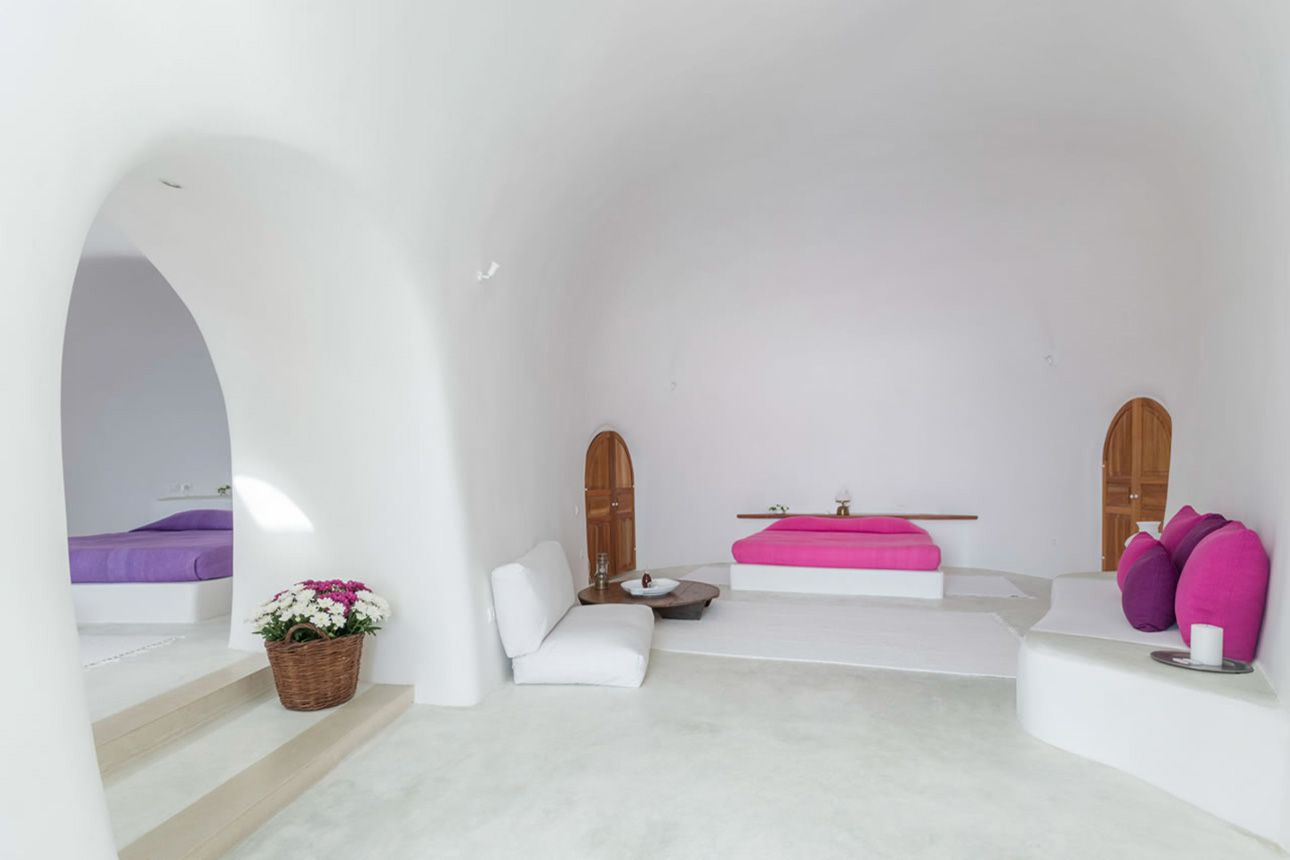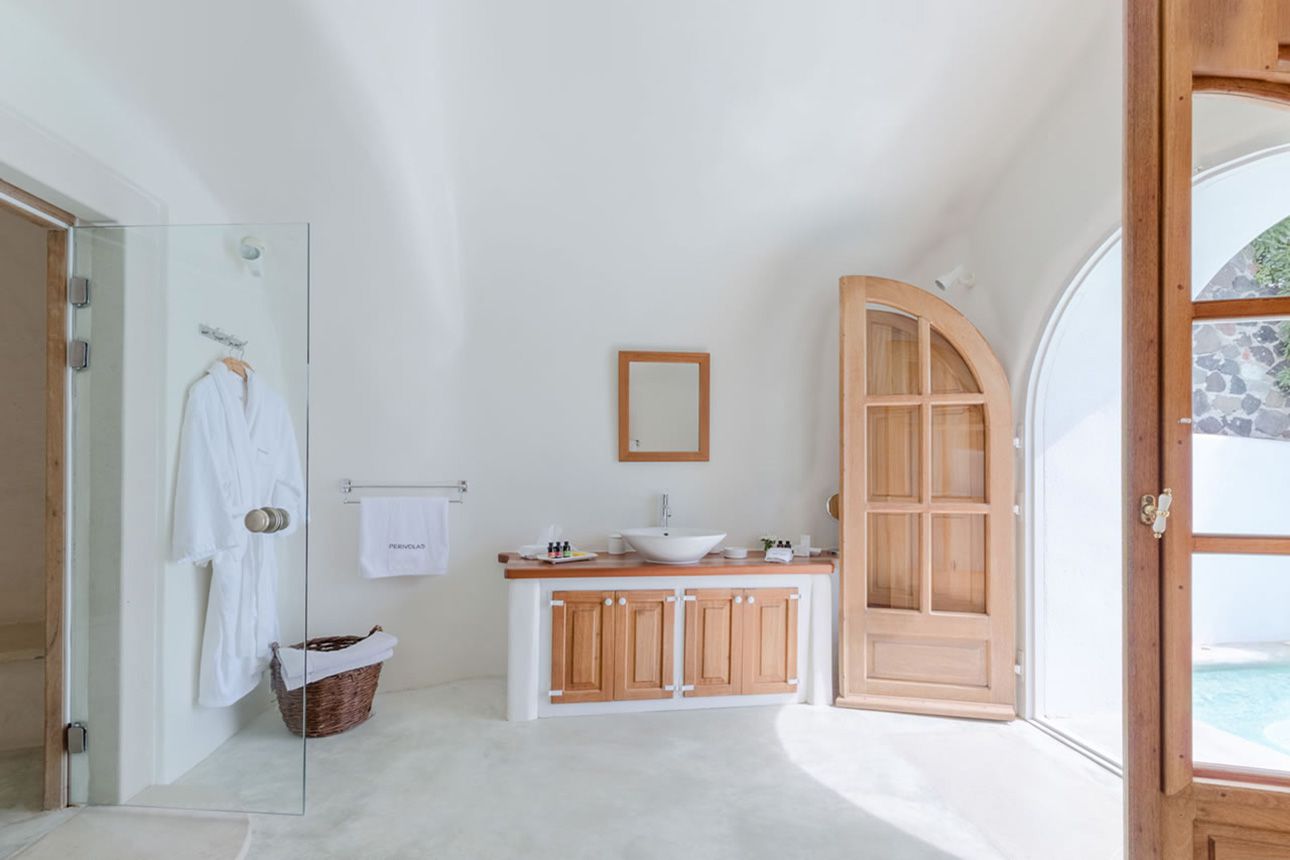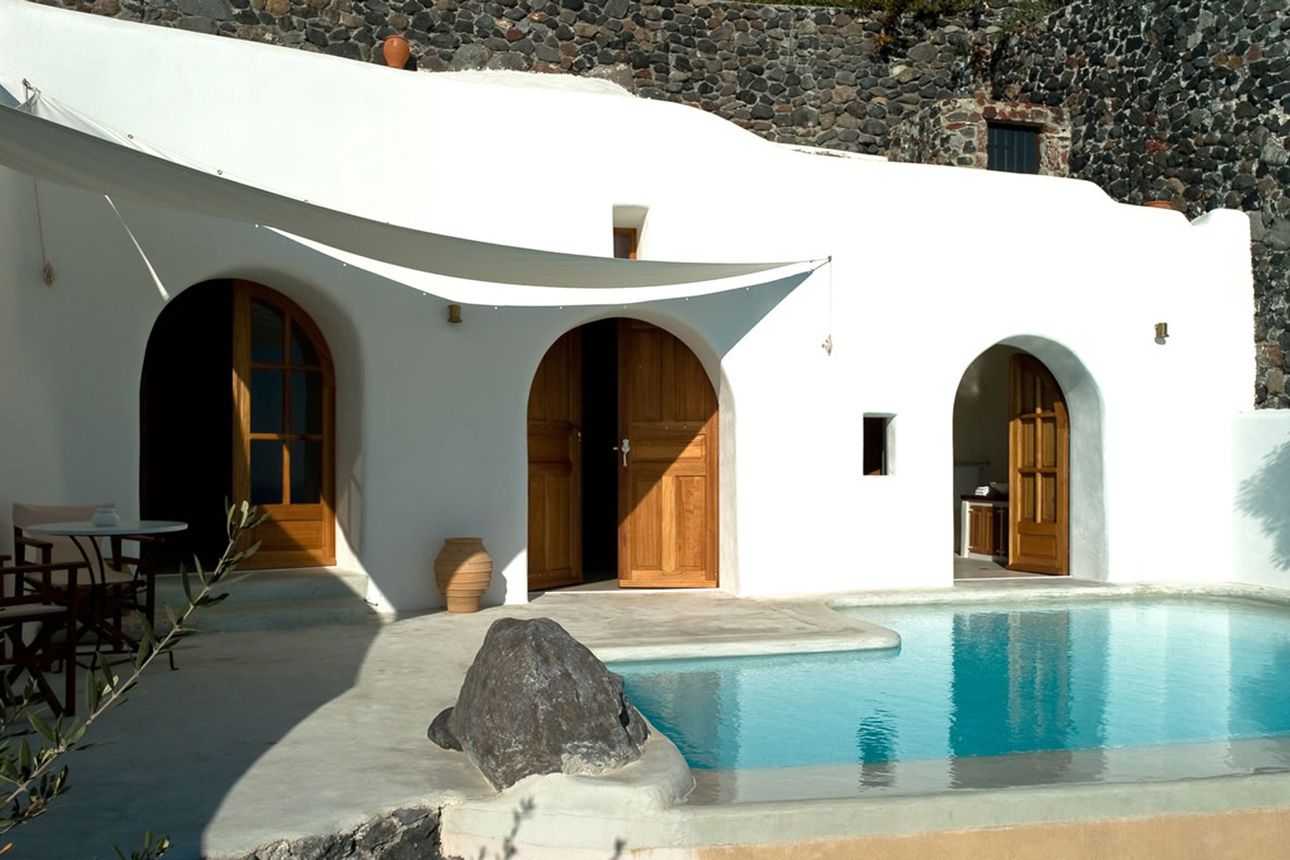 Perivolas Villa, perched high on the cliffs of Santorini at the entrance of the picturesque village of Oia, is in a spectacular site, just next to Perivolas Hotel. Perivolas Villa is a masterpiece of elegant indoor-outdoor living with panoramic views of the Aegean Sea.
Hydro-massage bathtub
Free toiletries
Bathrobe
Safe additional bathroom
Toilet Sofa
Bath or shower
Towels
Linen
Bedside socket
Tiled/marble floor
High chair for baby sitting area
Separate entrance
Slippers
Refrigerator
Telephone
Coffee/tea maker
Heating
Fan Kitchenware
Mini Kitchen
Fan Additional toilet
Extended beds (over 2 metres)
Wake-up call/wake-up service
Electric kettle
Outdoor furniture
Outdoor dining area
Laptop safe
Locker or wardrobe
Stove
Toaster
Dining area
Dining table
Toilet paper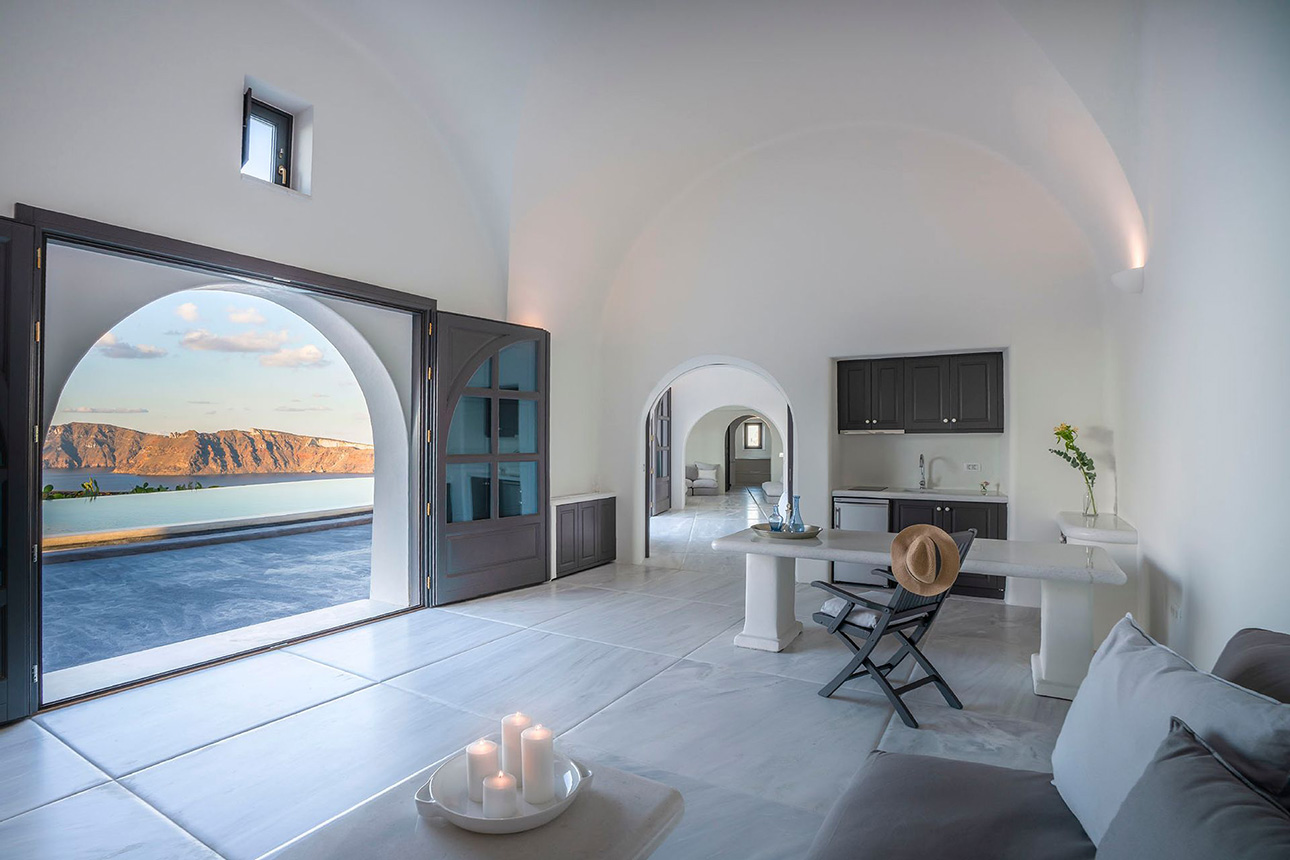 Amenities in Perivolas Hotel
The major attraction is the curving infinity pool, a lovely treatment room with plenty of natural light, an outdoor whirlpool tub, a sauna, and a steam room. A big gym, yoga and Pilates studio, and a 25-meter lap pool are nestled among the vines.
The hotel also boasts a fleet of speedboats that take guests to hidden beaches, sea caves, and adjacent islands.
Additionally, the interior design is inspired by Cycladic minimalism. The pale, chilly 'caves' are jazzed up with lilac and bright pink streaks instead of the traditional Greek blue and white. Low-slung beds are tucked into nooks with arched windows that frame the vista; colossal pillows are delicately arranged on smooth concrete floors; bougainvillea sprigs illuminate vaulted bathrooms with skylights.
There are eight rooms, with the most expensive suites including a private terrace, plunge pool, and steam room. There are no televisions, so you'll have to rely on the caldera for entertainment. Throw your phone off the cliff and turn it off.
Finally, meals are served at tables that flow out onto the split-level pool terrace, which has been converted into a wine cellar. Choose Greek yogurt and fruit salad from the modest buffet for breakfast (available until 11.30 a.m.), then order a courgette and feta omelet and a tart detox drink à la carte. Order shrimp, avocado salad, and calamari with spicy lime mayo for lunch on your balcony.
Don't miss chef Theodoros Kakoulis' fantastic seven-course tasting menu for dinner!
Pros of Perivolas Hotel
Fantastic views of the sunset across the caldera from Oia.
Lovely infinity pool with a bar with food options.
A 24-hour gym, a spa, and a wellness center.
Popular eatery providing contemporary Greek cuisine.
Exceptional a la carte alternatives are featured in the excellent breakfast buffet's rates.
All suites have terraces, some with private pools.
The hotel's tour provider arranges private excursions.
Cons
Steep terrain requiring a lot of steps.
No kids younger than 16 are allowed.
Rooms can feel cramped because they are like caves.
The hotel is 15 minute walk from Oia, yet it may feel far away.
Conclusion
The Perivolas Hotel Santorini gives you a great view of the ocean. It is a hotel that offers luxury, comfort, and beauty several leagues ahead of its competitors in Santorini and Greece.
If you want to get a great deal on room prices, booking in the spring, before peak periods, is best.