This five-star boutique hotel offers premium amenities and personalized service that will make your stay unforgettable. Situated in the heart of Costa Rica's Fortuna region, Nayara Gardens hotel is the most popular destination for those who want to experience all that this beautiful country has to offer. Whether you fancy exploring the rainforest or just letting your hair down by the pool, Nayara Gardens is sure to please.
Awards and Recognition
Nayara Gardens was awarded the Travelers' Choice Award in 2022. The hotel is located in a beautiful setting with the Arenal Volcano in the background. Guests can enjoy spa treatments and procedures while enjoying the stunning views. Nayara Gardens is a winner in many ways, including its awards and recognition from guests.
Best Season to Visit
Nayara Gardens is located in the North-Central Valley of Costa Rica near the town of La Fortuna. The average temperature in this area is around 70-80 degrees Fahrenheit, making it a great destination year-round. However, the rainy season does bring more humidity and can make the heat feel even more intense. The best time to visit Nayara Gardens, then, is during the dry season which runs from December to May. Prices will be slightly higher during this time but you'll avoid the crowds and have better weather for exploring all around La Fortuna Costa Rica.
There's plenty to keep you busy at Nayara Gardens! For starters, there's the Nayara Spa which offers a variety of treatments and services. The Nayara Springs is another popular spot where you can relax in one of the many natural hot springs on the property. And, of course, you can't forget about the Nayara Restaurant which serves up some of the best food in all of La Fortuna. If you're looking for an unforgettable experience, Nayara Gardens is the place for you! Prices start at $250 per night for a standard room. However, there are also some suites starting at $500 per night in the high season. Keep in mind that prices will vary depending on the time of year and how far in advance you book your stay.
Rooms & Services Available
This air-conditioned room has an iPod docking station, a DVD player, a plasma cable TV, and a private balcony with a hot tub and volcano views. An ironing board and coffee machine are available in addition to an ironing board and free Wi-Fi.
Hot tub
Minibar
Air conditioning
Safety deposit box
Ironing facilities
Internet facilities
Wireless Internet
Coffee machine
Seating Area
TV
Telephone
DVD player
Cable channels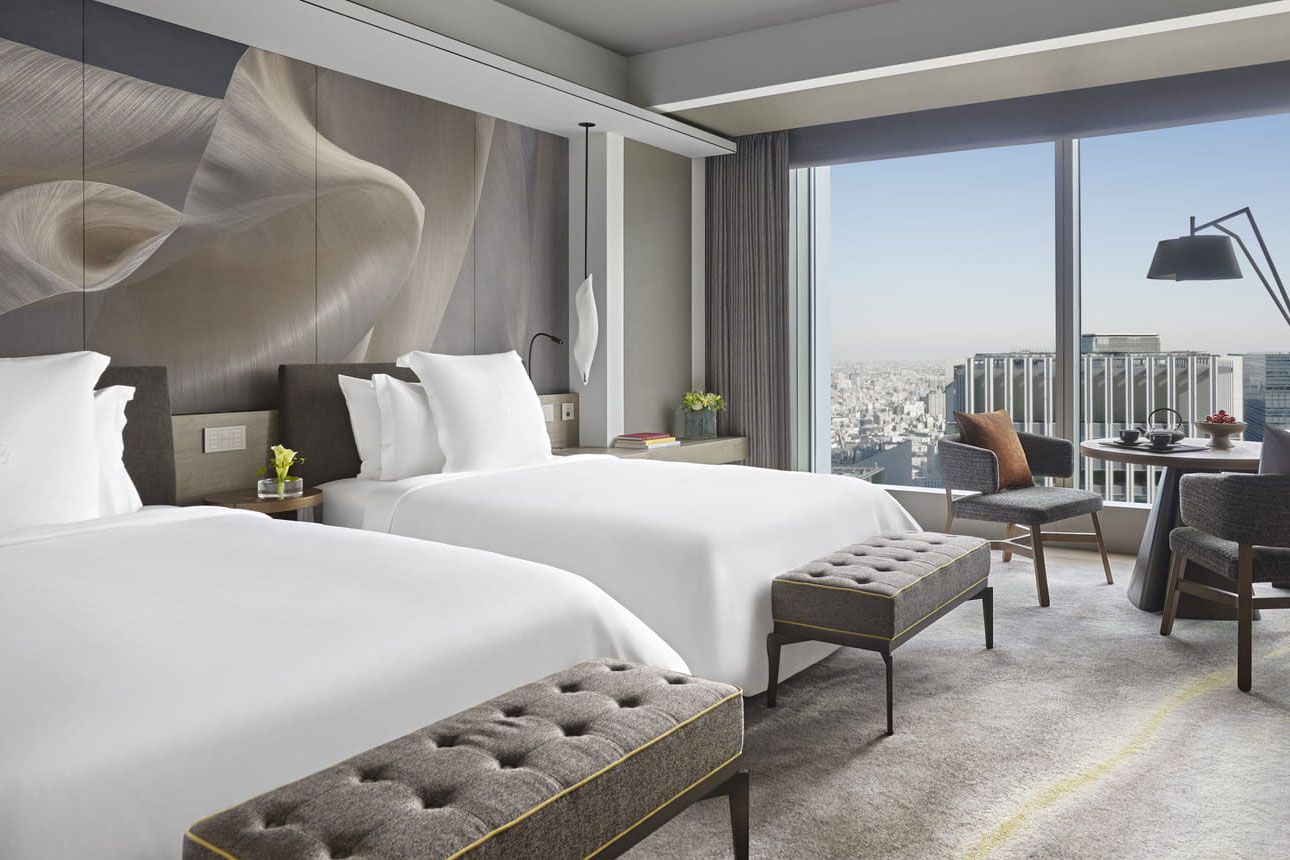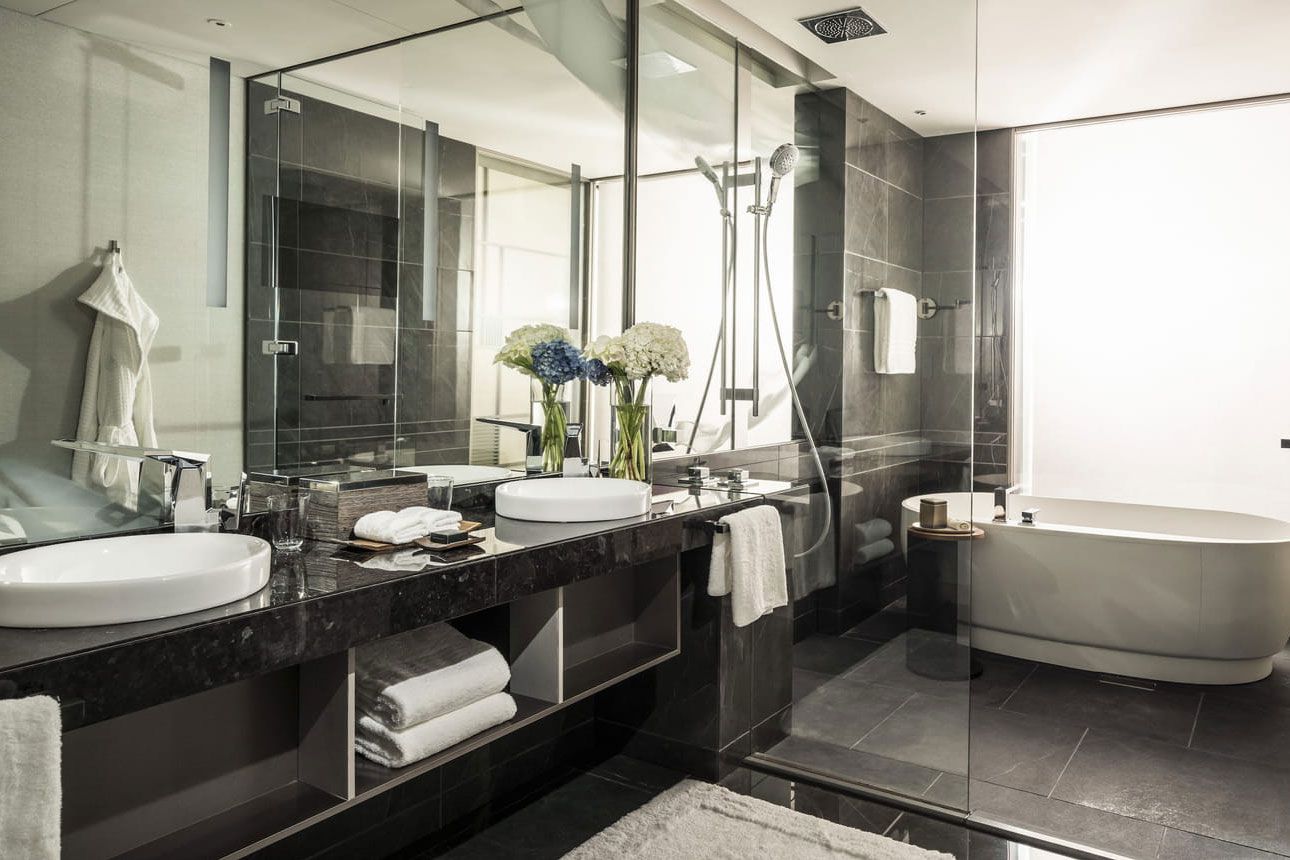 This spacious chalet with an octagonal design that allows more natural light to enter has a private terrace with a hammock, hot tub, and volcano views. A double rain-effect shower and a private garden with another shower for two are included.
Hot tub
Minibar
Air conditioning
Safety deposit box
Ironing facilities
Wireless Internet
Coffee machine
Seating Area
Telephone
DVD player
Cable channels
Balcony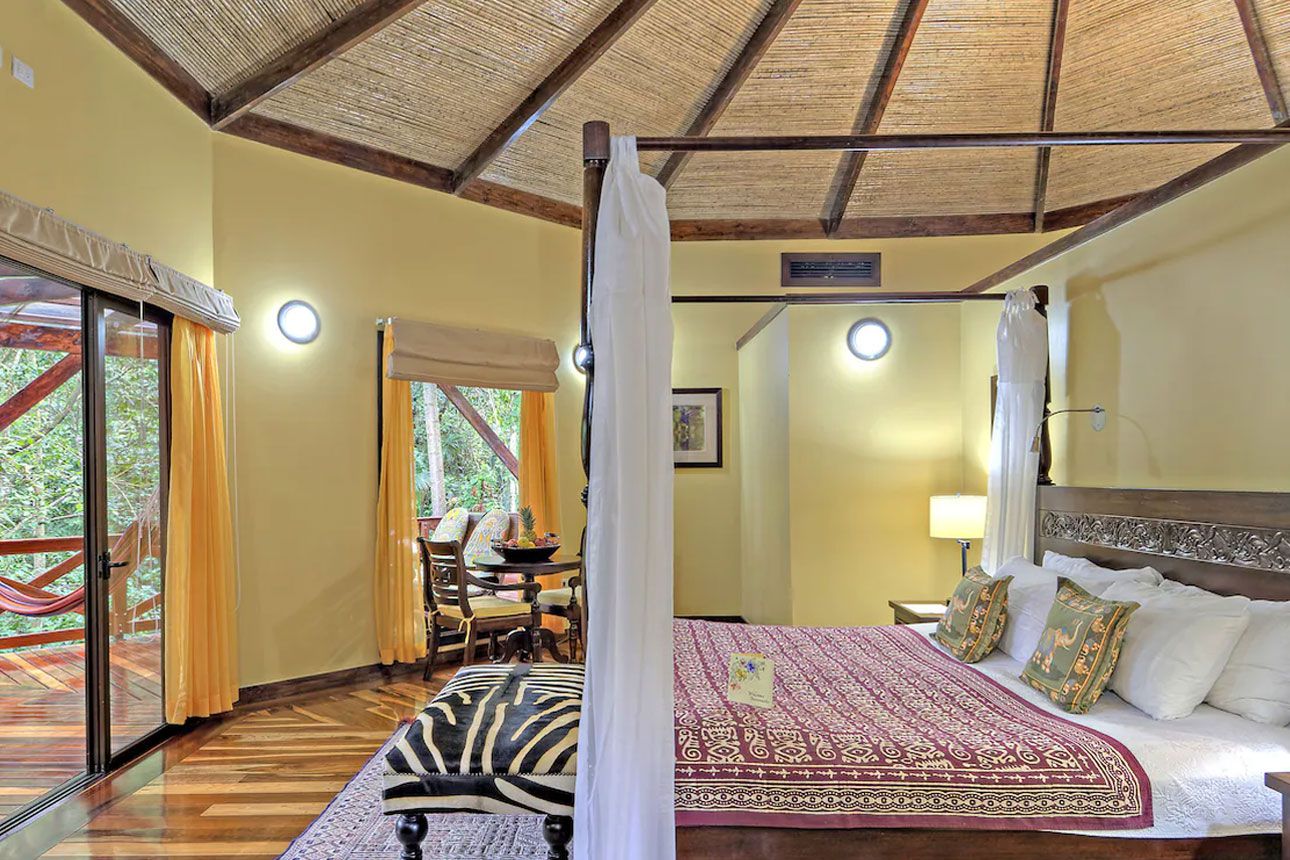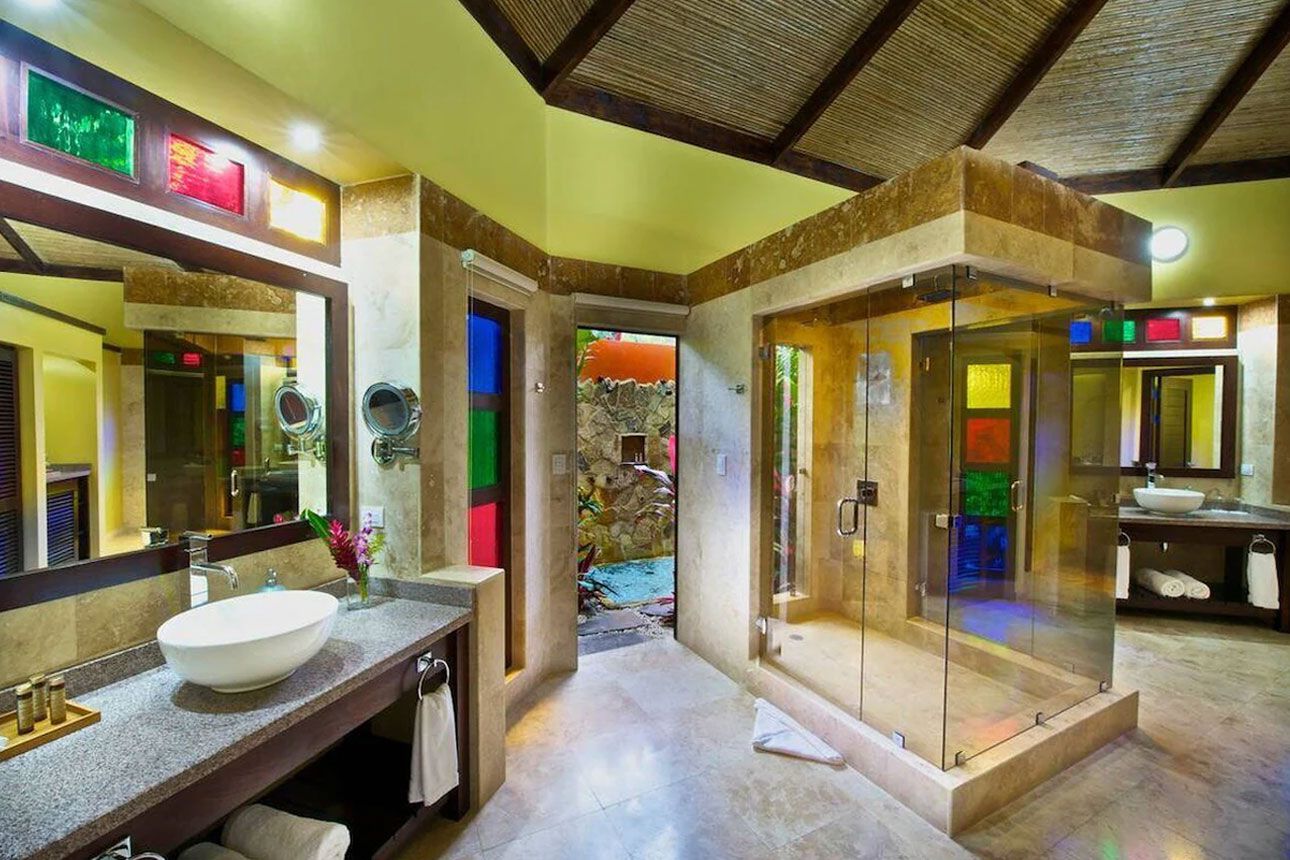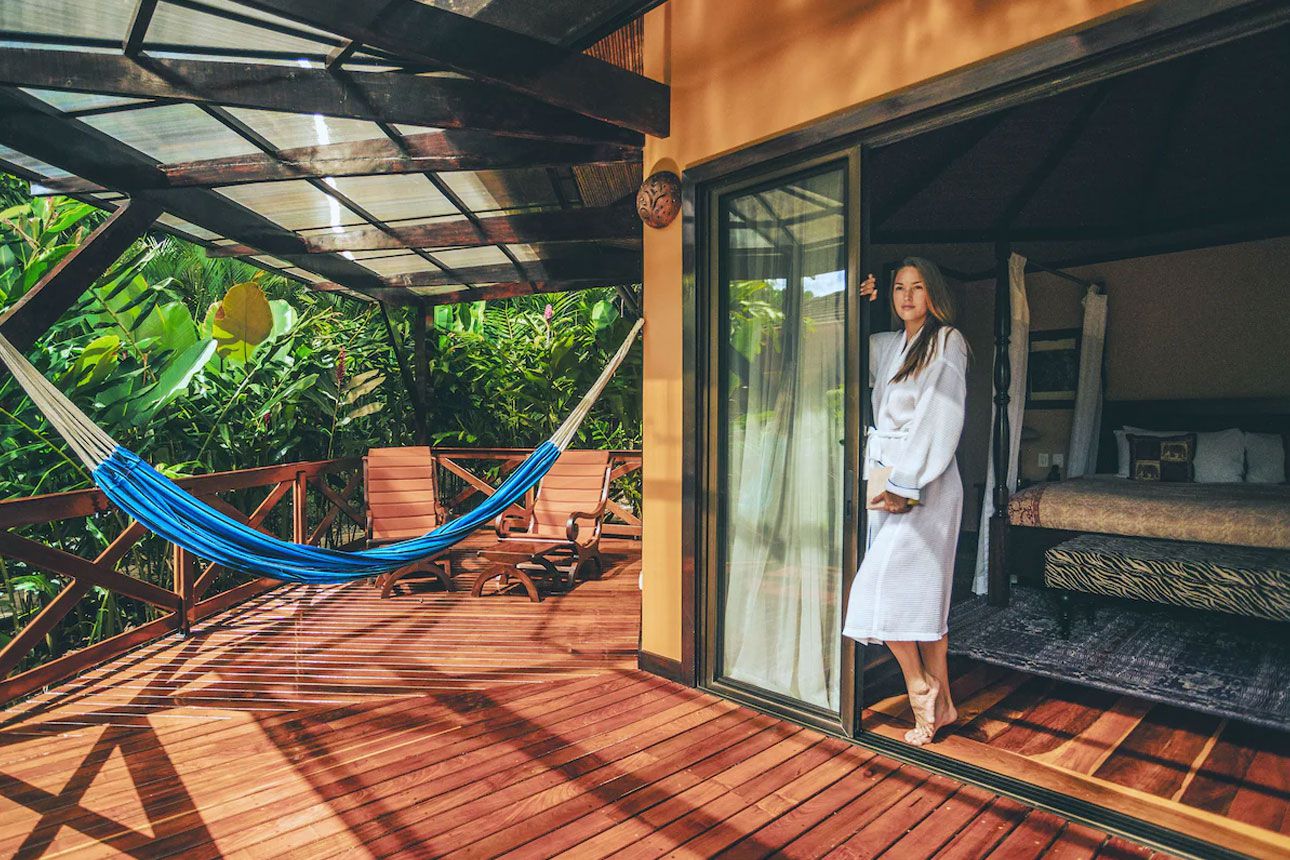 This beautiful suite offers gorgeous views of the surrounding gardens, as well as your very own private pool. You'll be able to relax in style, surrounded by tropical plants and flowers. And if you're feeling adventurous, you can even take a dip in the pool! The Suite with Private Pool at Nayara Gardens is the perfect place to escape the hustle and bustle of everyday life
Hot tub
Minibar
Air conditioning
Safety deposit box
Ironing facilities
Internet facilities
Wireless Internet
Coffee machine
Seating Area
TV
Telephone
Cable channels
Private pool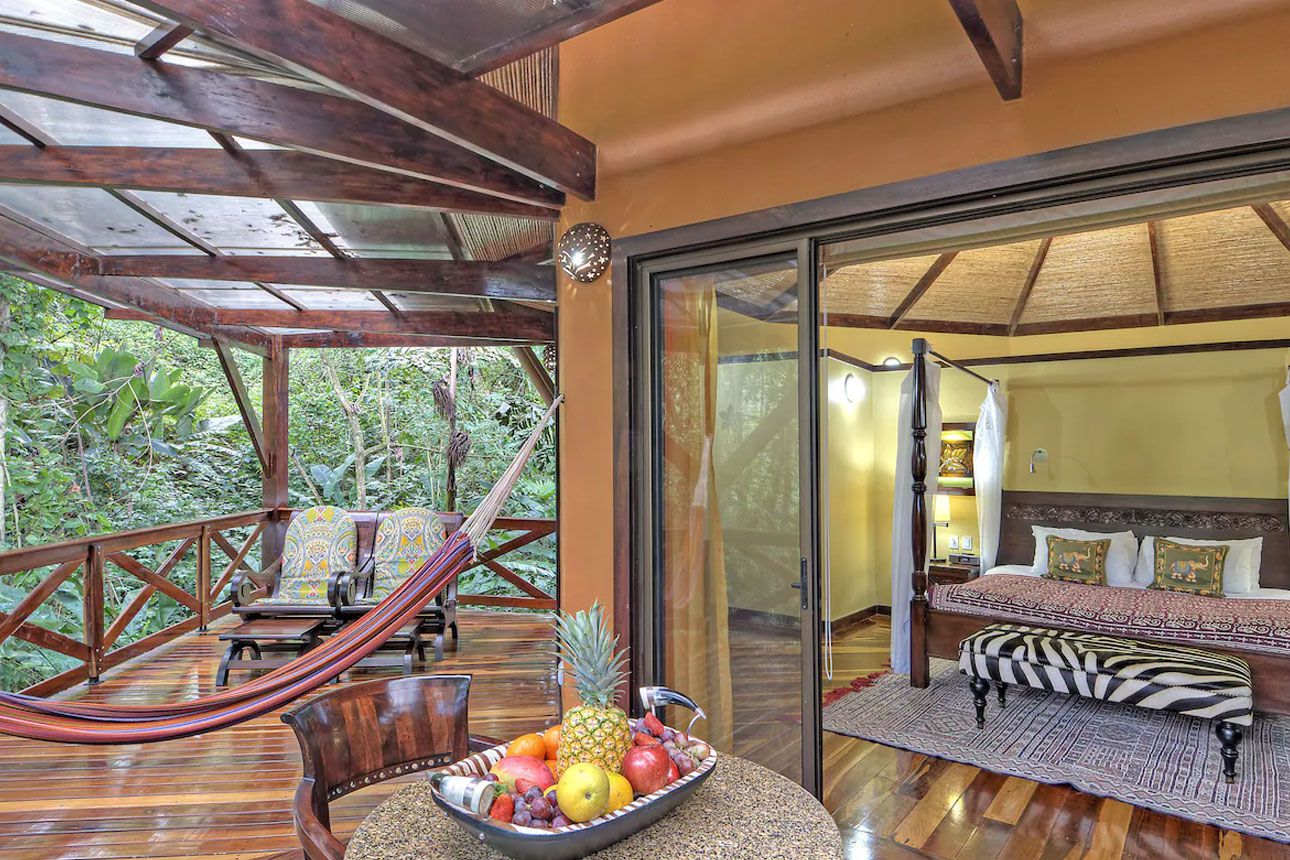 Amenities
Nayara Gardens offers 50 spacious casitas (bungalows), each with a secluded garden, outdoor shower, beautiful terrace overlooking the volcano, and private jacuzzi for two. You can select from mountain view or landmark view rooms. The hotel has an on-site restaurant, as well as a pool. Wi-Fi and parking are free of charge. The Arenal Natura Ecological Park is close to the property, making it a tremendous place to explore the area's natural beauty. Kiambu Hot Springs are also nearby and offer a soothing experience for guests. When planning your stay at Nayara Gardens, be sure to take advantage of all the amenities this hotel has to offer!
Getting There
The Nayara Gardens are located in La Fortuna, Costa Rica. The closest airport to the Nayara Gardens is the Juan Santamaría International Airport, which is located in San Jose, Costa Rica. To get from the airport to Nayara Gardens, you can take a taxi or rent a car. The drive from the airport to Nayara Gardens takes about two hours and thirty minutes. Alternatively, you can also take a bus from San Jose to La Fortuna. The bus ride takes about four hours. Before getting in a taxi from the airport, you should agree on a price with the driver.
Many shuttle services offer transportation from Juan Santamaría International Airport to Nayara Gardens, and these are typically less expensive than taking a taxi. If you are renting a car, it is important to be aware of the roads in Costa Rica. The roads can be very windy and narrow, and it is not uncommon for animals to cross the road. It is also important to note that Costa Rica uses the metric system for distance, so keep this in mind when reading signs.
Pros & Cons
Nayara Gardens is an enchanted forest that will make all your dreams come true. With its comfortable rooms, large bathrooms, and private balconies, you will never want to leave. The front desk staff is always available to help with whatever you need, and the spa treatments are top-notch.
Nayara Gardens Pros:
Location is everything you can ever want and dream of.
All the rooms are equipped with an outdoor shower, outdoor jacuzzi, comfortable bed, and private balcony.
Hammock on the deck.
Large bathrooms with double sinks.
Nayara Gardens Cons:
The steam room and sauna must be reserved in advance as they fill up quickly.
For Spa - it is better to reserve the steam room and sauna before and after your treatment, book in advance, and ask for no music for one of your treatments if you go multiple times so that you can hear the full rainforest.
Overall, Nayara Gardens is an amazing place that everyone should experience at least once in their lifetime.
Conclusion
Looking to get away from it all? Nayara Gardens is the perfect place to relax and escape everyday life problems. With its luxurious accommodations, wonderful views, and world-class amenities, Nayara Gardens is a true one-of-a-kind experience. So what are you waiting for? Ready to reserve your spot at Nayara Gardens? Click here to book now!